Cupcakes are the perfect treat to combine the fresh, bright flavors of strawberry and lemon. Fill them with lemon curd for an extra level of deliciousness! I'm sharing these to celebrate a virtual baby shower for Katherine – be sure to check out her blog and the rest of the amazing recipes linked below!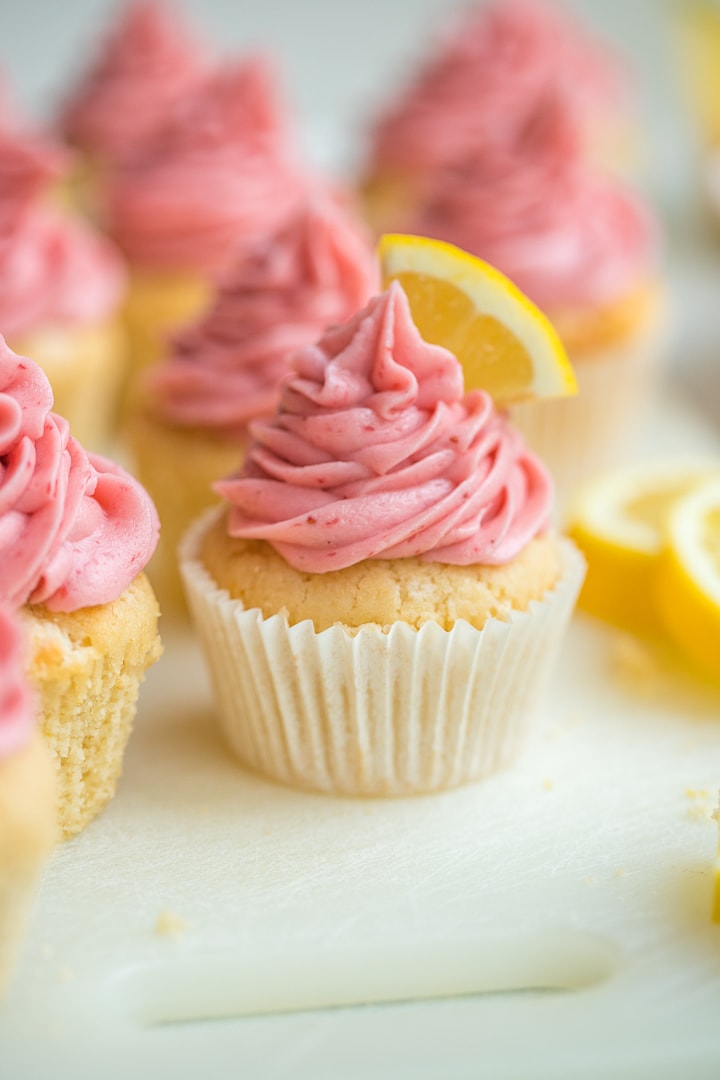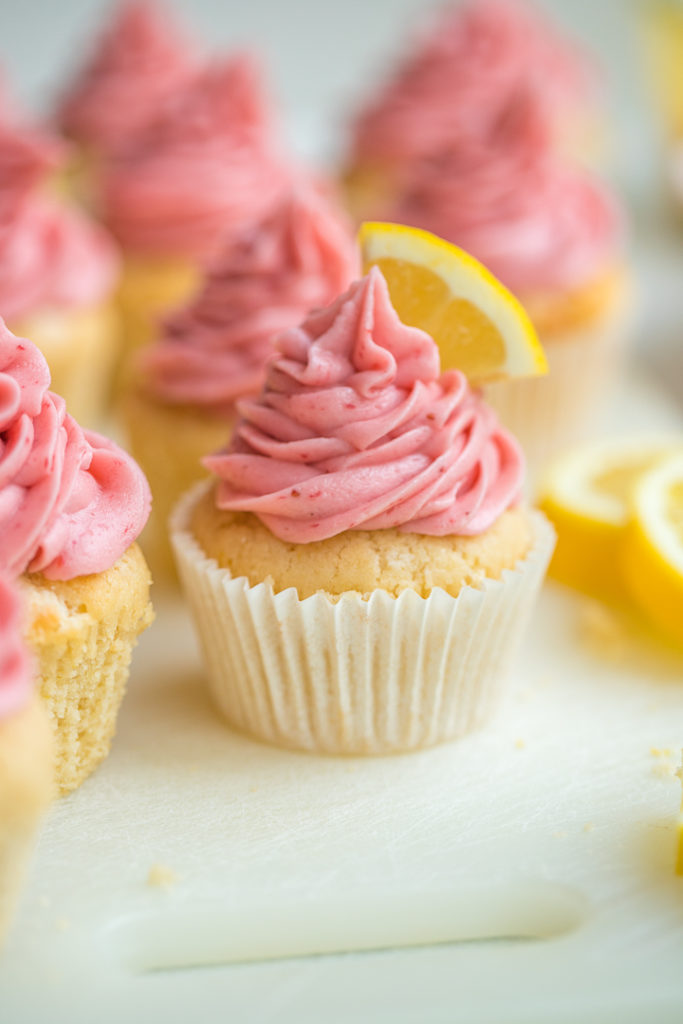 Strawberry lemonade, without a doubt, is a flavor combination meant to channel the freshness and lightness of spring. And, as good as the drink itself might be, is there anything better than taking a great combination and turning it into a cupcake? Obviously not. 🙂
To make this fabulous dessert, we start with moist lemon cupcakes. You could definitely leave it at that, or, if you want to take things to the next level, it's a pretty simple matter to fill each cupcake with a spoonful of smooth, creamy, bright lemon curd.
Store-bought lemon curd would certainly work, but you can also make your own at home, a lot more quickly and easily than you probably think, and the flavor and texture absolutely can't be beat. I mean, just look!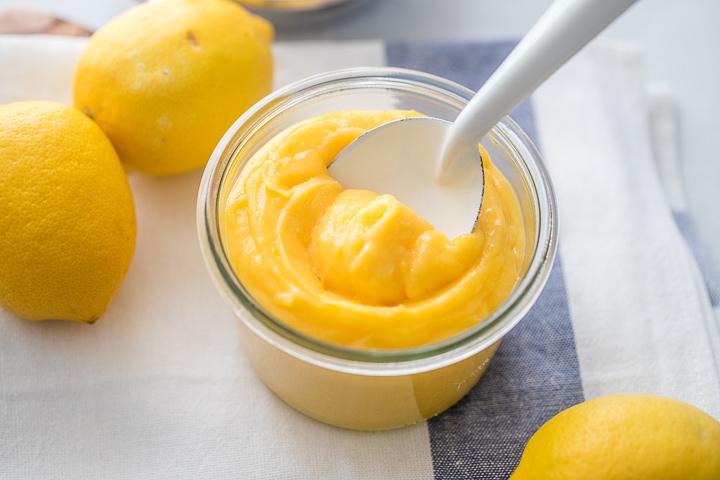 This is the same lemon cupcake and lemon curd recipe that is used in these filled lemon cupcakes with cream cheese poppy seed frosting, which have always been one of the most popular recipes on the site!
So, when I was brainstorming recipes to celebrate the lovely Katherine, it was only a matter of minutes until my mind turned here.
Filling Cupcakes, Step-by-Step
If you haven't filled cupcakes before, it might seem complicated or as though it would require some special equipment – I know I thought so before I had tried it a couple of times! But the happy reality is that it couldn't be simpler. Just follow the illustrated steps below.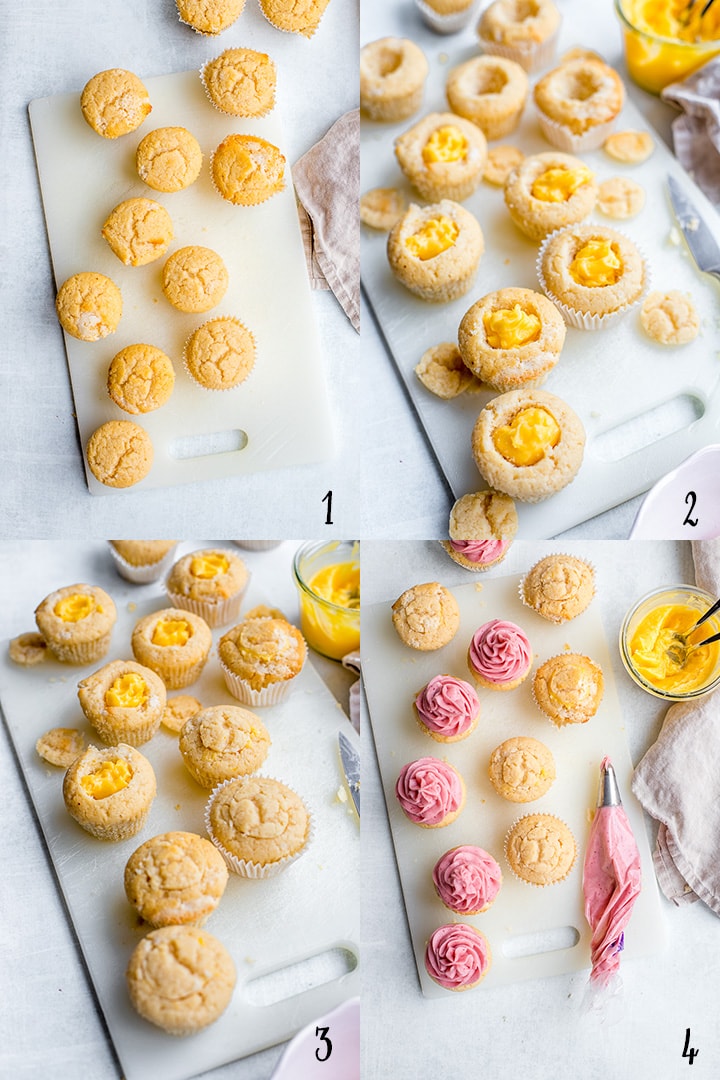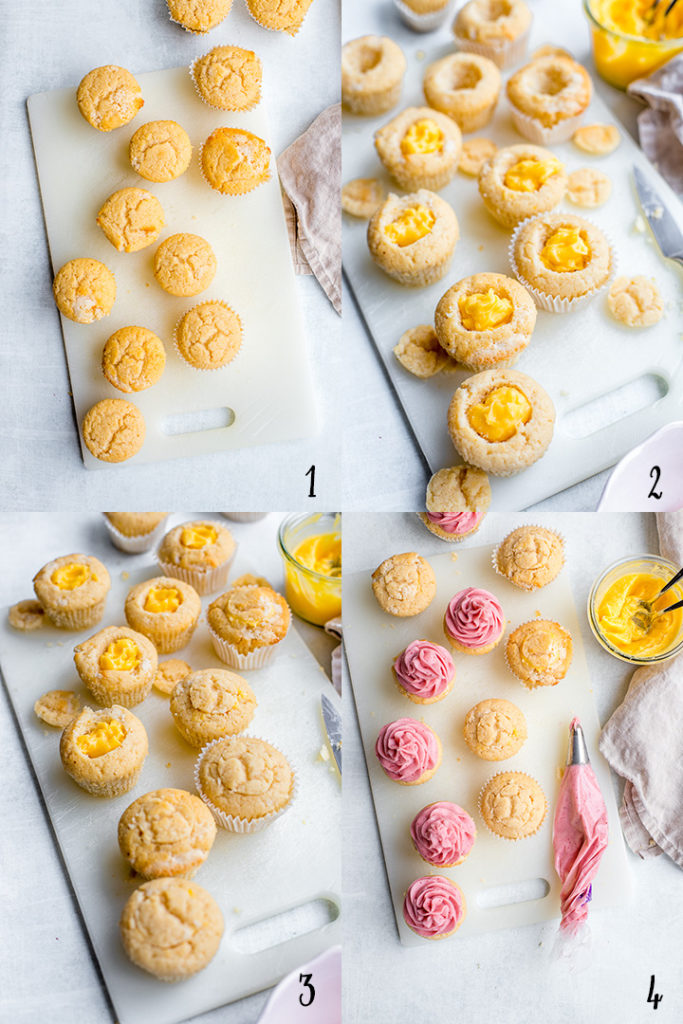 Start with your baked cupcakes, fully cooled.
Using a small paring knife, carve out a small inverted cone-shaped area from the center of each cupcake, so each one has a small well. Now it's easy – using a small spoon or pair of spoons, fill each well with your filling of choice!
Now you have a couple of options – for simplicity, you could just pipe or spread frosting directly on top. Or, if you want a slightly smoother base, slice the very top off of each cone that you removed from the cupcakes, and place the thin top layer back on top of the curd.
Now, frost as desired!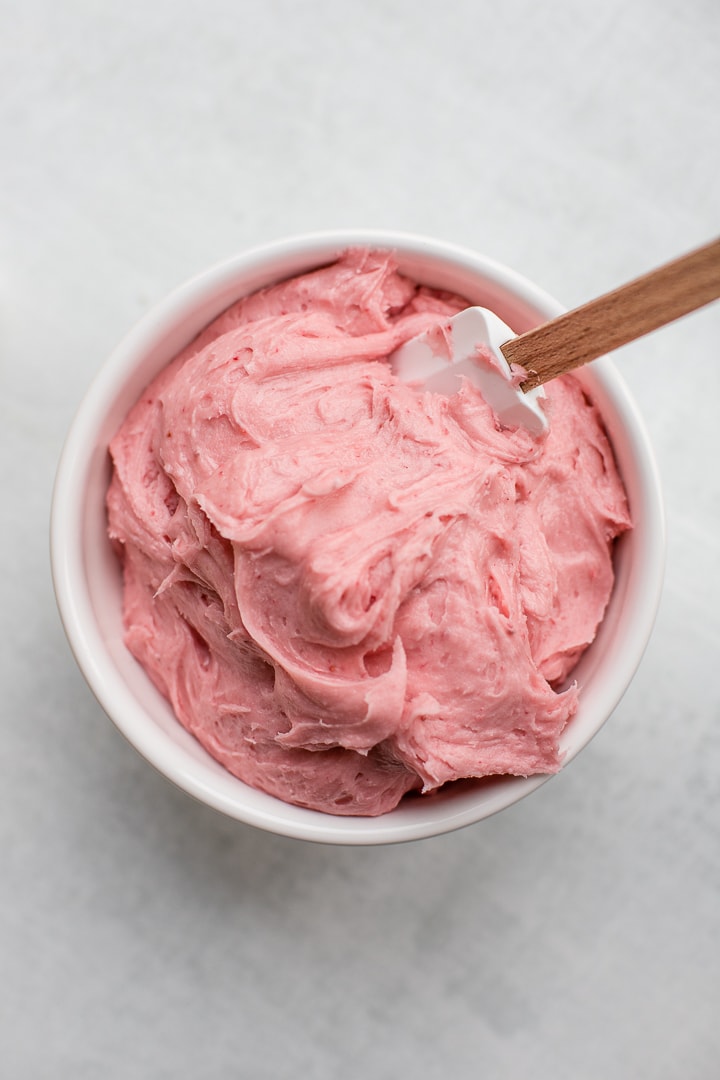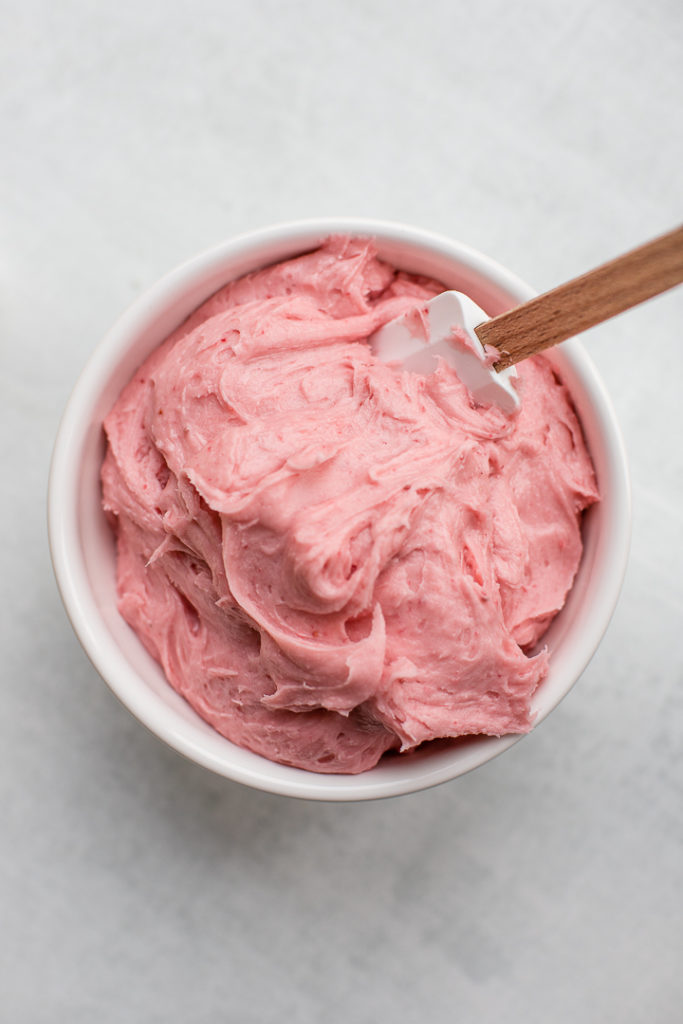 And here's where the strawberry comes into play! Even though lemon gets a double chance to shine in these cupcakes, honestly, this frosting is my favorite component of them all.
[clickToTweet tweet="Seeking a flash of spring? Take a peek at these strawberry lemonade cupcakes – the best fresh, light flavors wrapped up in a sweet dessert treat!" quote="Seeking a flash of spring? Take a peek at these strawberry lemonade cupcakes – the best fresh, light flavors wrapped up in a sweet dessert treat!"]
Now, I know I emphasized just the other day in the post for these strawberry-frosted chocolate sugar cookies the merits of using freeze-dried strawberries in frosting, and believe me, I still believe in those fully!
But, I found a teeny tiny problem when using that frosting for cakes and cupcakes. It's very difficult, at least for me and my food processor, to pulverize every last tiny little chunk of strawberry down into a fine powder, which meant tiny bits and pieces that got jammed in the tip of my frosting bag. A small but frustrating issue. So, back to the drawing board, and here we are with another type of strawberry frosting – one that relies on fresh strawberries to get that beautiful flavor and color.
Because you're using fresh strawberries, it does take an extra couple of steps to get the consistency right, but I assure you the result is 100% worthwhile!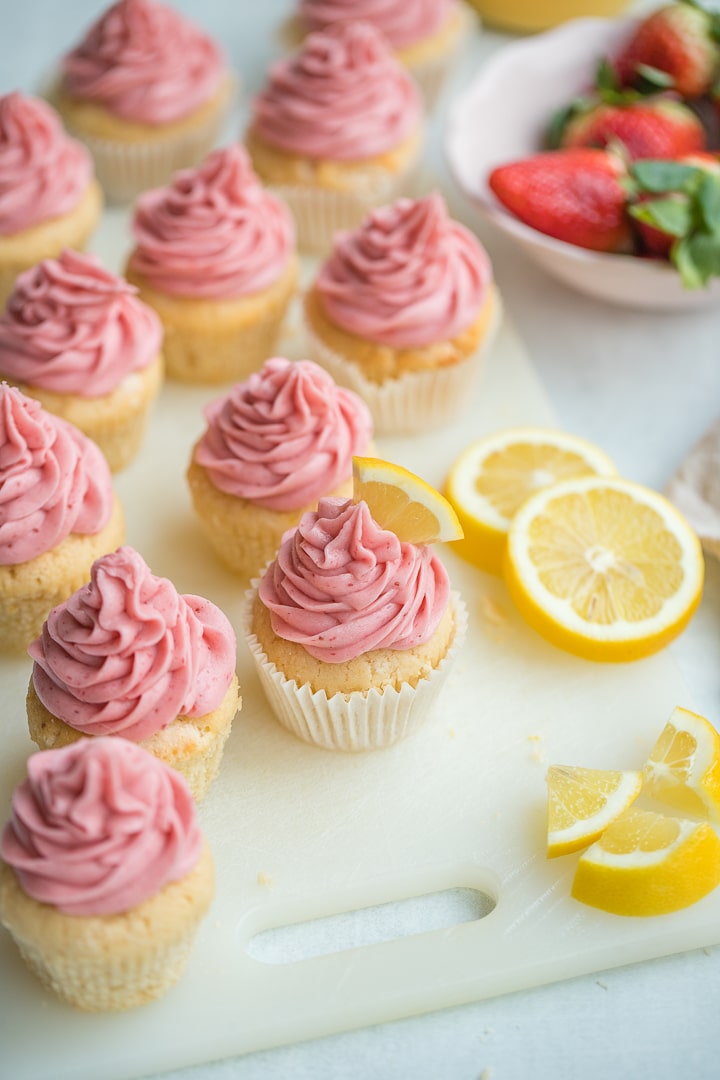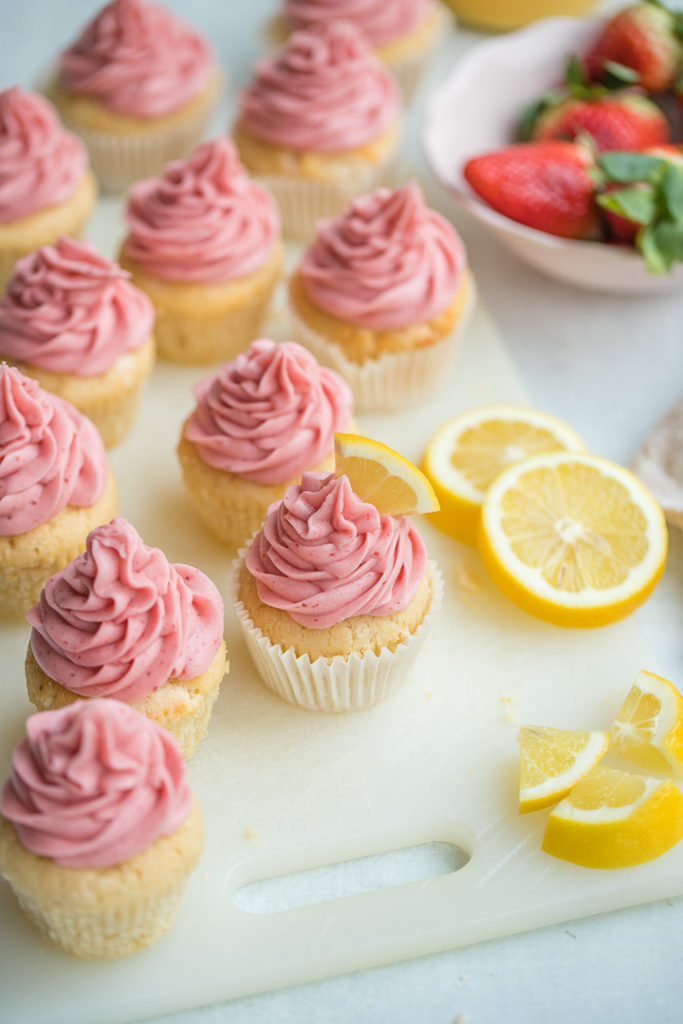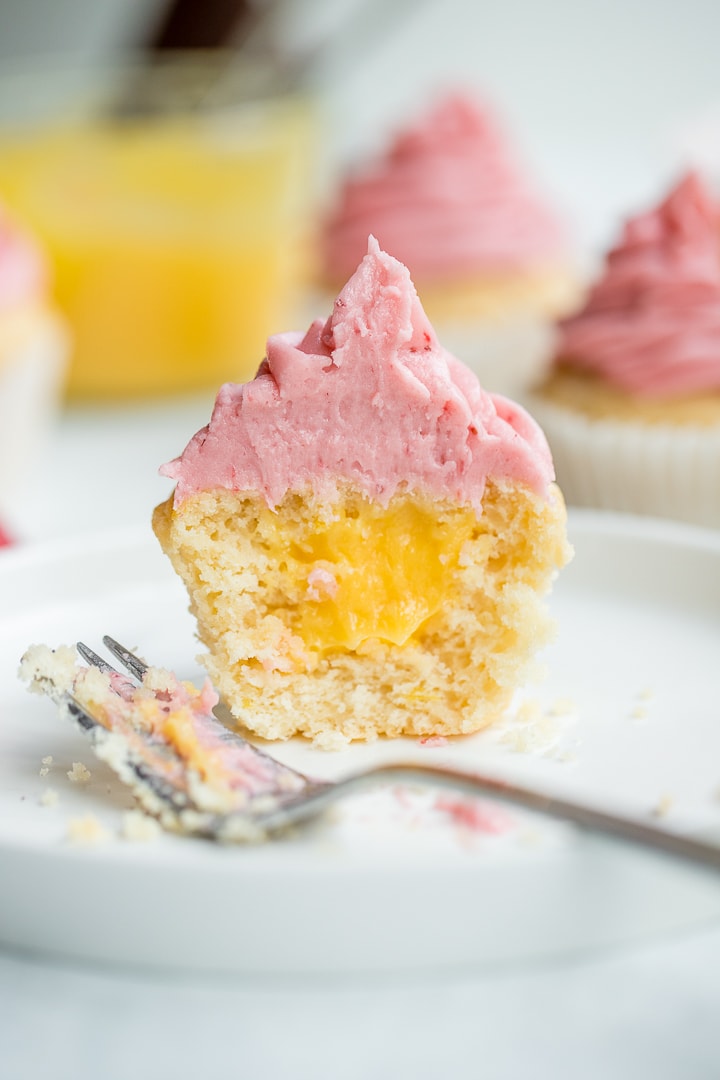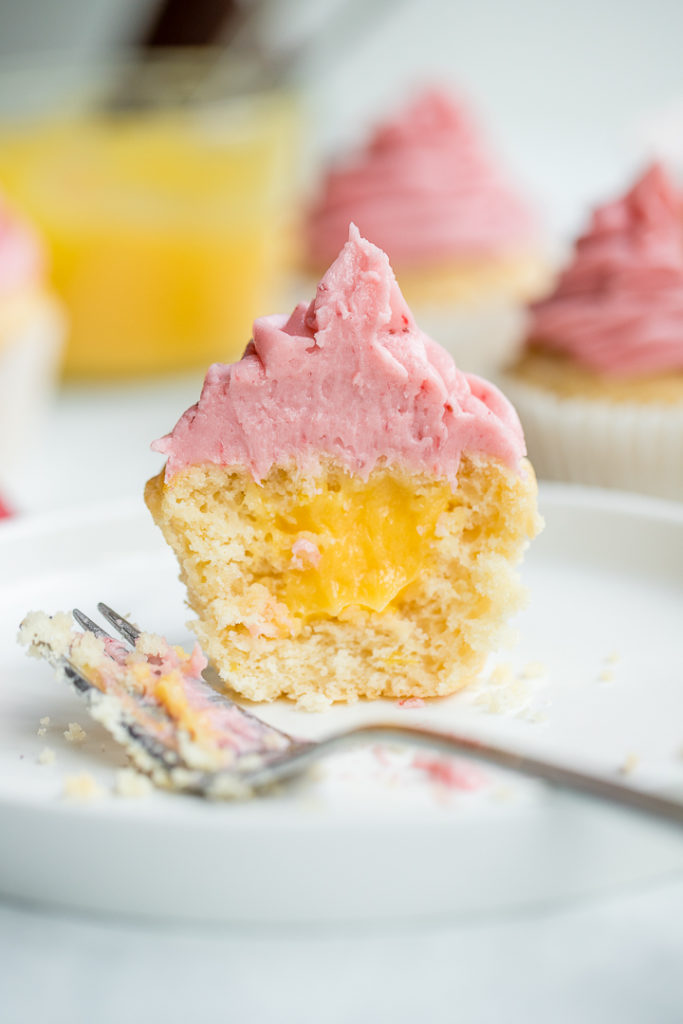 These cupcakes provided the perfect burst of spring-like sunshine to my life, and I am imagining them being all sorts of wonderful for a spring or summer party, or any baby shower, bridal shower, little girl's birthday, etc. Not to be overly gendered – just any occasion that calls for bright, beautiful flavors and lots of pink!
Enjoy, and don't forget to scroll past the recipe to check out the many other beautiful pink dishes prepared by other bloggers for our virtual party! ♥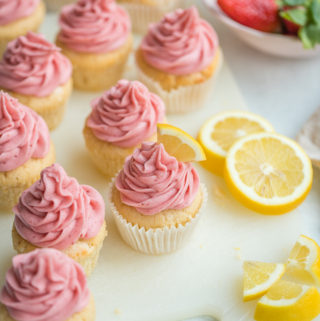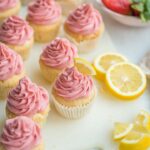 Print
Strawberry Lemonade Cupcakes
Cupcakes are the perfect treat to combine the fresh, bright flavors of strawberry and lemon. Fill them with lemon curd for an extra level of deliciousness!
Ingredients
For the cupcakes:
1 1/2

cups

(190 grams) all-purpose flour 

2

tsp.

baking powder

1/2

tsp.

salt 

1/2

cup

(1 stick; 115 grams) unsalted butter

at room temperature

1

cup

(200g) white sugar 

2

large eggs

at room temperature

2

tsp.

vanilla extract

1/2

cup

(120 ml) whole milk 

zest and juice of two medium lemons
For the frosting:
8

ounces

fresh strawberries

3/4

cup

(1 1/2 sticks; 173 grams) unsalted butter

at room temperature

3-4

cups

(340-450 grams) powdered sugar
Instructions
Preheat the oven to 350 degrees F (180 C). Prepare a 12-count muffin pan with paper liners and set aside. 

In a medium bowl, combine flour, baking powder, and salt. Whisk to combine and set aside.

Using a handheld or stand mixer fitted with the paddle attachment, beat the butter and sugar together on medium-high speed until creamed, 2-3 minutes. Add the eggs and vanilla, scrape down the sides of the bowl, and beat again on medium-high speed until mixture is well-combined. 

Add the dry ingredients to the butter-sugar mixture in three batches, beating on low speed after each addition. Mix in the milk, lemon zest, and juice, and beat again on low speed just until combined. Do not overmix!

Divide batter evenly between 12 cupcake liners, and bake for 18-20 minutes, until a toothpick inserted in the middle of cupcakes comes out clean. Remove from the oven, allow to cool in the pan for 10-15 minutes, then remove to a wire rack to cool completely before filling and frosting. 

To fill the cupcakes, use a small paring knife to cut a small cone out of the center of each cupcake, making a well about 1-1 1/2 inches deep. Spoon a small amount of lemon curd into the well. If you like, you can slice each cone you removed and replace just the top edge, so the top of the cupcake still has a smooth surface of cake with the curd underneath. (This is definitely not necessary, but is pretty quick and easy and can make the cupcakes slightly easier to frost.) 

To make the frosting, slice green tops from the strawberries, then puree in a food processor or blender until smooth. Strain puree through a wire sieve to remove seeds; you should have about 3/4 cup of puree.

Transfer puree to a small saucepan over medium heat and bring to a boil. Allow the mixture to boil gently for 15-20 minutes, until the mixture has reduced to about 1/4 cup. Remove from the heat and place mixture in the fridge to cool.

Using a handheld or stand mixer fitted with the paddle attachment, beat butter on medium-high speed until fluffy, then beat in 1 1/2 cups of the powdered sugar. Turn mixer down to low and beat in 2-3 tablespoons of the chilled, reduced strawberry puree. Add the rest of the powdered sugar and beat on medium-high speed until frosting is thick and creamy.

Frost cupcakes as desired - I used a Wilton 1M tip. Enjoy!
Notes
This makes enough frosting to decorate at least 1 dozen cupcakes. Depending on how generously you frost your batch, you may have extra. (What a shame!)
Cupcakes adapted from Sally's Baking Addiction, frosting slightly adapted from Lil' Luna.
Did you make this recipe?
Leave a review below, then snap a quick picture and tag @nourishandfete on Instagram so I can see it!
Nutrition Estimate
Calories:
465
kcal
|
Carbohydrates:
66
g
|
Protein:
3
g
|
Fat:
21
g
|
Saturated Fat:
13
g
|
Cholesterol:
79
mg
|
Sodium:
127
mg
|
Potassium:
155
mg
|
Sugar:
53
g
|
Vitamin A:
645
IU
|
Vitamin C:
11.1
mg
|
Calcium:
62
mg
|
Iron:
1
mg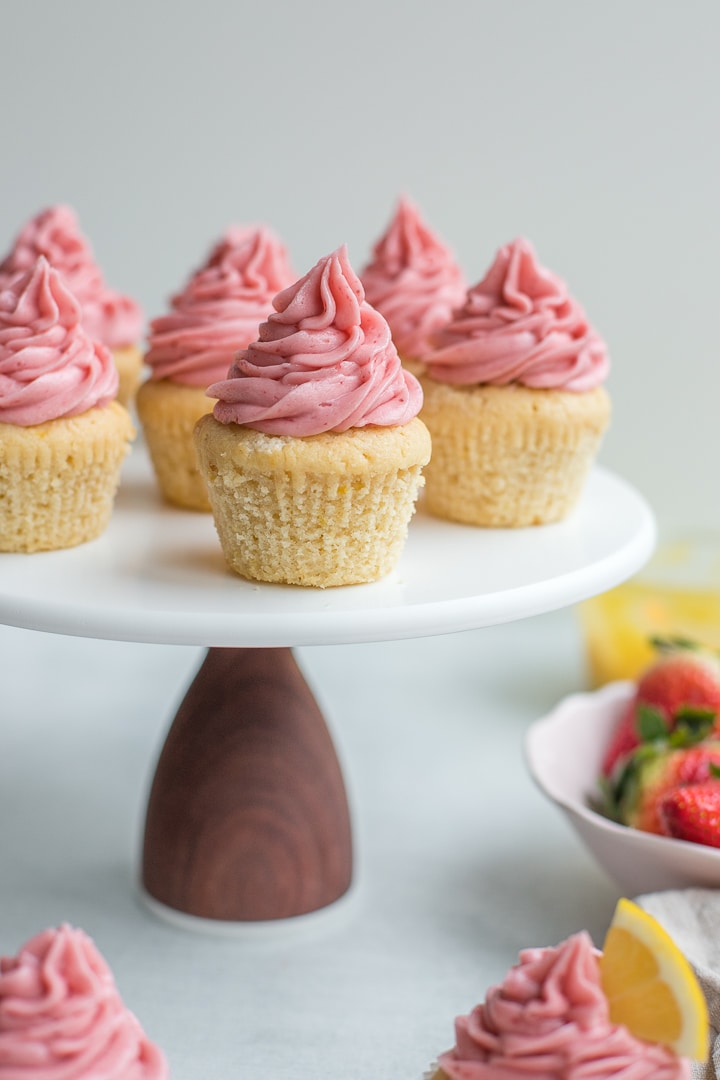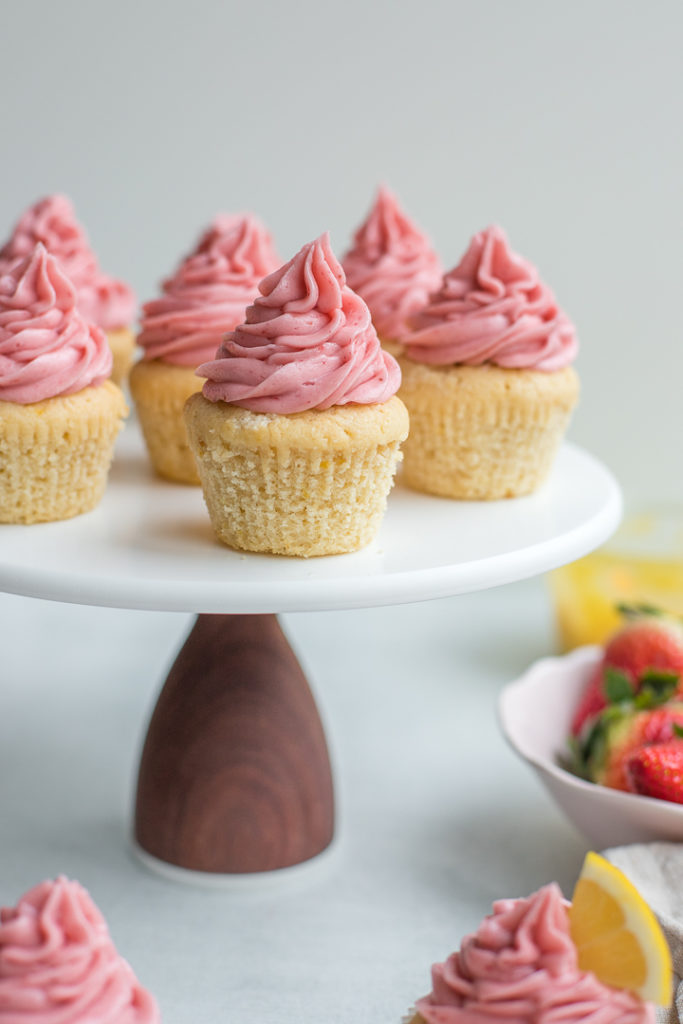 And now, meet our guest of honor: Katherine! Katherine blogs over at Love In My Oven and is the proud momma to two boys and a soon-to-arrive baby girl!!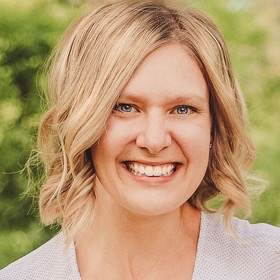 You don't need to know Katherine to join in the fun, just enjoy all of the pink themed recipes the bloggers are bringing to the party! Scroll down to see what the bloggers are sharing, and click on the links to hop over to their blogs to check their recipe out.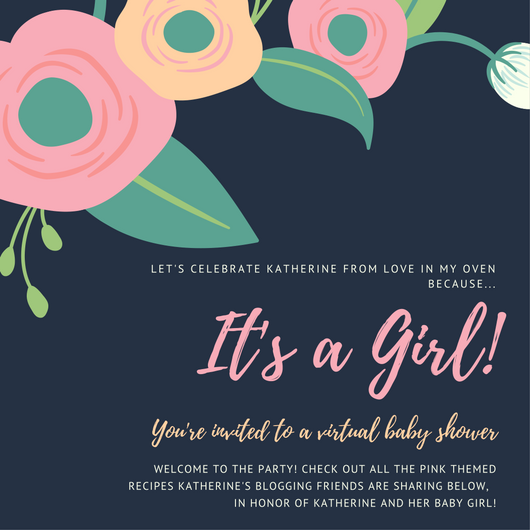 Thanks for joining the party and I hope you enjoyed all of these fun recipes!