Strawberry-Frosted Chocolate Sugar Cookies
Chocolate sugar cookies topped with the most lovely strawberry frosting make a lovely treat for Valentine's Day or any sweet occasion!
Looking for a quick and easy heart shaped treat? These sweet heart-shaped brownies are just what you need!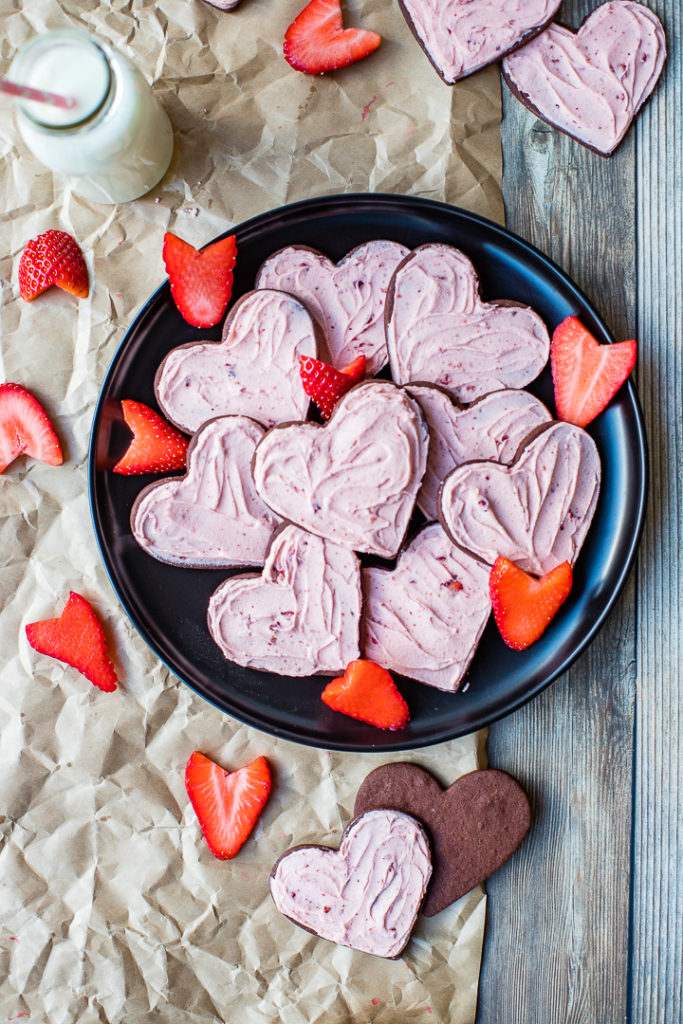 Sugar cookies are pretty ubiquitous, but if you've never tried chocolate sugar cookies, well, you're in for a treat!
They're all the fun of cut-out sugar cookies, but with a rich, complex chocolate flavor thanks to a bit of Dutch-process cocoa powder. Never bought Dutch-process before? It's pretty easy to find at most major grocery stores, but also available on Amazon (affiliate link).
Then, the cut-out cookies become tasty canvasses to be decorated any way you wish. They keep their shape very well and make a beautiful base for icing designs, but sometimes you just want to keep it simple.
Enter: the lovely strawberry.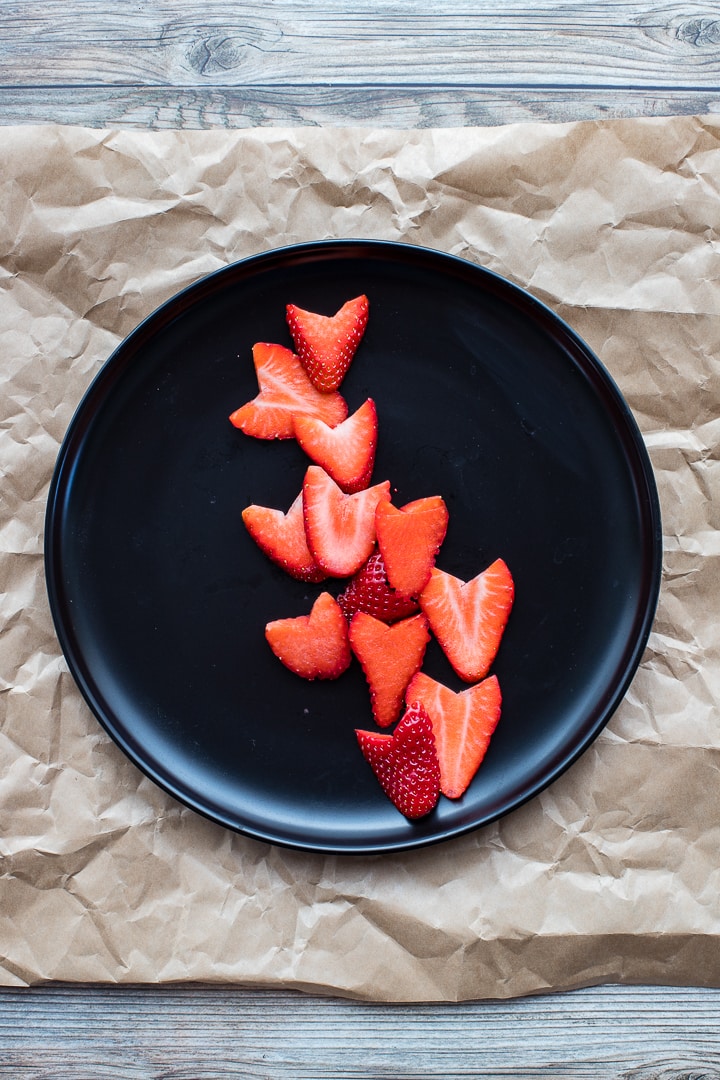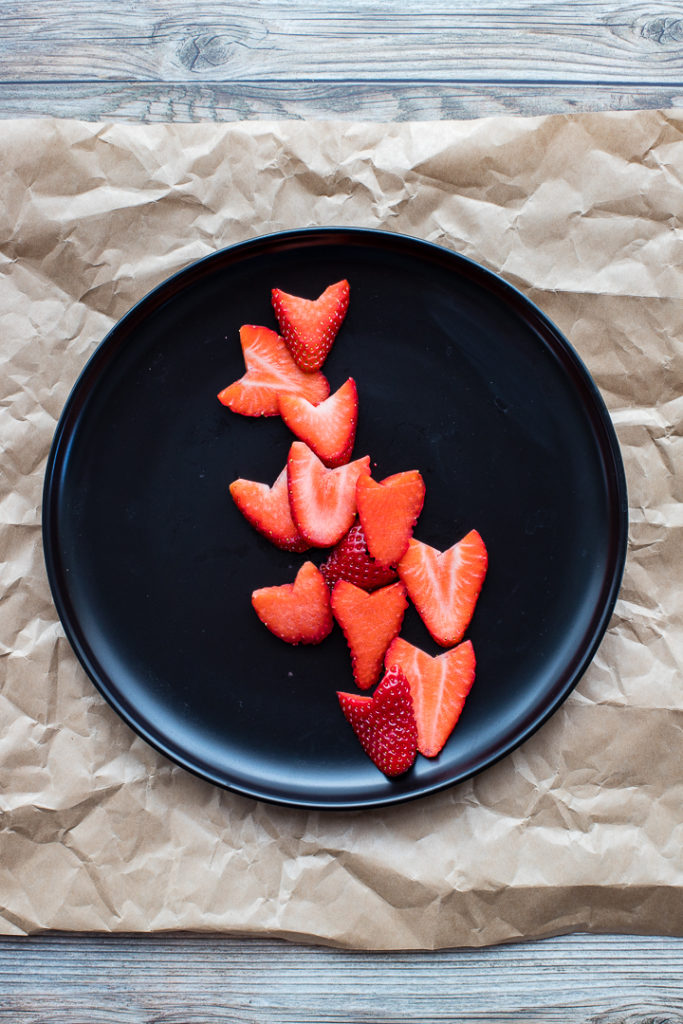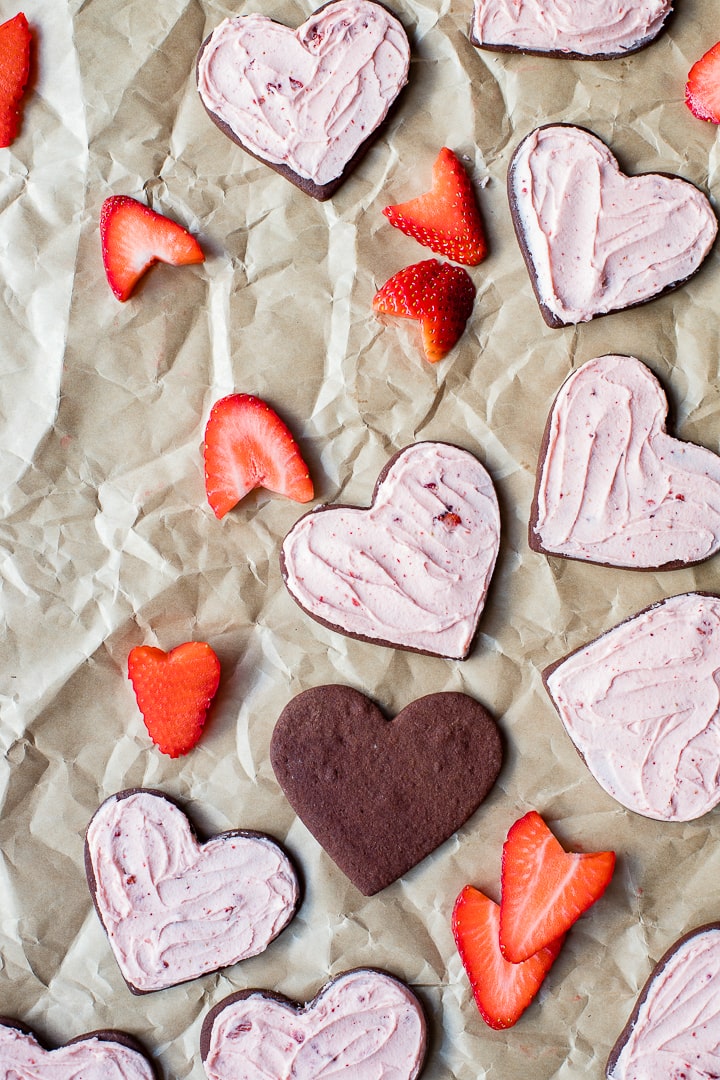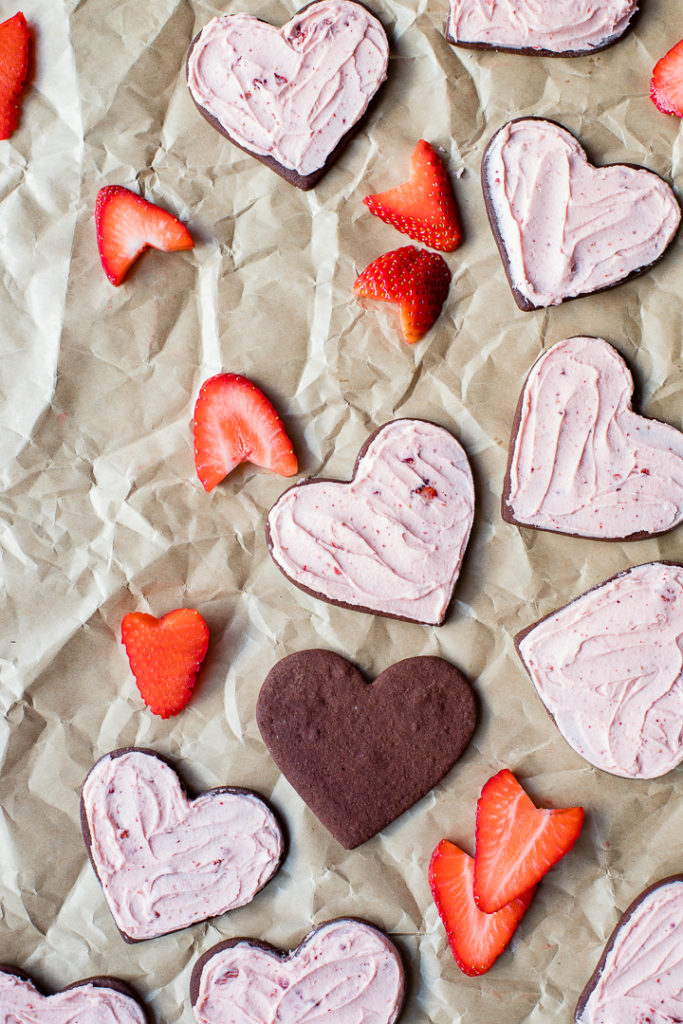 Freeze-Dried Strawberry Frosting
This strawberry frosting is simple to make, has a natural strawberry flavor and pink color, and comes out reliably with a nice, thick consistency. Perfect for spreading on cakes or cookies.
Also perfect for eating with a spoon.
This is thanks to the use of freeze-dried strawberries, which are ground into a fine powder, then mixed into standard buttercream ingredients.
Every other strawberry frosting I've tried has had one problem or another – too watery, not much strawberry flavor, an unappetizing color, etc. This frosting, in contrast, comes out perfectly every time.
You can also probably find freeze-dried strawberries in your regular grocery store – often with the fruit snacks, if not with the actual fruit. But just in case, they're also easy to order online (affiliate link). At the same time as your Dutch cocoa powder. 😉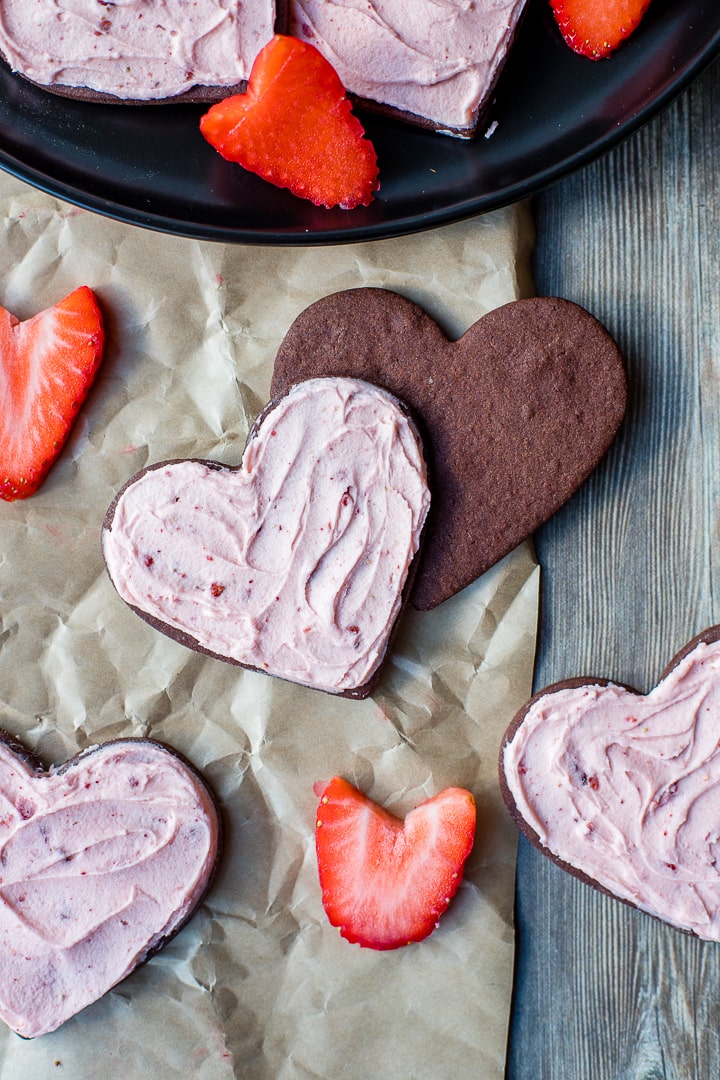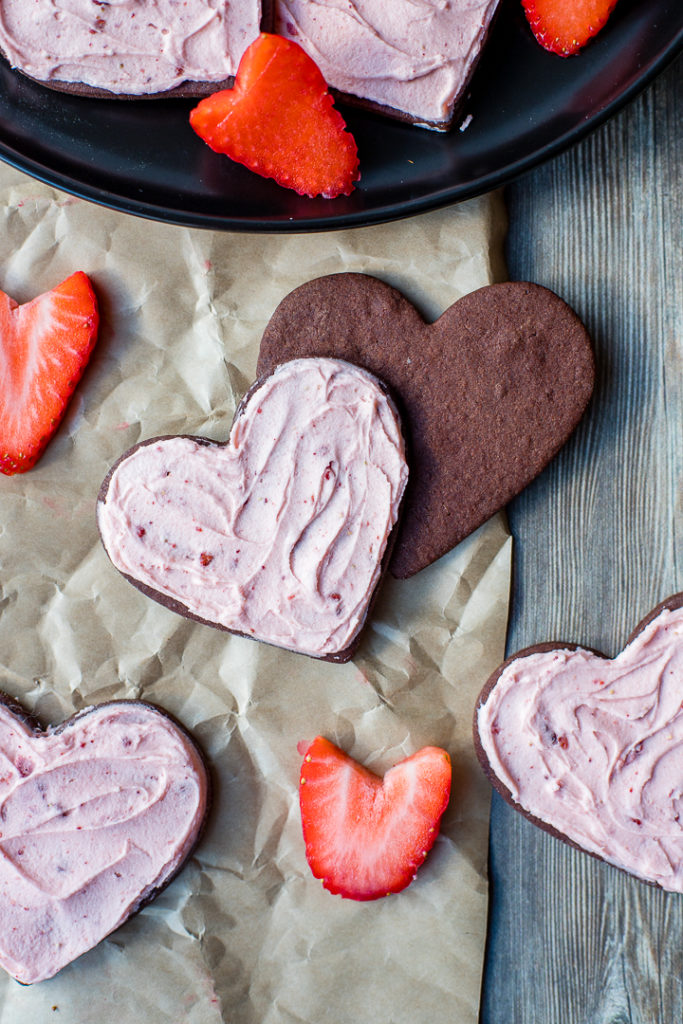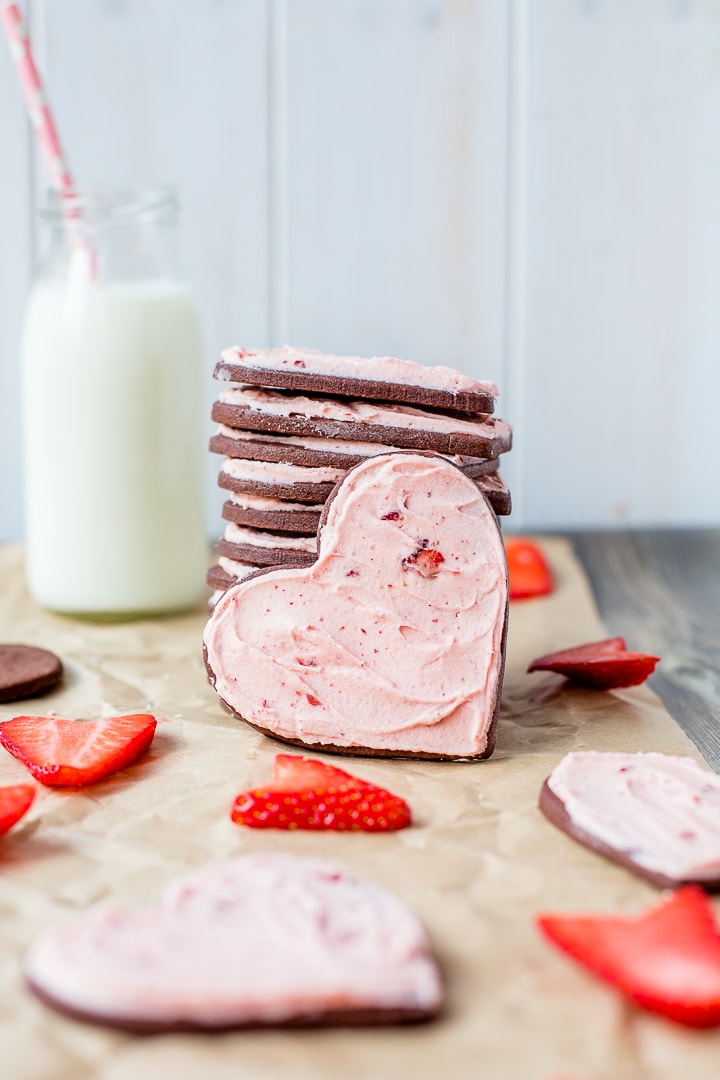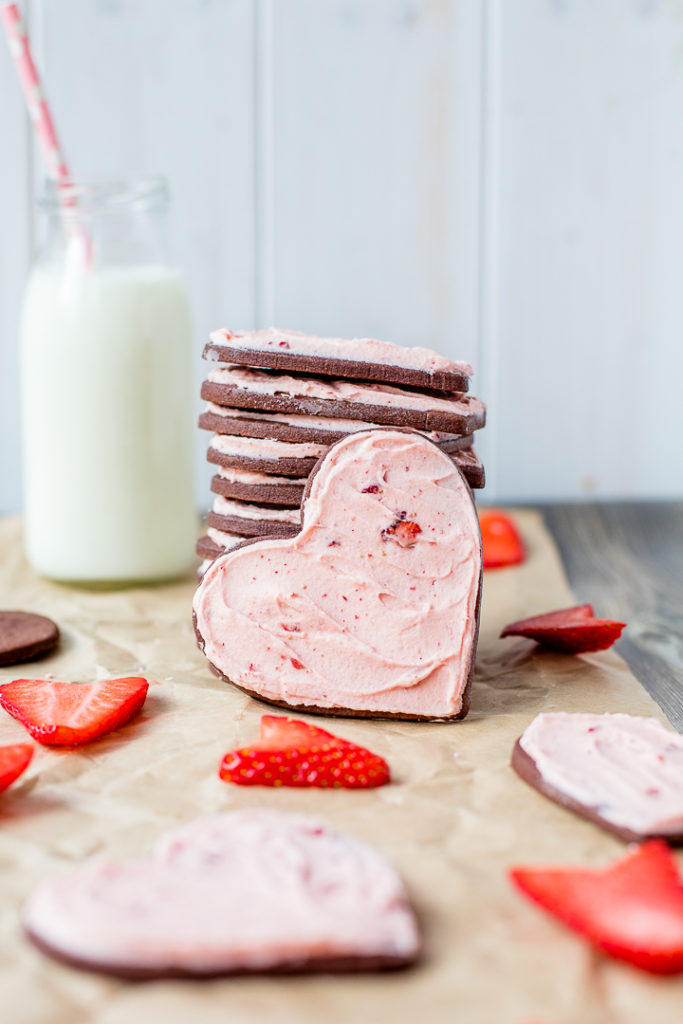 How to make frosted chocolate sugar cookies
Even though each step in making these cookies is very easy, it is a multi-stage process. Fortunately it's really easy to break this down over a couple of days, if that works well for you.
On the first day, make the dough, and refrigerate overnight.
On day two, roll out and bake the cookie shapes; make the frosting if you have time, keep in the fridge.
On the third day, make the frosting, if needed, and spread on the cookies.
Easy! And do-able even with littles underfoot.
Littles who will no doubt be very, very excited to see these sweet chocolate hearts stacked up on a plate.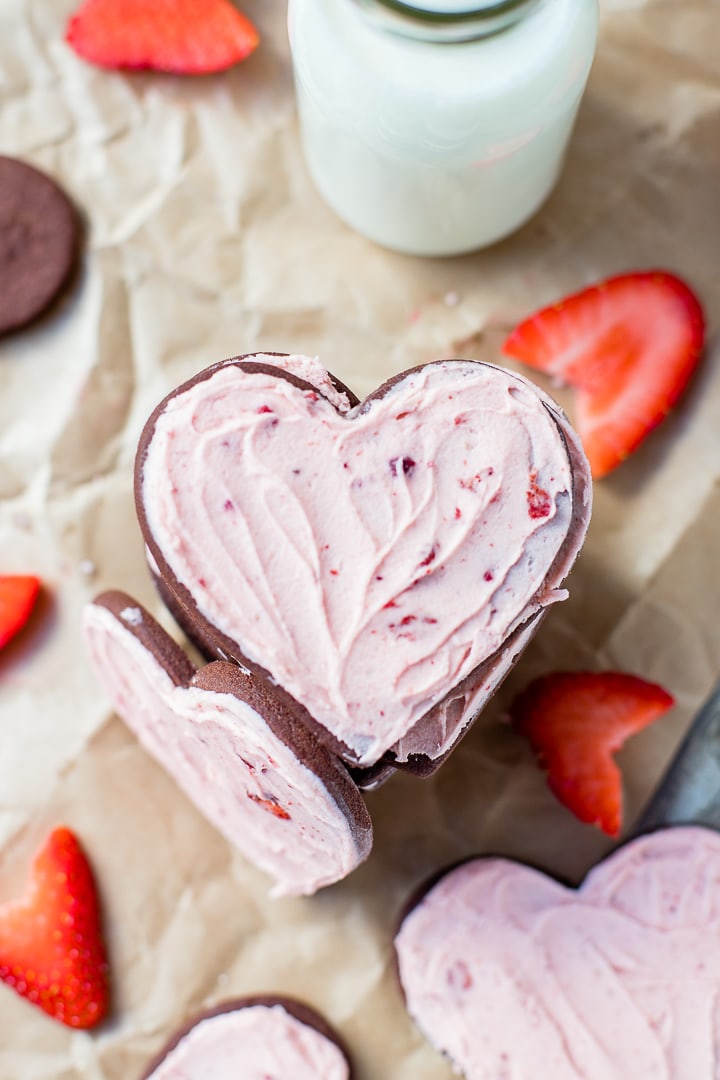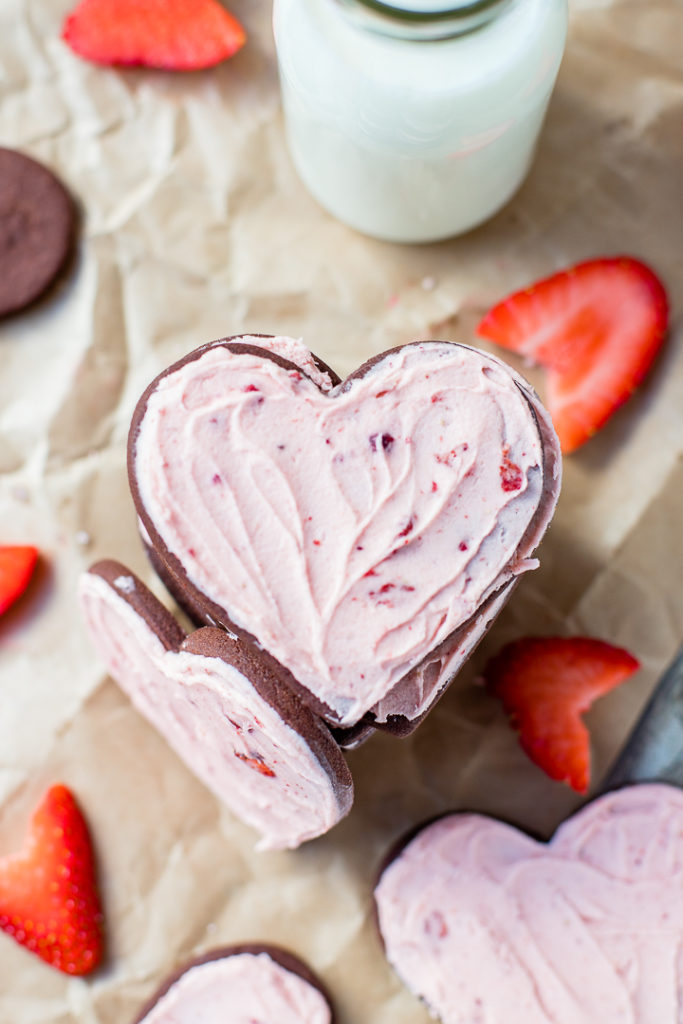 If you try these strawberry-frosted chocolate sugar cookies or any other recipe on the blog, please rate the recipe and leave a comment below. I love hearing from you, and other readers will benefit from your experience!
Strawberry-Frosted Chocolate Sugar Cookies
The best cut-out chocolate sugar cookies are especially sweet paired with a beautiful pink strawberry frosting.
Ingredients
Chocolate Sugar Cookies
3/4 cup (90 grams) all-purpose flour
1/3 cup (26 grams) Dutch process cocoa powder
pinch of salt
6 tablespoons (3 ounces, 85 grams) unsalted butter, at room temperature
3/4 cup (85 grams) powdered sugar
1 large egg
1/2 teaspoon vanilla extract
Strawberry Frosting
1/2 cup (about 5 grams) freeze-dried strawberries
8 tablespoons (4 ounces, 113 grams) unsalted butter, at room temperature
2 cups (227 grams) powdered sugar
1 1/2 tablespoons heavy cream
1/2 teaspoon vanilla extract
pinch of salt optional
Instructions
To make the cookie dough, combine flour, cocoa powder, and salt in a medium bowl. Whisk to blend. Set aside.

Combine butter and powdered sugar in a large bowl, and beat with an electric mixer on medium-high speed for 2-3 minutes, until light and fluffy. Blend in the egg and vanilla.

Add dry ingredients and beat on low speed, just until incorporated and no streaks remain. Form the dough into a disc, wrap tightly with plastic wrap, and refrigerate until firm, at least 1 hour.

When ready to bake, preheat the oven to 325 degrees F (170 C) and line baking sheets with silicone mats or parchment paper. On a lightly-floured work surface, roll out the dough to about ¼-inch thickness. Cut out desired shapes with cookie cutters. Place cut-outs on the prepared baking sheets. Bake 10-12 minutes, just until set. Let cookies cool on the sheet for 5-10 minutes, then transfer to a wire rack to cool completely.

To make the frosting, place the freeze-dried strawberries in a powerful blender or food processor, and process into a powdery crumb. You should have around 1/4 cup. Set aside.

In a large bowl using an electric mixer, beat butter on medium-high speed for about 2 minutes. Add powdered sugar, strawberry powder, cream, and vanilla. Beat on low speed for 30 seconds, then on high for 2 minutes, until frosting is thick and spreadable. Taste and add a pinch of salt if the frosting is overly sweet.

Spread 2-3 tablespoons frosting on each cookie. After about 20 minutes, the frosting will form a light crust, and the cookies can be stacked and stored either at room temperature or in the fridge. They'll keep well, tightly wrapped, for 2-3 days.
Notes
It's easy to space out the process of these cookies over several days if you want to. The dough can stay in the fridge for up to 2 days before rolling, cutting, and baking the cookies. The baked cookies also keep well, covered, overnight, if you want to decorate them the next day.
If you have leftover frosting, it can be covered and stored in the fridge for up to 5 days.
Cookies adapted from Martha Stewart; frosting from Sally's Baking Addiction.
Nutrition Estimate
Calories: 135 kcal, Carbohydrates: 17 g, Fat: 7 g, Saturated Fat: 4 g, Cholesterol: 25 mg, Sodium: 4 mg, Potassium: 24 mg, Sugar: 13 g, Vitamin A: 230 IU, Calcium: 6 mg, Iron: 0.4 mg
Did you make this recipe?
Leave a review below, then snap a quick picture and tag @nourishandfete on Instagram so I can see it!