Heart Shaped Brownies
These easy and adorable heart shaped brownies are perfect for Valentine's Day! Fudgy brownies packed with chocolate chips and pink M&Ms, cut into cute heart shapes for maximum sweetness.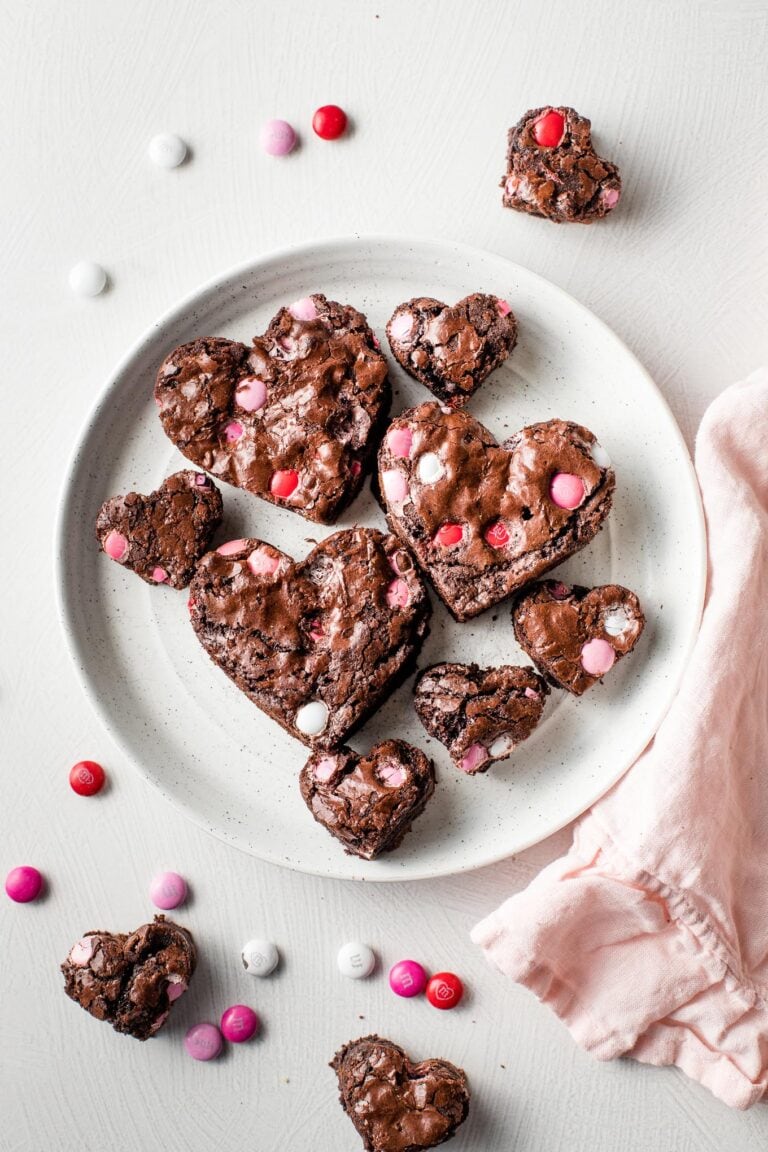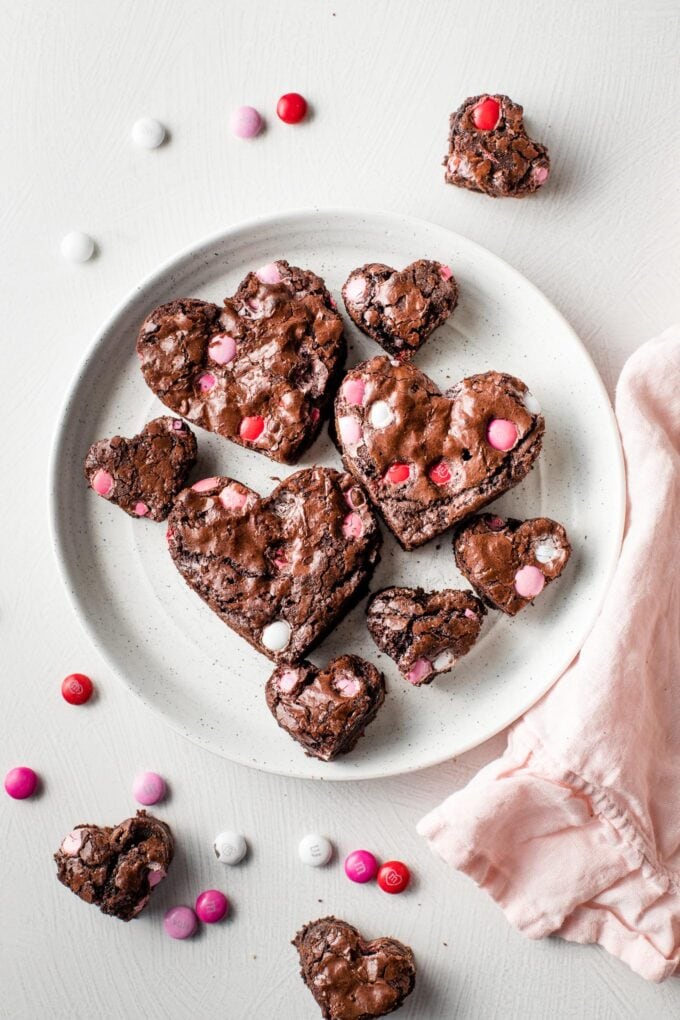 These directions include our tried-and-true favorite from-scratch brownie recipe, which is irresistible and made in just one bowl, but yes, you can absolutely use a boxed brownie mix to make this even easier!
Why You'll Love These Brownies
Sweet and simple, tried and true, these brownie hearts are as delicious as they are adorable. Of course, the idea of cutting brownies into shapes is nothing revolutionary, but I do hope you'll love this as much as I do for a few reasons:
Irresistibly fudgy brownies with the classic crackled top. The flavor and consistency of this brownie recipe is everything a great brownie should be!
Simple, everyday ingredients. Nothing complicated here, and if you bake somewhat regularly, it's likely you have all the ingredients in your pantry right now. The specialty M&Ms to dot the top are a nice touch, but absolutely not necessary to make a cute, tasty treat.
Fun and easy to make with kids. Small kids love to make specialty treats for holidays, but let's be honest, it's often the time you least want to take on a complicated baking project. Cut-out brownies are quick and easy but still rewarding, and there are lots of steps with which kids can help, depending on their age and skill level — measuring, mixing, sprinkling, cutting.
Ingredients You'll Need
You will need baking basics for this recipe:
From the pantry: unsweetened chocolate (the kind that comes in a bar, such as Ghirardelli, Guittard, or Baker's), chocolate chips, M&M chocolate candies, all-purpose flour, granulated white sugar, vanilla extract, a smidge of sea salt, and you can add a bit of espresso powder if you like to deepen and enhance the chocolate flavor.
From the fridge: butter, eggs.
Which cookie cutter should I use?
Any simple heart-shaped cookie cutter will work for the Valentine's theme of these brownies — this set is affordable and comes with six so you can make varying sizes, as shown here. Of course you can use any cookie cutter to achieve a different effect.
How To Make Heart Shaped Brownies
This is very straightforward, as all little baking projects should be! First, you'll mix up a classic brownie batter and fold it together with a gentle hand until you have a thick, fudgy batter as shown. Mix in your chocolate chips and M&Ms.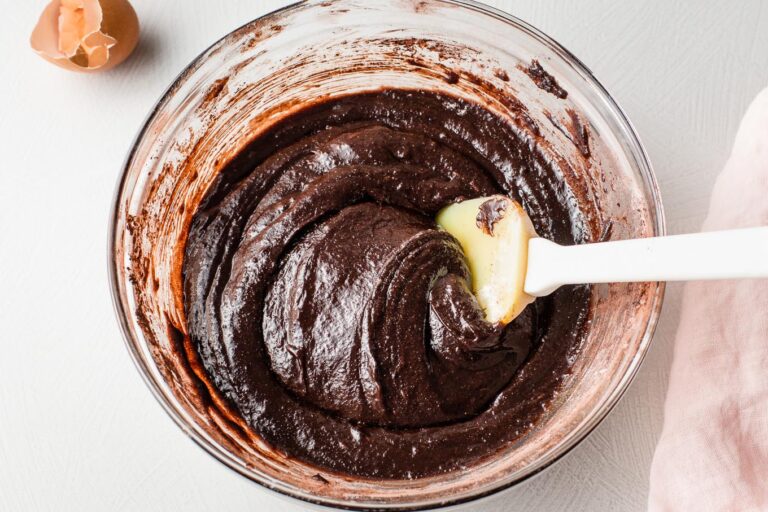 Pour the mixture evenly into a lined square baking pan. Lining the pan with parchment paper or foil is very helpful for this recipe, so you can lift out the brownies cleanly onto a cutting board.
Lightly press a few extra M&Ms across the top. This is just for looks. 🙂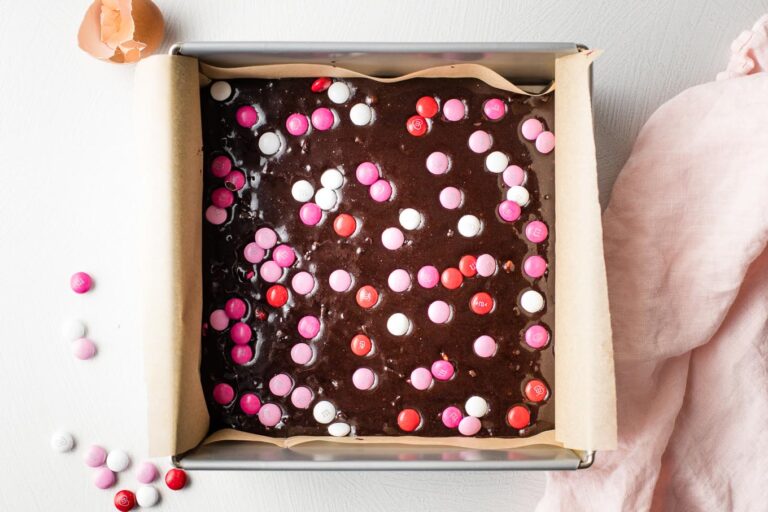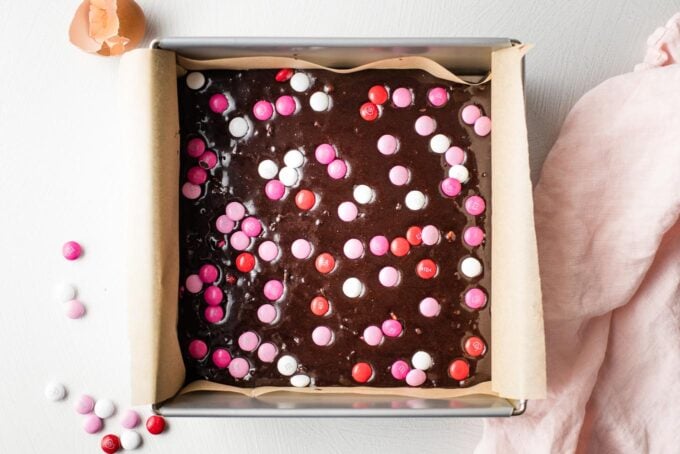 Bake and voila! Fudgy brownies, delicious and festive. Allow the brownies to cool fully–although there is no joy like the joy of a brownie still warm from the oven, in this case, you need the brownies to be cool and set to ensure you can get clean cuts from your cookie cutters.
Once cool, lift the brownies out of the pan, using the overhanging edges of parchment or foil. Place on a cutting board, cut into shapes, and enjoy!
Munching on the scraps is half the fun. 😉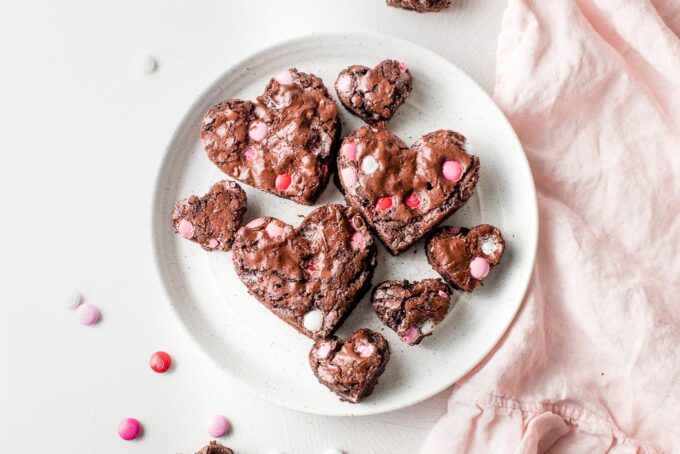 Should you let brownie batter rest?
It's by no means necessary, but resting brownie batter can contribute to a glossier top and richer, more melded flavors. Let's be honest, though: setting your batter aside for even a few extra minutes is not always an option. Especially if you happen to have sous chefs of the elementary school variety. If you have 10 or 15 to let the batter rest while you accomplish some other task, take it, but if not, bake those brownies straight away and never look back.
How can I make a heart shaped brownie cake?
If you are interested in making one large heart-shaped brownie cake — or any other heart-shaped cake for that matter — you can do that without a cookie cutter!
Simply make a double batch of this or any other favorite brownie recipe that's designed for a square baking pan. Bake one batch in a 9″x9″ square pan, and the other batch in a 9″ round cake pan — taking care to line both pans with parchment. After baking and cooling, lift the square brownie out and turn to a diamond shape. Slice the round brownie in half into two semicircles, being careful to cut as precisely down the middle as you can manage. Attach each half to an upper edge of the diamond, and you have a heart shape!
See a visual here. And a little frosting to hide the seams will only make it more delicious. 🙂
What makes a brownie fudgy?
A fudgy brownie has a relatively high fat-to-flour ratio. The more flour, the more cake-like the brownie. So this batch, and other fudgy brownies, have relatively more butter or oil. Truly, deeply curious? Read Martha Stewart's full take on the differences between fudgy and cake-like brownies.
How do you get brownies with a shiny, crackly top?
In my book, the perfect brownie has a beautiful sheen on top, with the thinnest crackly crust that practically flakes off when sliced, but is absolutely a form of paradise as you bite through to the soft, fudgy interior. There are numerous scientific methods claiming to deliver the perfect sheen, but my tried and true shortcut is a simple one elucidated by PJ Hamel of King Arthur Baking: chocolate chips. It's true. The simple act of adding chocolate chips to the brownie batter adds enough fat and sugar to make any brownie's top layer shine and shimmer.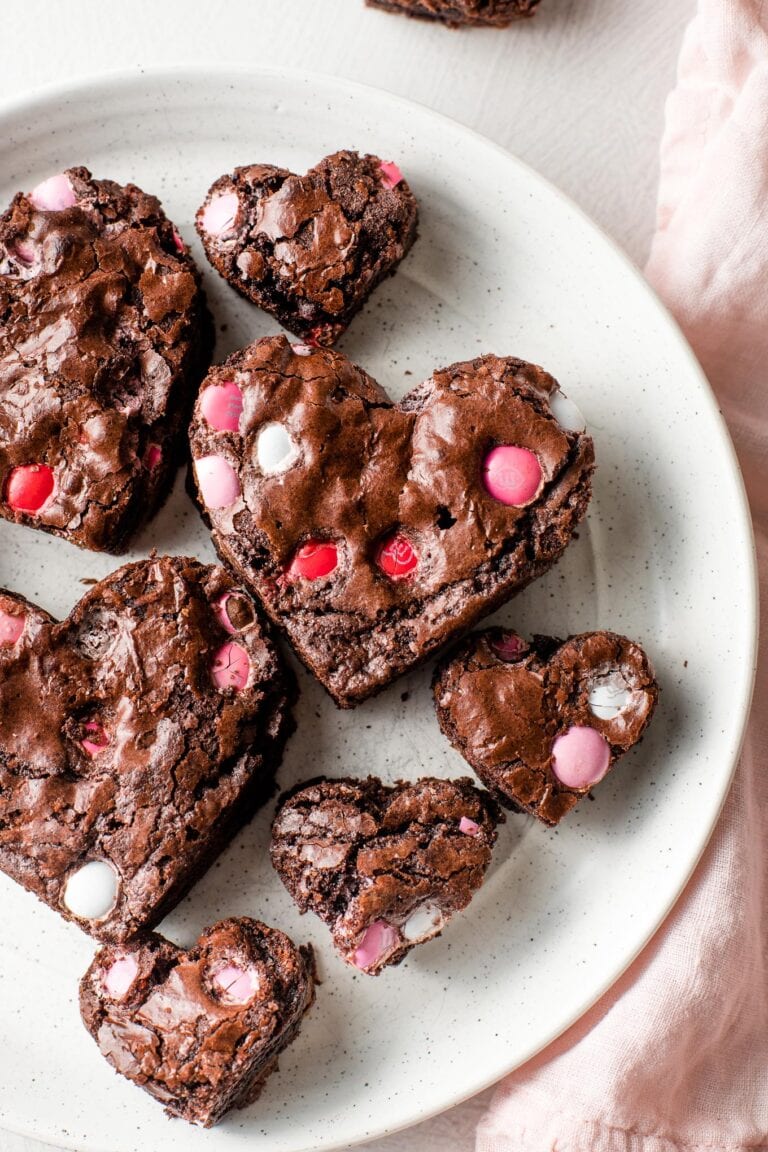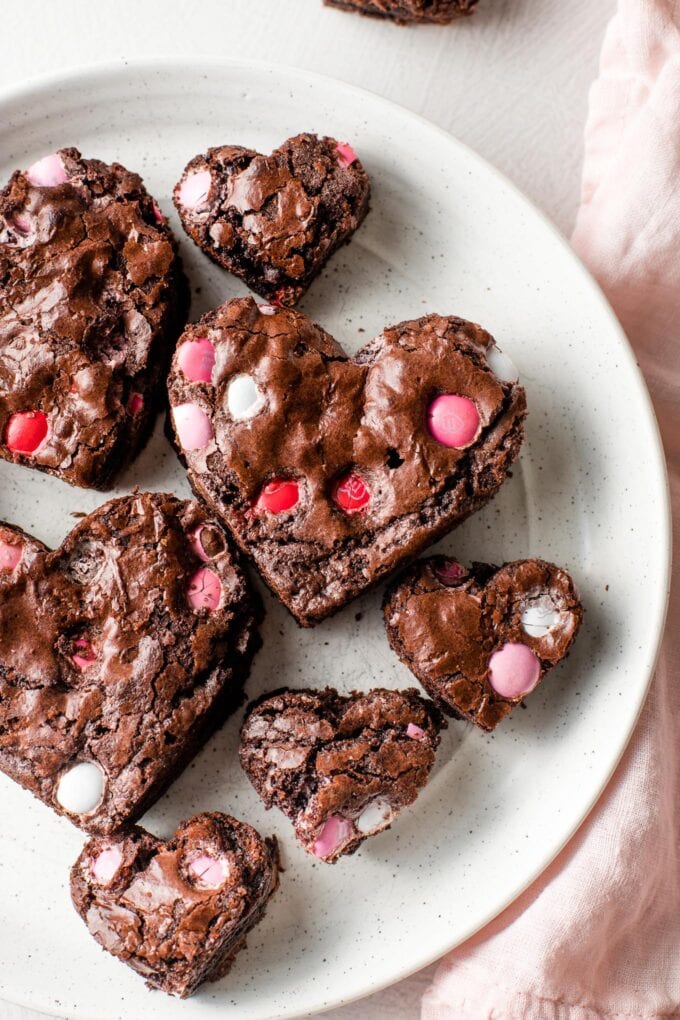 More Valentine's Treats
Looking for more sweet treats to bake or share with your loved ones? Try these perfect red velvet cupcakes, a one-bowl red velvet cake, or these adorable chocolate cut-out sugar cookies with strawberry frosting.
If you try these Heart Shaped Brownies, don't forget to rate the recipe and leave a comment below. I love hearing how recipes turn out in your kitchen, and it helps other readers, too.
You can also FOLLOW me on PINTEREST, INSTAGRAM, FACEBOOK, and TWITTER for more great recipes and ideas!
Heart Shaped Brownies
Easy, adorable, and perfect for Valentine's Day! Fudgy brownies packed with chocolate chips and pink M&Ms, cut into cute heart shapes for maximum sweetness.
Ingredients
3 ounces (85 g) unsweetened chocolate
8 Tablespoons (1 stick, 1/2 cup, or 115 grams) unsalted butter
1 and 1/3 cups (265 g) granulated white sugar
1/2 teaspoon instant espresso or coffee powder optional
2 large eggs
1 teaspoon vanilla extract
1/2 teaspoon flaky sea salt
2/3 cup (85 grams) all-purpose flour
1/2 cup chocolate chips or chunks
1 cup M&Ms plus a few more for sprinkling
Instructions
Preheat oven to 350 degrees F (180 C). Set aside a 9×9-inch baking pan. Line the interior with parchment paper or foil. This step is necessary for lifting out the baked brownies.

In the microwave at 50% power, or in a medium saucepan set over low heat, melt together the chocolate and butter, stirring frequently. When fully melted and smooth, remove from heat. Add the sugar, espresso powder, and eggs, whisking vigorously to fully incorporate. Add vanilla and sea salt and whisk again.

Sprinkle flour over the batter. Stir with a spoon or spatula just until combined, then gently mix in chocolate chips and M&Ms. Scrape batter into the prepared pan, using the spatula to press batter into the corners if necessary, and dot the top with a few more M&Ms.

Bake 25-30 minutes, until a toothpick inserted into the center comes out with just a few crumbs. Remove from the oven and let cool fully to room temperature.

Lift brownies from the pan using the parchment or foil liner, and place on a cutting board. Cut into shapes with cookie cutters, and serve.
Notes
If using a boxed mix, simply prepare as directed, add extra chocolate chips and M&Ms, bake, cool, and slice. It's still crucial to line the pan.
You can buy a set of heart-shaped cookie cutters here, or a single one for simplicity.
This basic brownie recipe is our go-to and is adapted from Smitten Kitchen.
Nutrition Estimate
Calories: 120 kcal, Carbohydrates: 22 g, Protein: 2 g, Fat: 3 g, Saturated Fat: 2 g, Cholesterol: 20 mg, Sodium: 69 mg, Potassium: 63 mg, Fiber: 1 g, Sugar: 17 g, Vitamin A: 30 IU, Calcium: 9 mg, Iron: 1 mg
Did you make this recipe?
Leave a review below, then snap a quick picture and tag @nourishandfete on Instagram so I can see it!