Crispy Potato and Eggs Breakfast Skillet
Savory breakfast lovers, rejoice! This skillet with crispy golden potatoes, baby spinach, and bell peppers is simple, healthy, and flavorful. Finish by cooking eggs right in the same skillet to round out a filling and fun-to-serve meal.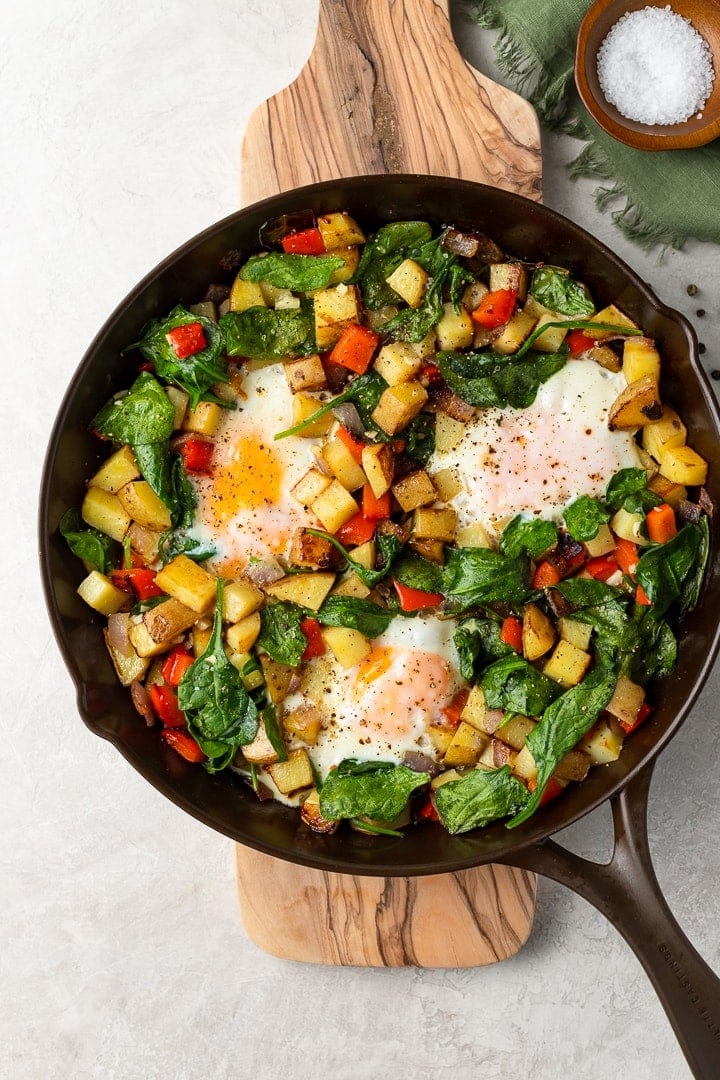 When it comes to breakfast, are you team sweet or team savory? I'll admit most of the time I'm team sweet. I have a lot of trouble saying no to a warm, buttery cinnamon roll.
All the same, as I'm trying to diversify our weekend breakfasts, and also trying to generally eat more veggies (#storyofmylife), I'm finding a new place in my heart for savory morning meals, and life is good.
This particular breakfast skillet is a perfect starter combination that's been on repeat in our house lately. It's delicious in its own right, but also a fantastic jumping off point to customize based on your own tastes… or your fridge remnant situation.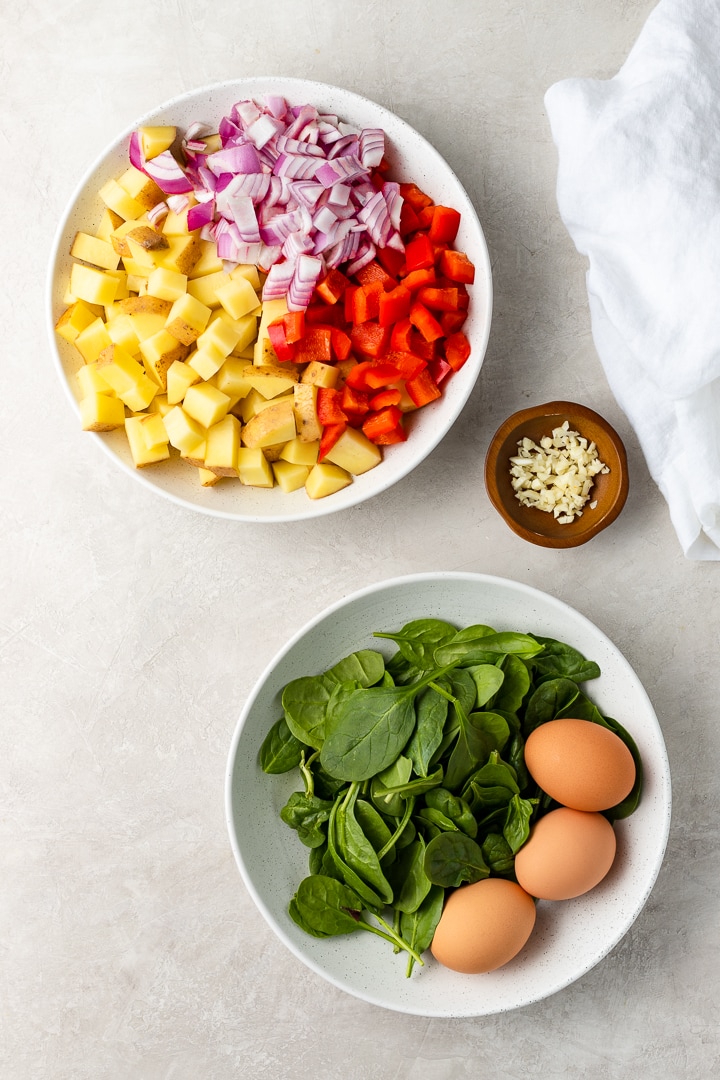 How to make a breakfast skillet
Here's what you'll need to make this base recipe:
Potatoes – I especially love using Yukon golds. They have a fantastic buttery flavor. Chop but don't peel them!
Red onion.
Bell peppers – any color.
Fresh baby spinach.
Fresh garlic and other seasonings – definitely a pinch of kosher salt, some freshly-ground black pepper, and some red pepper flakes.
Eggs – you'll cook these right in the pan. So easy!
Again, you could easily swap out the veggies. Arugula or kale work well in place of the spinach, any type of onion is fine, etc.
And the cooking process is straightforward, too:
Start by adding a bit of oil or butter to a skillet (you know I love this one for a dozen reasons!) followed by the chopped potatoes, onions, and peppers.
Add spinach, garlic, and seasoning (photo 1 below).
Cook another minute or so to let the spinach wilt and mix in (photo 2).
Keeping the pan on the heat, use a spatula or wooden spoon to push aside and form three holes in the veggie mixture – or holes for as many eggs as you plan to cook. Crack an egg into each (photo 3) and let it cook until the eggs are as done as you like.
Taste, add more seasoning if you like, and serve!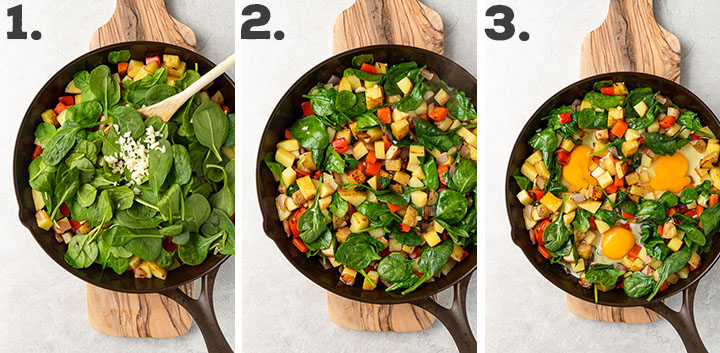 Breakfast skillet recipe notes
A few simple tips and suggestions for making the most of this recipe. After all, if you've committing to a crispy potato and egg breakfast situation, you might as well do it up the right way! 🙂
Try to stick to a reasonably consistent size when chopping all of the veggies, but especially the potatoes. You want them to cook evenly, and if some pieces are much larger or smaller than the others, they'll be too hard or too mushy – not ideal! I aim for pieces between 1/4 and 1/2-inch square.
Use a large enough skillet. You want the potatoes to be pretty spread out for the best crisping action. The one pictured here is 10.5 inches across.
Used half an onion? Don't throw the rest away! Chop the excess and freeze it in a small ziplock bag or other tightly-sealed container. This prevents fridge smells–cut onion always stinks up my fridge, no matter how tightly I try to seal it–and is easy to pull out for the next recipe that calls for a small amount of onion. You can typically just throw chopped onion into the pan straight from the freezer. So easy.
To speed things up, you can cover the pan as the eggs cook. Optional but faster!
I love to put this skillet straight on the table, because it makes such a pretty presentation, especially with the bright colors and cooked eggs nestled in. Add a little coffee and orange juice, and you've got a healthy, delicious breakfast you can definitely feel good about.
As for me, because I am a totally unreformed carb monster, I love a serving of this skillet with a few tortilla chips on the side. No regrets.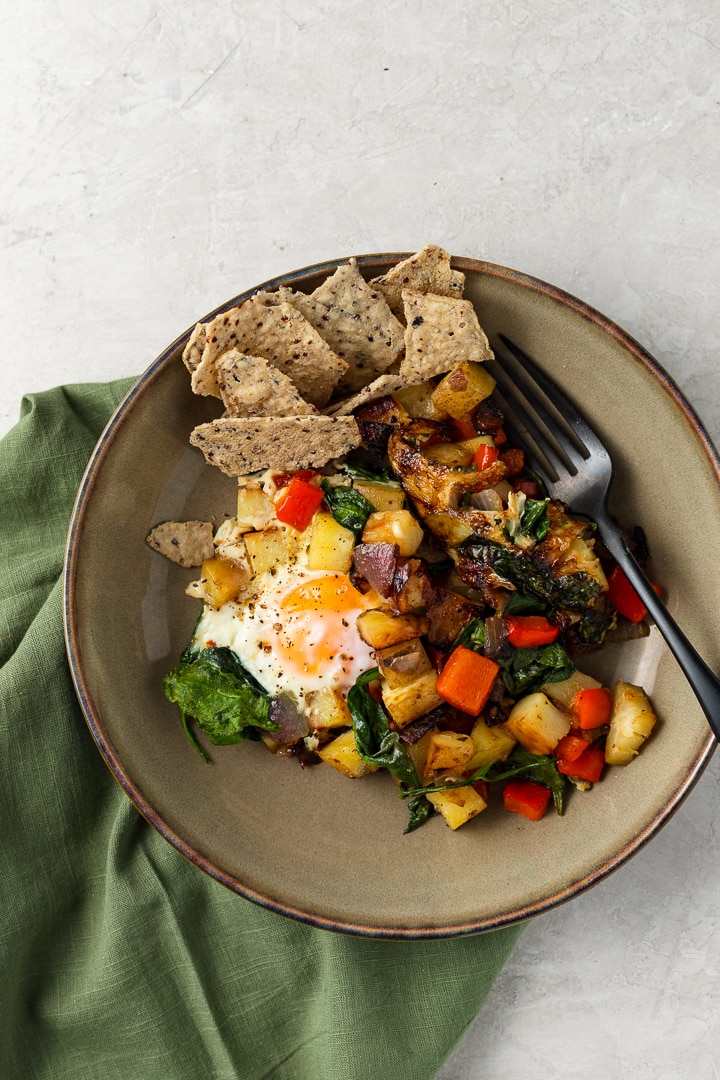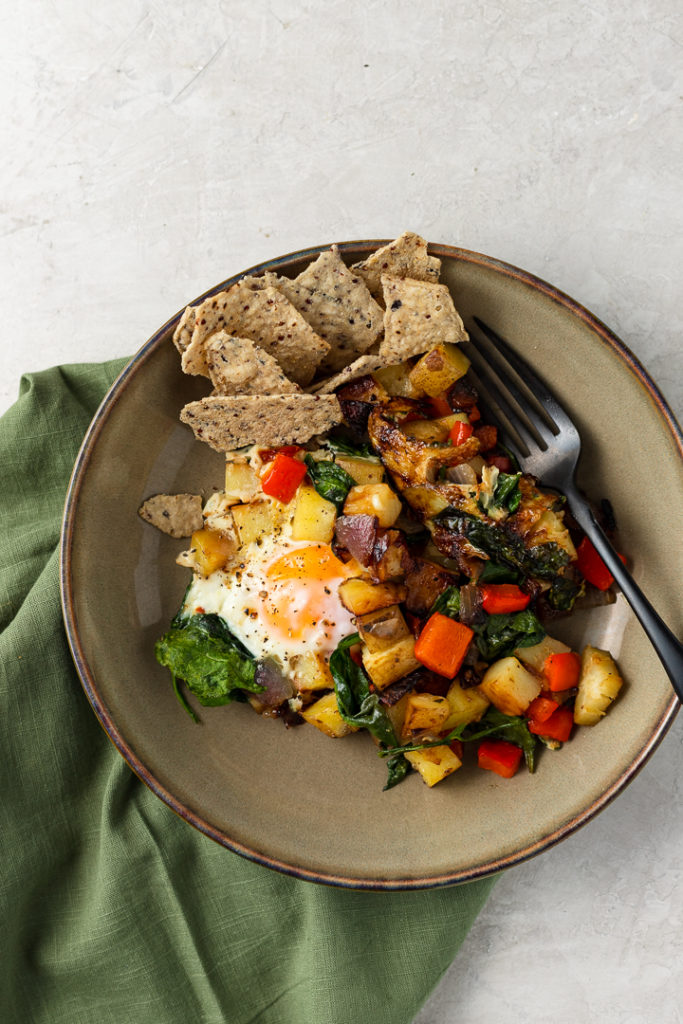 More Breakfast Ideas You'll Love:
Enjoy! If you try this Breakfast Skillet or any other recipe on Nourish and Fete, please rate the recipe and leave a comment below. I love hearing from you, and other readers will benefit from your experience!
Crispy Potato and Eggs Breakfast Skillet
Savory breakfast lovers, rejoice! This skillet with crispy golden potatoes, baby spinach, and bell peppers is simple, healthy, and flavorful.
Ingredients
2 tablespoons extra-virgin olive oil
2-3 medium Yukon gold potatoes diced
1/2 bell pepper any color, seeded and diced
1/2 red onion diced
2-3 cups baby spinach
2 cloves garlic minced
pinch red pepper flakes
3-4 eggs
kosher salt
freshly-ground black pepper to taste
Instructions
Warm olive oil in a large skillet over medium-high heat. When hot, add the diced potatoes, bell pepper, and onion. Saute for 6-8 minutes, stirring every minute or so, until the potatoes begin to brown and crisp on the edges.

Add spinach, garlic, and red pepper flakes. Saute for 1 minute more, just until the garlic is fragrant and the greens begin to go limp.

Using a spatula or wooden spoon, push aside the potato-spinach mixture to form holes, then break an egg into each. Cover the skillet and cook until the eggs are done to your liking, probably 3-5 minutes on average. Season with salt and pepper, to taste, and serve right away.
Nutrition Estimate
Calories: 174 kcal, Carbohydrates: 14 g, Protein: 7 g, Fat: 10 g, Saturated Fat: 2 g, Cholesterol: 122 mg, Sodium: 68 mg, Potassium: 531 mg, Fiber: 3 g, Sugar: 1 g, Vitamin A: 2050 IU, Vitamin C: 34.4 mg, Calcium: 65 mg, Iron: 3.8 mg
Did you make this recipe?
Leave a review below, then snap a quick picture and tag @nourishandfete on Instagram so I can see it!