Spinach Parmesan Frittata
Frittatas are easy and delicious, perfect for any meal from brunch to dinner. This version with spinach, sun-dried tomatoes, Parmesan, and Gouda is flavorful and ready in about 25 minutes.
Love a good savory breakfast? Try a sage and butternut squash frittata next!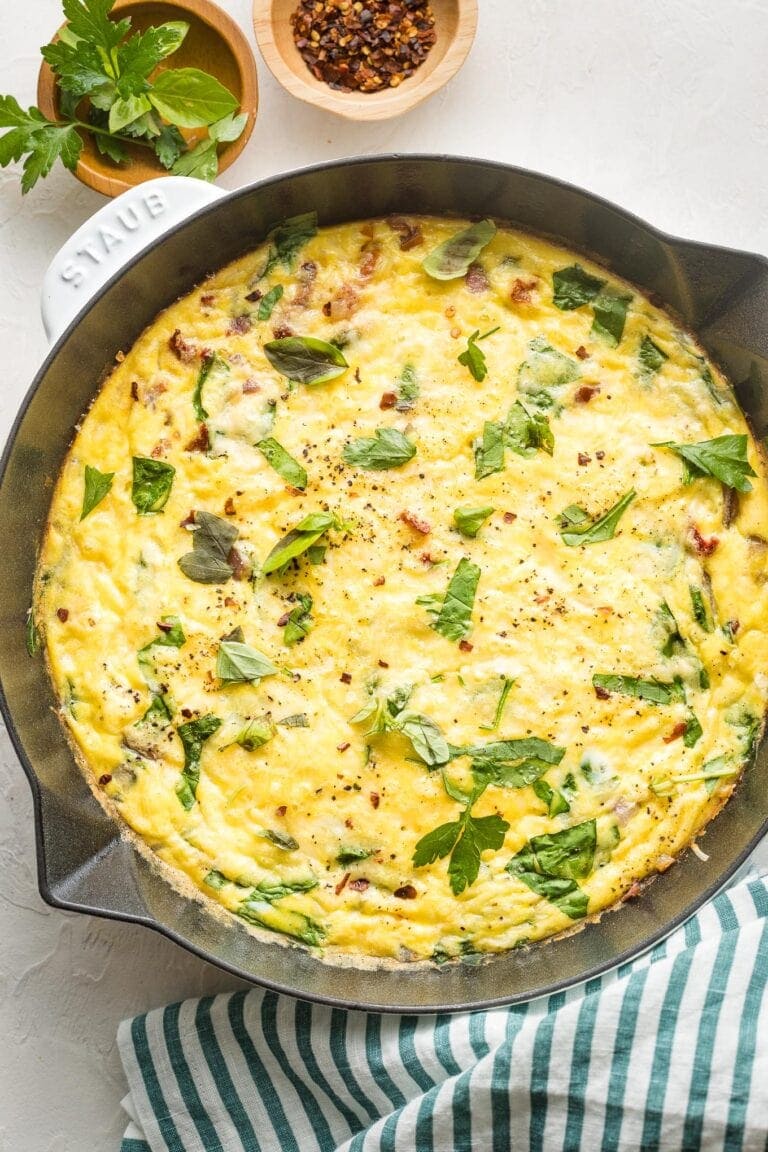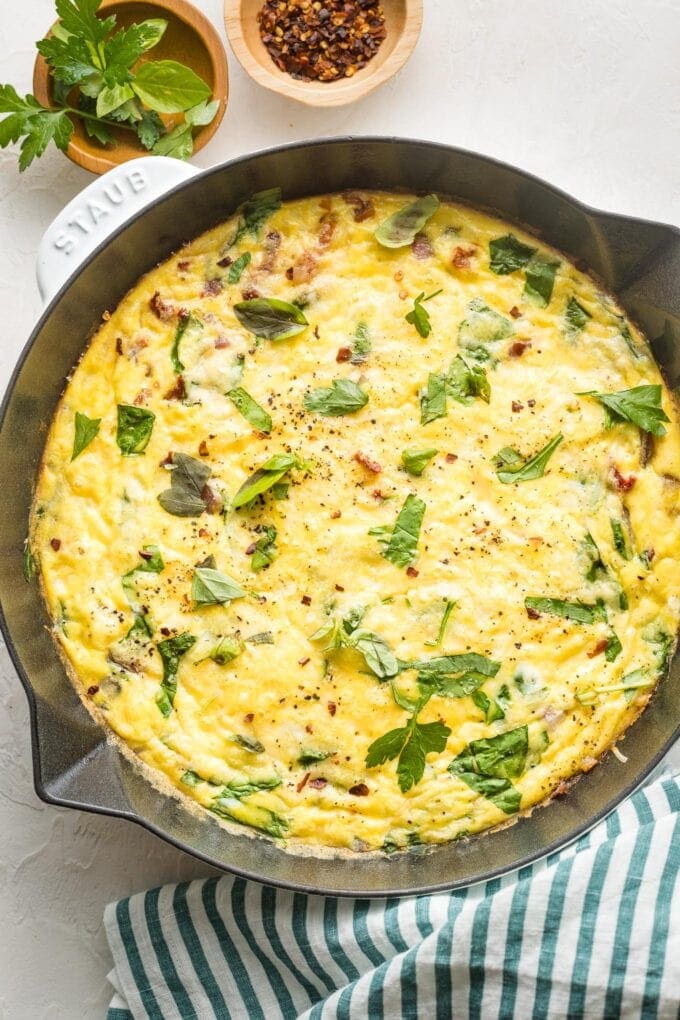 Frittatas have been a key part of my cooking playbook for years, and once you try a really good one, you'll feel the same.
Why so much love for a simple dish? Frittatas are perfectly well suited to breakfast, brunch, or dinner. They are very quick and easy to make — we're talking less than half an hour, start to finish, most of it baking time.
And, they're endlessly flexible. While this particular spinach Parmesan combination is one of our favorites, you can take the foundation — like this base frittata recipe from Love & Lemons — literally toss in any extra veggies, meat, cheese, or herbs, and have a tasty meal while cleaning out the fridge.
Spinach Parmesan frittata ingredients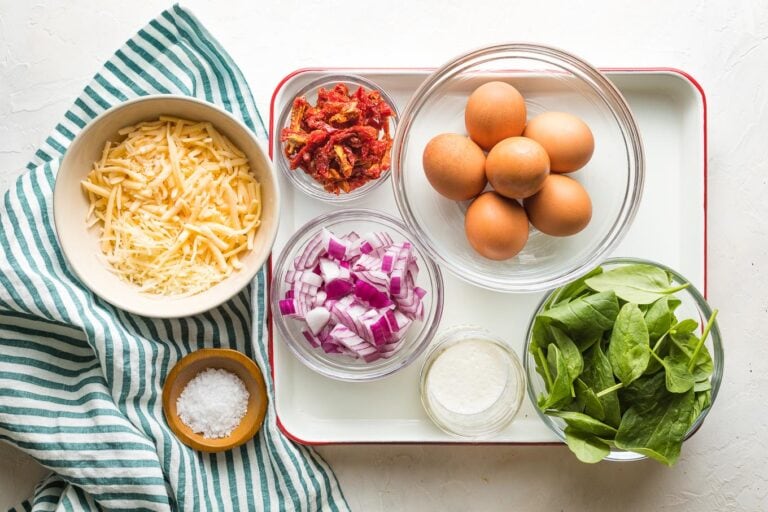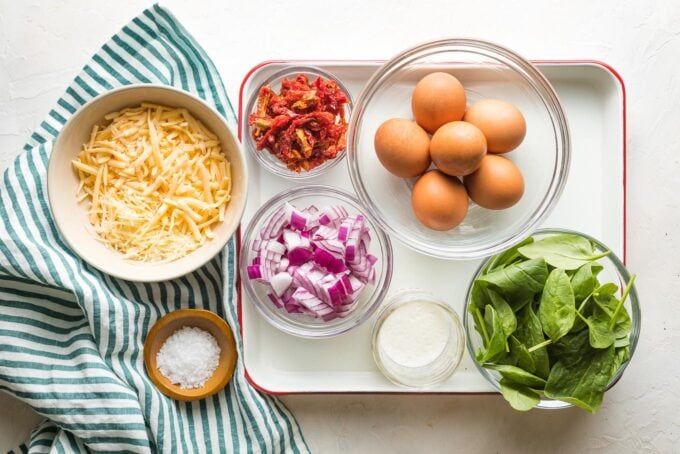 Eggs: Use 6 large eggs to make a frittata in a standard 10-inch skillet. If working with a 12-inch skillet, use 8 eggs.
Cream: While cream delivers the richest flavor, and it's a small amount (1/4 cup) divided among several servings, you can certainly substitute half and half or even milk.
Baby spinach: A few generous handfuls. This adds beautiful color and lots of nutrition.
Sun-dried tomatoes: For this recipe I prefer using dried, julienne-cut sun-dried tomatoes, which are often sold in grocery stores near fresh tomatoes or salad fixings. If using oil-packed sun-dried tomatoes, drain and lightly dab them with a paper towel before adding to the skillet.
Onion: About half of a small onion adds just the right amount of flavor. I like red onion best with spinach and Parmesan, but yellow or white onion certainly work, too.
Gouda and Parmesan cheese: Creaminess, flavor, tang — cheese adds all kinds of critical elements! Aim to use about 1 cup of shredded cheese total.
Butter, salt, and pepper.
Optional: fresh herbs, for garnish.
How to make it: tips and tricks
A frittata is also lovely because it could not be simpler to make. There are four basic steps:
Cook and season the veggies.
Sprinkle with cheese.
Pour eggs on top.
Bake until set.
As always, however, a few extra tips go a long way to ensure success, particularly if you haven't made many frittatas before.
Use an oven-safe skillet: This enables you to transfer the frittata directly from stovetop to oven without any hassle or extra pans to wash. This is the exact 10-inch cast iron skillet shown here. Sometimes I also like to use a pan similar to this enameled skillet, which seems to minimize sticking. If you don't have an oven-safe skillet, you can still make a frittata, but you'll have to transfer the sautéed veggies to a pie plate or similar dish before adding eggs and baking.
Divided cheese: This is not strictly necessary, but I like to use the majority of the cheese inside the frittata, sprinkling it on top of the veggies before the eggs are added, and save a small amount to sprinkle on top of the eggs. The effect is of a cheesy interior and a thin cheese crust.
Know when it's done: Oven temperatures and temperaments vary, so the best way to tell when a frittata is done is to look for these traits: the eggs should be fully set, the top should be light golden brown, and the edges should start ever so slightly pulling away from the sides of the skillet.
Herbs make it pretty: If you have some fresh basil, parsley, thyme, or other herbs, add them to the top of the frittata after baking for a pretty visual effect.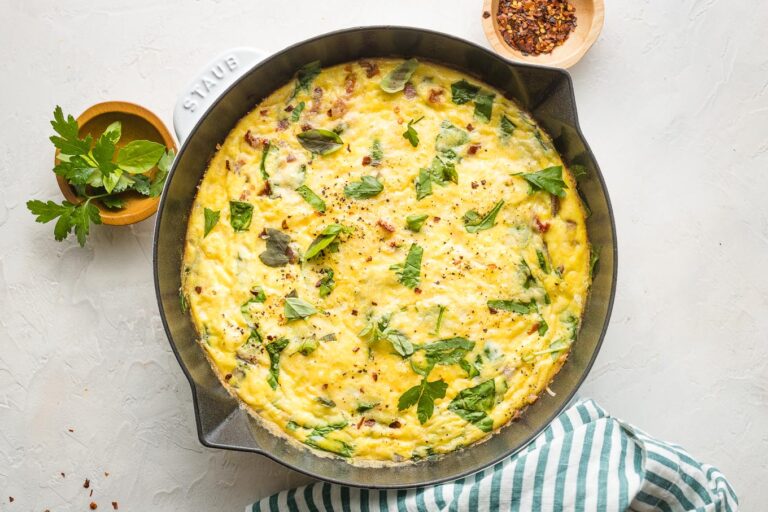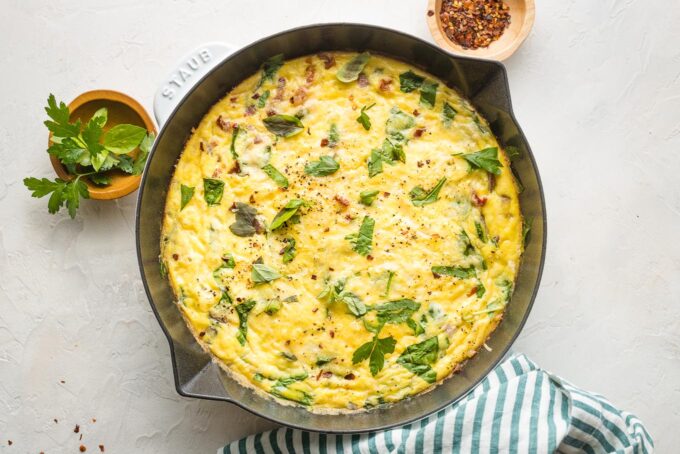 How to serve it
Serve this frittata with toast, fruit, or greens for a simple breakfast that still feels fancy. If you're planning it as part of a larger brunch spread, add fruit, bacon or sausage for any meat eaters, a large green salad with light dressing, and muffins or cinnamon rolls for a sweet treat.
I most often make this for a quick and easy dinner, and serve it with a light salad and a sliced baguette. Everyone loves it, it's crazy easy, and any leftovers pack nicely for breakfast or lunch the next day.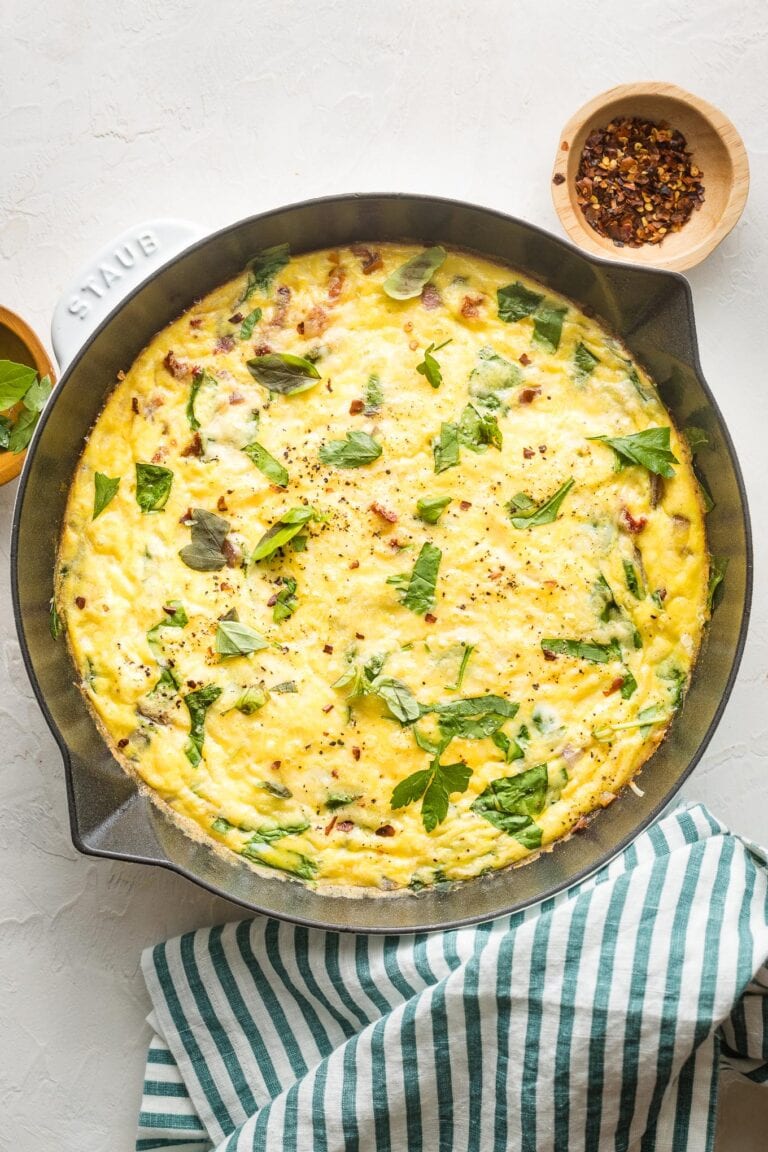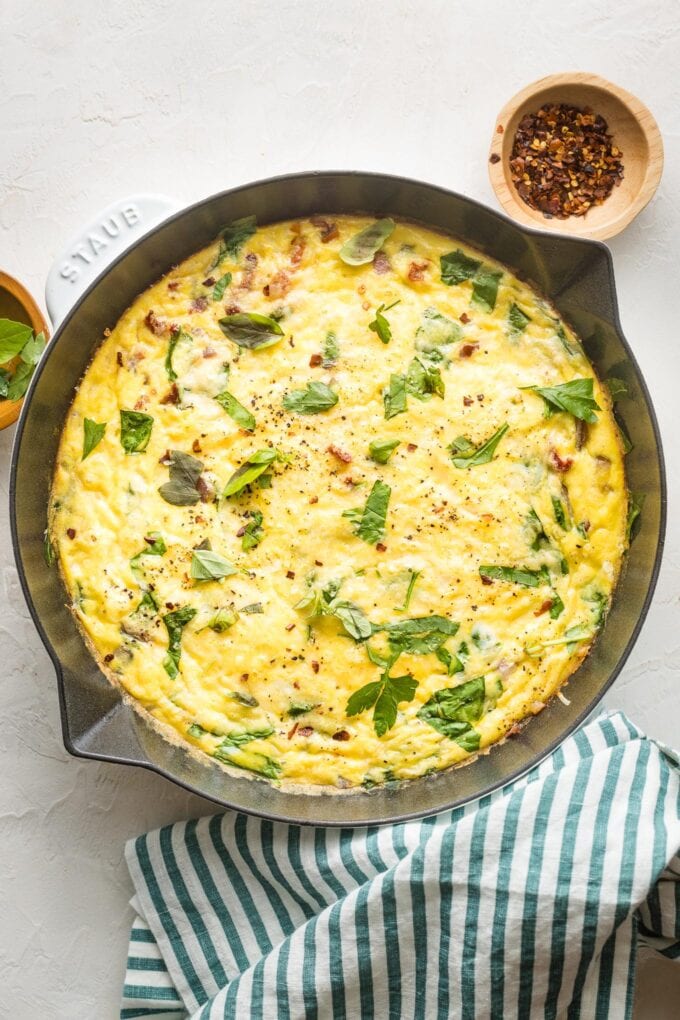 If you try this spinach Parmesan frittata, don't forget to rate the recipe and leave a comment below. I love hearing how recipes turn out in your kitchen, and it helps other readers, too.
You can also FOLLOW me on PINTEREST, INSTAGRAM, FACEBOOK, and TWITTER for more great recipes and ideas!
Spinach Parmesan Frittata
Easy to make and super flavorful, perfect for any meal from brunch to dinner, and ready in about 25 minutes!
Ingredients
6 large eggs
1/4 cup heavy cream
1 tablespoon unsalted butter
1/2 small red onion chopped
2 handfuls baby spinach chopped
1/4 cup sun-dried tomatoes
1/2 teaspoon kosher salt
8-10 cranks fresh-ground black pepper
3/4 cup grated Gouda cheese
1/4 cup grated Parmesan cheese
Instructions
Preheat the oven to 350 degrees F (180 C). In a medium bowl, whisk together eggs and cream; set aside.

In a cast-iron or other oven-safe skillet, melt butter over medium-high heat. Add onion and cook for 1-2 minutes, until just beginning to soften. Add spinach and tomatoes, season with kosher salt and black pepper, and cook about 2 minutes more. Remove from heat.

Using a spatula or large spoon, spread veggie mixture evenly across the skillet's bottom. Sprinkle most of the cheese over the veggies, then pour egg mixture on top. Gently swirl the pan to ensure eggs are evenly distributed, then sprinkle remaining cheese on top.

Bake for 18-20 minutes, until eggs are set and the frittata begins pulling away from the edges of the pan. Allow to cool briefly, then slice and serve.
Notes
Substitutions: You can substitute half and half or milk for the cream, and swap out the veggies or types of cheese as desired. Frittatas are very flexible.
Yield: As written, this recipe is perfect for one 10-inch frittata, made in a standard 10-inch skillet. For us, this translates into 4 medium or 6 small servings. If you want to make a larger frittata, use a 12-inch skillet, 9 eggs, and 1/4 cup plus 2 tablespoons cream.
No oven-safe skillet? You can still make a frittata, but you'll have to transfer the sautéed veggies to a pie plate or similar dish before adding eggs and baking.
Storage: Frittatas keep very well. Store any leftovers tightly covered or wrapped in the fridge, and reheat briefly in the oven or microwave. 
Nutrition Estimate
Calories: 236 kcal, Carbohydrates: 5 g, Protein: 14 g, Fat: 18 g, Saturated Fat: 10 g, Cholesterol: 214 mg, Sodium: 653 mg, Potassium: 178 mg, Fiber: 1 g, Sugar: 2 g, Vitamin A: 1241 IU, Vitamin C: 27 mg, Calcium: 258 mg, Iron: 1 mg
Did you make this recipe?
Leave a review below, then snap a quick picture and tag @nourishandfete on Instagram so I can see it!
This post was originally published April 11, 2017. It has been updated with new photos and more helpful tips.
More easy egg recipes