Butternut Squash Frittata with Sage
This Butternut Squash Frittata with sage is a delicious and easy one-pan recipe. Filled with woodsy sage, sweet red onion, and tangy Parmesan, it's fluffy, thick, and satisfying. This is the perfect way to sneak in some veggies for breakfast–or fancy up breakfast for dinner!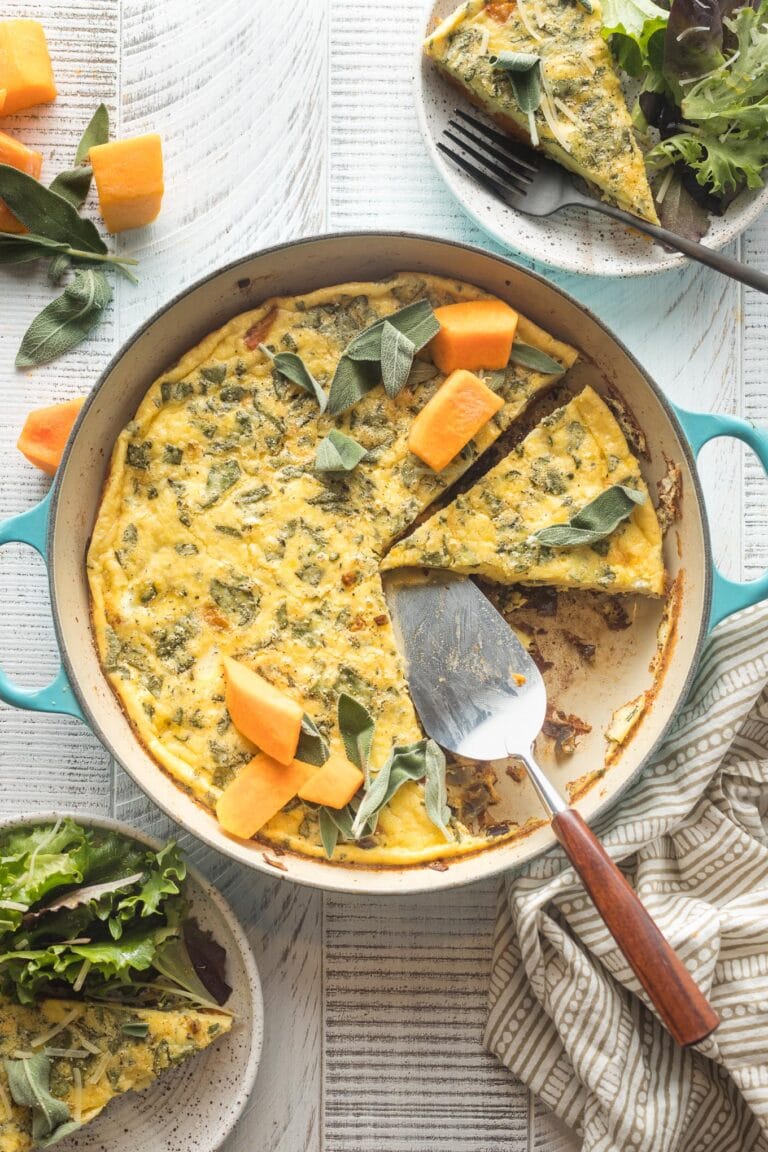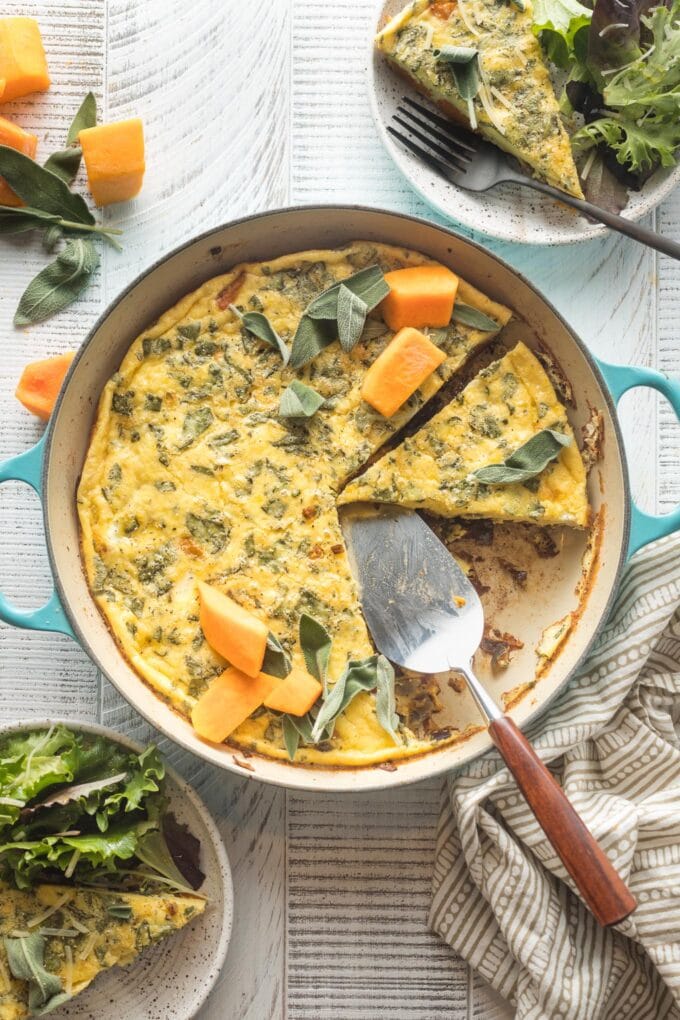 Why You'll Love This
Super simple to make. One bowl, one pan, and you are all set. This feels elegant yet is super simple to throw together, even in the morning or on a busy weeknight.
Naturally sweet and savory. That combination of sweet butternut and red onion plus the earthy sage just cannot be beat.
Packed with veggies and protein. This is a terrific meatless meal that delivers plenty of nutrition and protein from eggs, so it will keep you feeling satisfied.
Versatile. Eat it for breakfast, lunch, or dinner–a frittata miraculously transforms to feel right for any meal. Have extra veggies looking sad in the fridge? Toss them in–a frittata is the perfect fridge-clean-out vehicle.
What is a frittata, anyway?
A frittata is dish of eggs cooked on the stovetop and/or baked with mix-ins such as meats, cheese, herbs, and vegetables. Although similar to a crustless quiche, omelet, or humble scrambled eggs, a frittata is said to be of Italian origin, and usually incorporates cream or another dairy product to fluff and enrich the egg mixture.
Fun fact: "fritto" or "fritta" means "fried" in Italian.
Ingredients & Common Substitutions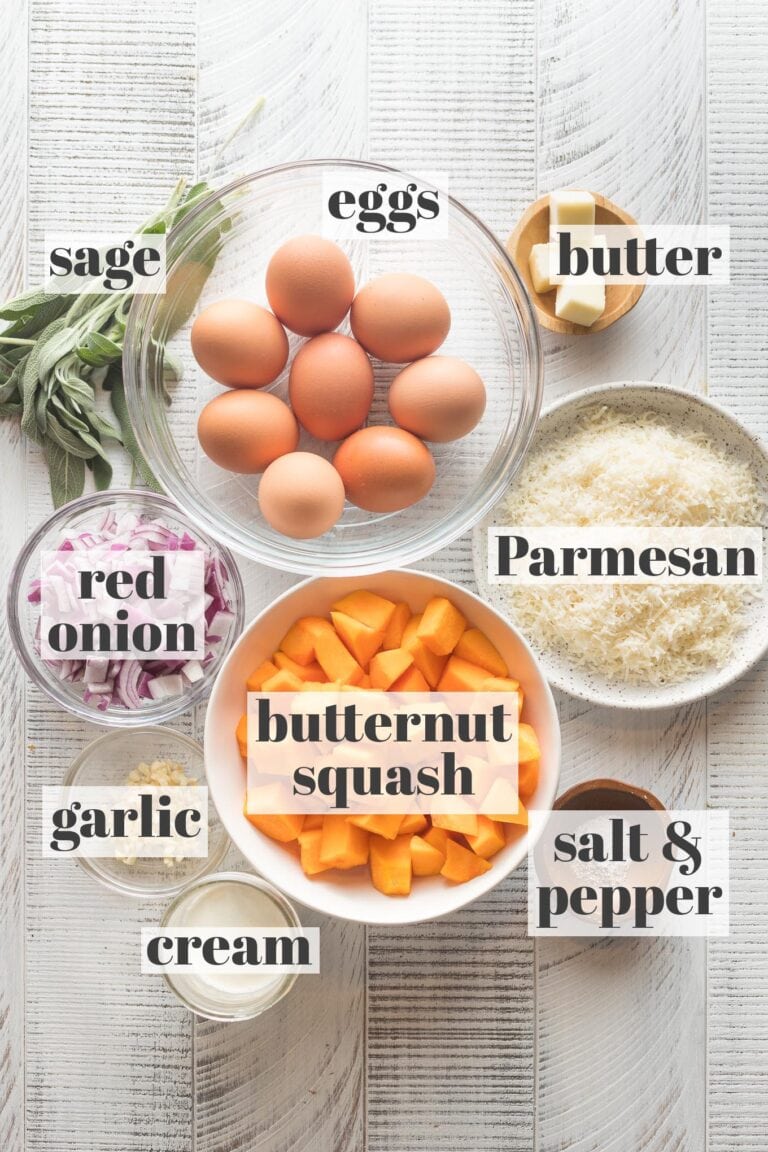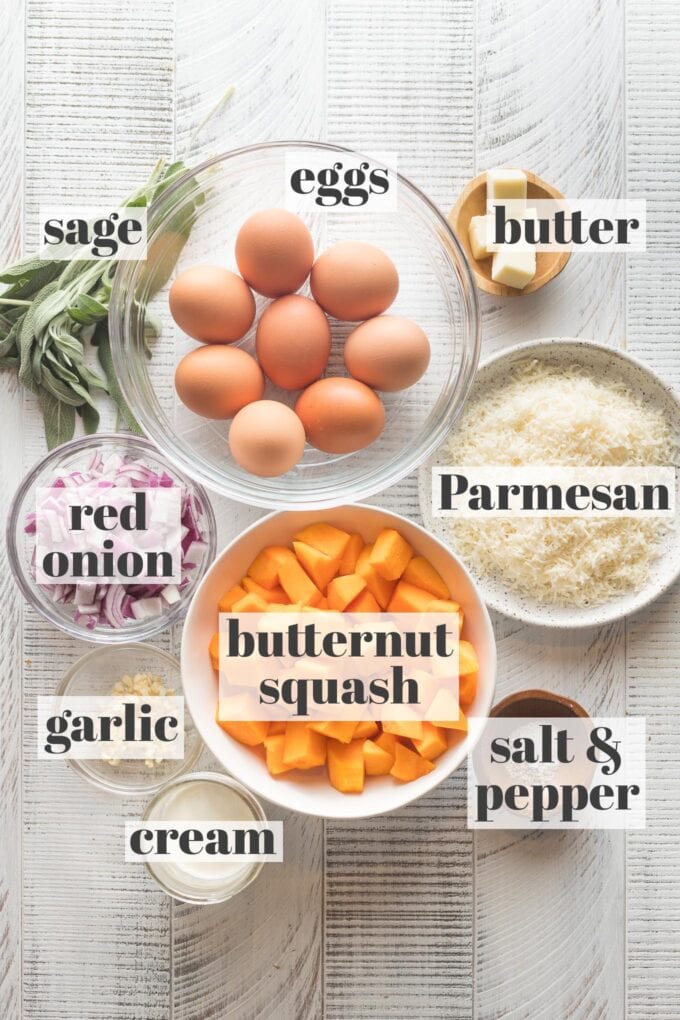 Here are a few notes and shopping tips about the ingredients you'll need to make this frittata, as well as possible substitutions. 
Eggs: Standard large eggs are perfect.
Cubed butternut squash: Buy it pre-cubed to save time. Or to avoid an itchy rash on your skin, which some people (including me!) develop when peeling squash. Substitute with sweet potato for a twist.
Fresh sage leaves: The perfect pairing with butternut. If you don't enjoy sage, try this with rosemary or thyme. Substitute 1 teaspoon of dried or powdered sage if desperate, adding more to taste, but do your best to pick up some fresh for this recipe. It's unbeatable.
Red onion: Has a slight sweetness that perfectly complements the butternut and the sage. Try using shallots for a twist, and don't hesitate to substitute a yellow or white onion if needed.
Parmesan: Grate it yourself or buy pre-shredded, either works well here.
Fresh garlic: Fresh is ideal, because of the flavor it adds when sautéed alongside the onion and squash, but don't hesitate to substitute 1/2 teaspoon garlic powder in a pinch.
Cream, butter, kosher salt, and black pepper. You can substitute half and half for the cream, but expect your frittata to be a bit less fluffy and rich.
What is the season for butternut squash?
Butternut squash is available year-round in most of the United States, but it's most easily found and tends to be of the best quality from early fall through the winter.
How to choose and store a butternut squash?
If you are buying butternut squash whole, the perfect one will feel heavy relative to its size and have a hard skin, without bruises or mold, according to Bon Appetit.
Store a whole butternut squash in a cool, dark place, such as your pantry, for up to a month; do not refrigerate. Once the squash is peeled and cut, however, it should be tightly covered, stored in the refrigerator, and used within five days at most.
How To Make a Butternut Squash Frittata
This frittata is made simple by first cooking the vegetables on the stovetop, then pouring an extra mixture on top and baking the entire dish together.
The squash takes the longest to cook, so be sure to chop it into small pieces – roughly 3/4″ cubes – and give them a head start cooking in a generous pat of butter. After a few minutes, add the minced garlic and red onion.
While the veggies becomes soft and tender on the stovetop, prepare your egg mixture. First whisk the eggs in a mixing bowl, then add the cream, sage, and Parmesan. Whisk again.
When the squash is tender enough that you can pierce the pieces easily with a fork, remove from the heat. Pour the egg mixture on top. Swirl the pan a bit if needed to ensure even coverage.
Pop into the oven and bake!
How to tell when a frittata is done?
A frittata is done when the center is set and the edges turn slightly brown and pull away slightly from the edge of the pan or skillet. A knife inserted into the center should come out clean.
Do not worry if the frittata puffs up while baking! It will fall back to an attractive, even layer after cooling slightly.
Now you are ready to slice, serve, and dig in!
You don't need to sprinkle extra butternut and sage on top. I just did it for visual effect!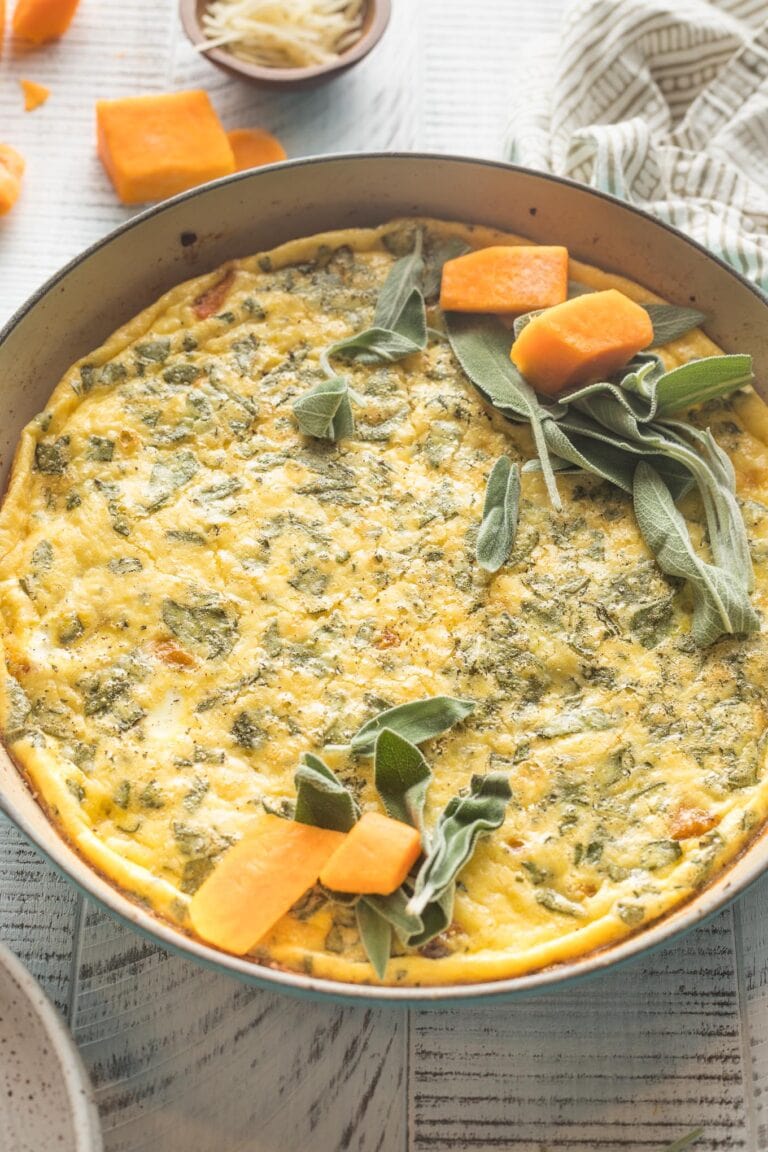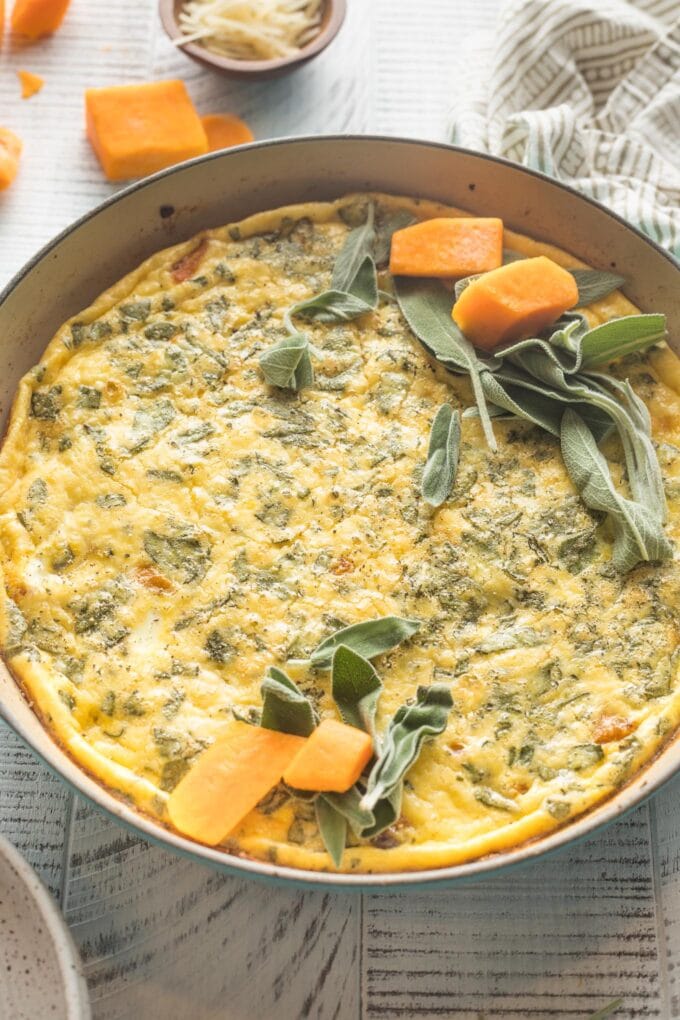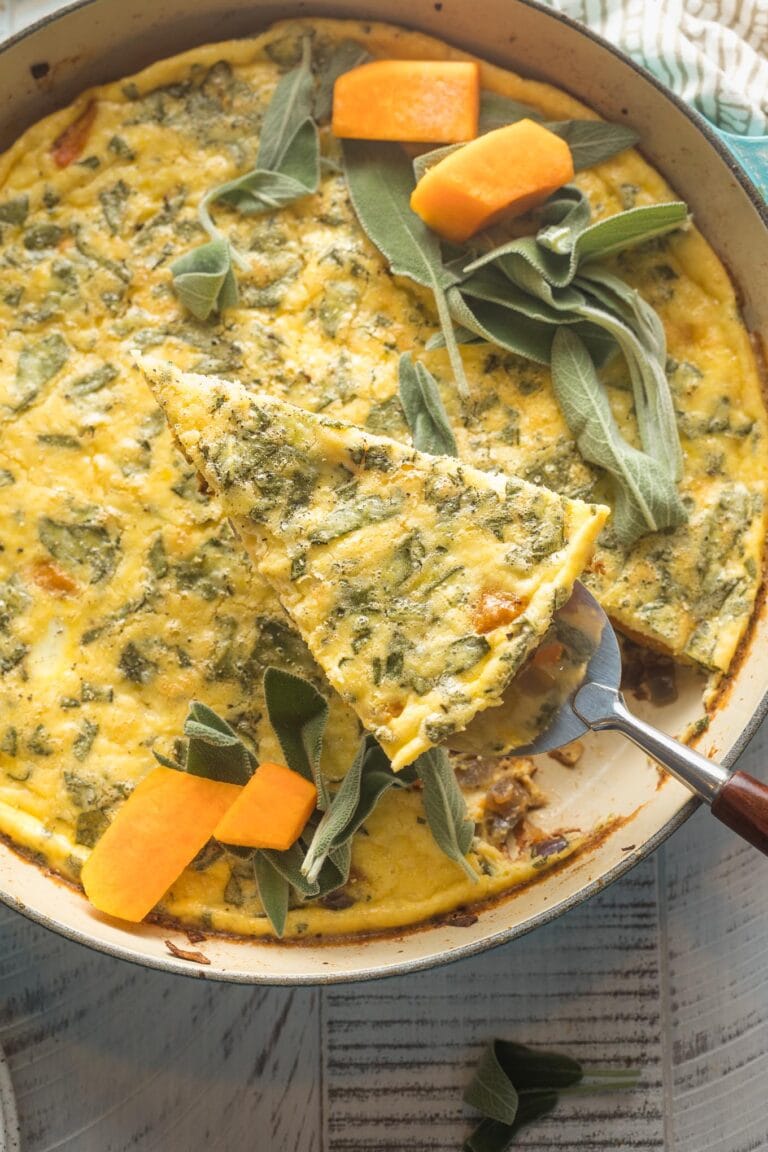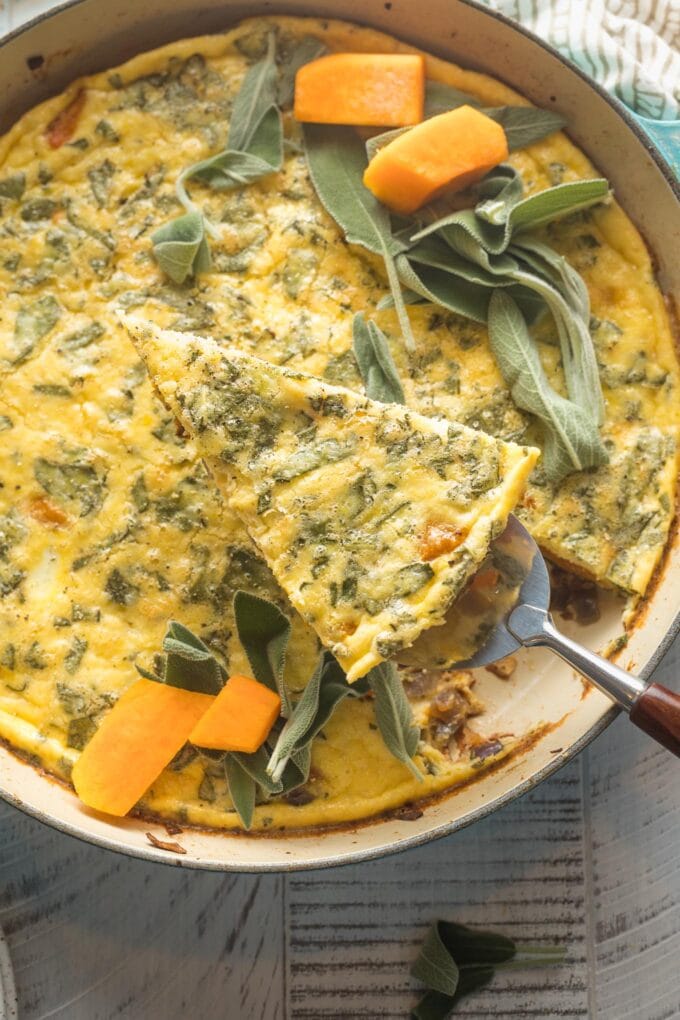 Variations
Add extra veggies. Toss in some kale, spinach, or chopped bell pepper for an extra boost of nutrition that will pair well with the warm butternut flavor.
Swap the herbs. Try this with rosemary or thyme, as well or instead of the sage.
Add meat. Mix in some cooked, crumbled bacon or sausage along with the egg mixture.
Serving Suggestions
Butternut squash frittata is perfect served alongside a simple bed of greens–try arugula or mixed baby lettuce. It also makes a wonderful savory centerpiece to any brunch spread. Try it alongside a ham nugget or bacon, sweet rolls, and mimosas!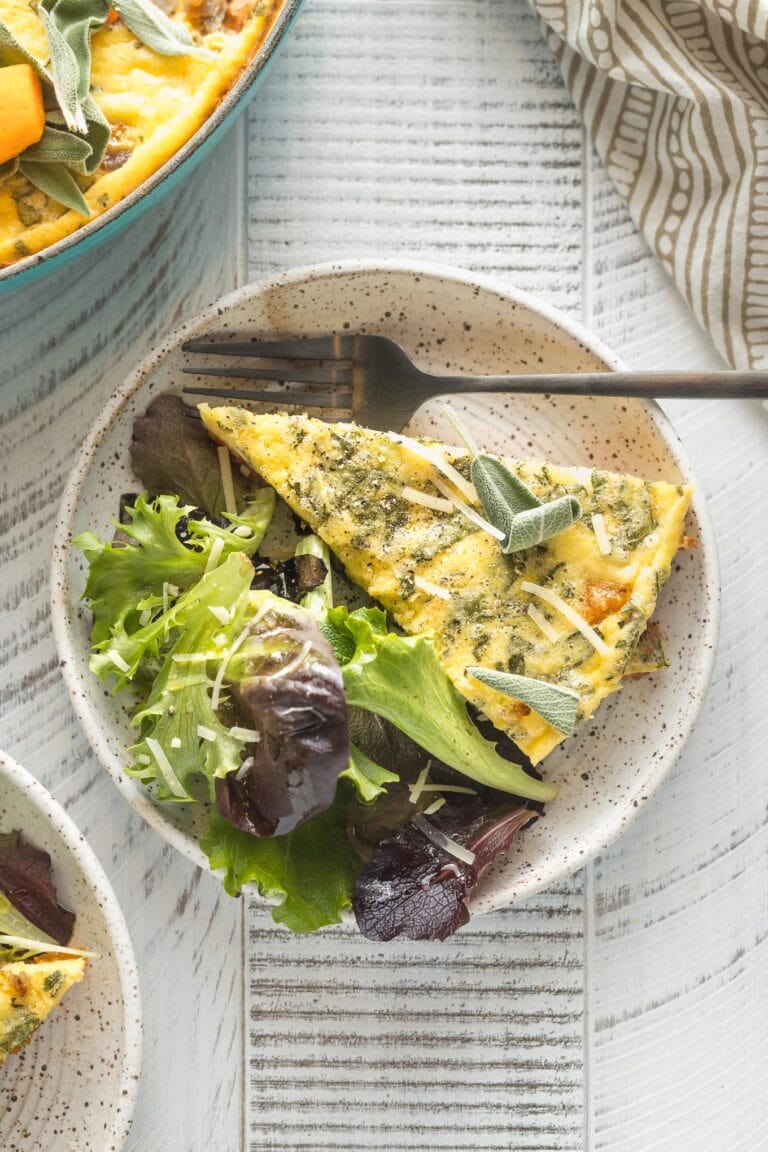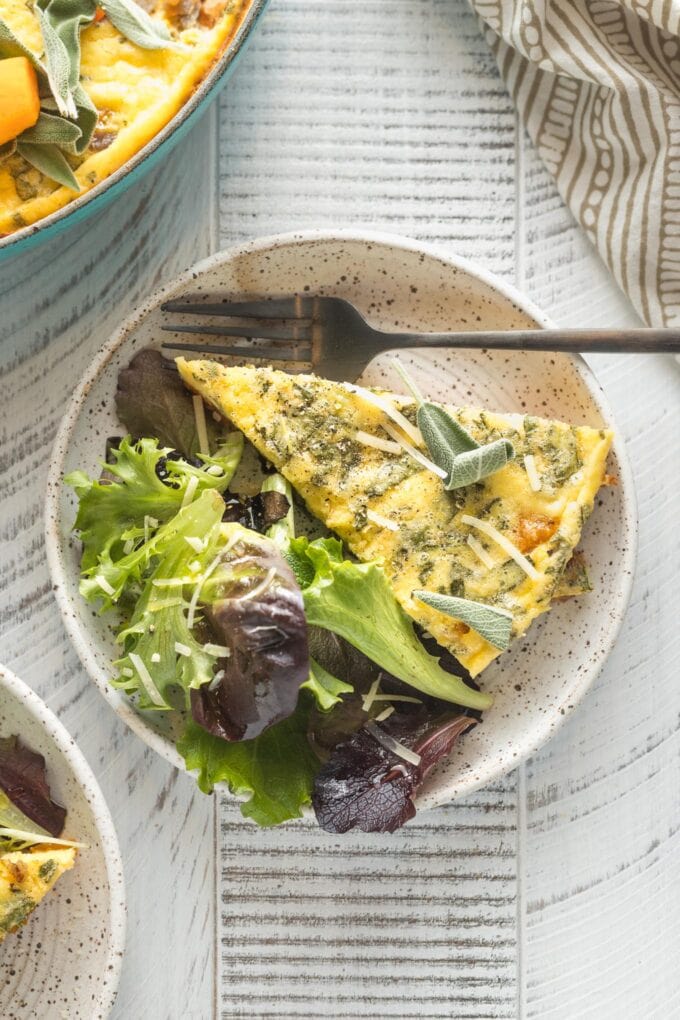 More Breakfast Recipes
If you enjoy this recipe, try this breakfast skillet with crispy potatoes and eggs or this parmesan frittata with spinach and gouda next. And don't miss this breakfast strata with pancetta and caramelized onions when you're feeding a crowd.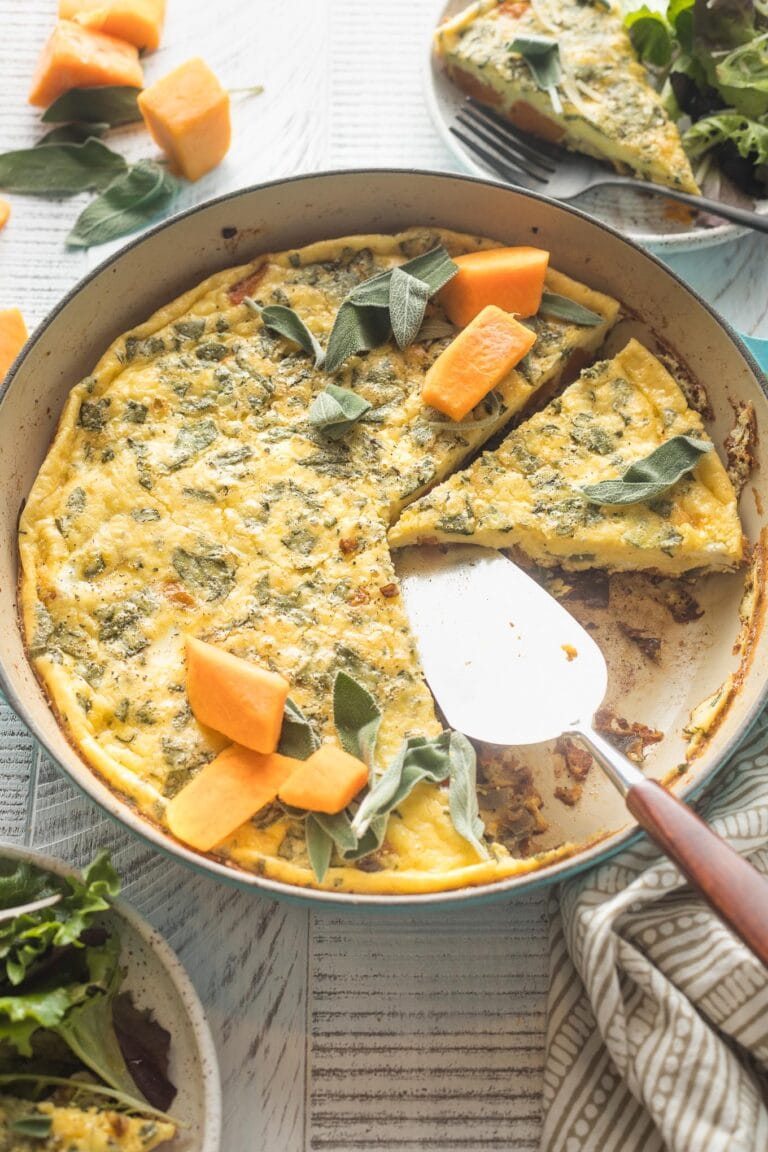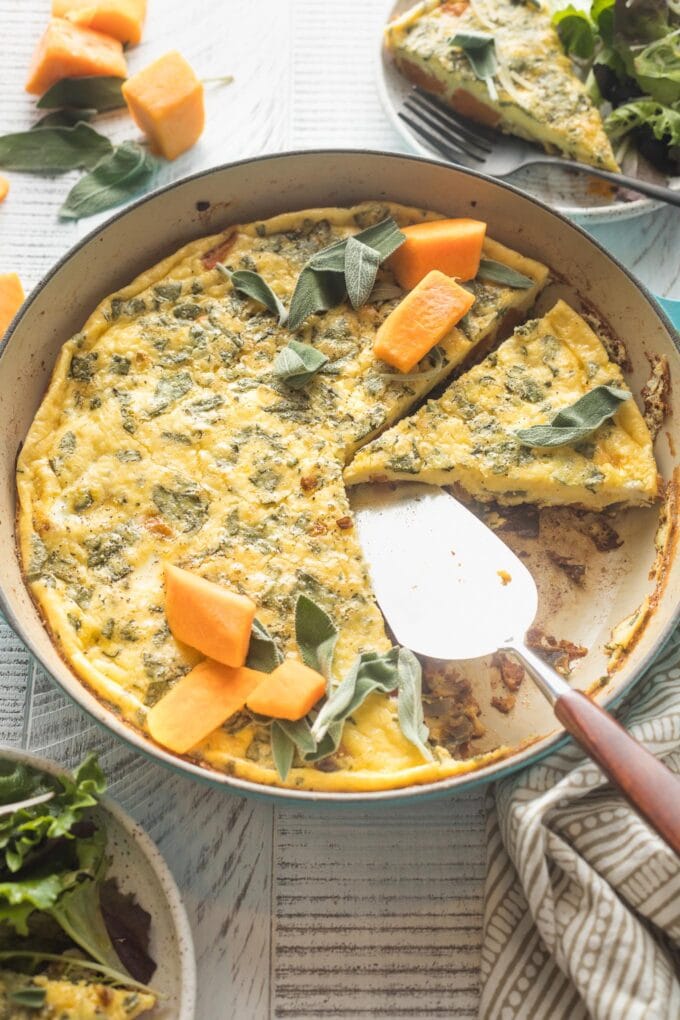 If you try this Butternut Squash Frittata, don't forget to rate the recipe and leave a comment below. I love hearing how recipes turn out in your kitchen, and it helps other readers, too.
You can also FOLLOW me on PINTEREST, INSTAGRAM, FACEBOOK, and TWITTER for more great recipes and ideas!
Butternut Squash Frittata with Sage
This delicious and easy one-pan recipe is filled with fluffy eggs, woodsy sage, sweet red onion, and tangy Parmesan. This is the perfect way to enjoy butternut squash for breakfast–or breakfast for dinner!
Ingredients
2 tablespoons butter
2 cups cubed butternut squash cut into small pieces (about 3/4")
1/2 red onion chopped
2 garlic cloves minced
8 large eggs
3/4 cup freshly grated Parmesan cheese
1/4 cup chopped fresh sage leaves plus extra for garnish
1/4 cup heavy cream or half and half
kosher salt
black pepper
Instructions
Preheat the oven to 350 degrees F.

In a 10-inch cast-iron or other oven-safe skillet, melt butter over medium heat. Add butternut squash cubes and sprinkle with a pinch of kosher salt and 8-10 cranks of freshly ground black pepper. Cook, stirring occasionally, for about 5 minutes.

Add red onion and garlic, and cook 3-4 minutes more. Test with a fork; when the squash is tender enough to be easily pierced, remove skillet from the heat. Using a spatula, spread the mixture into an even layer across the bottom of the skillet.

While the squash cooks, crack eggs into a large bowl and whisk. Add Parmesan, sage, cream, another pinch of kosher salt, and 6-8 cranks of black pepper. Whisk until well-combined.

Pour the egg mixture evenly over the butternut, and gently swirl the pan to ensure it is evenly distributed.

Place skillet in the oven and bake for 18-20 minutes, until eggs are set and the frittata begins to very slightly pull away from the edges of the pan. It may puff up in places; this is normal and will go back down as it cools.

Allow the frittata to cool briefly, then slice into pieces and serve. Garnish with additional sage leaves, more black pepper, and shaved Parmesan if desired.
Notes
Garlic: Fresh is ideal, because of the flavor it adds when sautéed alongside the onion and squash, but don't hesitate to substitute 1/2 teaspoon garlic powder in a pinch.
No oven-safe skillet? No problem. Sauté the onion and squash in a skillet, then transfer to a pie plate coated lightly with cooking spray. Add the egg mixture and bake as directed.
Storage. Frittatas keep very well. Store any leftovers tightly covered or wrapped in the fridge, and reheat briefly in the oven or microwave.
Did you make this recipe?
Leave a review below, then snap a quick picture and tag @nourishandfete on Instagram so I can see it!