Sea Salt Pistachio Chocolate Chip Cookies
Thick, chewy pistachio chocolate chip cookies with a sprinkling of sea salt – a pistachio lover's dream.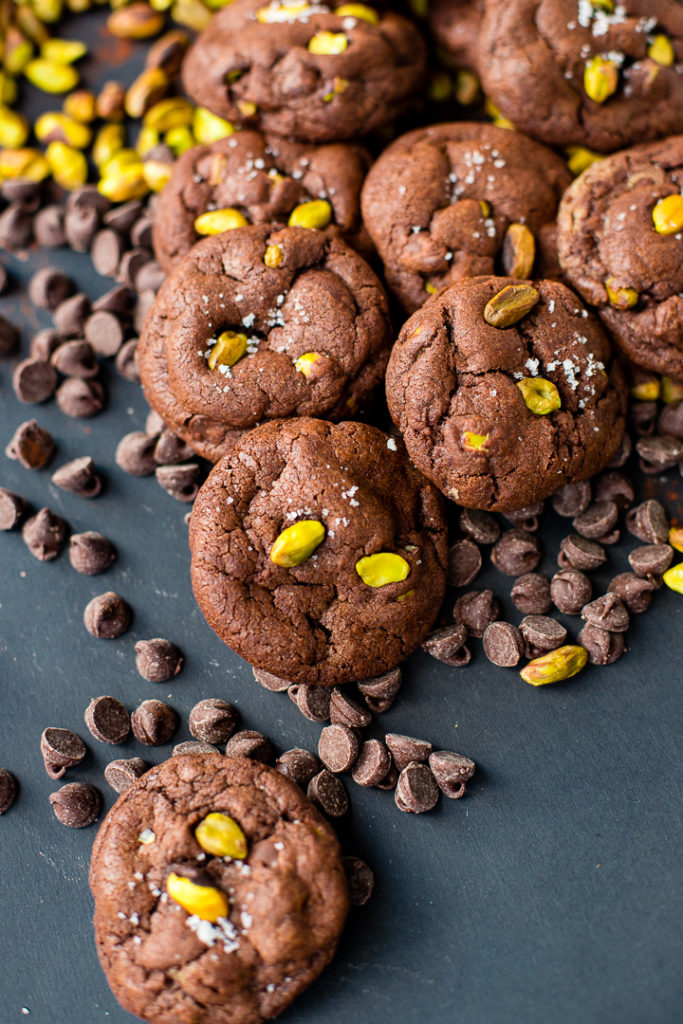 If you like the crunch and the taste of pistachios, you are in luck – this is THE cookie for you!
If you don't like pistachios (what?) or are allergic (I'm sorry) – here are some other ideas. 🙂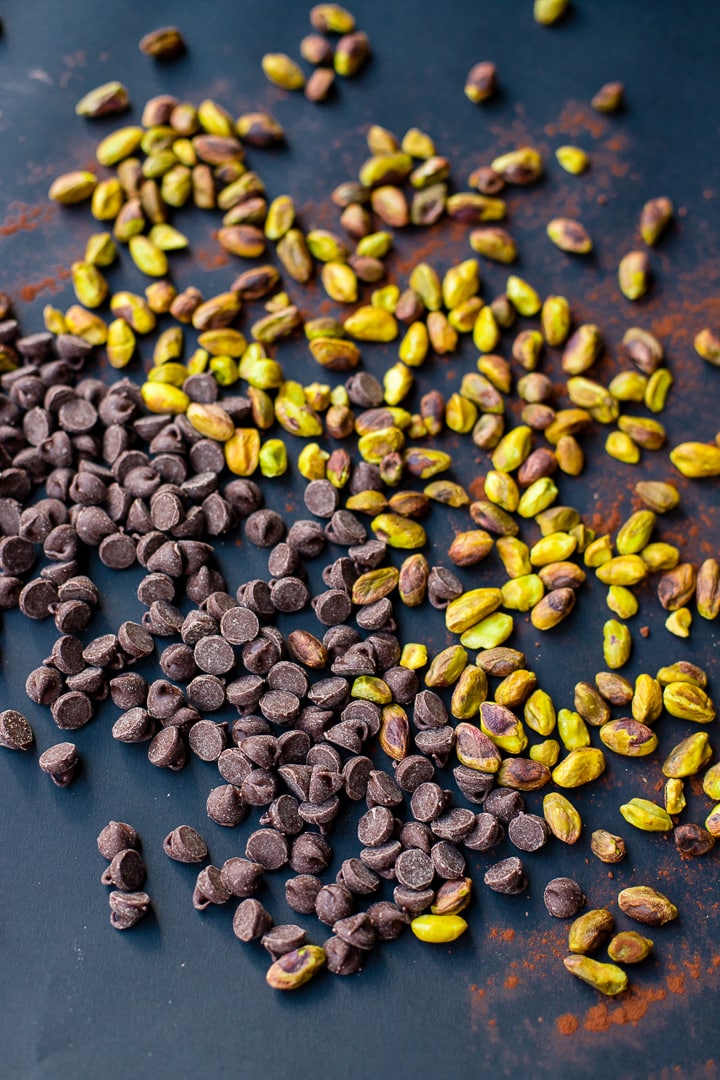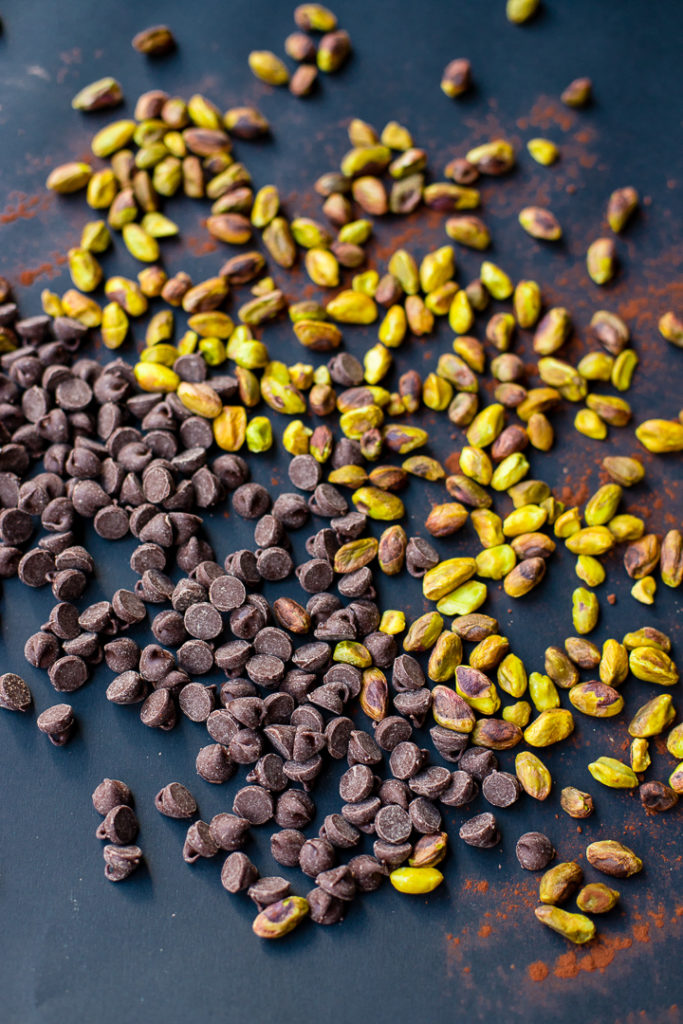 OK, with that established, let's move on to discuss what makes these so amazing. Not that it's complicated – quite the opposite. We've got chocolate chips. We've got pistachios. Yum and yum.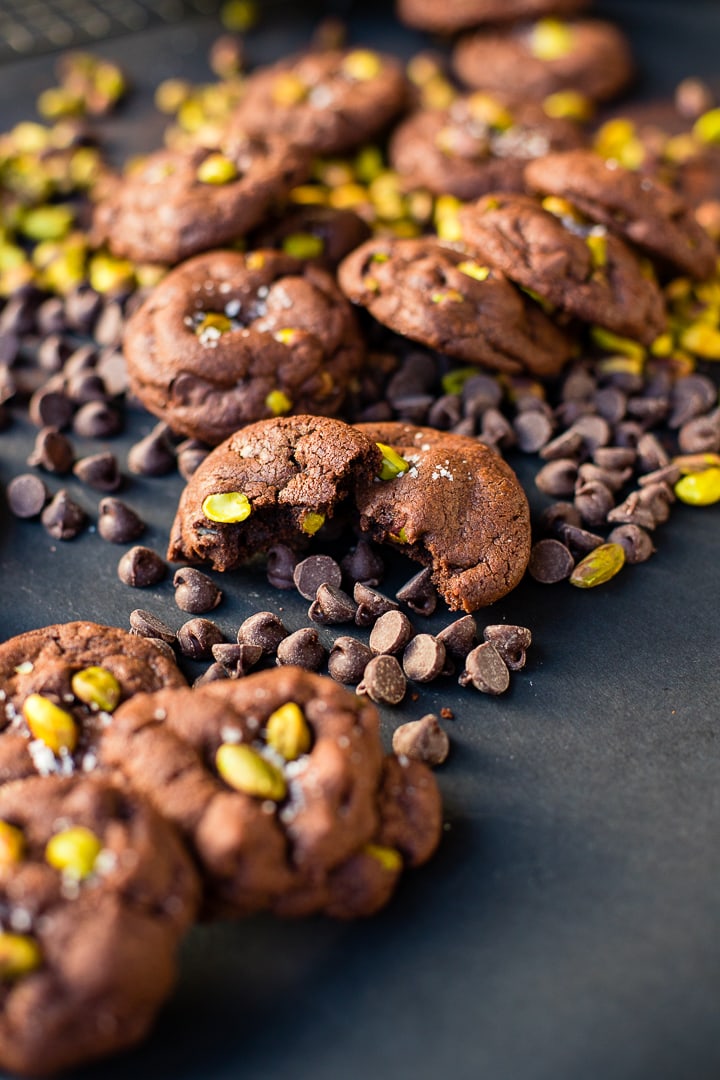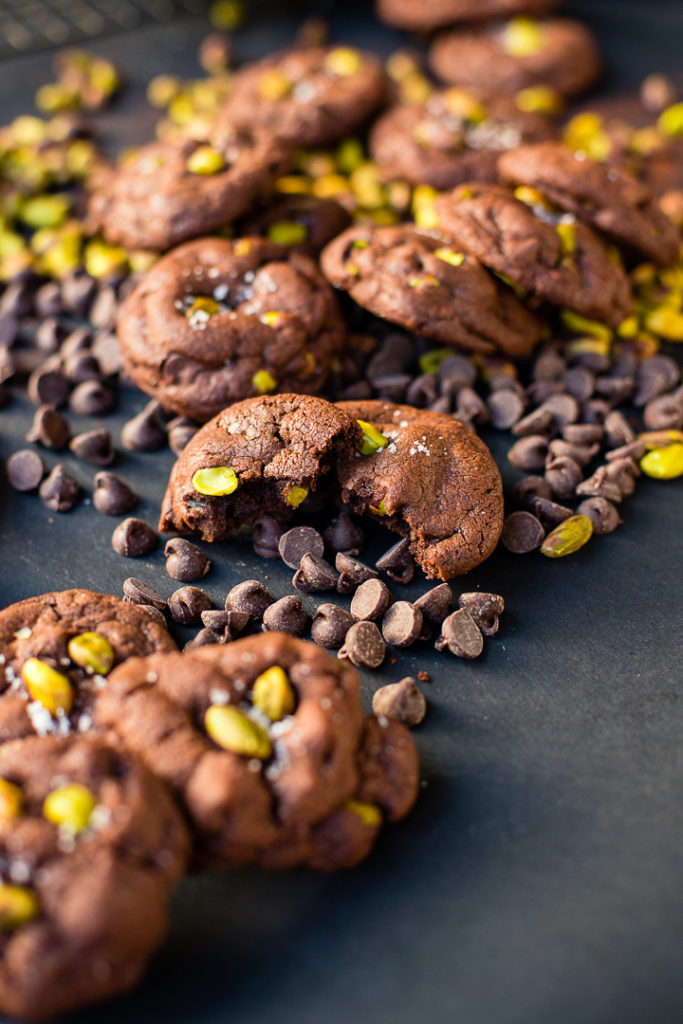 A thick, substantial cookie dough made with Dutch-process cocoa gives the cookie itself plenty of chocolate flavor. So when you add in the chocolate chips, you're heading straight for double chocolate heaven. Plus the pistachios. Plus the sea salt. Come to mama!
[clickToTweet tweet="In love with these gorgeous, thick, chewy pistachio chocolate chip cookies – especially that sprinkling of sea salt on top!" quote="In love with these gorgeous, thick, chewy pistachio chocolate chip cookies – especially that sprinkling of sea salt on top!"]
I ate more of these than I should have myself, and of course my husband helped. (My son's suspicion of all things green evidently extends to pistachios. Hah! His loss in this case!)
At my office, where I delivered most of the batch, these cookies were inhaled even faster than most treats I bring in, with several coworkers admitting they were on their third or fourth cookie, usually as they walked back past my office door en route from the break room. So I think we can safely say these will be widely-loved!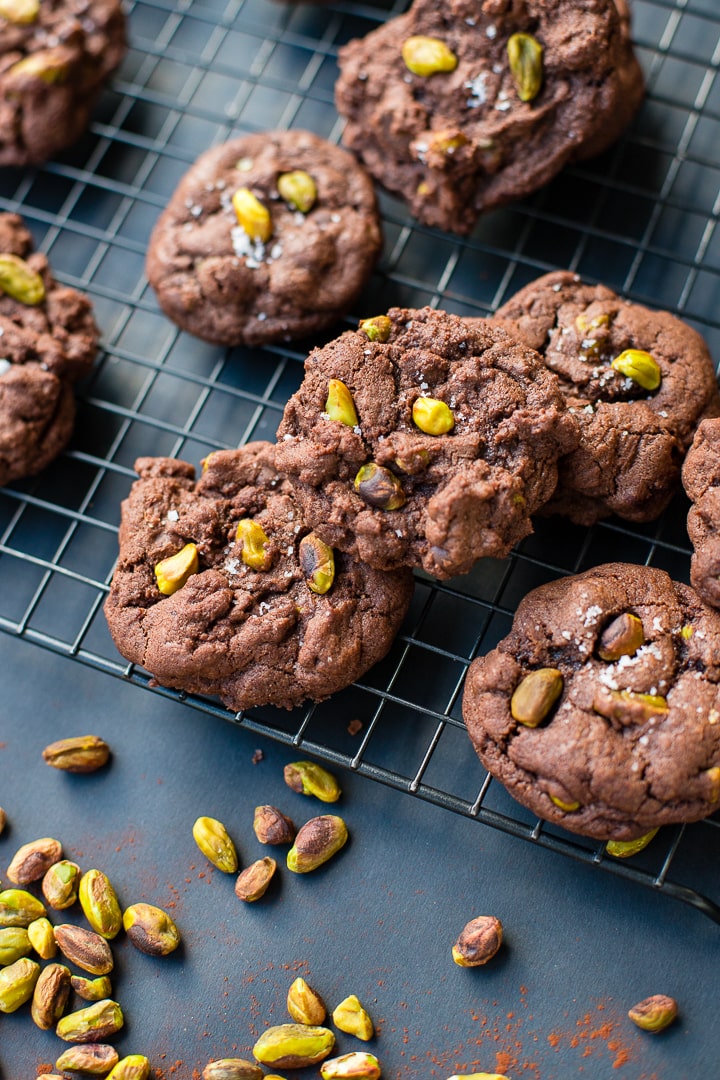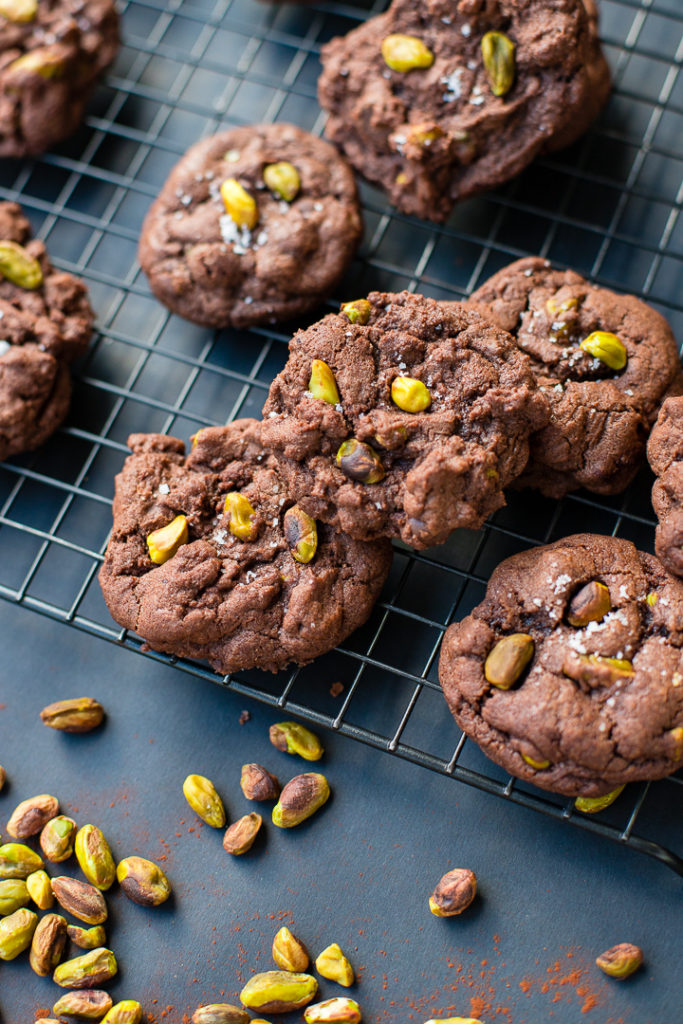 One minor note on the process – this batter is incredibly straightforward, so there's not much in the way of "tips," but one choice to highlight for you. If you just scoop out the dough into heaping tablespoons and place it straight on the baking tray, you'll wind up with cookies that look like those in the photo immediately above – nice and round, but a little jagged on top.
If you want them to be more smooth, like the ones on the right, no problem, just take an extra minute to roll the scoops of dough between your hands into smooth balls before baking. Easy peasy. The taste is the same. The visual choice is yours.
But, either way, don't forget to add the sea salt – it is THE perfect finishing touch to set off all that rich chocolate! I find sea salt adheres best if you sprinkle it on before baking, but if you forget, it would also be fine to add right after the cookies come out of the oven.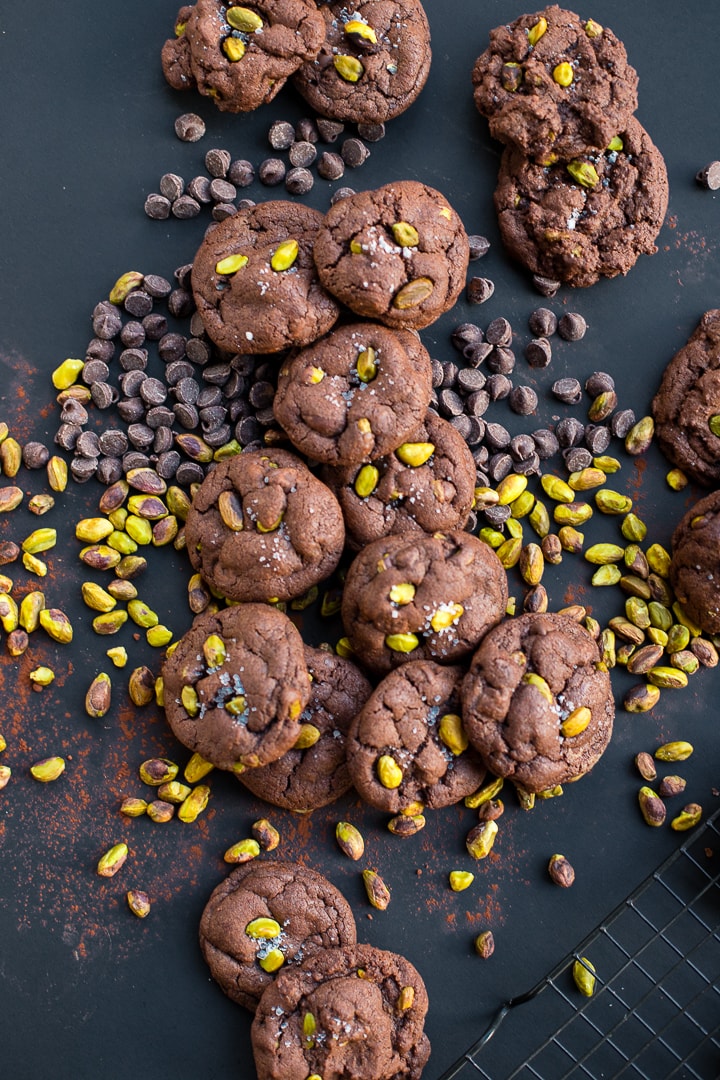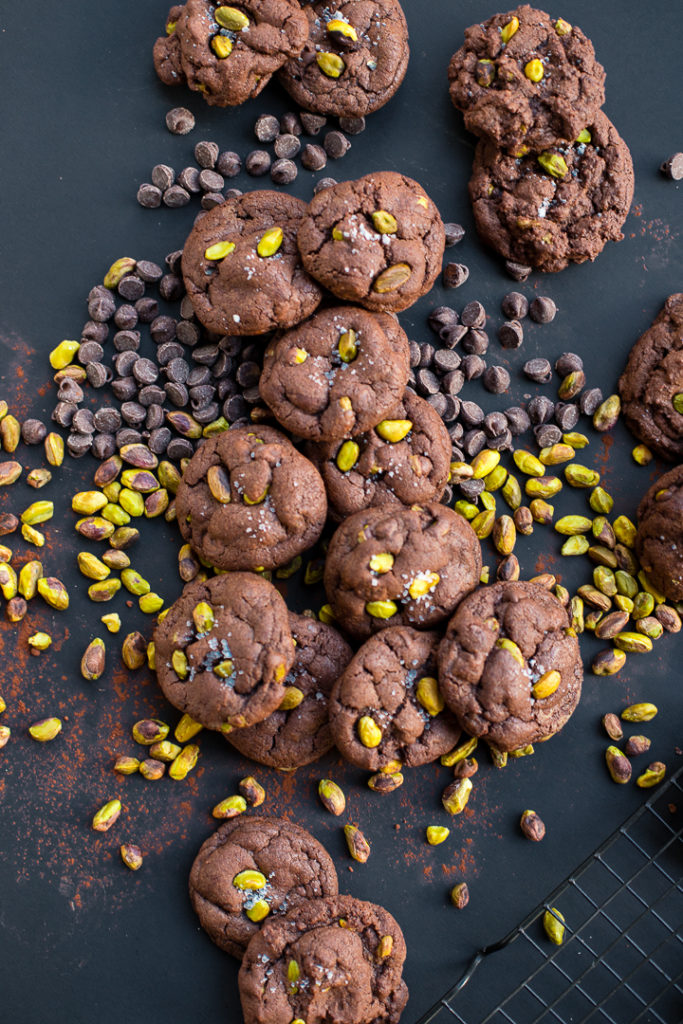 Out of the oven and into your life! Now what are you waiting for? Make these and enjoy! ♥
Sea Salt Pistachio Chocolate Chip Cookies
Thick, chewy chocolate cookie dough loaded with chocolate chips and crunchy pistachios, then sprinkled with a pinch of sea salt. Heaven!
Ingredients
2 1/2 cups (300 grams) all-purpose flour
3/4 cup (63 grams) Dutch-processed cocoa
1 teaspoon baking soda
1/2 teaspoon sea salt plus extra for sprinkling on cookies
1 cup (2 sticks, 227 grams) unsalted butter at room temperature
1 cup (198 grams) granulated sugar
1 cup (213 grams) packed light brown sugar
2 large eggs at room temperature
1 teaspoon vanilla extract
1 cup (170 grams) semi-sweet chocolate chips
1 cup (120 grams) shelled pistachios
Instructions
Preheat oven to 350 degrees F (180 C). Line baking sheets with parchment paper or silicone liners; set aside.

In a medium bowl, whisk together flour, cocoa, baking soda, and 1/2 teaspoon sea salt. Set aside.

With a stand or hand mixer, cream together the butter and sugars for 2-3 minutes. Add in eggs, one at a time, followed by the vanilla. Scrape down the sides of the bowl and mix until well-combined.

Add flour mixture and beat on low speed just until incorporated. Stir in the chocolate chips and pistachios by hand.

Scoop the dough into heaping tablespoons and place on prepared baking sheet, about 2 inches apart. (You can either leave the scoops as they are, or roll them slightly with your hands into smooth balls. See photos above for a visual of what each will look like when baked.) Sprinkle the top of each cookie with additional sea salt.

Bake cookies for 9-10 minutes, until just set but still soft in the center. Do not over-bake. Remove from oven and let sit on baking sheet for 5-10 minutes, then move to a wire cooling rack. Cookies will keep well stored at room temperature for 2-3 days.
Nutrition Estimate
Calories: 199 kcal, Carbohydrates: 25 g, Protein: 2 g, Fat: 10 g, Saturated Fat: 5 g, Cholesterol: 25 mg, Sodium: 78 mg, Potassium: 127 mg, Fiber: 1 g, Sugar: 15 g, Vitamin A: 210 IU, Vitamin C: 0.2 mg, Calcium: 21 mg, Iron: 1.3 mg
Did you make this recipe?
Leave a review below, then snap a quick picture and tag @nourishandfete on Instagram so I can see it!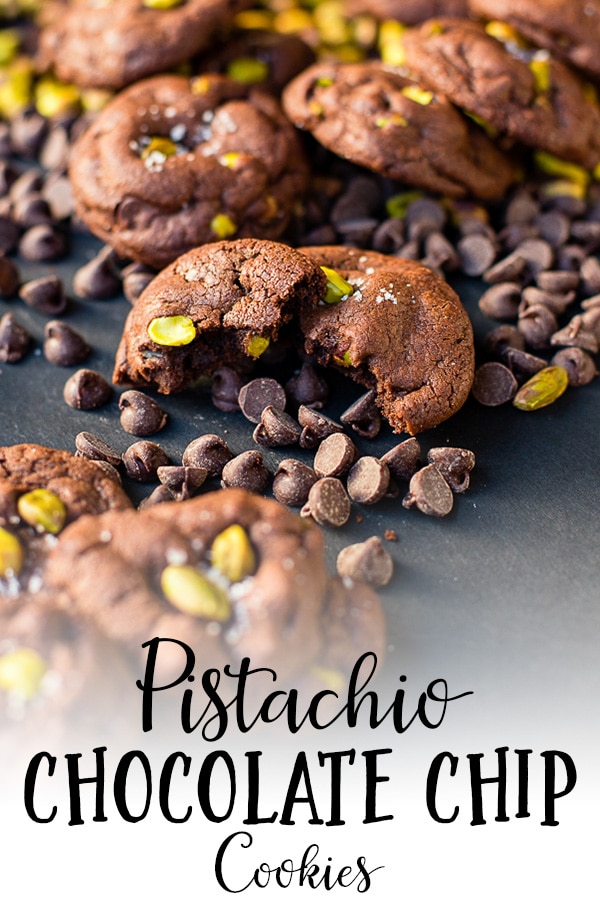 More Can't-Miss Cookies…
Thick and Chewy Chocolate Chip Cookies … Caramel-Stuffed Molasses Cookies … Toffee Butterscotch Brownie Cookies … Pudding M&M Cookies … Miracle "Stay Soft" Chocolate Chip Cookies … Double Chocolate Espresso Walnut Cookies … Salted Caramel Chocolate Chip Cookies … and this is why I need to run more! 🙂