Toffee Butterscotch Brownie Cookies
Thick, chewy, fudgy, and irresistible, these toffee butterscotch brownie cookies will be a new family favorite. And, they're easy to mix by hand in one bowl!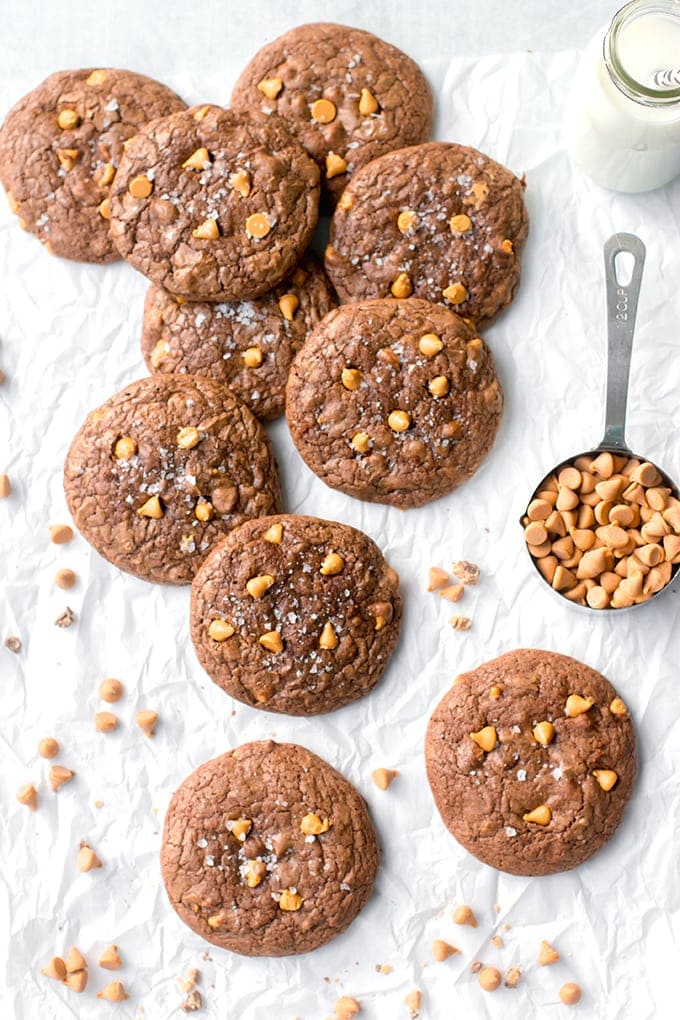 You guys, these cookies. They are everything! The fudgiest chocolate batter that bakes up a bit like a decadent brownie in cookie form, packed with the sweet complementary flavors of toffee and butterscotch. This cookie game is strong.
Now, I have to say, I wasn't sure this combo would work. You see, I'm a bit sensitive to baked goods that suffer from TMSS. (Too much $#it syndrome.) Basically, someone starts adding mix-ins, possibly just for fun or possibly in an effort to one-up whatever the latest dessert craze is.
It starts innocently enough. Chocolate plus peanut butter. Chocolate plus peanut butter plus butterscotch. But things start to snowball, and pretty soon you're face to face with blog post proclaiming that you absolutely must make a batch of chocolate peanut butter butterscotch Nutella banana cherry toffee crunch cookies. Whoa. That's a serious case of TMSS.
So we're stopping at two mix-ins here: toffee and butterscotch. I was nervous enough about that. But, it works. It SO works.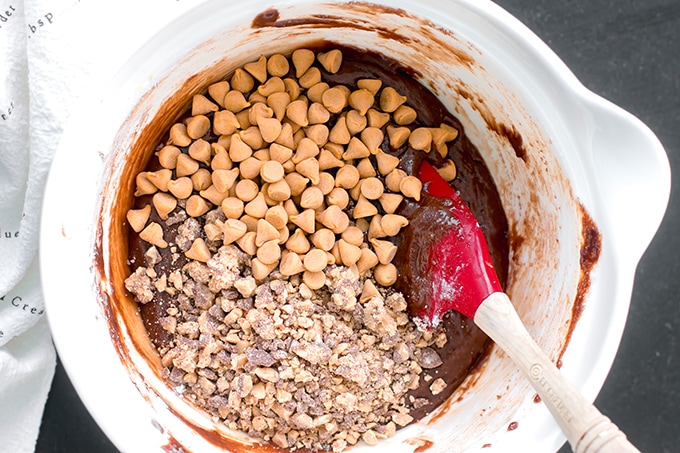 Did I mention that these are mixed by hand in just one bowl!? Hallelujah.
I tried to take a photo of the middle step here, forming dough balls and placing them on the baking sheets, really I did. But honestly, I was in a rush to do this before my toddler woke up and wanted to eat all the dough, and if memory serves, the dog was also scratching plaintively at the door, probably because the paltry flicker that we call "the sun" here in Belgium in November had just fled behind rain clouds yet again.
This is not the most conducive environment to taking good photos, and it showed – the dough balls did NOT look appetizing. I'm sparing you the visual. Let's move ahead to a glance fresh out of the oven: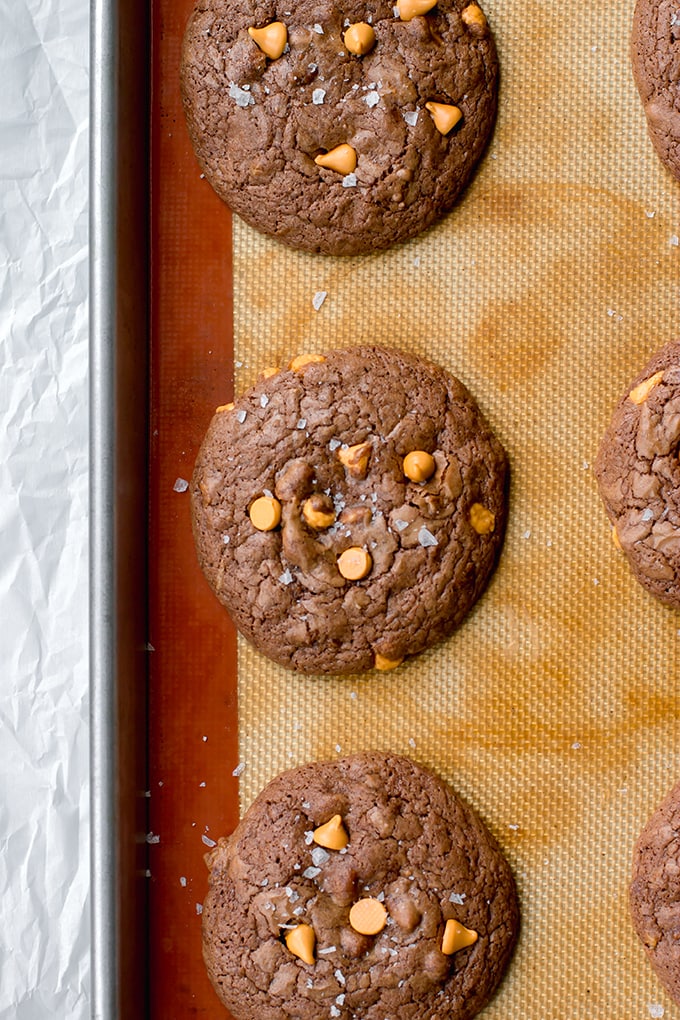 Now we're talking! Right after they came out of the oven, I pressed a few additional butterscotch chips into the tops and dusted each with a bit of sea salt. The extra chips are just for appearance's sake, but we eat with our eyes first, after all. The sea salt is, in my opinion, key. It's just the thing to offset all that sweetness and help meld the flavors together.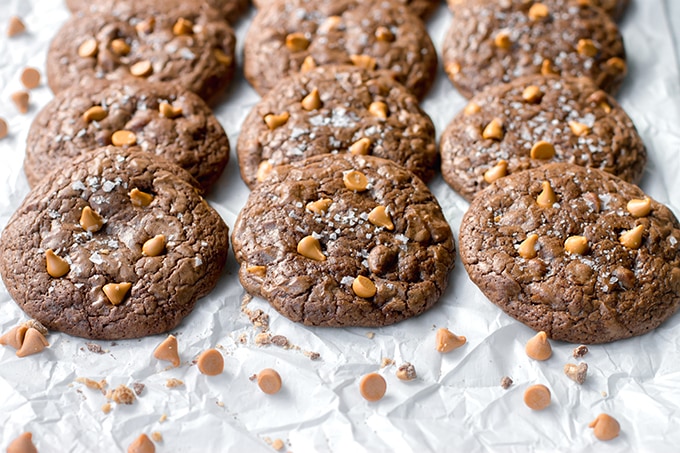 So, there you have it! Toffee butterscotch brownie cookies. Just on the right side of TMSS! These would make a great addition to your holiday cookie line-up, but I could also see them being crazy popular at a summer BBQ, or just for a little weekend baking treat any old time of year. Enjoy! ♥
Looking for More Cookie Recipes?
Toffee Butterscotch Brownie Cookies
Thick, chewy, fudgy, and irresistible, these toffee butterscotch brownie cookies will be a new family favorite, and they're easy to mix by hand in one bowl!
Ingredients
4 tablespoons (57 grams) unsalted butter
4 ounces (115 grams) unsweetened chocolate roughly chopped
1 cup (198 grams) granulated sugar
1/2 teaspoon table salt 
1 teaspoon vanilla extract
2 large eggs
1 cup (120 grams) all-purpose flour
1 teaspoon baking powder 
1/2 cup toffee bits I used Heath Bits O'Brickle
1/2 cup butterscotch chips plus a handful reserved to garnish the cookies after baking, if desired
sea salt for sprinkling
Instructions
Preheat the oven to 350 degrees F (180 C). Line baking sheets with parchment paper or silicone mats and set aside.

In a large microwave-safe bowl, combine the butter and chopped chocolate. Microwave on 50% power in 30-45 seconds bursts, stirring in between each, just until the mixture is melted and smooth. (You could also do this in a bowl set over boiling water on the stovetop.) 

Add the sugar, salt, and vanilla extract; stir to combine. Add the eggs and stir again until fully incorporated.

Sprinkle the flour and baking powder on top of the batter, and stir gently just until incorporated. Finally, fold in the toffee and butterscotch chips.

Scoop the batter into 12 balls and arrange on the baking sheets, spaced about 2 inches (5 cm) apart. Bake for about 8 minutes, until the cookies puff up and crack slightly, and are just barely set. (They are meant to be soft, and will continue to set and firm up after coming out of the oven.) 

Immediately after removing cookies, sprinkle with a few additional butterscotch chips, if desired, and a dusting of fine sea salt. Let cool on the baking sheets for about 10 minutes, then transfer to a wire rack to cool completely.
Notes
Cookies will keep well in an airtight container at room temperature for about 3 days.
The base recipe here is adapted from a fudgy walnut cookie found in One Bowl Baking by Yvonne Ruperti, which is probably my favorite cookbook acquisition in the past year. I highly recommend it!
Nutrition Estimate
Serving: 1 cookie, Calories: 225 kcal, Carbohydrates: 34 g, Protein: 3 g, Fat: 9 g, Saturated Fat: 5 g, Cholesterol: 38 mg, Sodium: 139 mg, Potassium: 133 mg, Fiber: 1 g, Sugar: 22 g, Vitamin A: 170 IU, Calcium: 31 mg, Iron: 2.3 mg
Did you make this recipe?
Leave a review below, then snap a quick picture and tag @nourishandfete on Instagram so I can see it!
And, just in case you were feeling bad for the toddler who missed out on all the baking fun.. his life's not all bad! 😉
Pin this post to save it for later!