Caramel Molasses Cookies
Brown sugar caramel molasses cookies are a classic taken to the next level, thanks to browned butter and a soft, chewy caramel baked right into the center of each one. Sprinkle with sea salt, pour a tall glass of milk, and enjoy!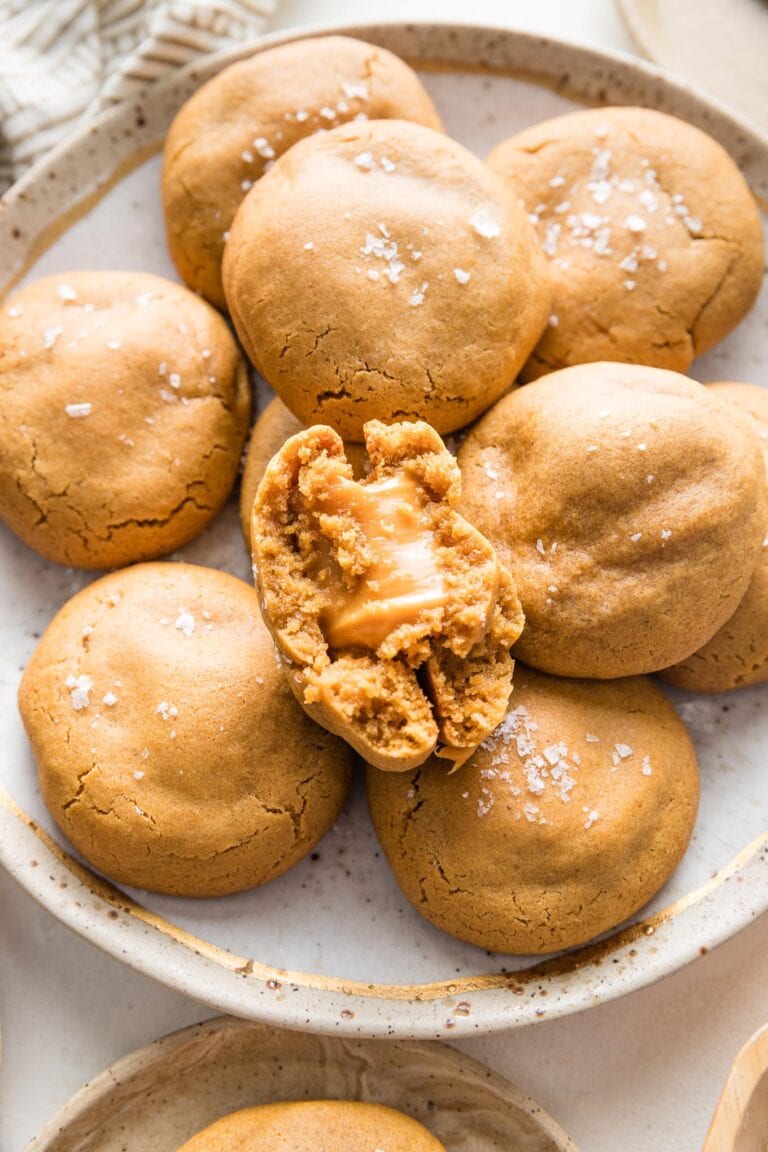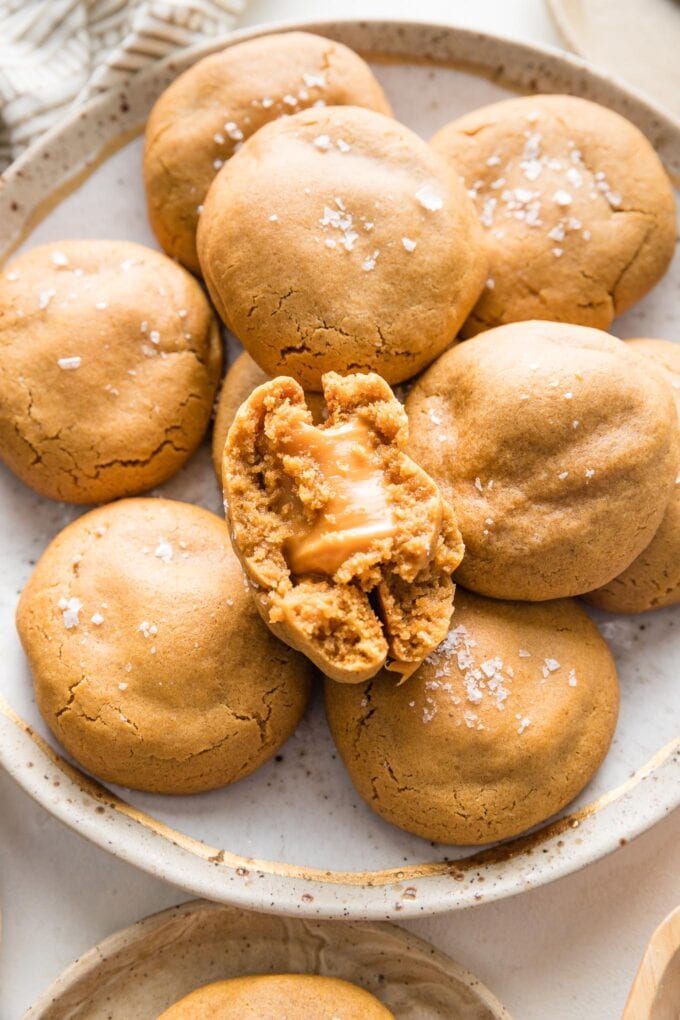 Dreamy Caramel Brown Sugar Molasses Mix
This one is for all the lovers of caramel, brown sugar, or molasses. And if you love all three of those things, well, you're in for a real treat, because this cookie might as well be made to order for you.
These cookies get an extra shot of flavor from browned butter and the use of all brown sugar rather than a mix of that and granulated sugar. Although these are small changes from your everyday cookie dough, they add up to an extra super chewy and flavorful cookie. They bake up nice and soft, yet plenty sturdy to envelope a tender caramel.
You'll love that these caramel molasses cookies are:
Easy to make. The dough is soft and easy to work with; no stand mixer or chilling required.
A fun surprise. Everyone loves the hidden caramel inside!
A little decadent. The cookie itself is very sweet, but the sprinkle of sea salt evens it all out.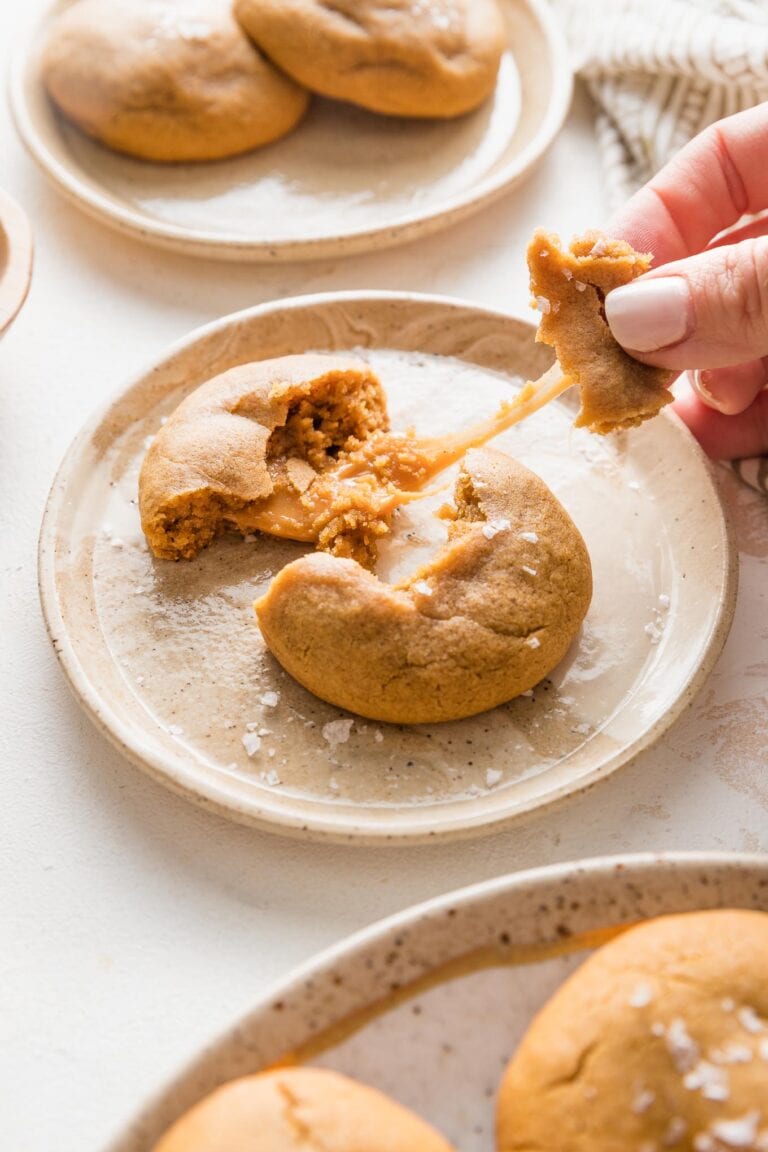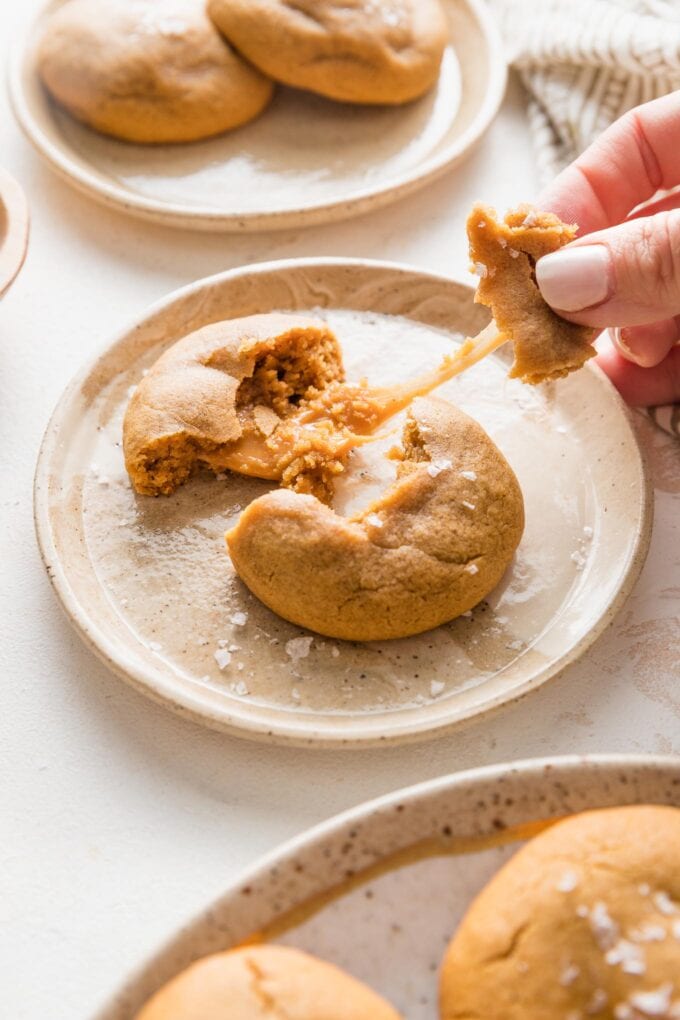 Ingredients & Substitutions
Here are a few notes and shopping tips about the ingredients you'll need to make this, as well as possible substitutions. Find full amounts in the print-friendly recipe card below.
Soft candy caramels: If you live in the US, Kraft or Werther's soft cream caramels will work well for this, and are usually found in the candy aisle of the grocery store. If you live in Europe, Lutti milk caramels work beautifully.
Molasses: I usually use Grandmas brand molasses, simply because it's widely available in stores. I have not tested this recipe with blackstrap molasses, which is more concentrated than regular unsulphured molasses.
Butter: I use unsalted; if you use salted butter, cut the added sea salt by about half or to taste.
Baking staples: All-purpose flour, baking powder, baking soda, one large egg and one additional egg yolk, light or dark brown sugar, and vanilla extract. You can substitute vanilla bean paste for the extract.
Sea salt: A simple upgrade ingredient that is so worth keeping around! It adds flavor and texture and offsets the sometimes overwhelmingly sugary nature of sweets. A box of Maldon sea salt flakes will last a long time. Kosher salt is an OK substitute.
You might be tempted to skip the sea salt on top, but I strongly recommend it. The cookies are very sweet, which is no surprise with all that molasses, brown sugar, and caramel action. The bite of the sea salt contrasts all that sweetness very well and keeps the overall effect from being over the top. Plus it literally sparkles!
Care to add some extra spices? Experiment with adding a pinch of cinnamon, ground ginger, nutmeg, or cloves to the dry ingredients. I promise it's not really necessary, but experimentation is always fun. 🙂
How To Make Caramel-Stuffed Cookies
These cookies are pretty easy to whip up, but a couple of small details go a long way to delivering major flavor! To be honest, the most tedious part is unwrapping all of the caramels.
Here are the basic steps. You will find full instructions with exact ingredients in the print-friendly recipe card below.
Brown most of the butter in a medium saucepan over medium-high heat. It should develop small dark brown flecks and a rich, nutty aroma.
Add remaining butter to the browned butter. Let it melt and cool slightly.
Whisk together the dry ingredients in a separate small bowl.
Add remaining wet ingredients to the butter directly in the saucepan.
Sprinkle dry ingredients over the wet ingredients, and fold gently just until evenly combined.
Form the cookies. The easiest way to do this is to portion out the dough into scoops of approximately 1 Tablespoon each, grab one scoop, nestle a candy caramel inside, then place another scoop of dough on top. You will then want to press the dough into a smooth ball that completely covers the caramel. If any caramel leaks out while the cookies bake, it will definitely stick to your pan!
Bake cookies for about 12 minutes at 350 degrees F. They should be golden brown, but may look puffy and a bit underdone in the middle. That's OK!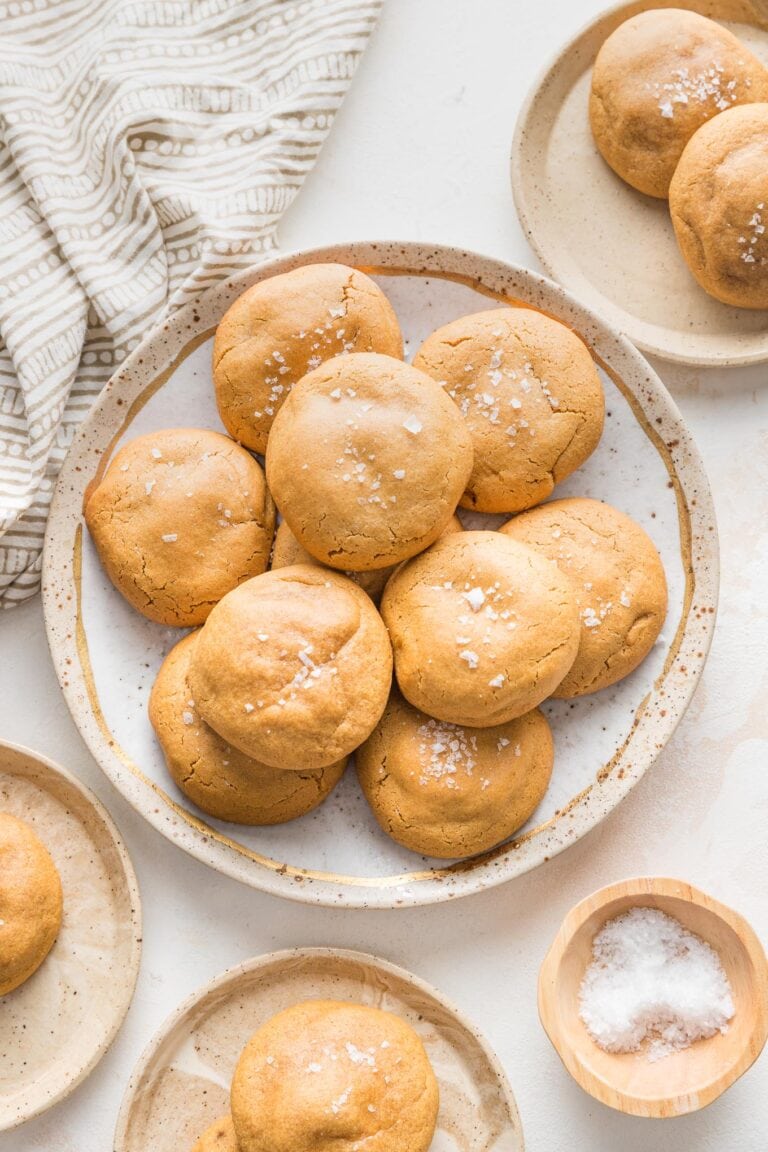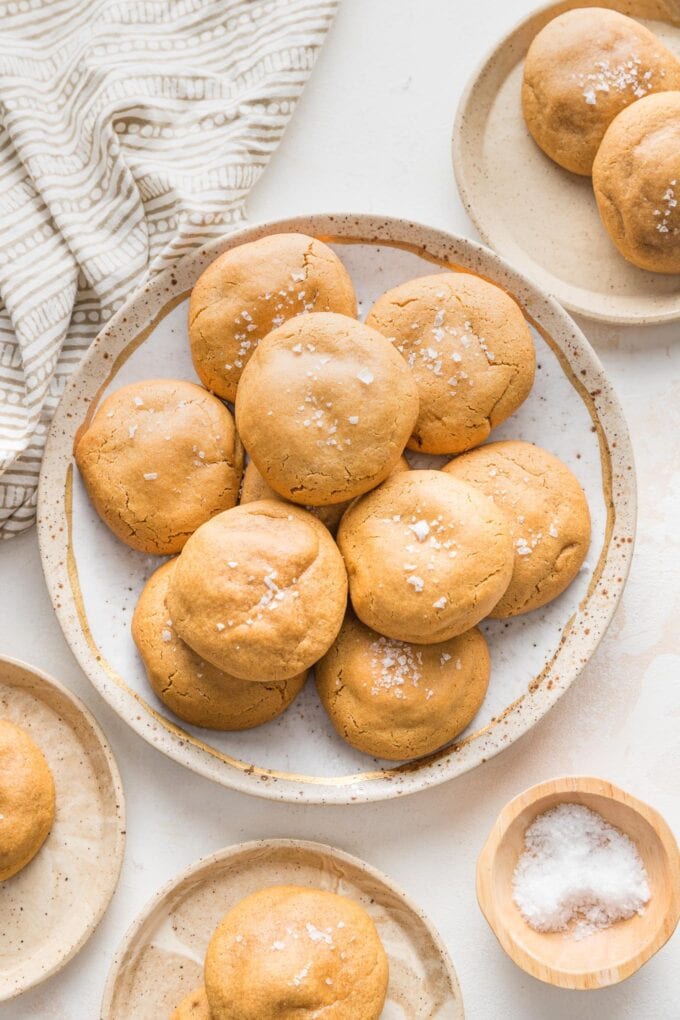 Pro Tip: Check your oven temperature! These cookies bake perfectly for me in 12 minutes in a 350 degree oven, but my oven runs hot, so I have to set it to 325 to maintain the correct higher temperature! If your baked goods are often slightly off, something like this could explain why. An inexpensive oven thermometer will tell you for sure and is a tiny investment for the value it gives.
Once the cookies are baked and ready for prime-time, you'll take them out, sprinkle with sea salt, and let them cool for a few minutes, first on the baking sheet, then on a wire rack. Waiting is the hardest part!
Now pull one apart and ogle that chewy, stretchy caramel.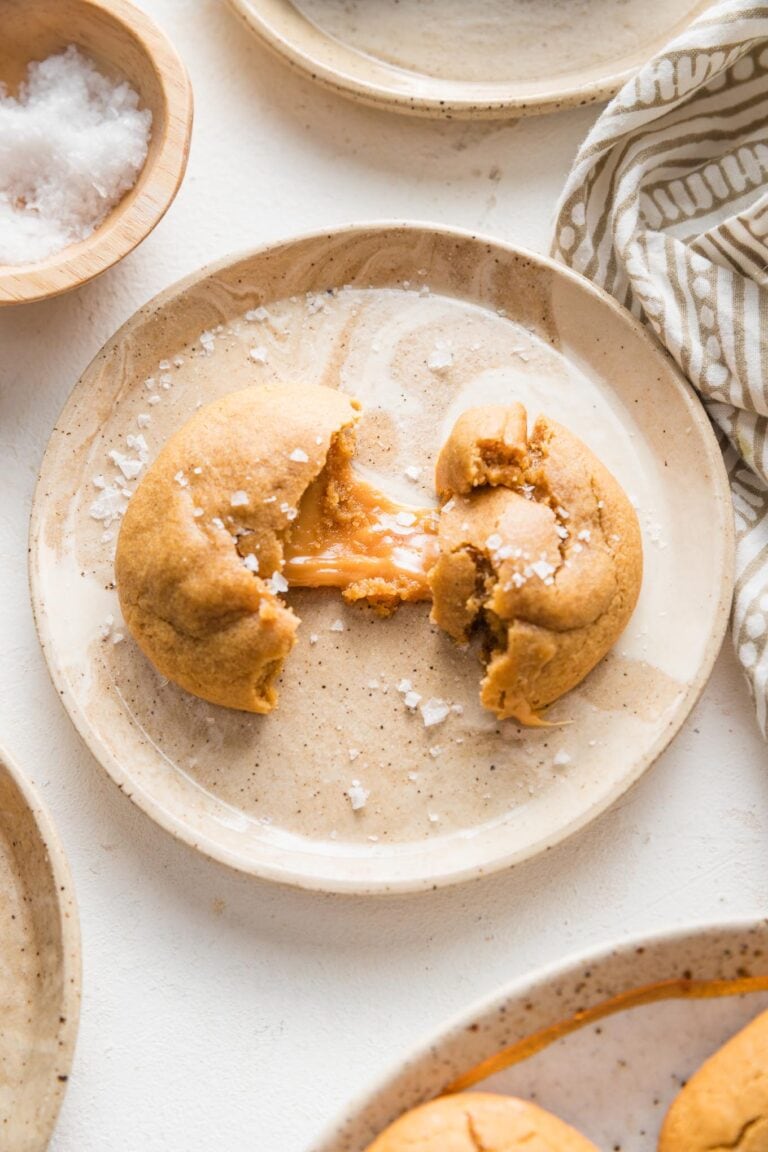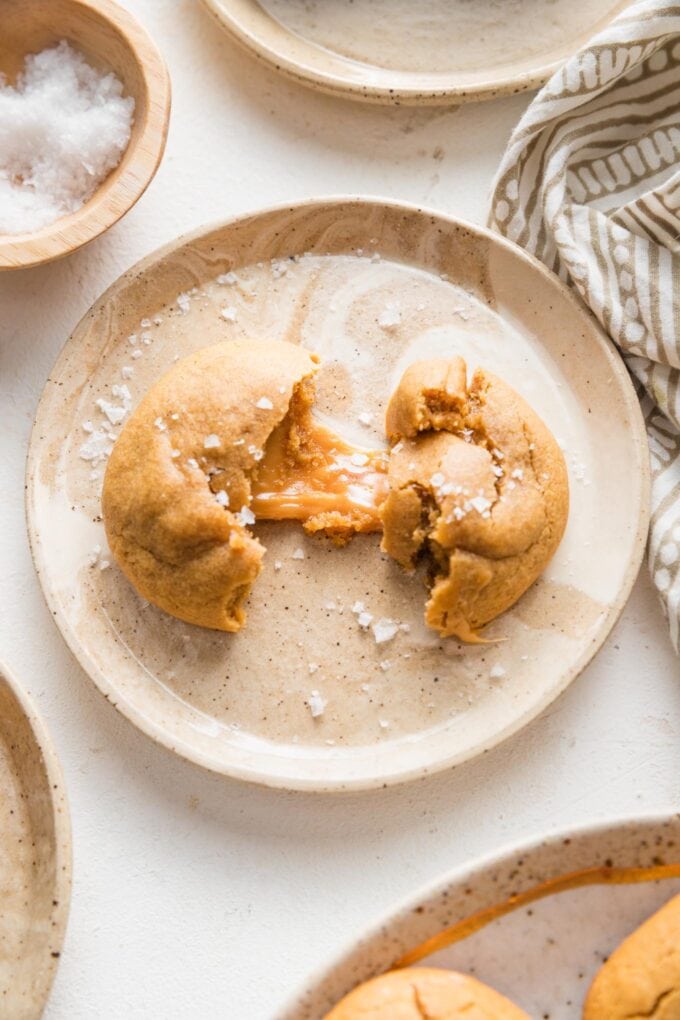 If you're eating a cookie after it's fully cooled, you might want to microwave it for 10-20 seconds on medium power, just to replicate that soft, stretchy caramel effect. But they're also delicious straight off the counter. Take it from me.
Storage and Make Ahead Tips
These caramel molasses cookies are absolutely incredible warm from the oven, after just 5-10 minutes to cool on the baking sheet. The caramel will be tender, chewy, and downright irresistible.
Store cookies at room temperature in an airtight container. They will keep well for at least 2-3 days.
To make the dough ahead of time, one option is to prepare the dough, store it in the fridge, then scoop, stuff, and bake the cookies. You can also go ahead and portion, stuff, and roll the cookies, then store the fully-formed cookie dough balls in the refrigerator for up to 48 hours prior to baking.
To freeze the dough, I recommend fully forming the cookies, flash freezing them on a pan or a plate, then storing the dough balls in a freezer-safe zip-top bag or container for up to 3 months. You can then bake as needed directly from the freezer, just adding a few minutes to the baking time. (These are the same procedures outlined in my ultra soft chocolate chip cookies post and work with most cookies.) Cookies from the freezer are always a win!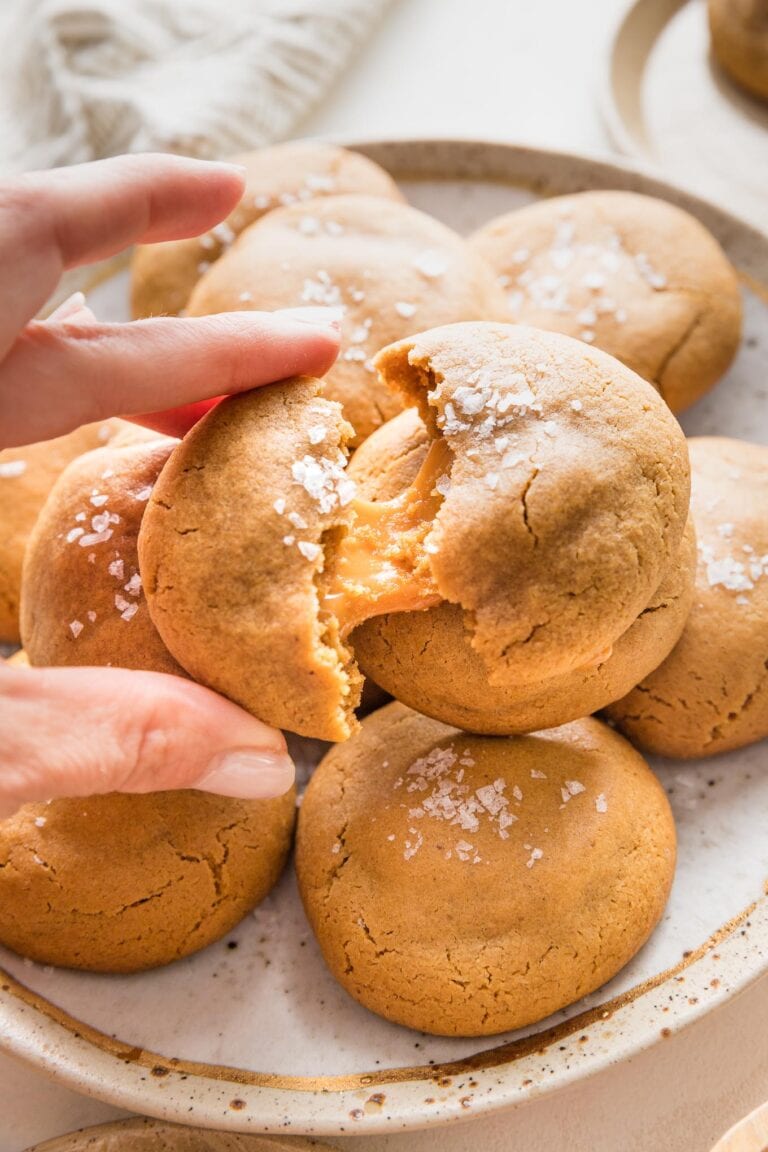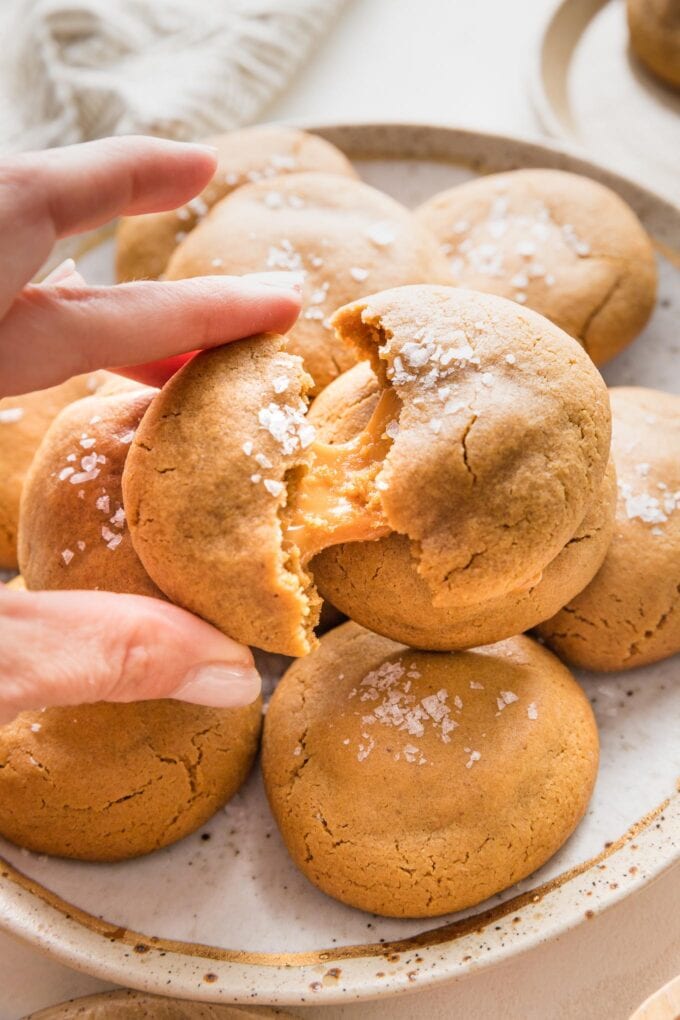 I bake these cookies year-round, and find they're a huge hit, even at summer potlucks and picnics. These can also make a fun Christmas cookie, with the rich molasses flavor and special twist of the added caramel inside.
Related Recipes
Love a great cookie? You're in the right spot! Some of our favorites include rich dark chocolate cookies with sea salt, bakery-style chocolate chip cookies, chocolate chip mini M&M cookies, Amish sugar cookies, chewy ginger cookies, and these gorgeous soft frosted sugar cookies.
Craving fall flavors? Apple cinnamon cookies with oatmeal and maple glaze are perfection.
If you try this Caramel Molasses Cookie recipe, don't forget to rate it and leave a comment below. I love hearing how recipes turn out in your kitchen, and it helps other readers, too.
You can also FOLLOW me on PINTEREST, INSTAGRAM, FACEBOOK, and TWITTER for more great recipes and ideas!
Caramel Molasses Cookies
Chewy brown sugar molasses cookie dough wrapped around a soft caramel, baked to a soft batch consistency, and sprinkled with sea salt. Irresistible!
Ingredients
3/4 cup (12 tablespoons, 170 grams) unsalted butter divided
2 and 1/4 cups (270 grams) all-purpose flour
1/2 teaspoon baking soda
1/4 teaspoon baking powder
1/2 teaspoon fine sea salt plus more for sprinkling
1 and 1/2 cups (320 grams) light brown sugar
1/4 cup molasses
1 large egg
1 large egg yolk
2 teaspoons vanilla extract
18 unwrapped soft candy caramels
Instructions
Melt 8 tablespoons (113 grams) of the butter in a medium saucepan over medium-high heat. Continue to cook, stirring or swirling the pan frequently, for 1-3 minutes, until the butter foams and then turns a dark golden color. Remove immediately from the heat and allow to cool for about 1 minute.

Break the remaining 4 tablespoons (57 grams) butter into a few pieces and add it to the pan with the browned butter. Stir until completely melted, and set aside to cool for 3-4 minutes.

Meanwhile, preheat the oven to 350 degrees F (180 C). Line cookie sheets with silicone mats or parchment paper, and set aside.

Whisk flour, baking soda, baking powder, and salt together in a medium bowl; set aside.

When butter has cooled, add brown sugar to the pan, followed by the molasses, and whisk to combine. Add the egg, egg yolk, and vanilla extract, and whisk again until evenly combined. Sprinkle the dry ingredients over the butter-sugar mixture, and fold with a spatula or wooden spoon just until the dough comes together and is evenly combined.

Scoop out 1 tablespoon of dough and place a caramel on top. Add another tablespoon of dough on top of the caramel, and roll the whole package into a ball, making sure the caramel is completely covered by dough. Repeat with remaining dough and caramels.

Place cookies about 3 inches apart on cookie sheets, and bake for 11-13 minutes,  just until golden brown. (It's OK if they look slightly underbaked; they will continue to set up a bit after being removed from the oven.) Let cool for about 10 minutes on cookie sheets before transferring cookies to wire racks. Store in an airtight container at room temperature for up to a week. (They won't last that long!)
Notes
If you live in the US, Kraft or Werther's soft caramels will work well for this. If you live in Europe, Lutti milk caramels work beautifully.
Recipe inspired by and adapted from these caramel-stuffed brown sugar beauties at Carlsbad Cravings, which were in turn adapted from a Cooks Illustrated "Best Desserts Ever" special. I really loved this concept and wanted to incorporate molasses, so my changes are designed to 1.) reduce the sugar and alter the ratio of dry to liquid ingredients to account for the molasses, and 2.) reduce the number of bowls you'll get dirty!
Nutrition Estimate
Calories: 254 kcal, Carbohydrates: 41 g, Protein: 2 g, Fat: 9 g, Saturated Fat: 5 g, Cholesterol: 40 mg, Sodium: 131 mg, Potassium: 142 mg, Sugar: 27 g, Vitamin A: 270 IU, Calcium: 48 mg, Iron: 1.2 mg
Did you make this recipe?
Leave a review below, then snap a quick picture and tag @nourishandfete on Instagram so I can see it!