Unstuffed Peppers Skillet
This easy ground beef Unstuffed Peppers Skillet has all the cozy flavors of traditional stuffed peppers — tender rice, healthy veggies, and creamy mozzarella — but with way less fuss. Made in one pan in about 30 minutes.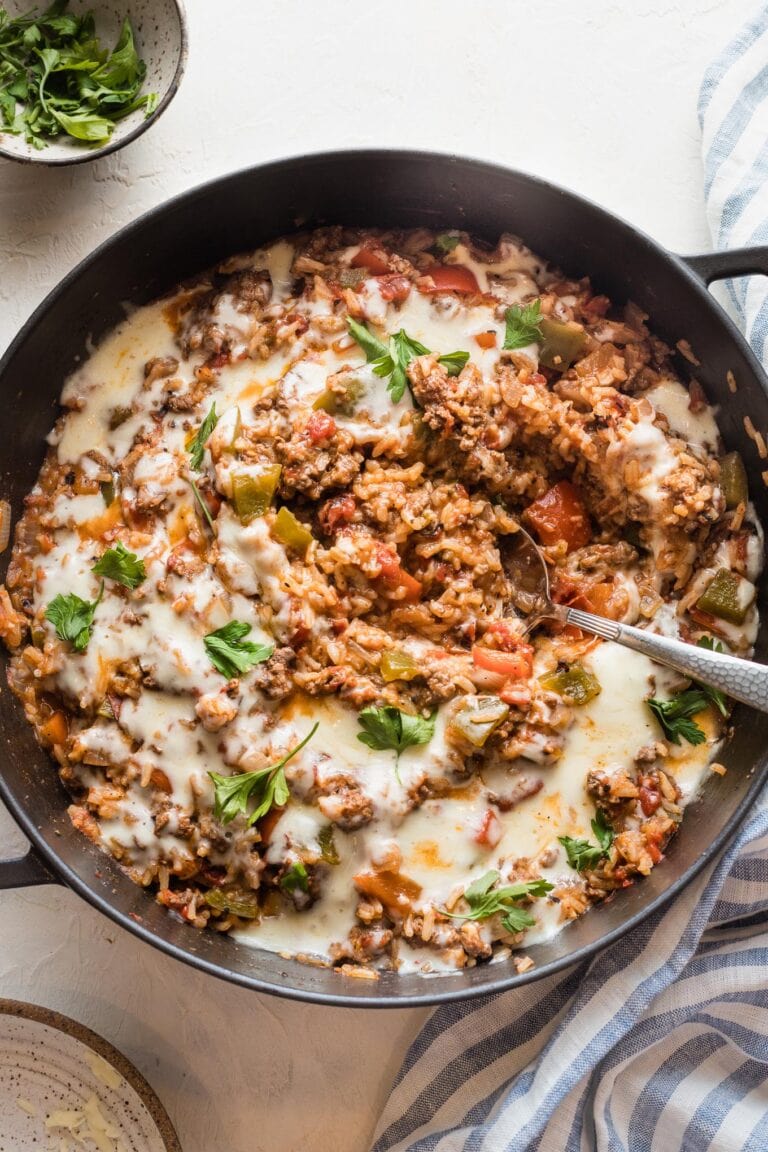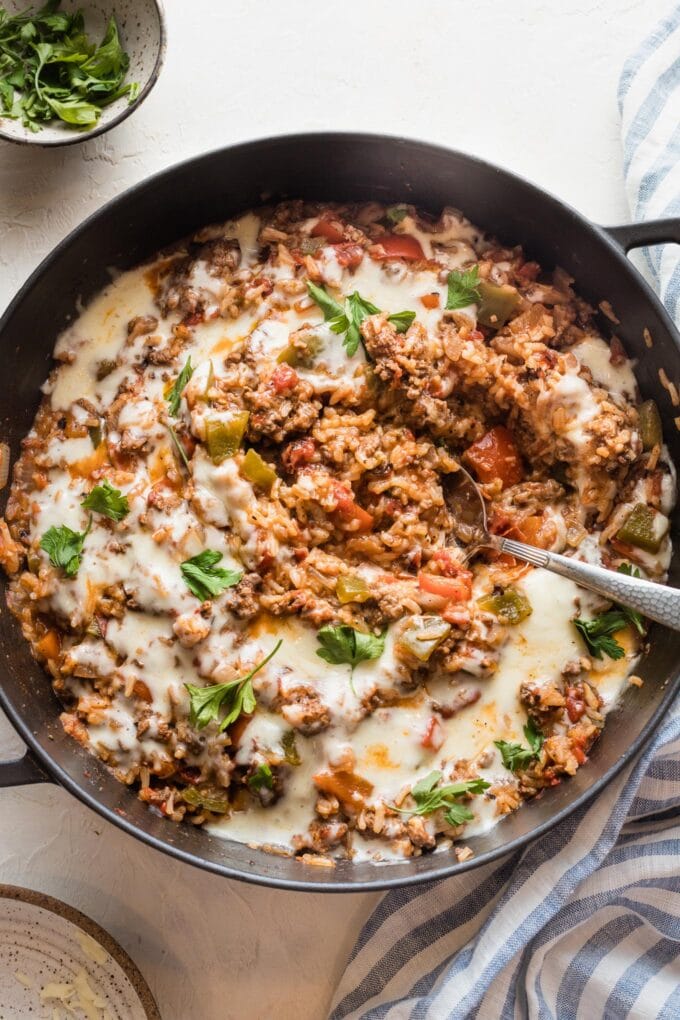 Stuffed peppers are a comfort food classic, sure, but they can be surprisingly fussy and are not exactly quick. A solution? Toss all the same cozy flavors in a quick, straightforward one pot meal.
Winner Winner Skillet Dinner
A stuffed pepper skillet — or unstuffed peppers, if you will — is a major win in the simple dinner department. For the investment of some modest chopping and sautéing, you are rewarded with a true one-pot meal, with grains, protein, and veggies all nestled together in one delicious package.
With creamy mozzarella melted on top, the final product is one of rich flavor and appealingly contrasting textures. Best of all, the whole thing takes just over 30 minutes, and the bulk of the cooking time is completely hands off.
Ingredients & Common Substitutions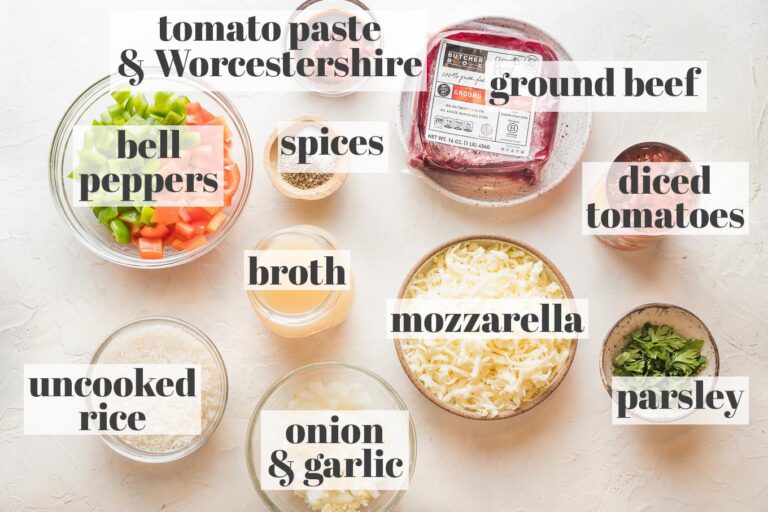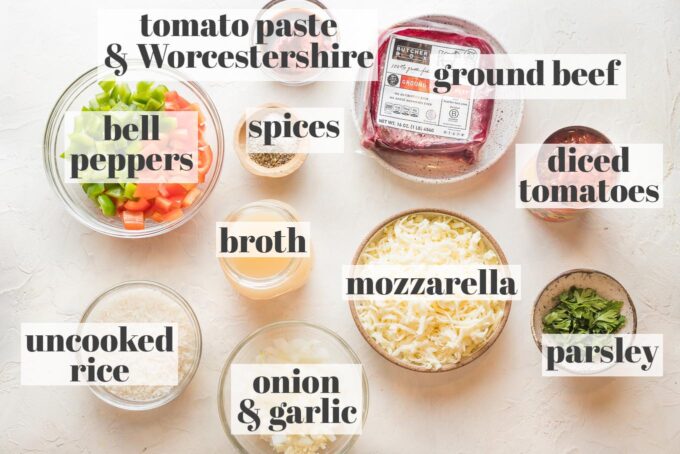 Here are a few notes and shopping tips about the ingredients you'll need to make unstuffed peppers, as well as possible substitutions:
Ground Beef. Choose a lean ground beef or sirloin. You can substitute ground turkey, ground chicken, or faux ground beef crumbles. If using very lean poultry or a meat substitute, add a small drizzle of olive oil to the pan prior to cooking, to offset the fat that would be rendered from the beef and would help to soften the onion and garlic.
Produce: bell peppers, onion, garlic, and fresh parsley as an optional but attractive garnish.
Pantry: uncooked white rice, chicken broth, tomato paste, Worcestershire sauce, and diced tomatoes. I typically use chicken broth for its mild flavor profile and for convenience, but you can certainly substitute beef stock, vegetable broth, or even just water.
Mozzarella. Mozzarella melts well and makes an appealing creamy top to this skillet. Feel free, however, to use cheddar, Monterey Jack, or any other quick-melting cheese that you like instead.
Can I use cauliflower rice for unstuffed peppers?
Unfortunately, cauliflower rice is not a good substitute in this recipe, because it will give off liquid rather than absorbing it as the skillet cooks, making the texture far too soupy.
Which bell peppers are best for cooking?
All bell peppers work well in most recipes, but it is true that there are differences among them. Red peppers are generally the sweetest, followed by orange, then yellow. Green peppers are the least sweet. In a skillet recipe such as this one, however, the differences are so mild that they hardly stand out to the average taste tester.
There is also a popular theory that bell peppers can be gendered — that is to say, a "female" bell pepper has four bumps on the bottom, while a "male" pepper has three — and that "male" peppers are superior for cooking while "female" peppers are preferable to eat raw. I have eaten many bell peppers and never noticed a difference, but take from that theory what you will!
How To Make Unstuffed Peppers
Be sure to select a large skillet with a well-fitting lid for this recipe. You'll need to cover the skillet for the rice to cook properly. Cast iron holds heat especially well and distributes it evenly, lessening the chances that your rice will burn and stick in the middle.
Begin by browning the meat and sautéing the onion and garlic. The fat rendered from the meat will be enough to cook the aromatics; there's no need for extra oil or butter. You may want to drain or sop up extra grease from the skillet after the meat is browned, depending on how lean it was.
Next it's a simple add and stir situation, mixing in the remaining vegetables, spices, broth, and rice. Stir very well to ensure even distribution — and even cooking!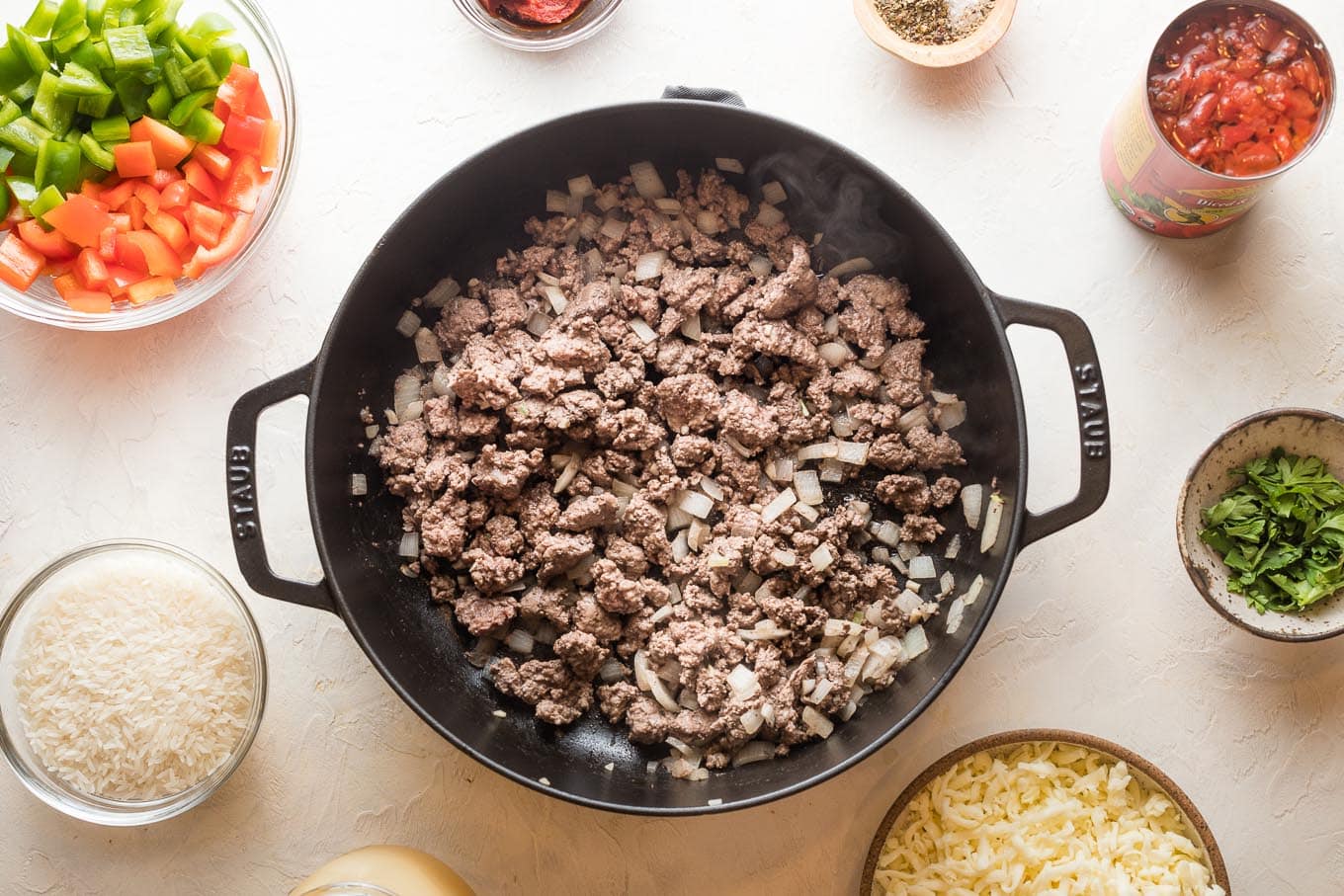 Cover the skillet and cook for approximately 20 minutes, until the liquid is absorbed and the rice is nice and tender. The flavors will have melded and be delicious!
Now sprinkle on a thin layer of grated mozzarella cheese, recover, and cook for 1-2 minutes more. If you prefer more of a golden brown cheese layer, transfer the skillet to the oven and warm under the broiler very briefly.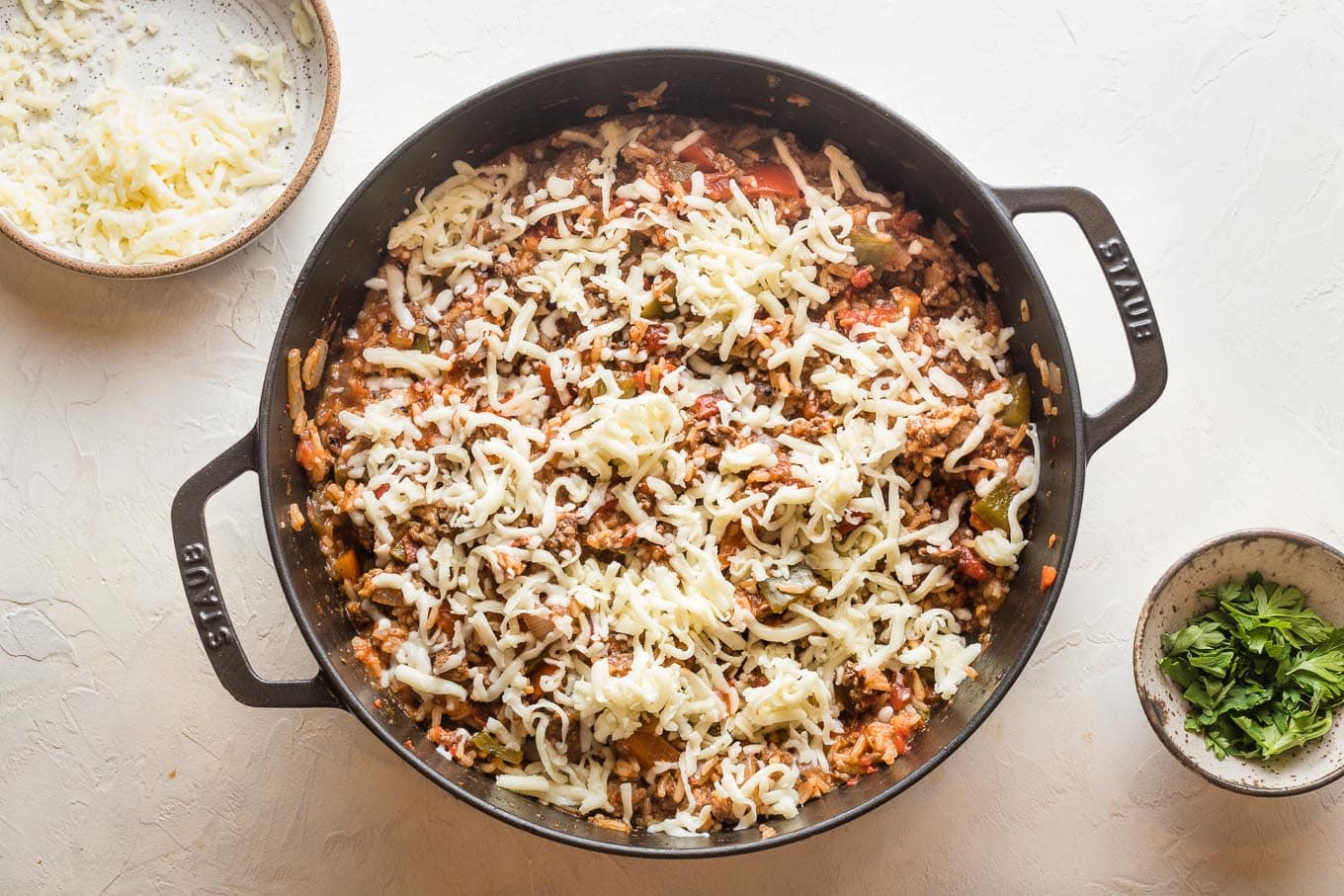 Dig in and enjoy!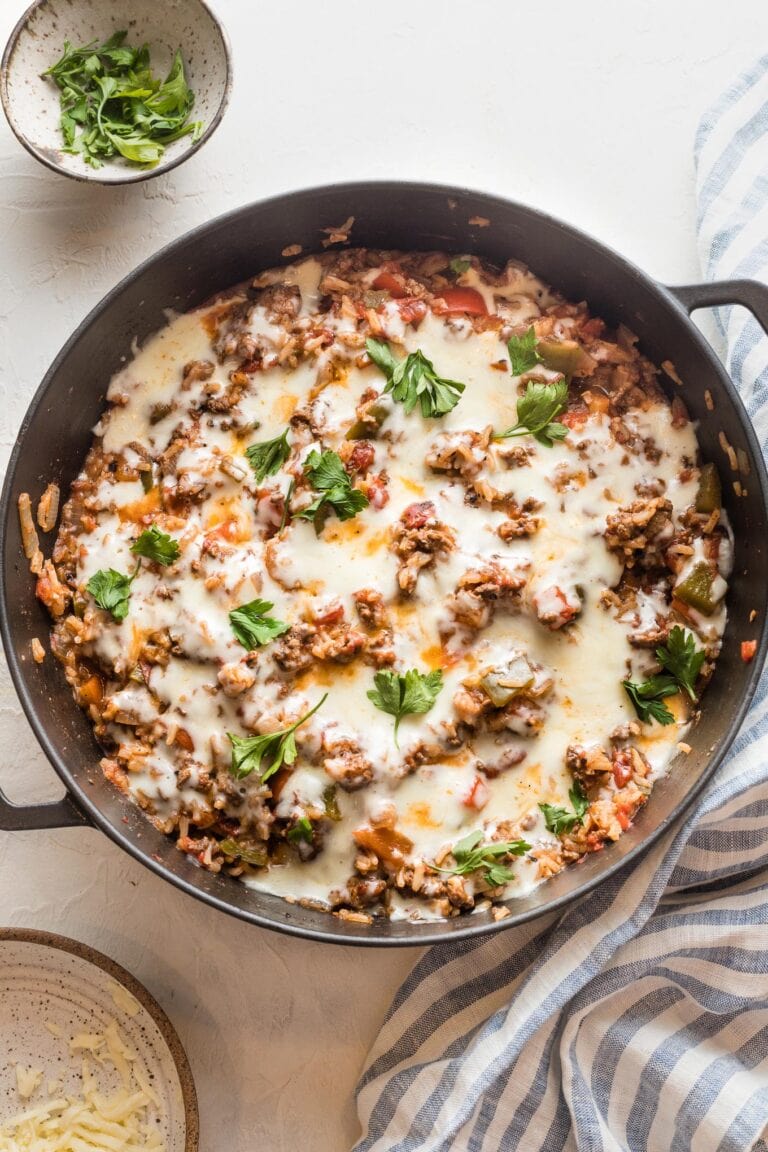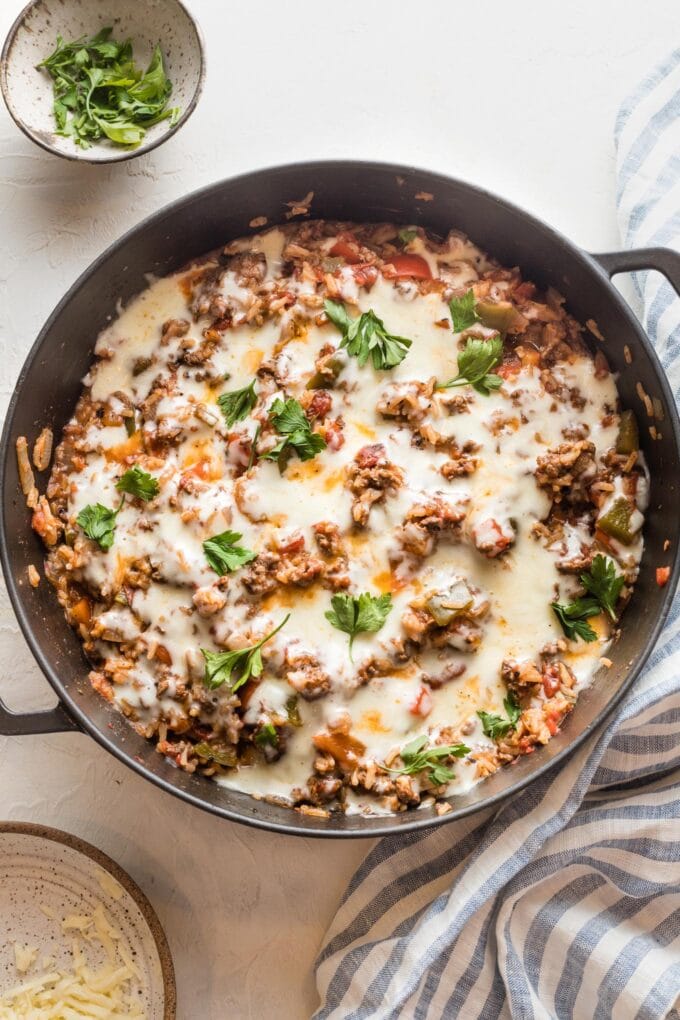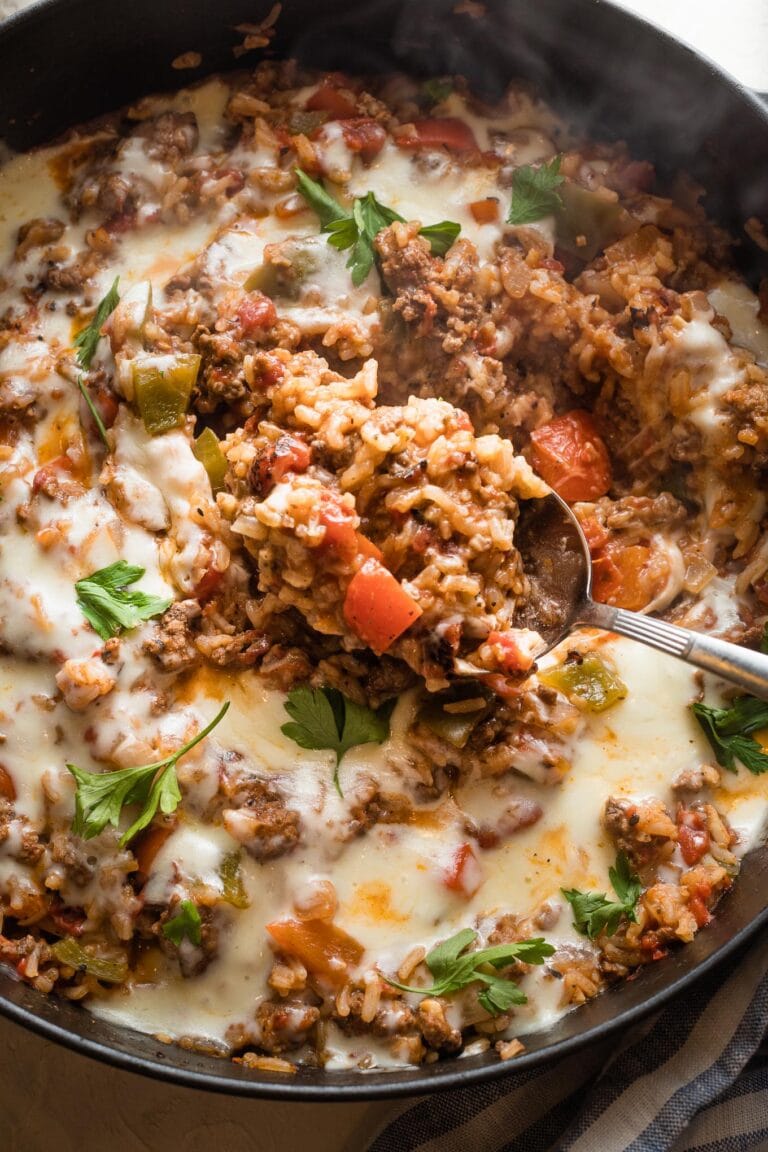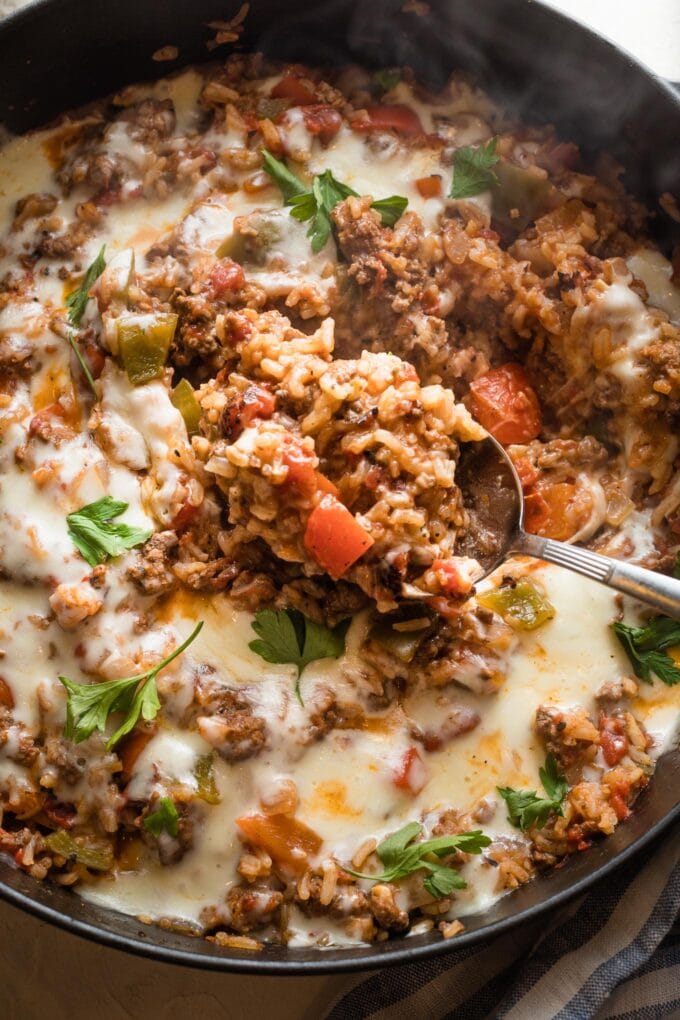 Can I make this dairy-free?
Yes, just leave off the final step of melting on cheese. It will still be an absolutely delicious and complete meal.
Can I add extra veggies?
This skillet is a great one for tossing in extra veggies: shredded or finely-chopped carrot, zucchini, or summer squash are all great additions. Add them along with the peppers and diced tomatoes; they will become tender as the rice cooks.
What sides pair well with stuffed peppers?
Serve unstuffed peppers — or stuffed peppers, for that matter — with a simple green salad or a peppery arugula mixture for a lovely textural contrast. Roasted green beans or broccoli make a nice pairing, too.
Feeding a crowd or just doubling down on the cozy factor? Slices of baguette, miniature ciabatta loaves, or buttery garlic bread will absolutely hit the spot.
Storage, Reheating, and Freezing
Have some extra? Lucky you! These unstuffed peppers are one of the more quickly disappearing leftovers from our fridge, because the flavors only get better and it reheats so well.
Place leftovers in an airtight container and store in the fridge for 3-4 days.
Reheat individual portions, or a larger batch, in the microwave on full power. Place a paper towel lightly on top to absorb splatters.
To freeze portions, cool them completely in the refrigerator first, then package tightly in freezer-safe containers and freeze for up to 3 months. Defrost overnight in the refrigerator, then reheat in the microwave, or place it straight from the freezer into the microwave for 1-2 minutes on the defrost setting, then on full power until heated through.
More Easy Ground Beef Recipes
Looking for more dinners to make with that pound of ground beef you purchased on sale? Taco stuffed peppers, Instant Pot ground beef tacos, Korean ground beef bowls or lettuce wraps, or chili garlic beef and shells are always winners.
If you try these Unstuffed Peppers, don't forget to rate the recipe and leave a comment below. I love hearing how recipes turn out in your kitchen, and it helps other readers, too.
You can also FOLLOW me on PINTEREST, INSTAGRAM, FACEBOOK, and TWITTER for more great recipes and ideas!
Unstuffed Peppers Skillet
Weeknight dinner perfection! An easy unstuffed pepper skillet with rice, veggies, and ground meat is a cozy family favorite.
Ingredients
1 pound lean ground beef
1/2 medium yellow onion chopped
3-4 cloves garlic minced
2 cups beef or chicken broth
3/4 cups white Jasmine rice
2 bell peppers any color, seeded and chopped
1 14 ounce can diced tomatoes with juices
2 tablespoons tomato paste
1 tablespoon Worcestershire sauce
2 teaspoons Italian seasoning
1 teaspoon kosher salt
12-15 cranks fresh-ground black pepper
1 cup shredded mozzarella
parsley for garnish optional
Instructions
Warm a large skillet over medium-high heat. When hot, add the beef, onion, and garlic. Cook for 4-5 minutes, stirring frequently, until the meat is crumbled and well-browned. Drain any excess grease and return skillet to the heat.

Stir in the broth, rice, bell peppers, tomatoes, tomato paste, Worcestershire, Italian seasoning, salt, and pepper. Increase heat to bring the mixture to a rapid simmer, stir well, then reduce heat to medium-low. Cover and cook for 18-20 minutes, until the liquid is absorbed and the rice is tender.

Stir the mixture gently, then top with shredded mozzarella. Return to the heat and recover, or place under the broiler for 1-2 minutes, to melt and brown the cheese, as desired. Garnish with parsley or other herbs as desired, and serve.
Notes
Meat Substitutes: You can substitute ground turkey, ground chicken, or faux ground beef crumbles for the ground beef in this recipe. If using a very lean meat or meat substitute, add a small drizzle of olive oil to the pan prior to cooking, to offset the fat that would be rendered from the beef and would help to soften the onion and garlic.
Nutrition Estimate
Calories: 281 kcal, Carbohydrates: 26 g, Protein: 24 g, Fat: 9 g, Saturated Fat: 4 g, Polyunsaturated Fat: 1 g, Monounsaturated Fat: 3 g, Trans Fat: 0.3 g, Cholesterol: 62 mg, Sodium: 661 mg, Potassium: 558 mg, Fiber: 2 g, Sugar: 3 g, Vitamin A: 1463 IU, Vitamin C: 53 mg, Calcium: 134 mg, Iron: 3 mg
Did you make this recipe?
Leave a review below, then snap a quick picture and tag @nourishandfete on Instagram so I can see it!