Chicken and Bell Pepper Stir Fry
This simple Chicken and Pepper Stir Fry is easy to make with everyday ingredients. It's fast, flavorful, and packs protein and veggies into one cozy bowl. Serve with steamed rice or extra veggies for a meal everyone can enjoy.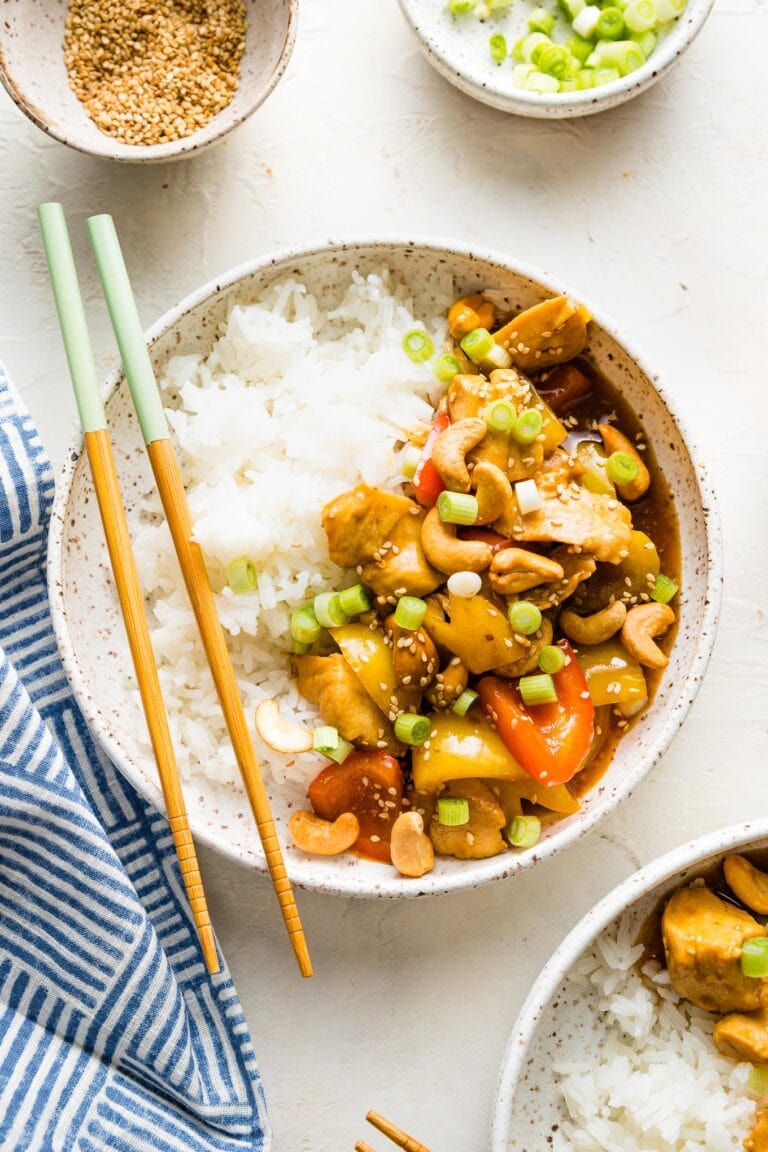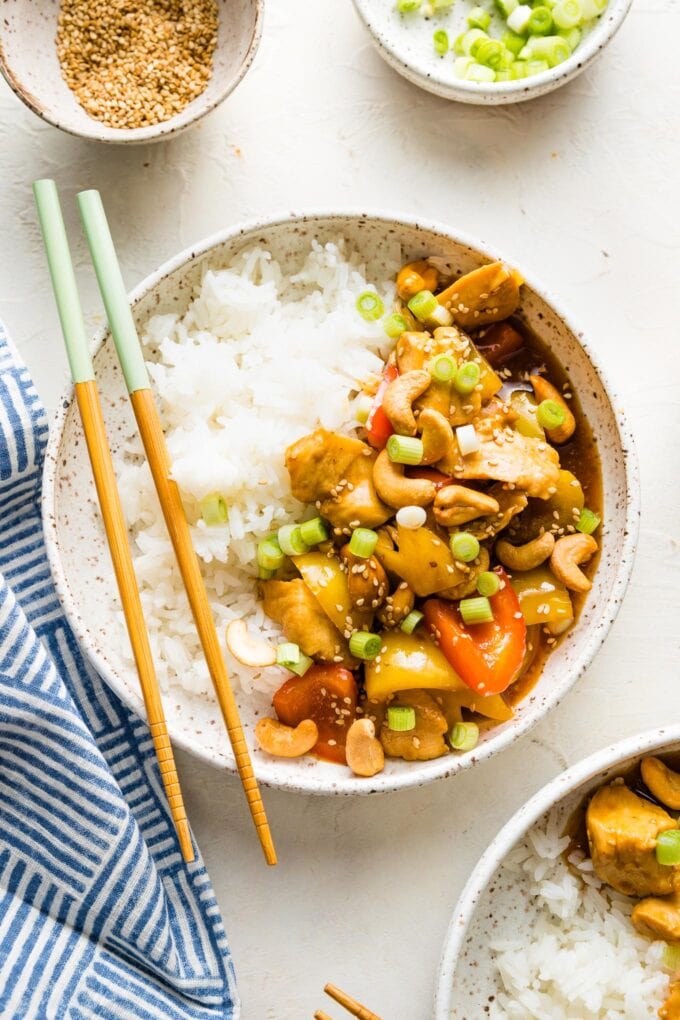 We love a good stir fry around here — don't we all? They are quick, simple, and an excellent vehicle for using up any lingering produce. Chop it, toss it, and let that delicious stir fry sauce make the veggies taste oh-so-good.
This particular combination is a favorite here because I often buy bell peppers in bulk. We eat them for snacks and in salads, and I pack some in my son's lunchbox nearly every day. But it would be a major shame not to enlist the crunchy sweet beauties for dinner duty, as well.
Ingredients & Common Substitutions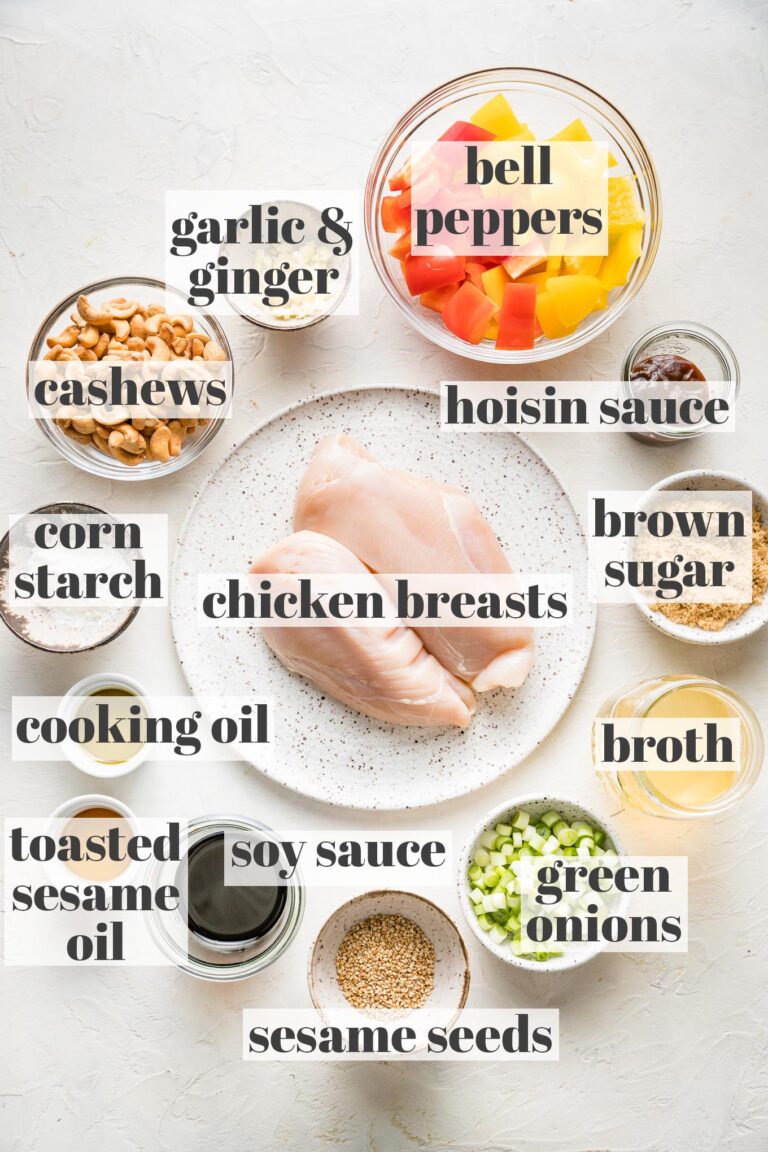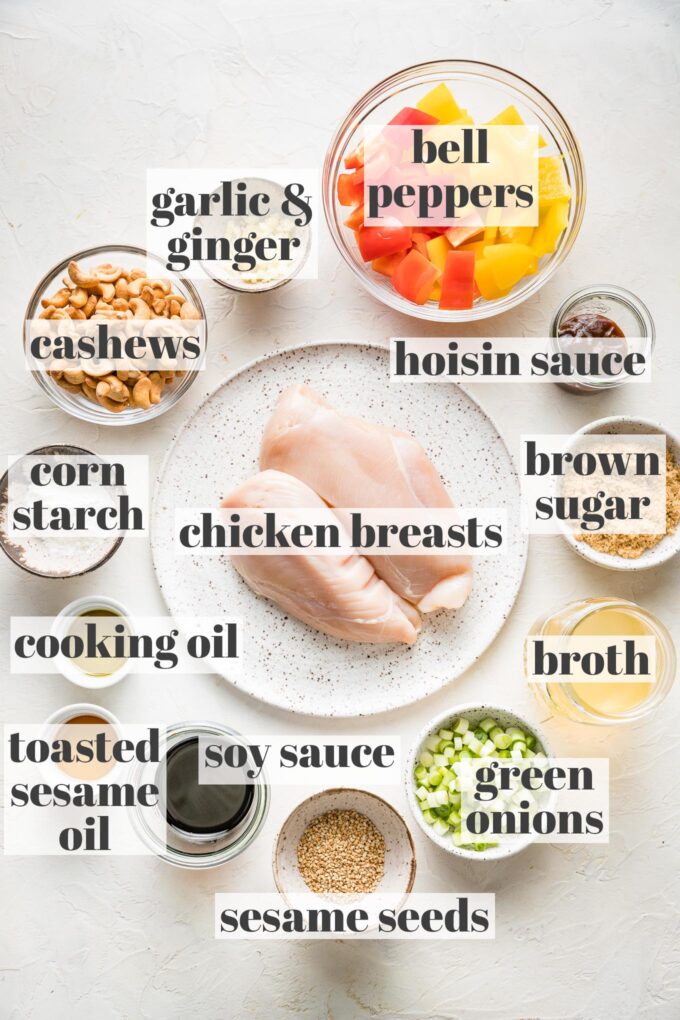 Here are a few notes and shopping tips about the ingredients you'll need to make this, as well as possible substitutions. Full ingredients & amounts are in the recipe card below.
Chicken Breasts: Boneless, skinless chicken breasts are the easiest and quickest to cook. I highly recommend using thin-sliced chicken breasts; you can butterfly chicken breasts yourself, or buy them already thin-sliced, as is my preference for simplicity's sake. You can also make this with chicken thighs, but they will take longer to cook.
Bell Peppers: I like to use two, and at least two different colors, just for the pretty variation in color. There is also a mild natural flavor variation among the colors — green peppers tend to be the most mild, while red, orange, and yellow have more natural sweetness.
Avocado or Canola Oil: These types of oils are particularly good for cooking at high heat, such as in a stir fry, because they have a high smoke point. This means they can come to a relatively high temperature and still glisten, before beginning to burn and impart an acrid aroma and flavor.
Garlic and Ginger: First choice: freshly-minced or grated. Second choice, also very good: a jarred or frozen version. Distant third choice: only substitute dried garlic powder and ginger in a real pinch.
Chicken Broth: Use a low-sodium chicken broth to give you more control over the salt content of your finished stir fry.
Brown Sugar: The little sweetener our stir fry sauce needs to achieve its signature sweet-and-savory profile.
Soy Sauce, Hoisin Sauce, and Toasted Sesame Oil: All pantry staples that punch far above their weight if you like making stir fry or other at-home versions of takeout. Toasted sesame oil, for example, is a delightful and important ingredient in teriyaki chicken and Korean ground beef, and a small bottle lasts a very long time.
Cornstarch: To thicken the sauce. Arrowroot powder makes a good substitute.
Cashews: That crunch is so irresistible here! I like to use a lightly salted, roasted cashew, but anything you otherwise would snack on will taste good here.
Green Onions and Sesame Seeds: Optional garnishes, but they are very nice.
How To Make a Chicken & Bell Pepper Stir Fry
This is an overview with step-by-step photos. Full instructions with timing & temperatures are in the recipe card below.
Step One: Warm oil in a wok or skillet over medium-high heat, then give the veggies a quick sauté. Sizzle the ginger and garlic to start; when those are fragrant, add the peppers and cook to tender-crisp. Remove peppers when crisp — you'll return them separately at the end. This may seem like a pain, but it's the simplest way to be sure the peppers are not overcooked and mushy.
Step Two: While the peppers cook, whisk together your sauce. It's made up of chicken broth, soy sauce, hoisin sauce, brown sugar, and sesame oil.
Step Three: Cook the chicken. First by itself to get a slightly crisp exterior, then in the sauce for maximum flavor and tenderness.
Step Four: Thicken the sauce with a brief simmer and with a corn starch slurry.
Step Five: Finish and serve. Mix in the peppers and cashews, any garnishes you desire, and give a big holler, because dinner is done!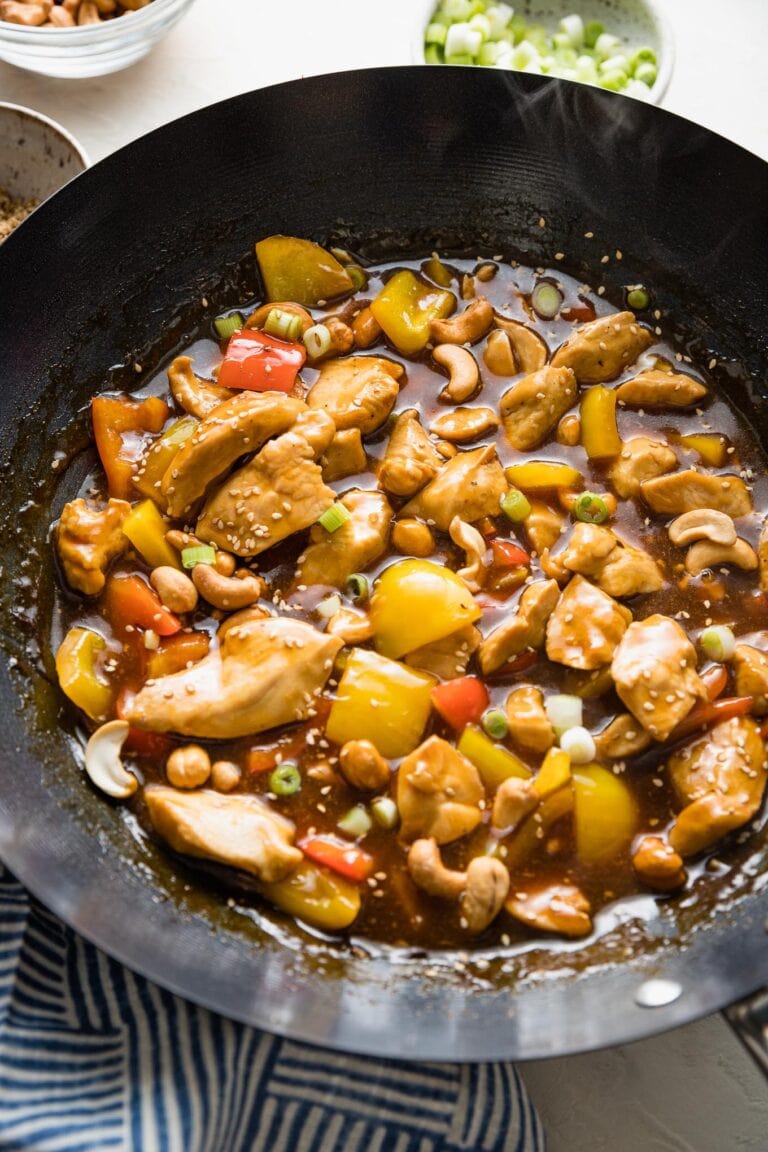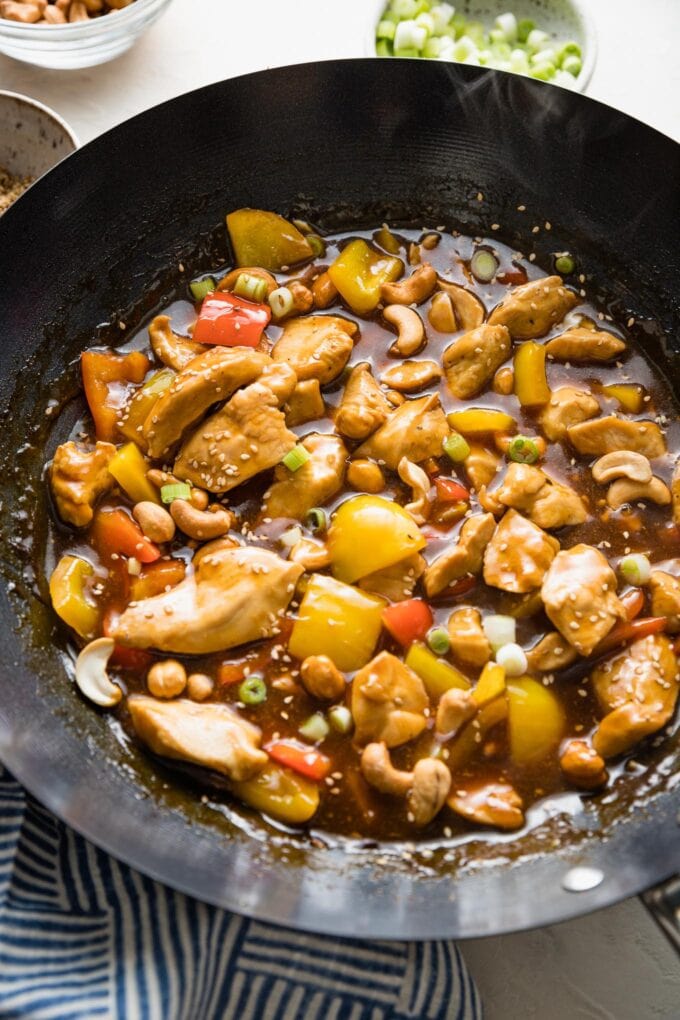 Can I make a stir fry in a regular skillet?
Yes! I am firmly of the opinion that you do not need a specialty wok to make a good stir fry at home. Any large skillet with medium to high sides will work well. That said, if you get in the habit of making stir fry more frequently, you can pick up a quality yet inexpensive wok easily. Mine is from Target; this one is comparable. And this wok is so pretty with its hammered finish and comes with all kinds of fun tools. Wouldn't that make a fun gift!?
What are the benefits to using a wok?
So why use a wok? Compared to a standard skillet or frying pan, woks require less cooking oil, fit more food without risk of a mess, and cook more quickly. The small bottom surface area and high sloped sides also create a dual-zone cooking effect that helps to steam food without overcooking it and allows you to more precisely control the rate at which your sauce simmers and thickens.
The bottom line: for everyday family dinners, you can make delicious stir fry in any skillet you have. For an elevated culinary experience, by all means, use a wok and read up more on authentic stir fry technique.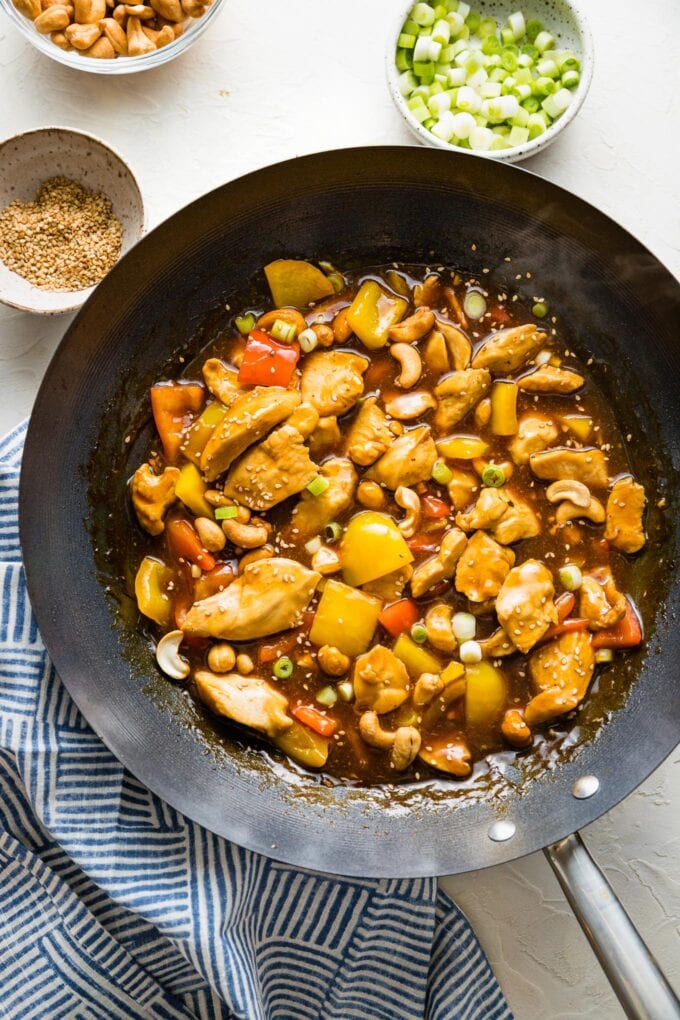 Serving Suggestions
Pair this chicken and bell pepper stir fry with simple steamed rice. White, brown, or cauliflower rice all go well. You can also serve it as-is or with extra veggies. We like snow peas or edamame for a little added color. Of course, steamed dumplings, egg rolls, or spring rolls are nice accompaniments, too.
Feeding kids or choosy eaters? You might be surprised how well sweet fruits such as mandarin oranges, pineapple, and mango pair with stir fry. Though they may not be traditional, they are an easy way to round out plates for a large or varied crowd.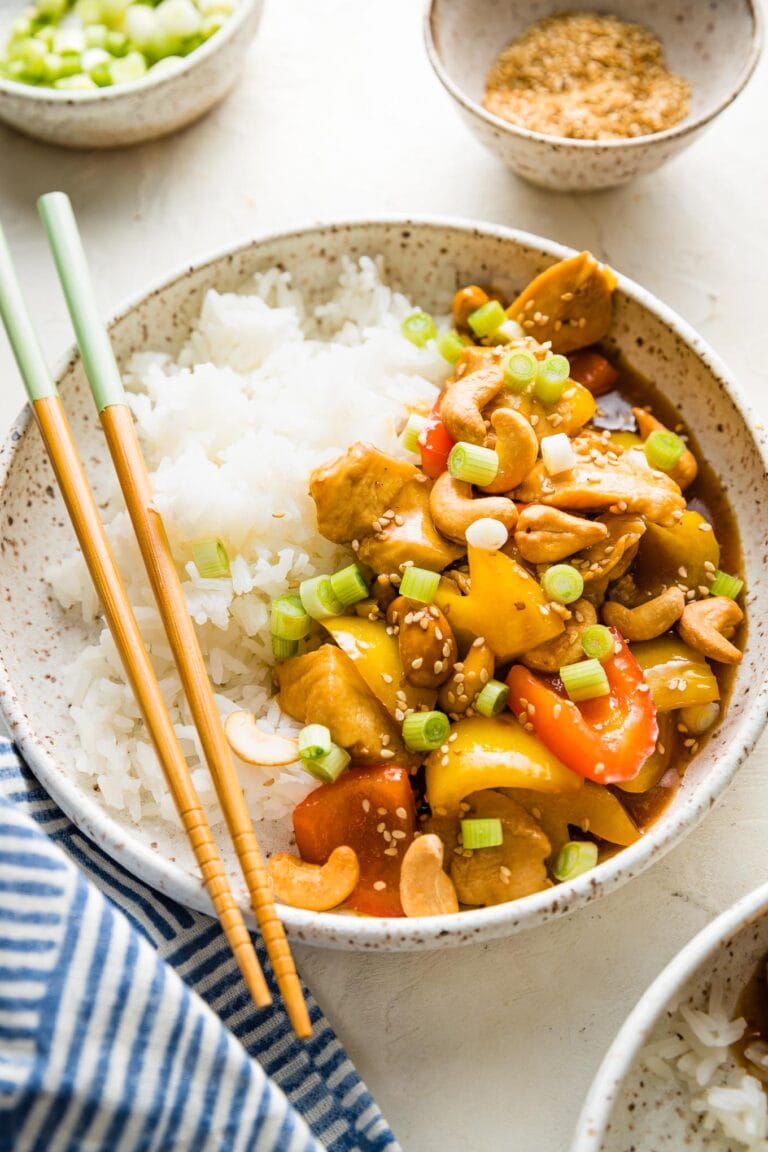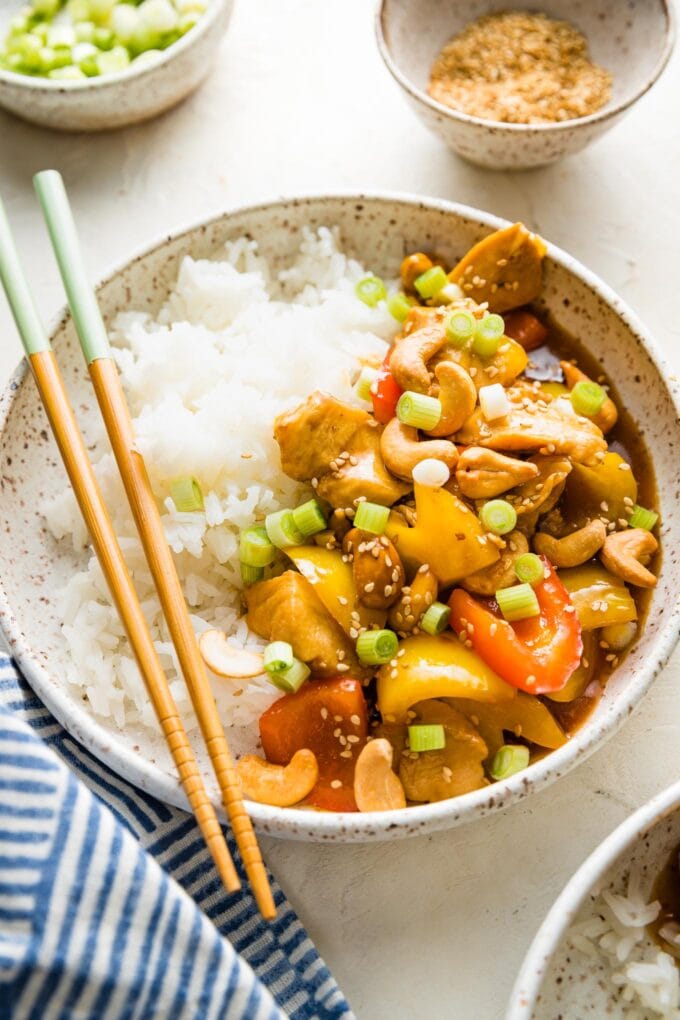 Storage & Reheating
Storage: Leftovers keep very well for 3-4 days. Store individual servings in airtight containers in the refrigerator. We like to keep some cashews separate to add just prior to eating so they stay maximally crunchy.
Reheating: Warm in the microwave or over medium-low heat on the stovetop. Add a small splash of water or broth if the sauce seems too thick.
I can't recommend freezing leftovers, unfortunately. The texture of the pepper just won't be the same.
More Stir Fry and Similar Recipes
Love these flavors? This is adapted from my favorite chicken and asparagus stir fry. You'll also enjoy pineapple chicken, bourbon chicken (a true take-out fake-out), and delicious teriyaki chicken.
If you try this Chicken and Bell Pepper Stir Fry, don't forget to rate the recipe and leave a comment below. I love hearing how recipes turn out in your kitchen, and it helps other readers, too.
You can also FOLLOW me on PINTEREST, INSTAGRAM, FACEBOOK, and TWITTER for more great recipes and ideas!
Chicken and Bell Pepper Stir Fry
This simple Chicken and Pepper Stir Fry is easy to make with everyday ingredients. It's fast, flavorful, and packs protein and veggies into one cozy bowl. Serve with steamed rice or extra veggies for a meal everyone can enjoy.
Ingredients
1 tablespoon avocado, canola, or vegetable oil
2 cloves garlic minced
2 teaspoons minced or crushed ginger
2 bell peppers any color, chopped or sliced
3/4 cup chicken broth
1/3 cup low-sodium soy sauce
3 Tablespoons hoisin sauce
3 Tablespoons brown sugar
2 teaspoons toasted sesame oil
2 Tablespoons corn starch
1 pound boneless, skinless chicken breasts cut into bite-sized pieces
1 cup cashews
green onions and sesame seeds optional garnish
Instructions
Add oil to a large skillet set over medium-high heat. Add garlic and ginger to the pan. Cook for 30-60 seconds, just until fragrant. Add the peppers and cook for 3-4 minutes, until they are slightly tender but still bright in color. Remove to a plate and set aside.

While the peppers cook, whisk together the chicken broth, soy sauce, hoisin sauce, brown sugar, and sesame oil in a small bowl or liquid measuring cup.

In a separate small bowl, combine the cornstarch with 2 tablespoons cold water and stir with a fork until fully dissolved.

After removing the pepper, keep the skillet over medium-high heat. Add another teaspoon of oil if it is dry. Add the pieces of chicken and cook for 2-3 minutes on each side, just until browned on the outside, but not quite fully cooked through.

Pour the soy sauce mixture on top of the chicken. Bring liquid to a simmer, then stir in the cornstarch mixture. Continue to cook, stirring frequently, until the sauce thickens, about 1 minute. Return peppers to the pan, add the cashews, and toss to coat.

Garnish with chopped green onions and sesame seeds, if desired, and serve right away.
Nutrition Estimate
Calories: 438 kcal, Carbohydrates: 33 g, Protein: 34 g, Fat: 20 g, Saturated Fat: 4 g, Polyunsaturated Fat: 4 g, Monounsaturated Fat: 10 g, Trans Fat: 0.01 g, Cholesterol: 73 mg, Sodium: 1114 mg, Potassium: 903 mg, Fiber: 3 g, Sugar: 17 g, Vitamin A: 1898 IU, Vitamin C: 78 mg, Calcium: 44 mg, Iron: 3 mg
Did you make this recipe?
Leave a review below, then snap a quick picture and tag @nourishandfete on Instagram so I can see it!