Balsamic Grilled Chicken Cobb Salad
A delicious and dinner-worthy grilled chicken Cobb salad loaded with avocado, tomato, carrot, bacon, and a silky balsamic Dijon dressing. Filling and healthy!
This recipe first appeared on Gimme Delicious, where I am a contributor.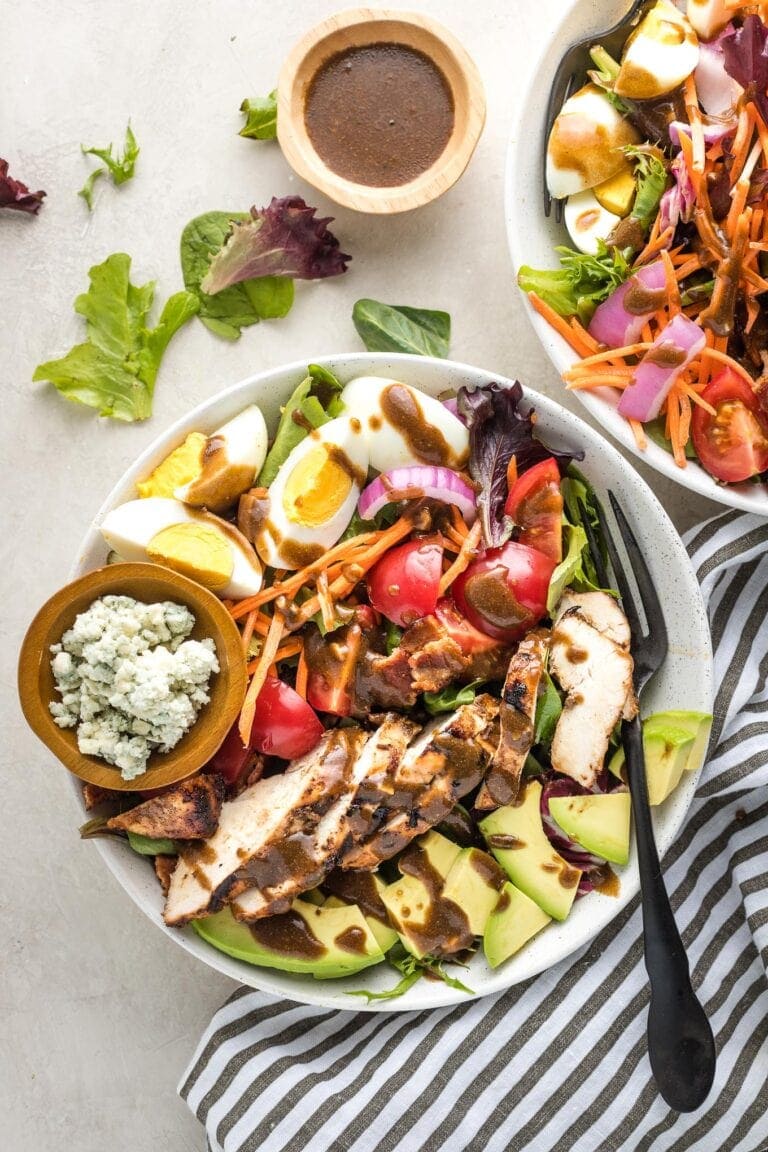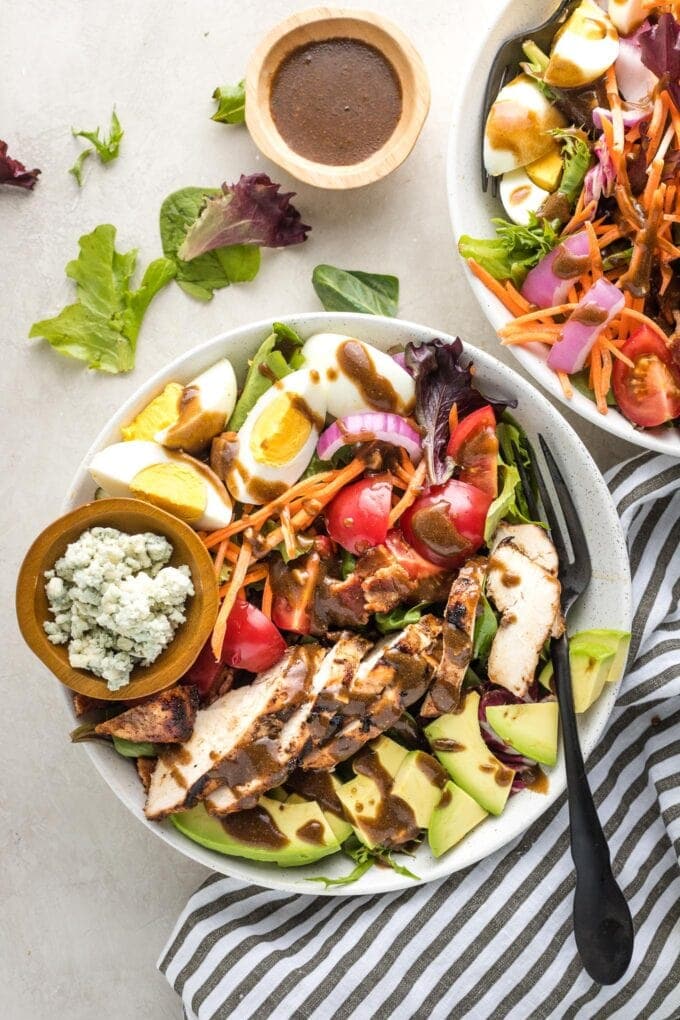 I'm all about simple, fresh, flavorful meals, and so excited to share one of our favorite salads with you today. A chicken Cobb salad is a delicious classic that's easily lightened up to suit a healthy lifestyle.
This always hits the spot for lunch or dinner, especially when you're craving some greens and lean protein. We eat it in a steady rotation with grilled chicken gyro salads and spinach salads with bacon and eggs.
You'll love that this Cobb salad is easy to make yet completely wholesome. No processed ingredients or suspicious additives — just a vibrant mix of crisp veggies, juicy chicken, and a rich balsamic dressing.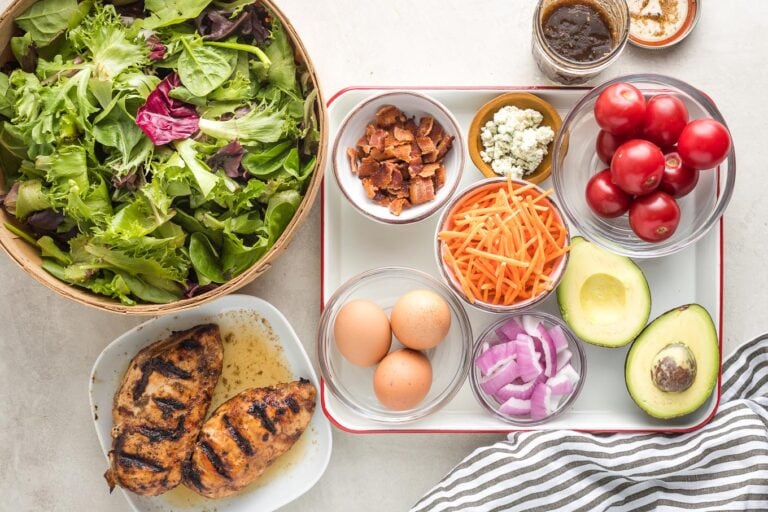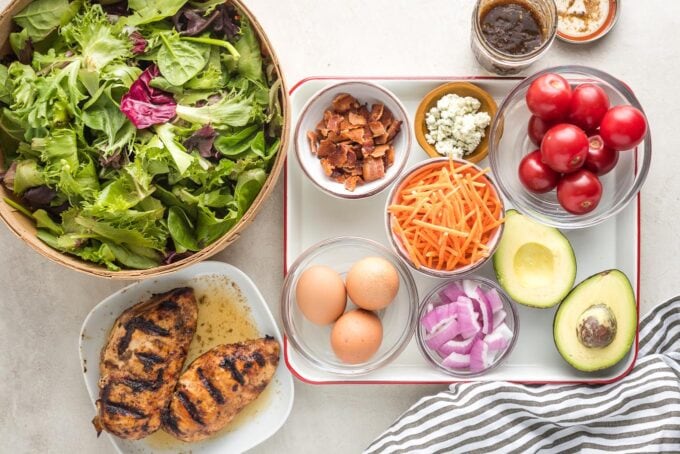 What you need for a balsamic Cobb salad
Lettuce: You can use romaine, which is the base of a traditional Cobb salad, or spring mix. Baby spinach leaves are also a good choice.
Grilled chicken: The balsamic chicken is what sets this Cobb salad apart! A simple marinade adds rich, complex flavor while ensuring the chicken stays juicy on the grill.
Tomatoes: Any kind you like. Cherry or grape tomatoes are our go-to, and mini heirlooms in the late summer are a particular treat.
Carrots: Using pre-shredded carrots saves time and keeps assembly super simple.
Avocado: No Cobb is complete without this creamy, rich, all-natural source of healthy fats!
Bacon and egg: Crisp bacon is a must-have, and traditionalists will serve Cobb salad with a hard-boiled egg; it complements the other textures well.
Red onion: Adds a little tang and crunch that goes a long way!
Dressing: A super simple balsamic vinaigrette with a hint of Dijon is the perfect pairing to the grilled chicken — and doesn't drown out all your healthy veggies.
Cheese: Blue cheese or gorgonzola are the traditional accompaniments to a Cobb salad, but in our house we actually prefer to keep this dairy-free! Fortunately, it's easy to serve the cheese on the side, if you have some diners who will enjoy it and others who won't. It might even feel fancier that way!
Tips for making this super simple
Get ahead: Cook your bacon and eggs ahead of time so you can assemble this salad in a flash.
Hit the marinade window: You can marinate the chicken up to four hours ahead of time. This will open deepen the flavor! If you need to marinate it longer — say, overnight — omit the lemon juice. The acid in even a small amount of citrus can negatively impact the texture of chicken when left in a marinade for a long time.
Shake the dressing: If you have a small jar with a tight-fitting lid, it's the perfect vessel for making salad dressing. As a bonus, you can make extra and store what you don't use in the jar in the fridge, and your next salad will be even easier to make.
Extra chicken? Great! Save it and serve alongside grilled veggies the next night, or shred it for use in a sandwich or another salad — like this delicious spinach blackberry combination. Balsamic chicken should never go to waste!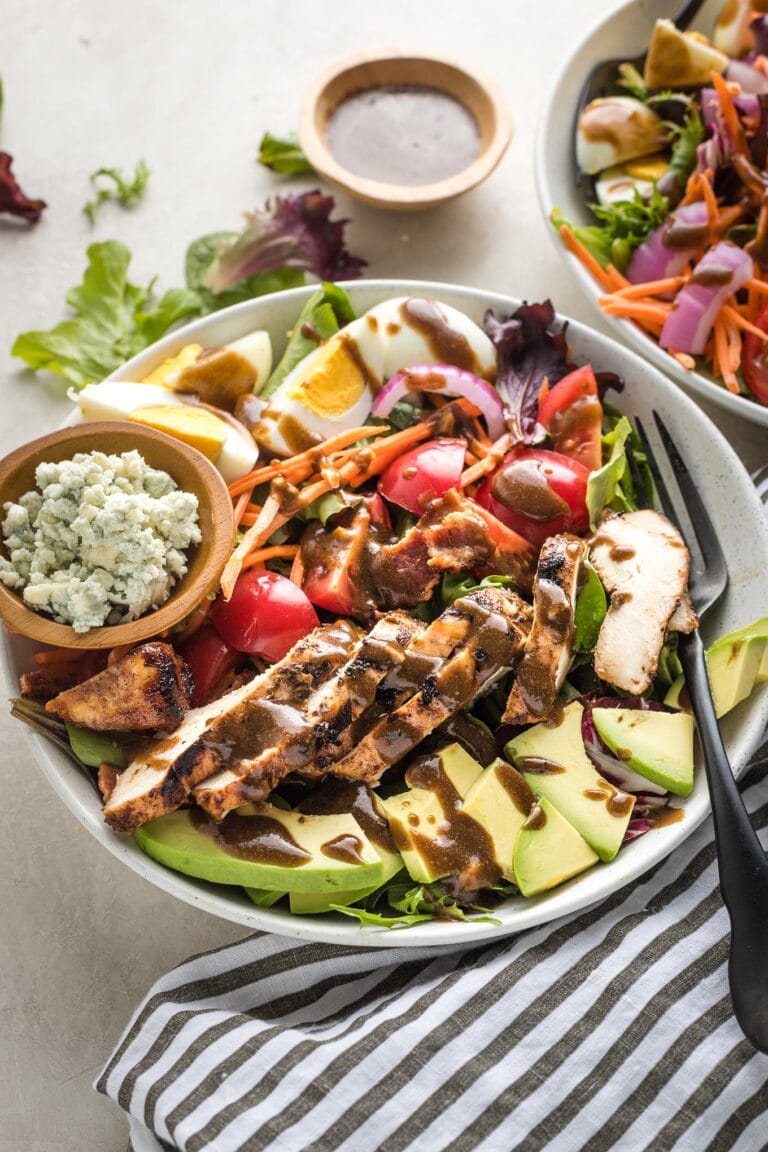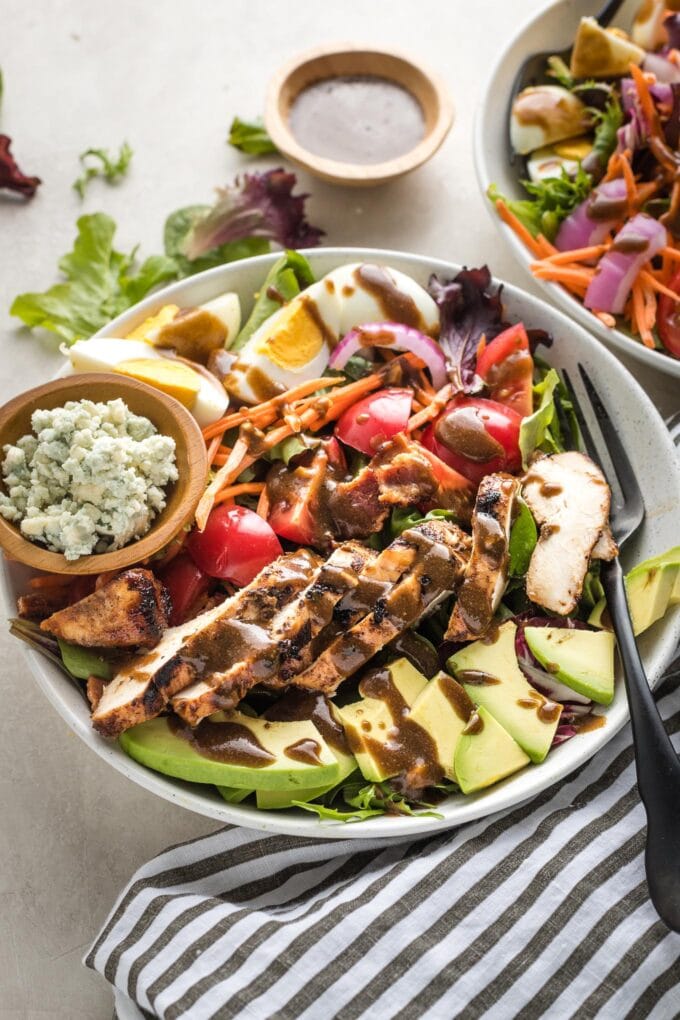 Do you enjoy a classic chicken Cobb salad? If you make this grilled balsamic version, don't forget to rate the recipe and leave a comment below! I love to know how recipes go for you, and it helps other readers, too.
You can also FOLLOW me on PINTEREST, INSTAGRAM, FACEBOOK, and TWITTER for more great recipes and ideas!
Balsamic Grilled Chicken Cobb Salad
A delicious and dinner-worthy grilled chicken Cobb salad loaded with avocado, tomato, carrot, bacon, and a silky balsamic Dijon dressing. Filling and healthy!
Ingredients
Marinade:
1/2 cup olive oil
3 tablespoons balsamic vinegar
1 tablespoon lemon juice
1 tablespoon Dijon mustard
1 teaspoon garlic powder
1 teaspoon kosher or sea salt
8-10 cranks freshly-ground black pepper
2 boneless, skinless chicken breasts
Dressing:
1/3 cup olive oil
2 tablespoons balsamic vinegar
2 teaspoons Dijon mustard
1 garlic clove minced
pinch kosher or sea salt
8-10 cranks freshly-ground black pepper
Salads:
4 cups romaine or spring mix lettuce
3-4 slices cooked bacon crumbled
2-3 hard-boiled eggs quartered or sliced
1/2 cup cherry or grape tomatoes halved
1/2 cup shredded carrots
1/2 medium avocado sliced or diced
1/4 red onion thinly-sliced or chopped
2-3 tablespoons crumbled blue or gorgonzola cheese
Instructions
First, prep the chicken. In a large bowl, combine the olive oil, balsamic, lemon juice, Dijon mustard, garlic powder, salt, and pepper. Whisk until smooth. Add the chicken breasts, turning once to coat in the marinade. Cover bowl and transfer to the fridge for at least 20 minutes and up to 4 hours.

When ready to cook, discard marinade and grill the chicken to an internal temperature of 165 degrees F. Set chicken aside and slice when slightly cooled.

To make the dressing, combine all dressing ingredients in a small jar with a tight-fitting lid. Cover, shake well, and set aside until ready to serve. Dressing can be stored in the fridge for as much as 1 week.

To assemble the salads, lay lettuce out on a platter or individual salad plates. Top with bacon, eggs, tomatoes, carrots, avocado, onion, and sliced chicken, laying ingredients out in rows for a traditional Cobb salad look. Sprinkle on cheese and drizzle on dressing, if desired, or serve with those on the side.
Notes
This yields 2 generous salads, perfect for a filling lunch or dinner. If serving as a side, estimate 4 portions.
Did you make this recipe?
Leave a review below, then snap a quick picture and tag @nourishandfete on Instagram so I can see it!