Looking for a light, fresh, fast summer dish? Tomato, mozzarella, prosciutto pasta is a family favorite, with a sprinkling of pine nuts, fresh basil, olive oil, and balsamic vinegar. Perfect for a casual meal or contribution to any picnic, potluck, or BBQ.
One of the most universal aspects of food is the ability of a certain dish to call forth a memory and transport you to a particular time and place. When I see, taste, or even think of certain foods, I'm flooded with very clear memories of meals my Mom made, a few vacation dining experiences that were especially amazing thanks to the food, scenery, or both, and so forth. As I've taught myself to cook, an unanticipated bonus has been adding to those sweet memories with recollections of the first occasion that I made a certain dish – especially those that would eventually become beloved family favorites.
This tomato, mozzarella, prosciutto pasta is without a doubt one of those recollections, because it's the very first dish I ever prepared for my now-husband! I remember so many details of that meal – painstakingly chopping the tomatoes, fretting over whether I had assembled everything properly, making a totally excessive salad and garlic bread to go with it, shelling out too much money for a bottle of wine, and generally doing my best to impress. At that time, I really didn't have much experience cooking, so I sweated ALL the small stuff!
Fortunately, clearly, we had the happy ending. One nice meal led to another, more coffee dates, etc. etc., and here we are, one wedding, two houses, an international move, and one toddler later. Do we have this pasta to thank? I think it's fair to assign it at least partial credit!
[clickToTweet tweet="Need a light, fresh, fast summer dish? Try pasta with tomatoes, mozzarella & prosciutto!" quote="Need a light, fresh, fast summer dish? Try pasta with tomatoes, mozzarella & prosciutto!"]
Caprese Flavors In a Main Dish
With fresh tomatoes and mozzarella marinated in a perfect blend of olive and balsamic vinegar, then sprinkled with prosciutto, pine nuts, and fresh basil, this dish captures everything you love about a caprese, with a little added oomph to make it 100% worthy of main dish status.
We love it as a simple one-bowl meal that feels light and fresh and satisfying all at the same time. The pasta is equally at home, though, as a side dish at any picnic, potluck, or BBQ. Tomato, mozzarella, and prosciutto are beloved crowd-pleasers that manage to feel just a little bit fancy when they all come together.
A Lighter Pasta Option
Plus, my family loves its pasta fix, but it's really nice to have a lighter option, especially during the warmer months. Don't get me wrong, I adore a good hearty pasta, too (see: chicken parm pasta bake, pasta alla vodka, tomato mascarpone pasta, cheesy skillet-baked pasta.. you get the idea).
Sometimes, though, you want to enjoy the comfort of pasta lightened-up a bit. When that happens, this tomato mozzarella situation, along with roasted garlic and tomato spaghetti, are two of our favorite go-tos.
How about you?
What are your clearest food-related memories?
Do you have stronger memories of everyday family favorites, or special occasion meals?
Are there food-related traditions you hope your kids and loved ones remember one day?
Let me know in the comments below! Happy cooking!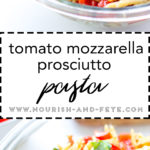 Print
Tomato, Mozzarella, Prosciutto Pasta
Looking for a light, fresh, and fast summer dish? This pasta is a family favorite, with tomatoes, mozzarella, prosciutto, and a sprinkling of pine nuts, fresh basil, olive oil, and balsamic vinegar. Perfect for a casual meal or any picnic, potluck, or BBQ.
Ingredients
1 1/2

lbs.

(750 grams) tomatoes

cored and coarsely chopped

4

cloves

garlic

minced or pressed

1/2

cup

(20 grams) fresh basil leaves

slivered

1/2

cup

(4 fluid ounces, 125 ml) extra-virgin olive oil

3

tablespoons

balsamic vinegar

1/2

teaspoon

red pepper flakes

1/2

lb.

(250 grams) mozzarella cheese

cut into small cubes

1/4

cup

(36 grams) pine nuts

kosher salt and freshly ground black pepper

1

lb.

(500 grams) pasta

2

ounces

(60 grams) prosciutto

thinly sliced and torn into small pieces
Instructions
In a large bowl, combine the chopped tomatoes, garlic, basil, olive oil, vinegar, and red pepper flakes. Stir well and let stand at room temperature for about 15 minutes, allowing the flavors to blend. Stir in the mozzarella and let stand for about 10 minutes more.

Meanwhile, bring a large pot of water to boil. Add a generous pinch of kosher salt and the pasta and cook, stirring occasionally, until al dente. Drain well, allow pasta to cool for 1-2 minutes, then stir the pasta into the tomato-mozzarella mixture, along with the prosciutto and pine nuts. Toss to combine and slightly soften the cheese.

Season to taste with salt and pepper, and serve warm or at room temperature. If you make ahead or have leftovers, cover pasta tightly and store in the fridge for up to 2 days.
Did you make this recipe?
Leave a review below, then snap a quick picture and tag @nourishandfete on Instagram so I can see it!
Nutrition Estimate
Calories:
661
kcal
|
Carbohydrates:
64
g
|
Protein:
21
g
|
Fat:
35
g
|
Saturated Fat:
9
g
|
Cholesterol:
36
mg
|
Sodium:
315
mg
|
Potassium:
541
mg
|
Fiber:
4
g
|
Sugar:
6
g
|
Vitamin A:
27.1
%
|
Vitamin C:
20
%
|
Calcium:
22.7
%
|
Iron:
11.4
%
 Adapted from Williams-Sonoma, Food Made Fast: Weeknight 
2