Creamy Pasta Primavera
Celebrate spring with a quick and easy creamy pasta primavera! It has a tangy, light sauce, colorful veggies, and best of all, it's ready in 20 minutes!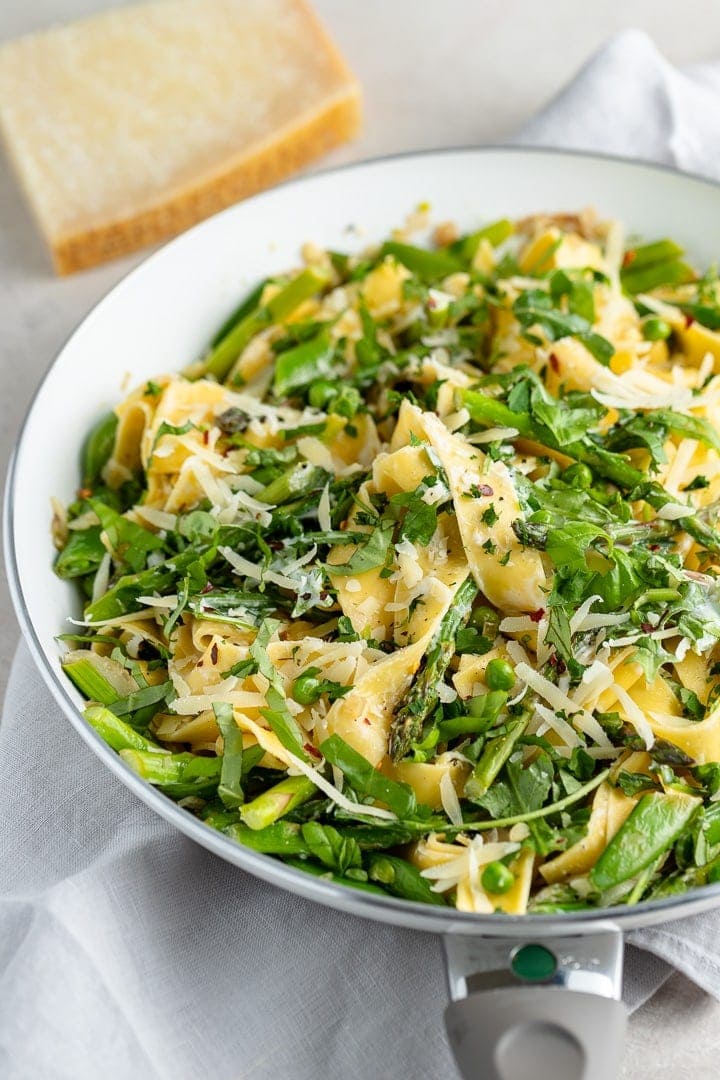 Can you ever have enough quick weeknight pasta recipes? The answer, clearly, is never! Now, as much as we all rely on pantry staples in a pinch, sometimes you crave the comfort of weeknight pasta and still want to incorporate seasonal fresh veggies. On those nights, this recipe is just the thing!
If you're all about the spring produce, you might also like to bookmark my spring produce and recipe guide. It includes more than 100 curated recipes all designed to feature the best of the season.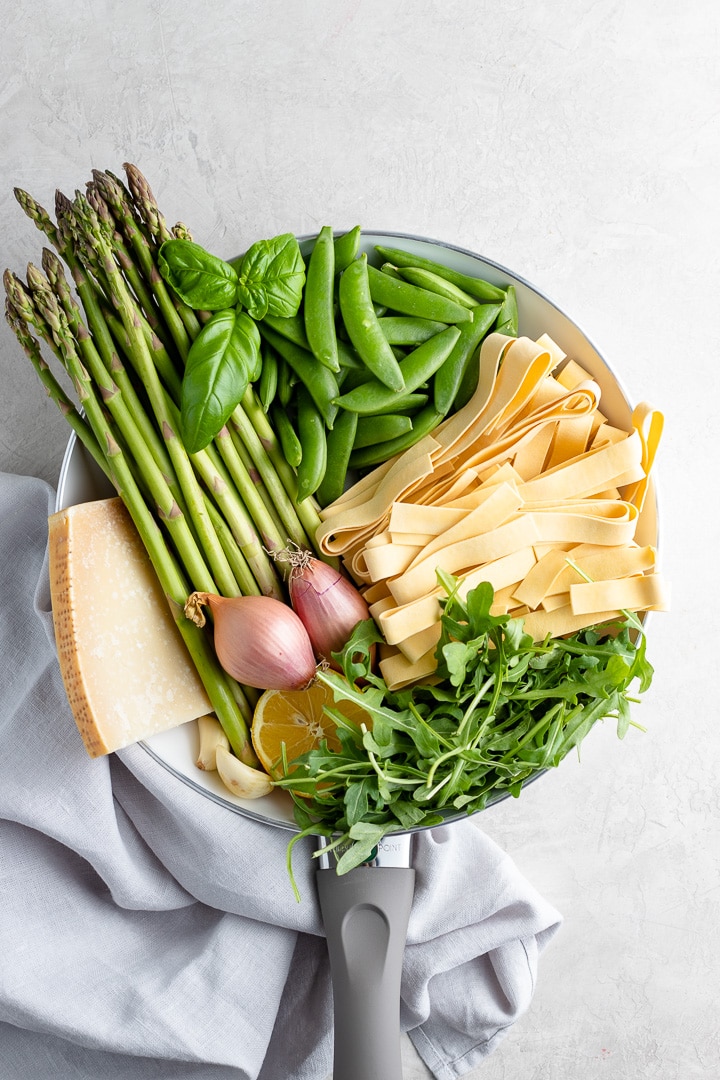 Creamy pasta primavera: what you'll need to make it
This recipe is the dream catch-all after your spring farmers market run. Here's what it calls for:
Pappardelle or another enriched egg noodle. Another kind of pasta is totally fine, it just might not have as much flavor.
Tons of green veggies – asparagus, sugar snap peas, fresh English peas, and arugula. It's A-OK to mix, match, swap, or leave out any of these to suit your tastes. You can also swap in frozen peas.
Fresh herbs – basil and parsley are my favorites to finish it off.
Shallot and garlic.
A squeeze of lemon juice.
Salt and pepper.
Parmesan cheese.
And – drumroll, please – Greek yogurt!
That's right – that light, tangy sauce? It's thanks to Greek yogurt!
You might be skeptical, but trust me, it just works. You can also use creme fraiche if you prefer. Just a small amount added along with the cheese at the end will make a delicious sauce that adds flavor without weighing down all those crisp-tender veggies.
The cooking method is also very straightforward. And fast.
You'll cook the pasta – be sure it's just short of al dente. Reserve a bit of pasta water before you drain it, just in case you want to loosen the sauce at the end. To save time, simply prep and saute the veggies while the pasta cooks. Then, mix everything together, add grated Parm and that dollop of Greek yogurt, and dinner is done!
This makes a lovely light meal on its own, or pairs perfectly with grilled chicken breasts, shrimp, or just some crusty bread.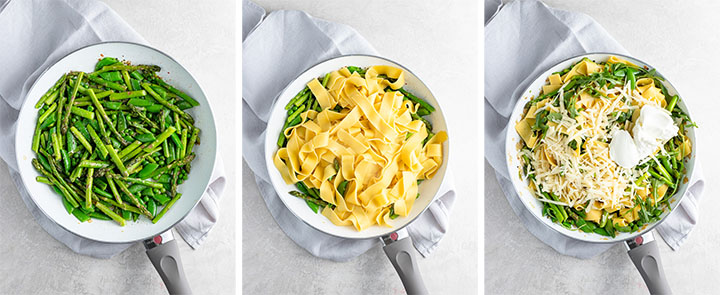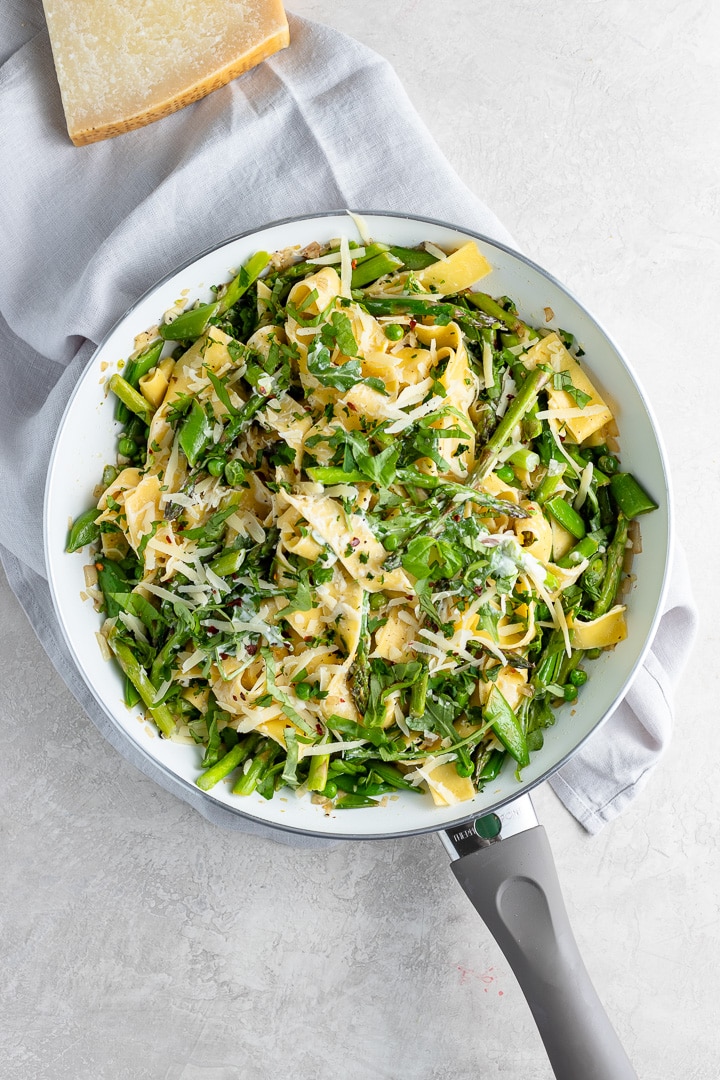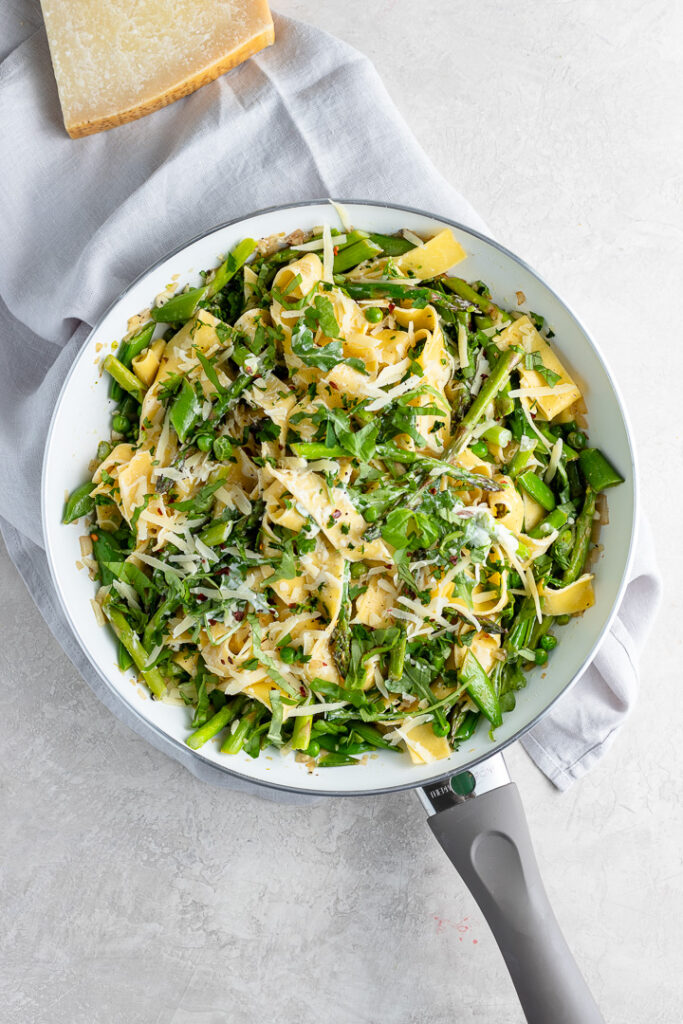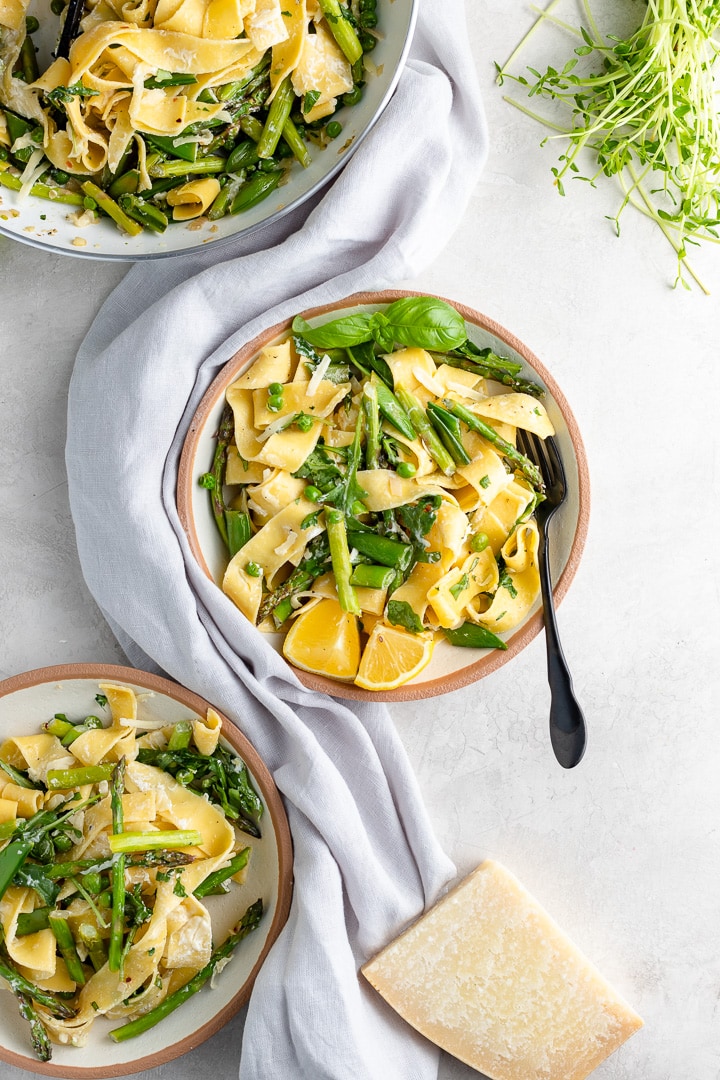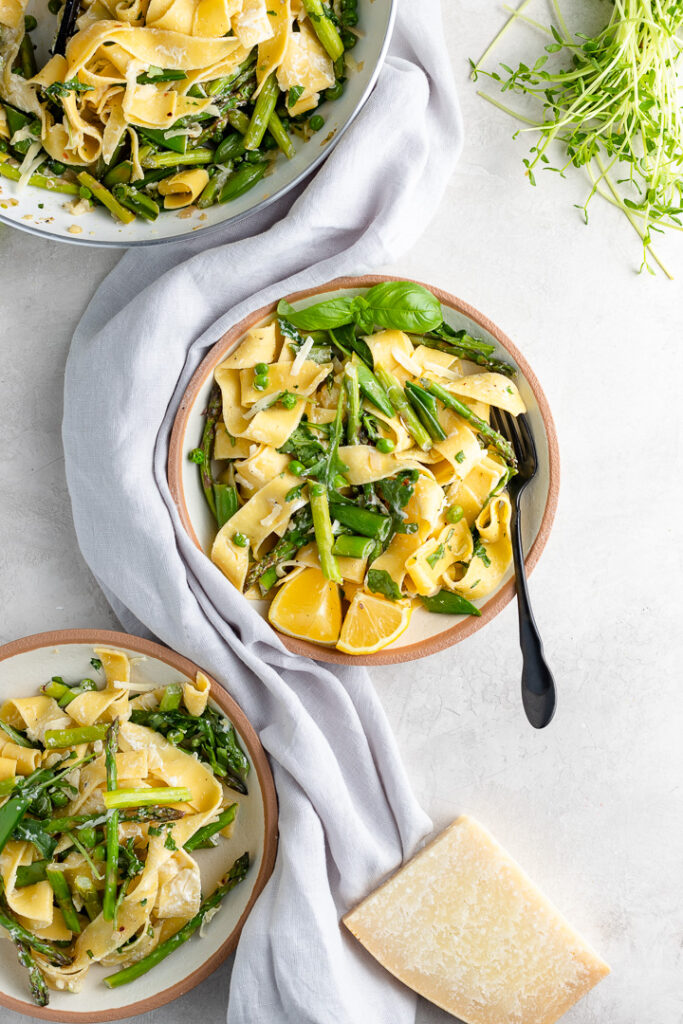 If you like these flavors and this type of meal, you might also want to try my lemon asparagus pasta with shrimp and pistachios, creamy Tuscan chicken, or tomato, mozzarella, and prosciutto pasta salad.
From the archives:
If you try this creamy pasta primavera or any other recipe on the blog, please rate the recipe and leave a comment below. I love hearing from you, and other readers will benefit from your experience!

Any questions? Just let me know! Enjoy!
Creamy Pasta Primavera
Celebrate spring with a quick and easy creamy pasta primavera! It has a tangy, light sauce, colorful veggies, and best of all, it's ready in 20 minutes!
Ingredients
12 ounces pasta (pappardelle or another egg-enriched pasta works especially well)
1 cup sugar snap peas
1 bunch asparagus (about 1/2 pound)
1 medium shallot
1 garlic clove
2 tablespoons unsalted butter
1/2 cup frozen or fresh shelled English peas
kosher salt
freshly-ground black pepper
juice of 1 lemon
1-2 cups arugula
2/3 cup grated Parmesan
1/2 cup plain Greek yogurt or creme fraiche
1-2 tablespoons chopped fresh basil
1-2 tablespoons chopped fresh parsley
pinch of red pepper flakes (optional)
Instructions
Boil water in a large pot, add salt, and cook pasta according to package directions until just short of al dente. When finished, scoop out about 1 cup of the cooking water, set that aside, and drain the rest.

While the pasta is cooking, prepare the veggies. Trim any stringy ends off the sugar snap peas, and cut them into pieces about 1" long. Trim the thick, white ends off the asparagus, and cut the rest into pieces about 2" long. Peel and finely chop the shallot and garlic.

Melt butter in a large skillet set over medium-high heat. Add the cut sugar snap peas and asparagus, shallot, garlic, and frozen or English peas. Season with salt and pepper to taste, and cook for 3-4 minutes, just until the veggies are slightly tender. Turn the heat down to low.

Add cooked pasta to the skillet, and toss to mix everything together. Stir in a generous squeeze of lemon juice and the arugula, letting the arugula wilt with the residual heat of the pasta and veggies.

Stir in the Parmesan and Greek yogurt. Add a little of the reserved pasta water, if desired, to thin the sauce out to your desired consistency. Season with more salt and pepper to taste, and garnish as desired with basil, parsley, and red pepper flakes. Serve right away.
Notes
This recipe makes 3-4 servings. It is pretty filling, but if you want to add a bit more protein, you can serve it alongside some grilled chicken or shrimp.
Feel free to leave or swap out any of the veggies depending on your own family's preferences. The overall directions remain the same!
Technique adapted from NY Times Cooking.
Nutrition Estimate
Calories: 478 kcal, Carbohydrates: 71 g, Protein: 21 g, Fat: 11 g, Saturated Fat: 6 g, Cholesterol: 27 mg, Sodium: 286 mg, Potassium: 372 mg, Fiber: 4 g, Sugar: 5 g, Vitamin A: 860 IU, Vitamin C: 23.7 mg, Calcium: 266 mg, Iron: 2.3 mg
Did you make this recipe?
Leave a review below, then snap a quick picture and tag @nourishandfete on Instagram so I can see it!