French-Style Double Chocolate Ice Cream
Luscious French-style double chocolate ice cream relies on a custard base to get the creamiest result. And it's easier to make at home than you might think!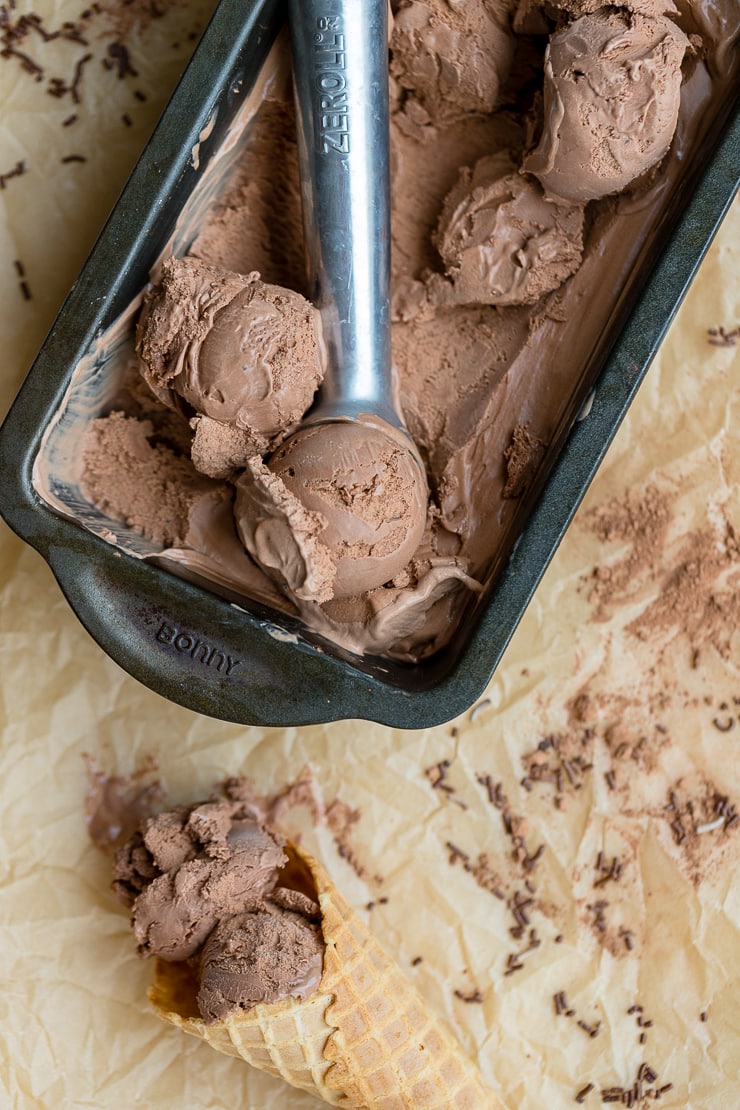 So let's dispense with an uncomfortable truth right up front – in general, I don't really love chocolate ice cream. I love chocolate. I love ice cream. Yet somehow, when they're combined, the whole is less than the sum of the parts for me.
In fact, chocolate ice cream and cheesecake are pretty much the only two desserts I typically pass up. Bizarre, no? My only defense is that I never claimed to be normal. 🙂
I mean, what kind of a monster stares at this scoop and says, "no thank you"???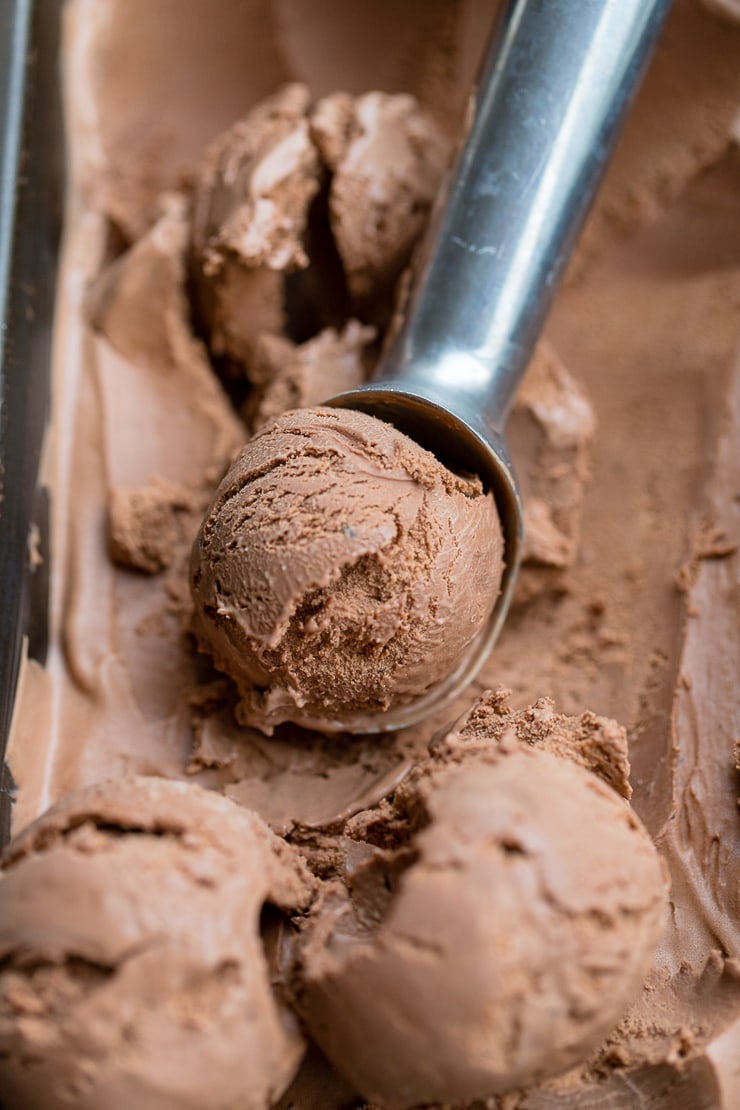 The all-too-predictable counterpoint is that my husband ABSOLUTELY ADORES chocolate ice cream. For him, chocolate is king, ice cream is queen, and the combination truly does reign over all other desserts. Even better if it's double chocolate ice cream. So, when an occasion arises to specifically celebrate my hubby, you know this is the first thing I think of.
In fact, I'm embarrassed to admit that these photos are of a batch of double chocolate ice cream I made for Father's Day this year – nearly two months ago. Moving this summer really kicked my butt. I am so comically behind in terms of what I wanted to have made and shared on the blog by this point in the summer. Le sigh.
But, at least this ridiculously good ice cream is going up in time for you to make and enjoy it before our kitchens give way to all pumpkin, all the time. Late August .. the dog days of summer, as my Mom would say. The perfect time for some luscious homemade ice cream!
What is "French-Style" Ice Cream?
So, you might ask, what makes ice cream "French-style"? Essentially, French ice cream uses eggs to produce a custard base, in contrast to its slightly lighter relative, American or Philadelphia-style ice cream. The base of a Philadephia-style ice cream has no eggs – only milk, cream, and sugar.
The egg custard takes a few additional steps to prepare, but the result typically is more rich, creamy, and smooth than its American counterpart.
Curious? This article from The Kitchn briefly outlines the differences between French- and American-style ice creams and links to a few more starter recipes. And just for fun, Serious Eats' illustrated tour of ice creams around the world is a good way to while away a few minutes!
So, while not the recipe to necessarily try when you're in a big hurry (though is homemade ice cream ever what you make in a hurry?) … this is hard to surpass for a knock-their-socks-off, "I-can't-believe-you-made-this-from-scratch!!" treat.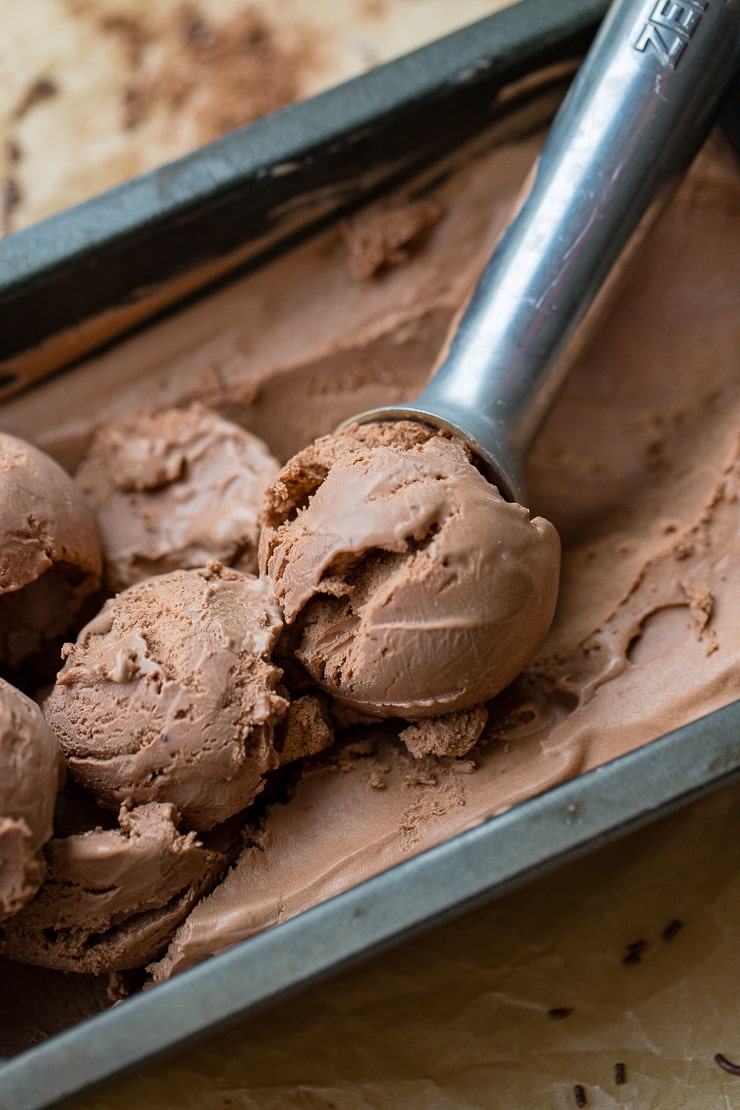 French-Style Double Chocolate Ice Cream – Tips + Tricks
A few tips for making this yourself at home:
You will need an ice cream maker for this recipe. This is the one I use, and this is, to my knowledge, the most highly-rated stand-alone version! If you'd prefer a no-churn recipe, might I suggest no-churn s'mores ice cream? You can hardly go wrong with that!
For the richest flavor, use the highest-quality chocolate you can find and afford. I typically buy Dutch cocoa powder here. I was able to easily find Cote d'Or chocolate bars when we lived in Belgium, but now I'm on the prowl for a sub – Valrhona and Callebaut are both very reputable brands, and I often use Ghirardelli chips in other baked goods, so I suspect they would also be reliable!
Feel free to add any mix-ins you like! Chocolate chips, sprinkles, cookies, marshmallows, the sky's the limit! I don't only because my husband actually prefers it plain! Just creamy rich chocolate for that man!
Don't be afraid of tempering the eggs! If you don't rush and follow the instructions step-by-step, it will be easy and you will feel so accomplished when you get that beautiful, thick custard!
Once you do get that beautiful custard, don't skip the step of straining it! No matter how carefully you cooked it, there will undoubtedly be little bits of cooked egg, which you definitely do not want in your finished ice cream! Also do yourself a favor and use a large strainer – I've tried it with small ones and you wind up needing to do it in several batches. Not ideal.
You can store your ice cream in literally any freezer-safe container! I do own a couple of these special ice cream containers, which are great, but as you can see I also sometimes store ice cream in loaf pans and even springform pans. Just tightly wrap the container in plastic wrap, and use a rubber band to secure the top! Simple and easy!
If you are an ice cream aficionado, I do highly recommend investing in a quality ice cream scoop. We bought this one about five years ago and LOVE it. It actually conducts heat from your hand to the scoop to help soften the ice cream as you serve! The *only* drawback is that it's not dishwasher-safe.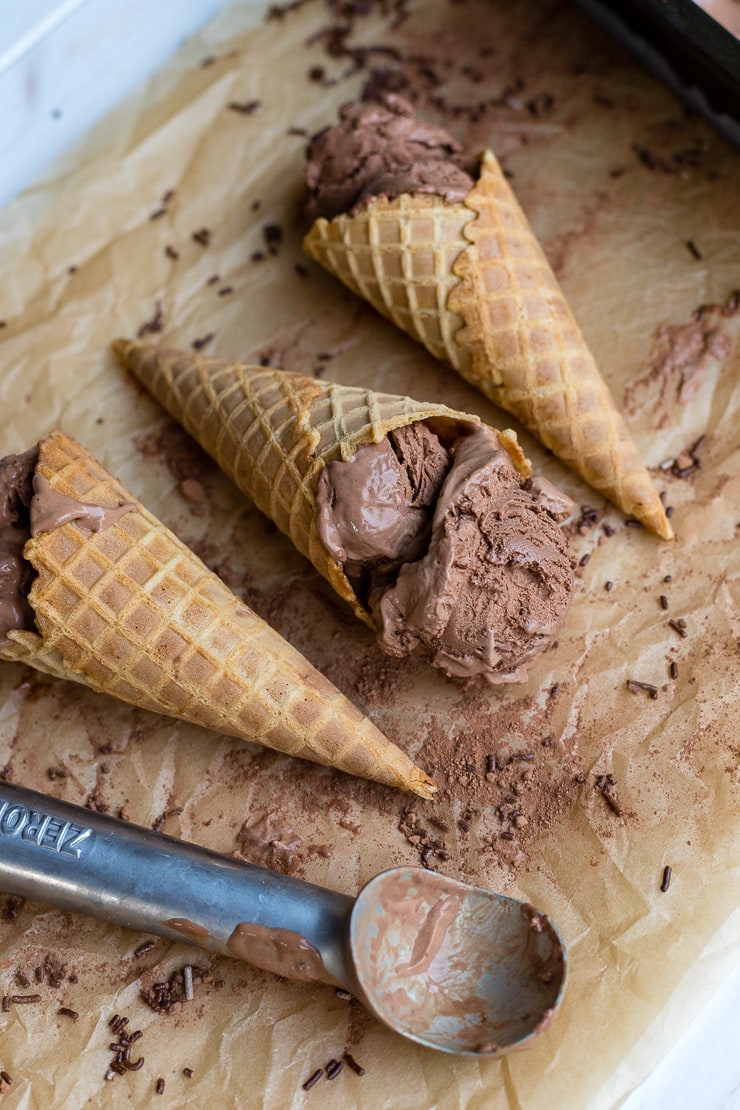 If you try this double chocolate ice cream or any other recipe on the blog, please remember to rate the recipe and leave a comment below. I love hearing from you, and other readers will benefit from your experience!
French Style Double Chocolate Ice Cream
The ultimate chocolate ice cream relies on a custard for the creamiest result, and is easier to make at home than you might think!

Ingredients
2 cups heavy cream divided
3 tbsp. Dutch-process cocoa powder
5 oz. bittersweet or semisweet chocolate finely chopped
1 cup whole milk
¾ cup sugar
Pinch of salt
5 large egg yolks
½ tsp. vanilla extract
Instructions
In a medium saucepan, combine 1 cup of the cream with the cocoa powder over medium-high heat, whisking to dissolve the cocoa. Bring the mixture to a boil, then reduce heat to medium-low and simmer for about 30 seconds, whisking constantly. Remove from the heat and add the chopped chocolate, stirring until smooth, then stir in the remaining 1 cup cream. Transfer this mixture to a medium-large mixing bowl, and set a large fine mesh strainer over the top.

In the same saucepan, combine the milk, sugar, and salt over medium-high heat. In a separate medium bowl, whisk together the egg yolks. When the milk mixture is warm, slowly pour it into the egg yolks, whisking constantly. (This is tempering the eggs.) Then, pour the egg-milk mixture back into the saucepan.

Stir the mixture constantly over medium heat with a heatproof spatula, scraping the bottom as you go, until it thickens into a custard and coats the spatula. If you have an instant-read thermometer, it should read 170-175° F at this point.

Pour the custard through the strainer into the chocolate-cream mixture that you previously set aside. Add vanilla extract and stir until smooth.

Cover with plastic wrap and chill thoroughly in the refrigerator (see recipe note 1). When cold, freeze the mixture in an ice cream maker according to the manufacturer's instructions. Store in an airtight container and freeze until ready to serve.
Notes
I usually allow the chocolate-cream mixture to chill in the refrigerator overnight before churning it into ice cream. If you want to chill it faster, an alternative is to place the bowl over an ice bath and stir frequently. 
If, after chilling, the chocolate-cream mixture is too thick to pour easily into your ice cream maker, whisk vigorously to thin it out.
This recipe yields about 1 quart of ice cream; exact amounts will vary based on your ice cream maker and length of time churning. Nutrition data is only an estimate and is based on servings of approximately 1/2 cup by volume.
Recipe adapted from The Perfect Scoop (which was newly revised in 2018!)
Nutrition Estimate
Serving: 0.5 cups, Calories: 436 kcal, Carbohydrates: 36 g, Protein: 5 g, Fat: 32 g, Saturated Fat: 19 g, Cholesterol: 206 mg, Sodium: 45 mg, Potassium: 232 mg, Fiber: 2 g, Sugar: 29 g, Vitamin A: 1085 IU, Vitamin C: 0.3 mg, Calcium: 99 mg, Iron: 1.6 mg
Did you make this recipe?
Leave a review below, then snap a quick picture and tag @nourishandfete on Instagram so I can see it!