Parchment Lemon Salmon with Potatoes and Zucchini
If you've never tried baking fish this way before, you're missing out! Parchment lemon salmon with thinly-sliced zucchini and potatoes adds up to a light, healthy, flavorful dinner, especially ideal for entertaining – impressive, individually-portioned, and so easy to fully prep ahead of time!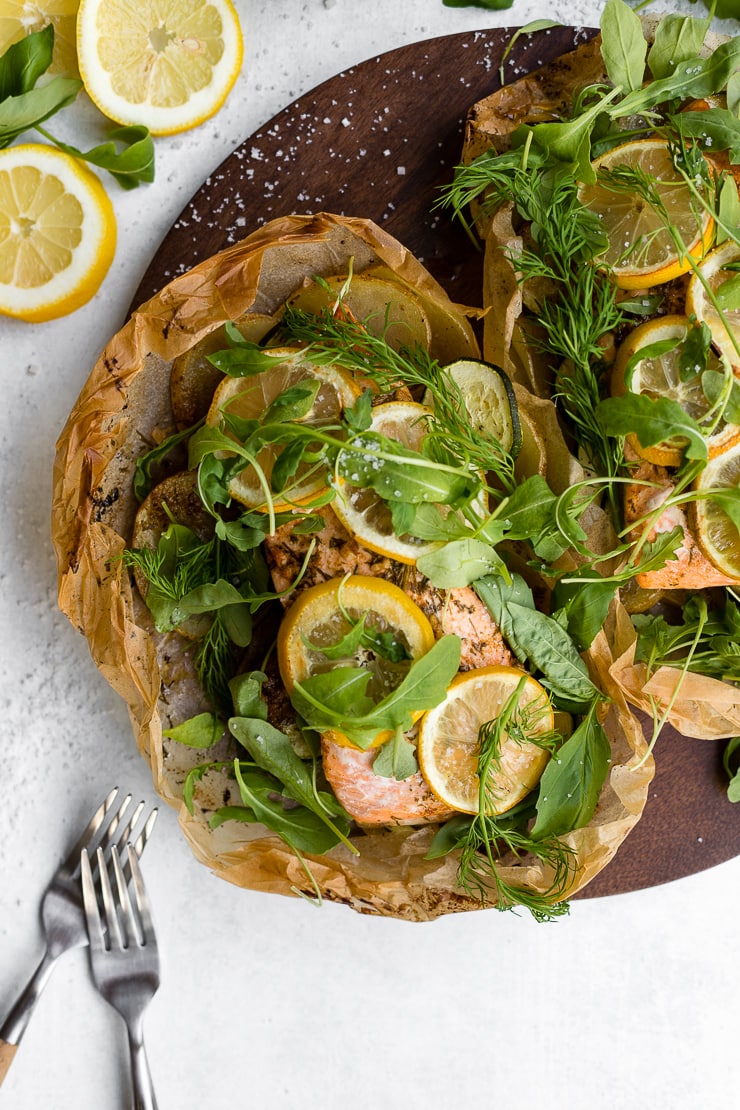 Last Christmas, my husband purchased for me, at my request, a mandoline slicer. I'd had a sort of random desire for a mandoline for several years. Despite normally avoiding kitchen tools that duplicate something I can do easily enough on my own, like slice things, I was intrigued by the different options (julienne! french fries!) and also the idea of making the prep for foods like potatoes au gratin somewhat less laborious.
So hubby dutifully made the Amazon magic happen. I happily unwrapped a new mandoline on Christmas morning. And then… it sat. For months. I guess my need to julienne things wasn't actually that pressing after all? Go figure.
It sat, in fact, until early summer, when I finally decided it was time to test drive it on this lovely recipe.
There's a lot to love here: Plump fillets of salmon baked in parchment crescents with lemon and a generous drizzle of olive oil and dill. Thinly-sliced potatoes and zucchini are baked right in the packet, making them crispy, full of flavor, and beautifully low maintenance. And, it all yields a complete meal perfectly portioned for two, four, or however many you happen to be serving.
So, feeling a bit sheepish that it had taken me so long, I hauled the mandoline onto the counter.
I started cautiously with the potatoes, which went well. Then I got confident. Too confident. Only about 1/3 of the way into slicing the zucchini came the accident – a slip and a deep gash in the pad of my thumb.
Honestly, it was all too predictable. I felt awful and like such a klutz.
Needless to say, we shelved the salmon for that night, sticking everything in the fridge to assemble the following day. (Sliced potatoes keep well overnight in the fridge submerged in water in an airtight container, in case you were wondering.)
On the bright side, it tasted just as good 24 hours later. And of course my thumb healed, without so much as a scar, making this relatively minor as far as kitchen incidents go. 🙂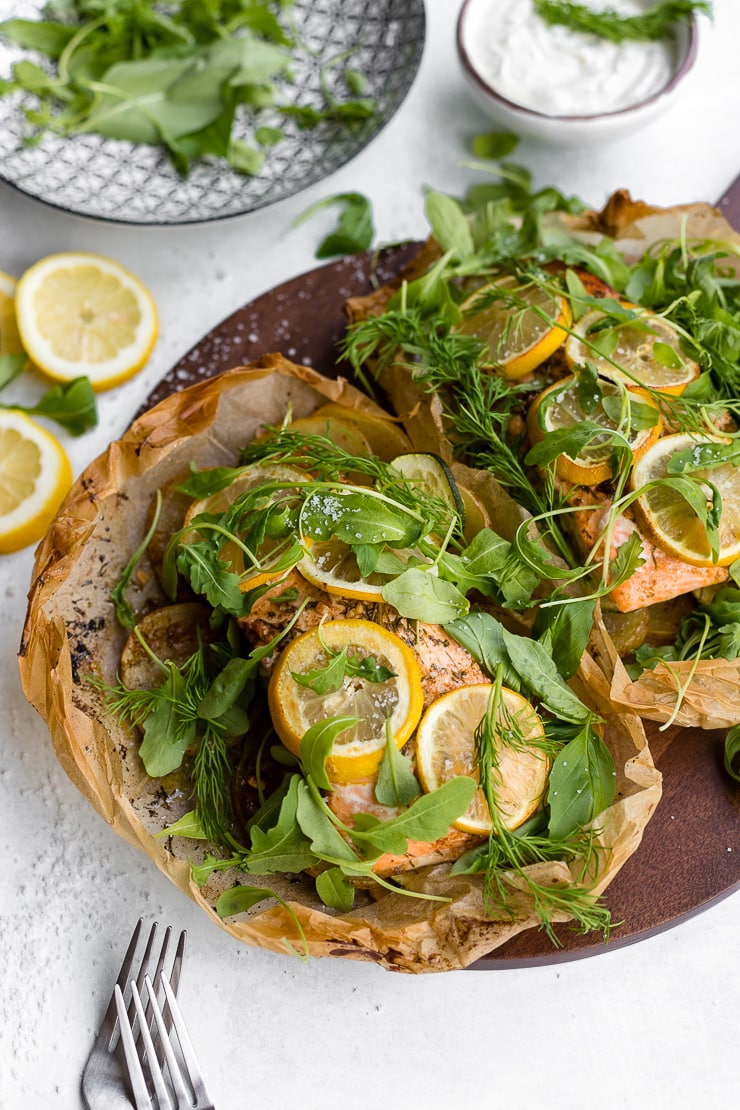 How to Bake Salmon in Parchment Paper, Step by Step
So, getting practical, if you've never before baked salmon or other fish in parchment paper, it might seem fussy or intimidating, but let me assure you it is NOT! The full recipe is below with amounts for the olive oil and yogurt sauces. But for the technique, a few visuals can definitely help, so refer to this for a guide: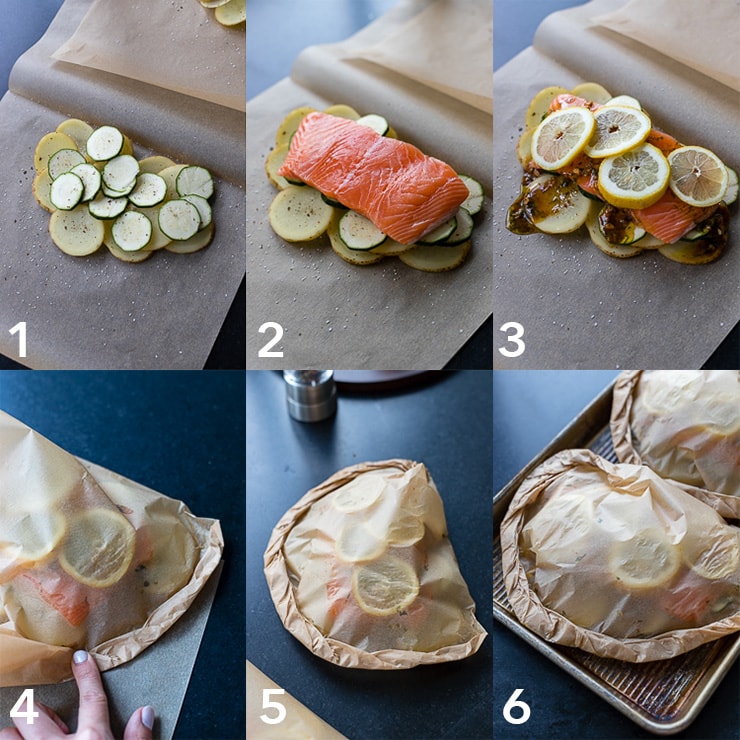 Cut large rectangles of parchment paper, one for each serving. Fold each in half to make a crease down the middle, then open back up. Spread a thin layer of your sliced potatoes + zucchini on one side. (You can just use a knife – mandoline not necessary. 😉 )
Place a salmon fillet on top of each pile of veg.
Drizzle the olive oil sauce on top of each salmon fillet, then cover with lemon slices.
Now fold the other half of parchment over the food. Starting at one of the corners next to the veggies, take a small length of the parchment around the sides, approximately 1.5″. Fold the two edges up together and over themselves so that they are creased tightly and sealed. Then take the next 1.5″ section and do the same, creasing it slightly over the adjoining end of the last fold you made so that each fold helps to hold the previous one in place.
Continue this all the way around, until you have a little half moon of parchment! Tuck the corners up and in for good measure.
Pop onto a baking sheet and into the oven! Your work is done!
As a huge bonus, you can complete this through step 5, then toss the parchment packets into the fridge for several hours until you're ready to bake. This makes this recipe AMAZING for entertaining. All you have to do is take them from the fridge, bake, and serve, AND you have these gorgeous individually-portioned meals complete with the sides.
You obviously wouldn't have to serve these in the parchment, but I personally love the simplicity and look of it that way. Plus then you keep all the delicious juices and flavors right in there!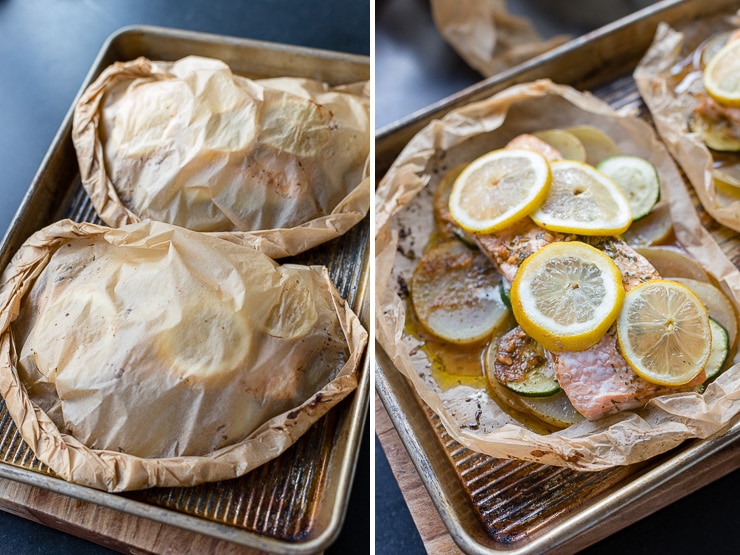 Top with fresh greens, a delicious dill yogurt sauce, and the most gorgeous, fresh, flavorful, and elegant dinner is served.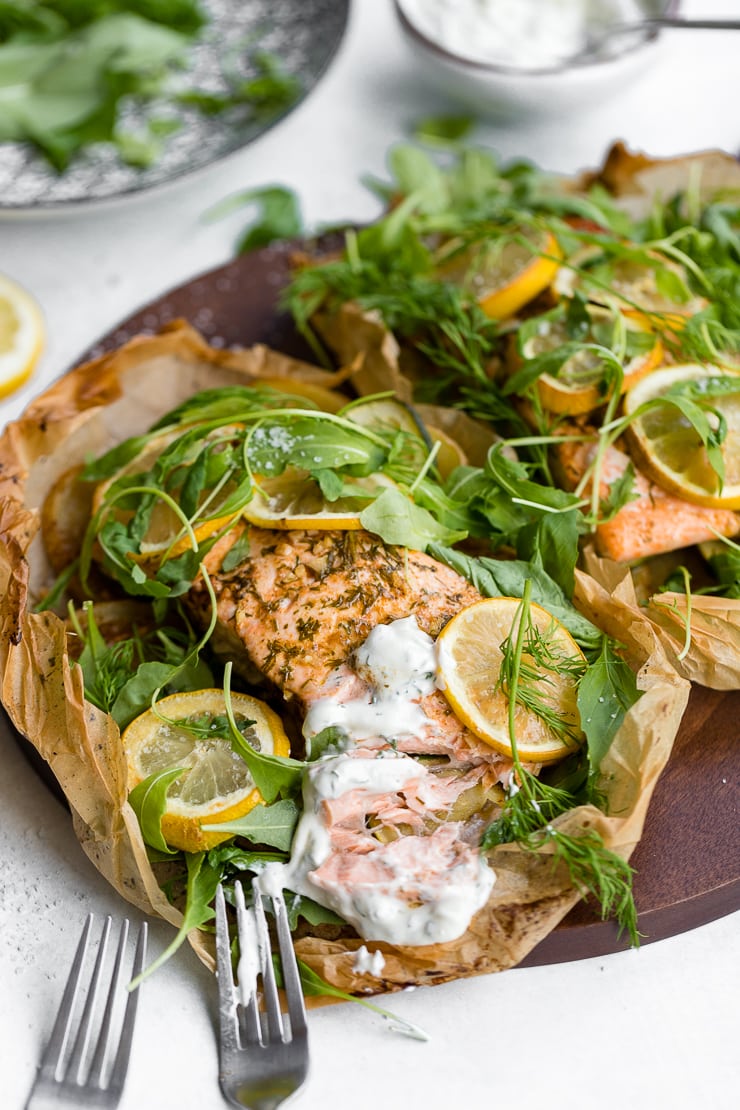 If you try this parchment lemon salmon or any other recipe on the blog, please remember to rate the recipe and leave a comment below. I love hearing from you, and other readers will benefit from your experience!
Parchment Lemon Salmon with Potatoes and Zucchini
Parchment lemon salmon with thinly-sliced potatoes and zucchini makes a light, healthy, flavorful dinner, especially impressive for entertaining!
Ingredients
For the Salmon
1 tablespoon ​extra virgin olive oil
1 clove garlic minced or grated
2 lemon​s 1 juiced and 1 sliced
2 teaspoons chopped fresh dill
1 teaspoon smoked paprika
​​kosher salt and ​freshly-ground black ​pepper ​
1 small potato sliced ​approximately 1/4" thick ​(Russett or Yukon Gold varieties work well)
1/2 small zucchini sliced approximately 1/4" thick​
2 salmon fi​llets​​ no skin, 6-8 ounces each​
​additional dill, fresh arugula​,​ and basil, for serving​, if desired​
For Dill Yogurt Sauce
1/2 cup plain Greek yogurt
1 teaspoon chopped fresh dill
1/8 teaspoon crushed red pepper flakes
​juice of 1​/2​ lemon
Instructions
Preheat oven to ​375​ degrees F​ (190 C)​.​ Cut two large ovals or rectangles of parchment paper, about 16x18 inches each. Fold each piece of paper in half, then reopen to lay flat on the counter.

In a small bowl,​ combine​ olive oil, garlic, juice of 1 lemon, ​chopped ​dill, smoked paprika​,​ and a pinch of salt and pepper​; stir to blend.​

Arrange sliced potatoes on one side of the creased parchment​​​​​, followed by a layer of sliced zucchini. (See photos in post for a visual guide.) Season with additional salt and pepper.

Place salmon fillets over the zucchini. Spoon on the olive oil-dill sauce, and arrange lemon slices on top.

​​Fold parchment paper over the salmon. Beginning at one corner, fold and pinch the edges together, working with about 1.5" at a time, to close the packet. When sealed, the packet will resemble a calzone or half-moon shape.

Place ​sealed packets ​on a rimmed baking sheet​, transfer to the oven​ and bake ​for 16-18 minutes, ​until the potatoes are tender​ and the salmon is cooked through and flaky.

Meanwhile,​ to make the sauce, combine ​yogurt, dill, crushed red pepper​, and lemon juice in a small bowl​.

​When packets are done, remove from the oven. Carefully unwrap or cut the top of the packet to serve immediately in the parchment. Top with additional dill, arugula, or basil as desired, serve with yogurt sauce, and enjoy!
Notes
It's very easy to scale this recipe up to produce as many portions as you need.
It's also easy to prep the packets ahead! To do so, follow all instructions through step 5, then store the sealed packets in the fridge until ready to bake. I'd recommend doing this earlier in the day you plan to bake and serve; I have not personally tried doing it overnight or longer. You can bake as directed in the original instructions!
Adapted primarily from Half-Baked Harvest with a few tips from The Pioneer Woman.
Nutrition Estimate
Calories: 427 kcal, Carbohydrates: 25 g, Protein: 43 g, Fat: 18 g, Saturated Fat: 2 g, Cholesterol: 96 mg, Sodium: 110 mg, Potassium: 1554 mg, Fiber: 5 g, Sugar: 5 g, Vitamin A: 695 IU, Vitamin C: 76.1 mg, Calcium: 137 mg, Iron: 5.1 mg
Did you make this recipe?
Leave a review below, then snap a quick picture and tag @nourishandfete on Instagram so I can see it!
Before You Go…
Don't forget to PIN THIS to save the recipe for later. You can also subscribe to receive recipe updates each week by email, or follow me on FACEBOOK, INSTAGRAM, PINTEREST, or Twitter to see a lot more delicious food and other happenings.