Irresistible Rye Chip Chex Mix
Crunchy, savory, and completely addictive, rye chip Chex mix is our favorite take on the original crowd-pleasing snack. We always make a big batch for the holidays, and it's a sure hit for tailgating, parties, or sharing with neighbors and friends any time.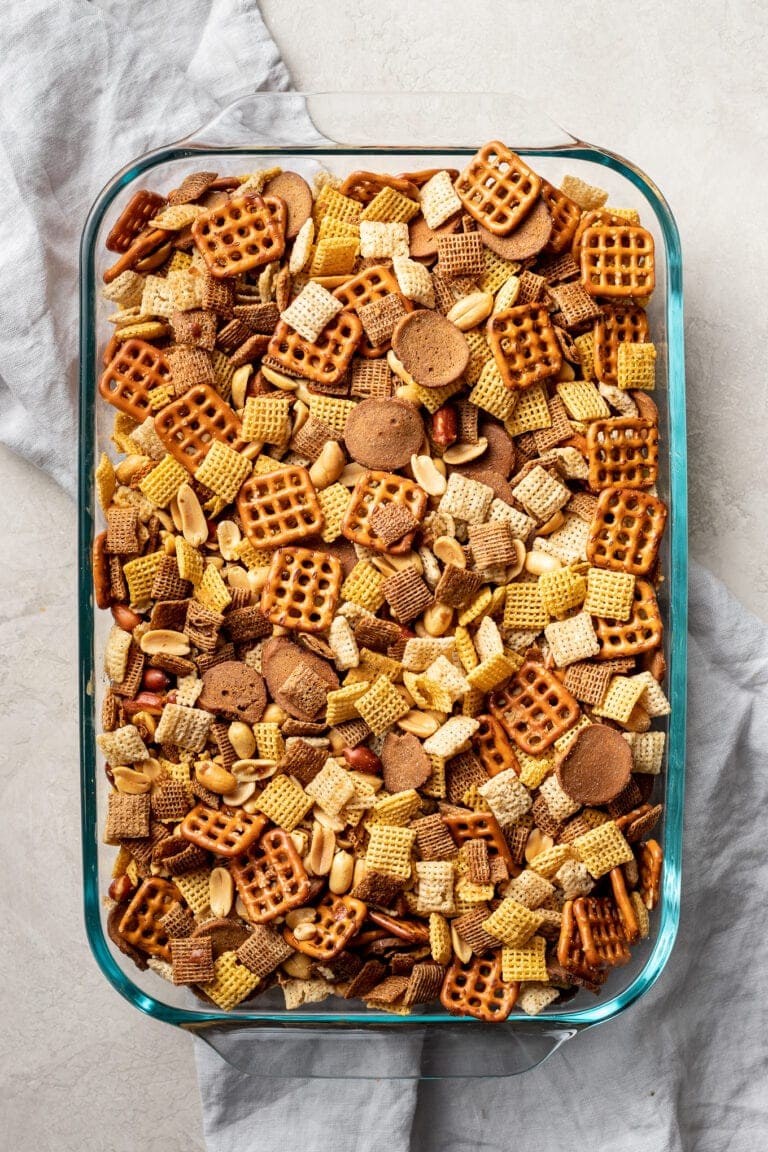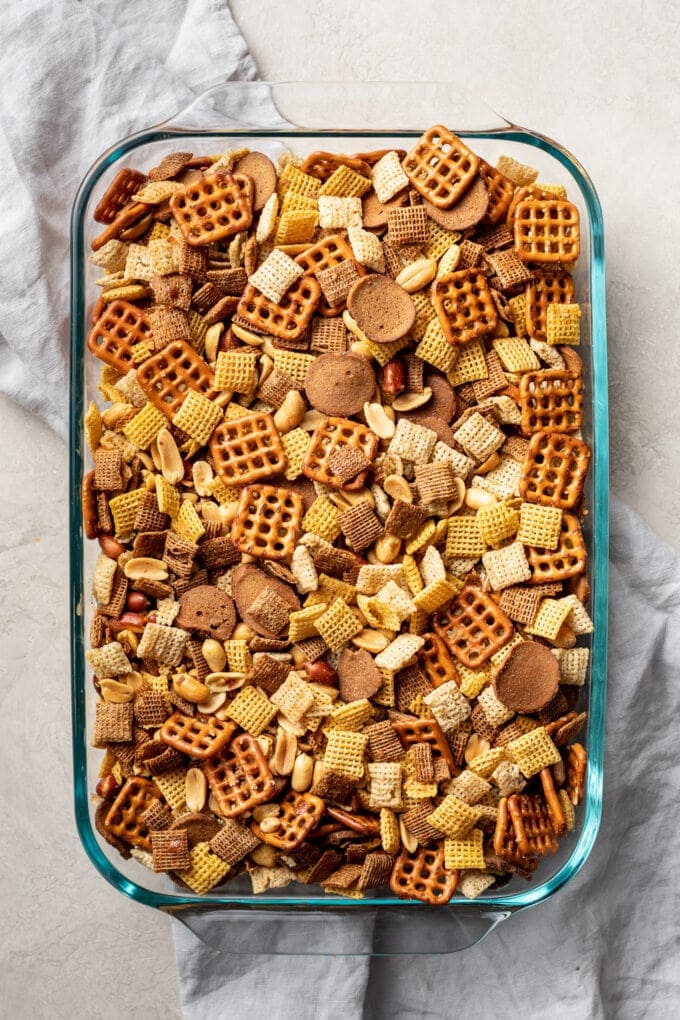 Everyone loves Chex mix! The crunch, the salt, the mix of textures and flavors – add it all up and you have the ultimate crowd-pleaser of snacks.
Of course, Chex mix is also suited to endless variations. This one is our family's favorite, thanks to a generous scoop of rye chips. Add a few extra pretzels and your favorite nuts, and you've got the perfect snack for sharing.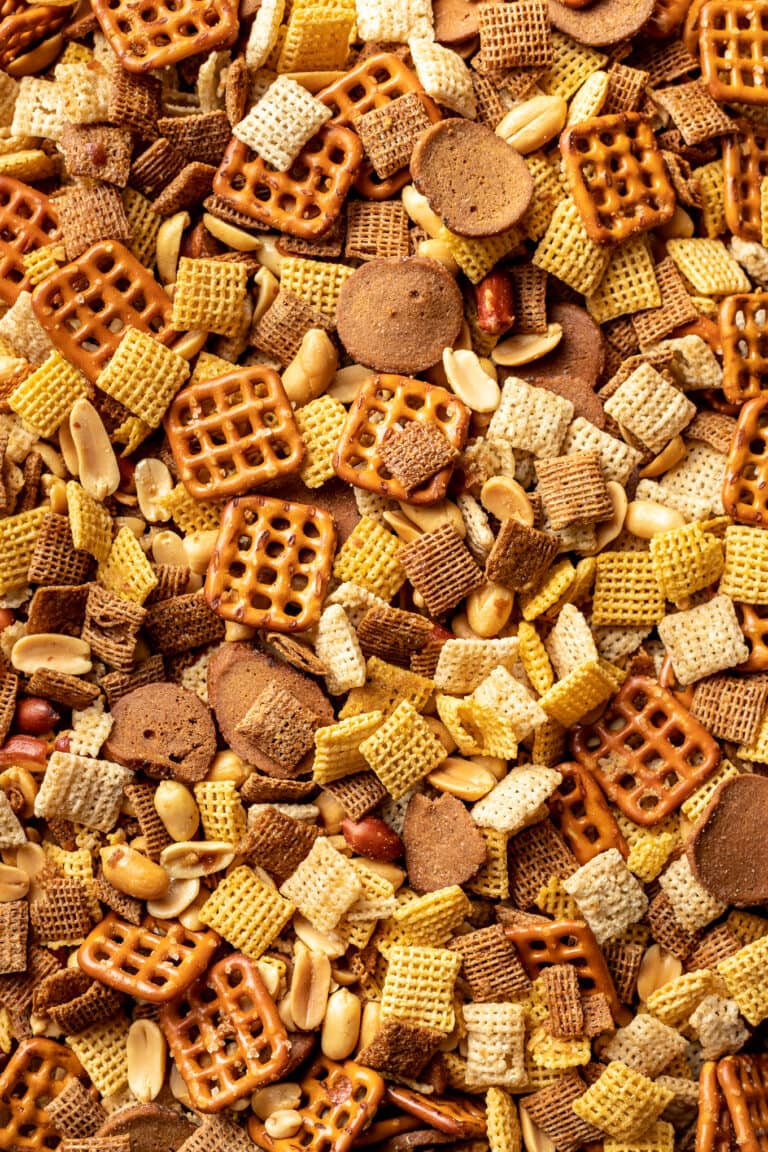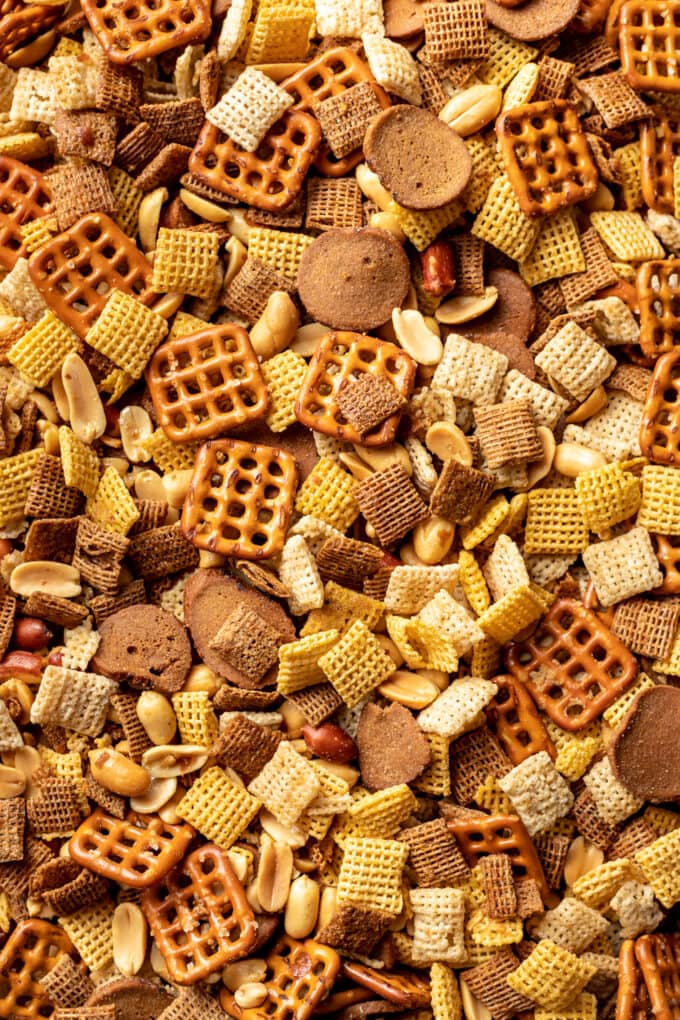 What you'll need
Here are the key ingredients with shopping tips. See the full recipe for amounts and instructions!
Chex, of course! I usually grit my teeth and buy all three boxes – corn, rice, and wheat – even though it's a lot. If you definitely won't make multiple batches or eat the cereal alone, consider buying just two boxes and make it with those varieties.
Little pretzels – any shape you like.
Peanuts or mixed nuts – whichever you prefer. I usually buy lightly salted.
Butter – unsalted.
Worcestershire sauce – usually in the aisle with ketchup and BBQ sauces.
Salt, garlic powder, onion powder. If you don't keep onion powder, just sub dried minced onions or leave it out entirely. It's not essential.
Rye chips! Our favorite little extra. If you're making this snack mix on the fly, garlic bagel chips are usually easier to find at the grocery store, and really tasty. But we love the unique flavor of rye chips so I try to plan ahead to have them on hand.
Where to buy rye chips
It sounds silly, but the biggest hurdle to refining this was sourcing the rye chips! My go-to now is Nuts.com, where you can buy rye chips literally by the pound, and they're affordable and salty-not-too-salty. Gardetto brand rye chips are available on Amazon, too.
My main problem is keeping them in the pantry long enough to make the snack mix, especially with kids at home. They have a tendency to disappear fast!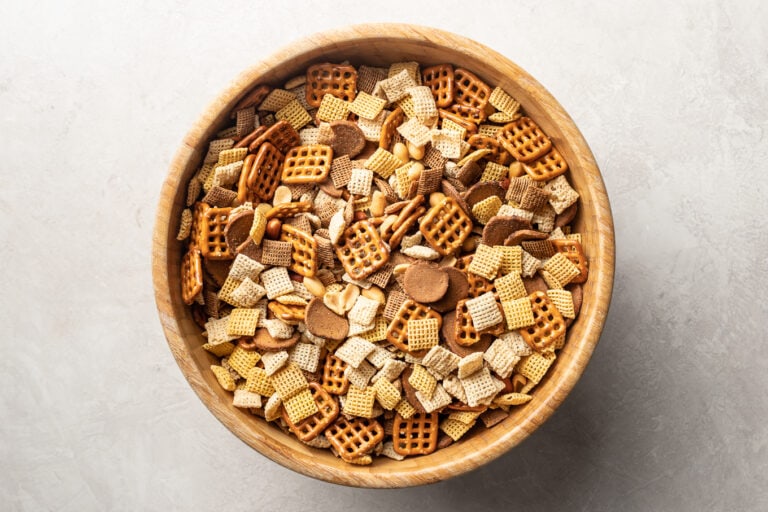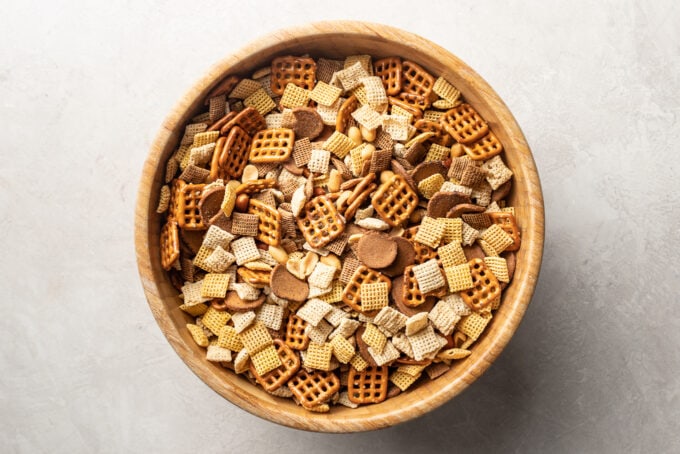 So easy to make
Just combine all the cereals, pretzels, chips, and nuts. Separately, melt the butter and add the remaining seasonings. Pour the butter mixture over the dry ingredients, stir well, and bake on low heat for about an hour.
You could microwave the whole thing, but I highly recommend baking if at all possible. Low and slow heat yields the best flavor and crunch!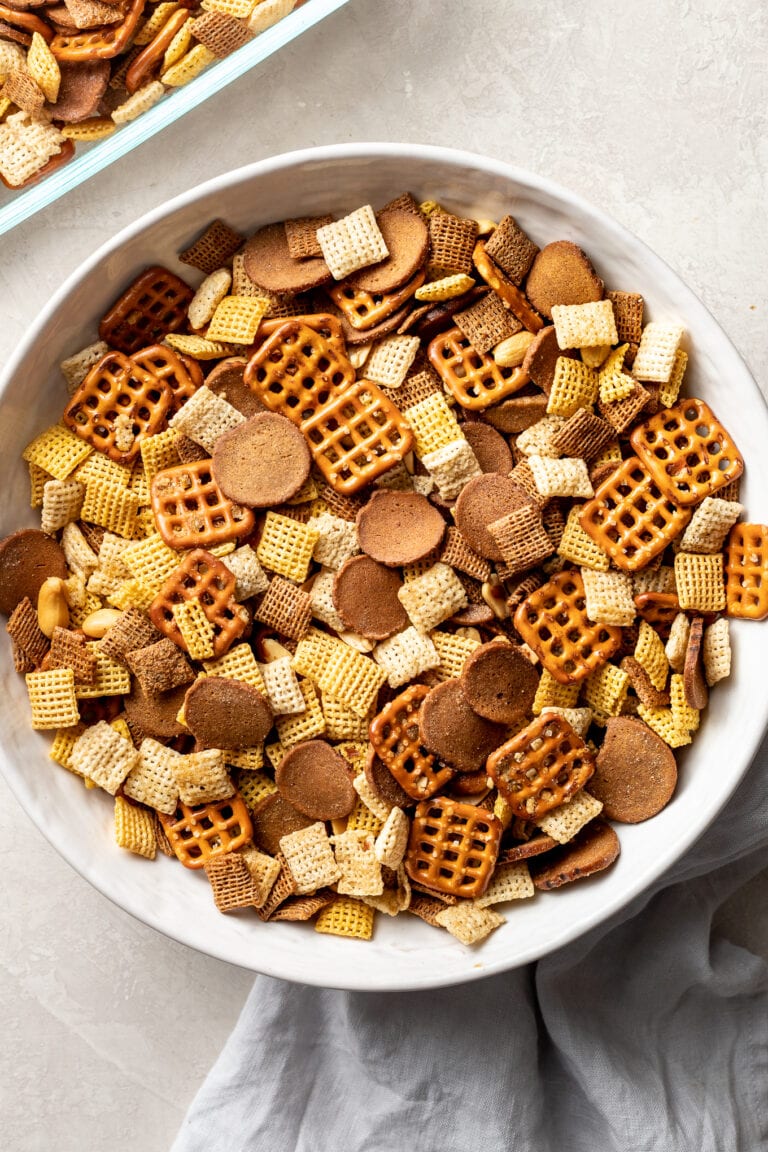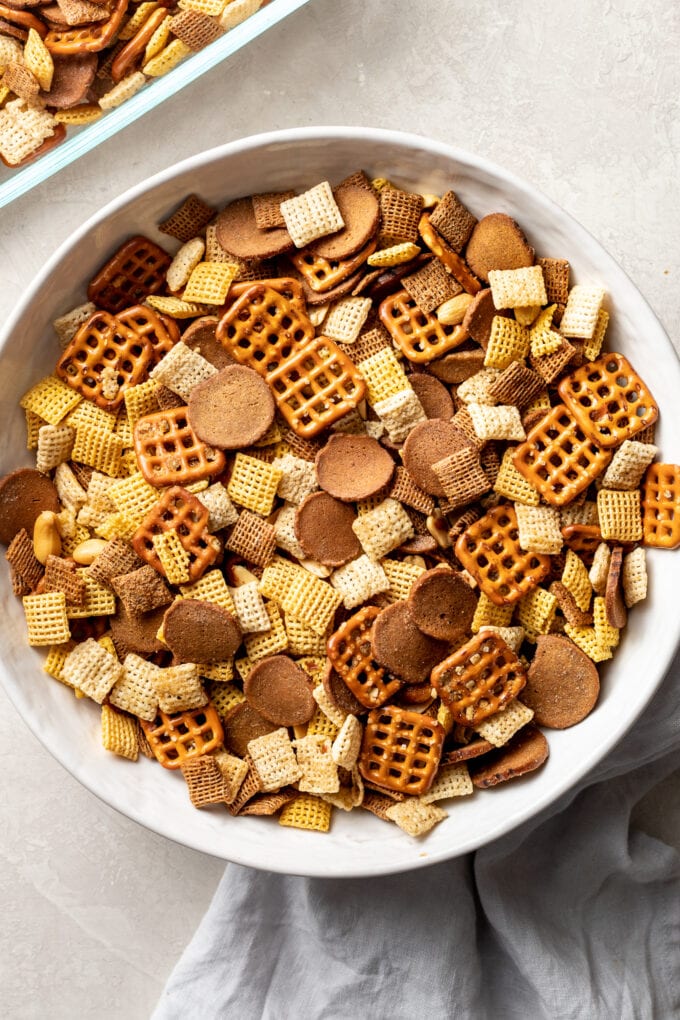 Addicted to everything but the bagel seasoning blend — or just looking for another way to use the big jar in your pantry? Jackpot: everything bagel Chex mix! Or get your crunch on with a batch of homemade honey mustard pretzels.
Do you love rye chips? Will you try them in this classic snack? Let me know in the comments below!
You can also FOLLOW me on PINTEREST, INSTAGRAM, FACEBOOK, and TWITTER for more great recipes and ideas!
Irresistible Rye Chip Chex Mix
Crunchy, savory, and completely addictive, rye chip Chex mix is a fun and irresistibly delicious take on the original crowd-pleasing snack!
Ingredients
3 cups corn Chex
3 cups rice Chex
3 cups wheat Chex
2 cups rye bagel chips see sourcing notes in post
2 cups bite-size pretzels
1 cup peanuts or mixed nuts
6 tablespoons butter unsalted
2 tablespoons Worcestershire sauce
1 1/2 teaspoons salt
3/4 teaspoon garlic powder
1/2 teaspoon onion powder optional
Instructions
Pre-heat oven to 250 degrees F. Combine cereals, nuts, pretzels, and rye chips in a large mixing bowl, and stir briefly.

In a small bowl, melt the butter, then add the Worcestershire sauce, salt, garlic powder, and onion powder. Whisk to combine well. Pour seasonings over cereal mixture, and stir to evenly coat.

Scoop mix into an ungreased roasting pan or cake pans and bake for about 1 hour. Remove from oven and let cool, then store in an airtight container at room temperature.
Nutrition Estimate
Calories: 257 kcal, Carbohydrates: 31 g, Protein: 7 g, Fat: 11 g, Saturated Fat: 3 g, Cholesterol: 9 mg, Sodium: 658 mg, Potassium: 95 mg, Fiber: 2 g, Sugar: 3 g, Vitamin A: 330 IU, Vitamin C: 2 mg, Calcium: 42 mg, Iron: 4 mg
Did you make this recipe?
Leave a review below, then snap a quick picture and tag @nourishandfete on Instagram so I can see it!