Skinny Crockpot Spinach Artichoke Dip
Cheesy, creamy spinach artichoke dip, so easy to make in a crockpot or slow cooker, and lightened-up with Greek yogurt in place of the mayo and sour cream. This will be a huge hit for game day snacking or any party!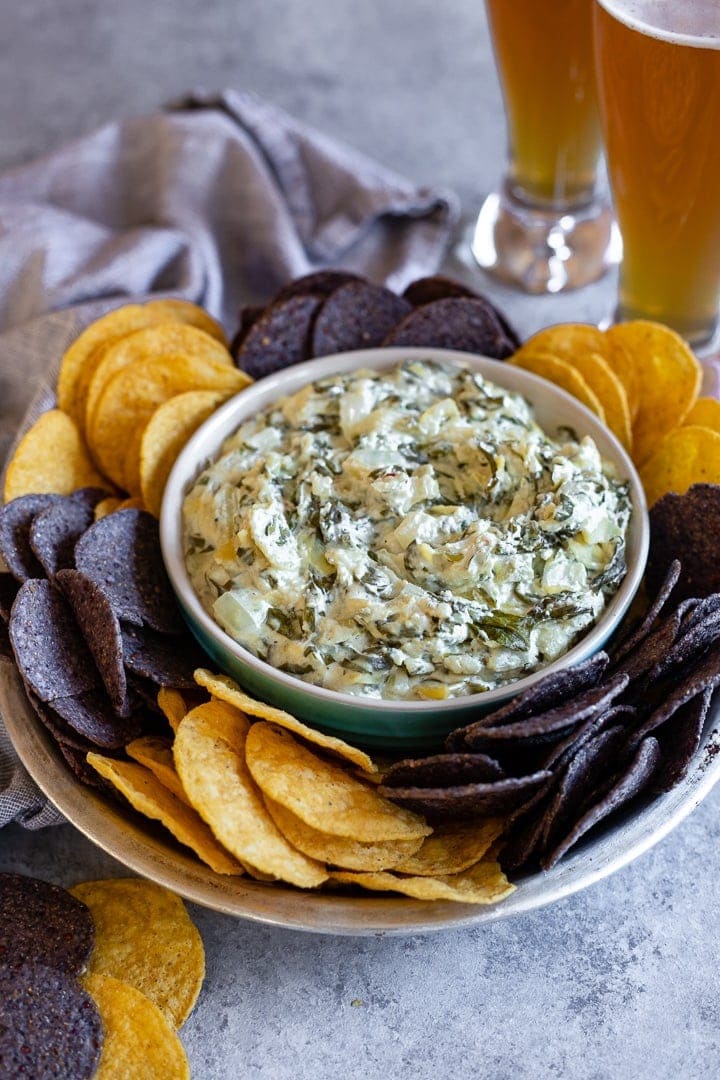 I originally published this post after Thanksgiving of 2017, and a year and change later, decided it was high time for an update. Same awesome recipe, new photos.
Few appetizers are more crowd-pleasing than a cheesy spinach artichoke dip. It's funny, because I know quite a few people who wouldn't generally choose to eat either spinach or artichokes, but somehow when you combine them, everything changes.
I'm sure all the cheese doesn't hurt!
How to make a lighter spinach artichoke dip
I love making this for parties or happy hours, in part because it's just so darn delicious, but also because I love the look of surprise on everyone's face when you tell them it's a lighter version of the traditional favorite. Plus, it's so easy to prep – the crockpot does all the work!
Here are the key swaps that make this special:
Use fresh spinach rather than frozen – easier! No thawing, no squeezing out extra green-tinted water!
Swap Greek yogurt for the sour cream and mayo. You'll never miss 'em!
Use light cream cheese. Again, you'll never miss the full-fat version here!
And here's all you'll need to do:
Lightly mist the crockpot bowl with cooking spray.
Toss in all the ingredients and stir.
Let the crockpot take it from there! Two hours on high and the creamiest, cheesiest spinach artichoke dip will be ready to go. Stir periodically, if you're around, to prevent any sticking to the sides.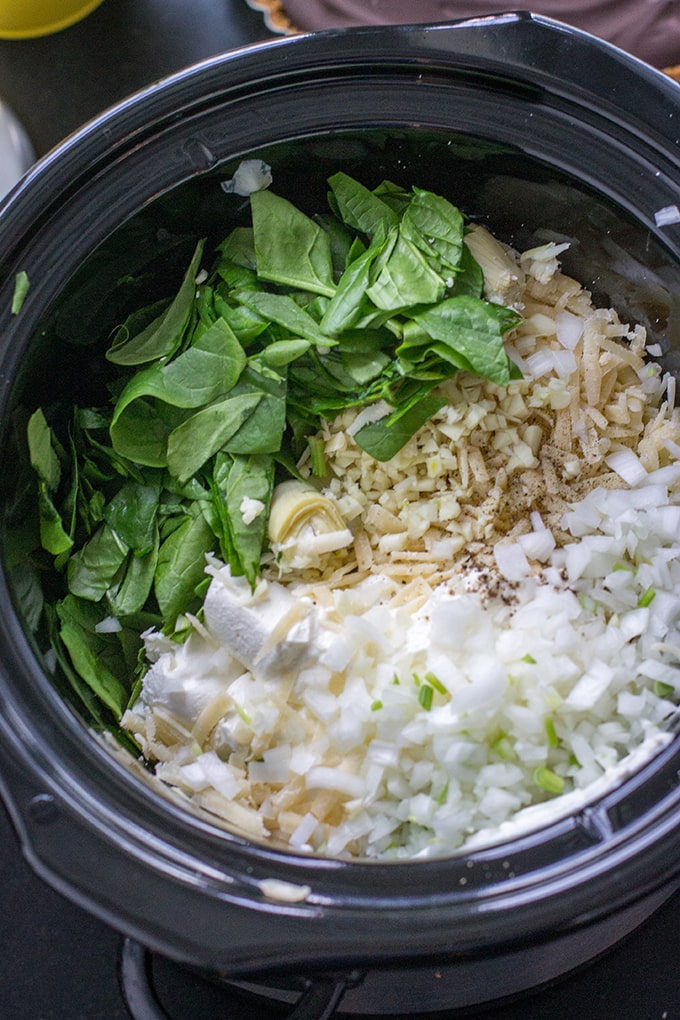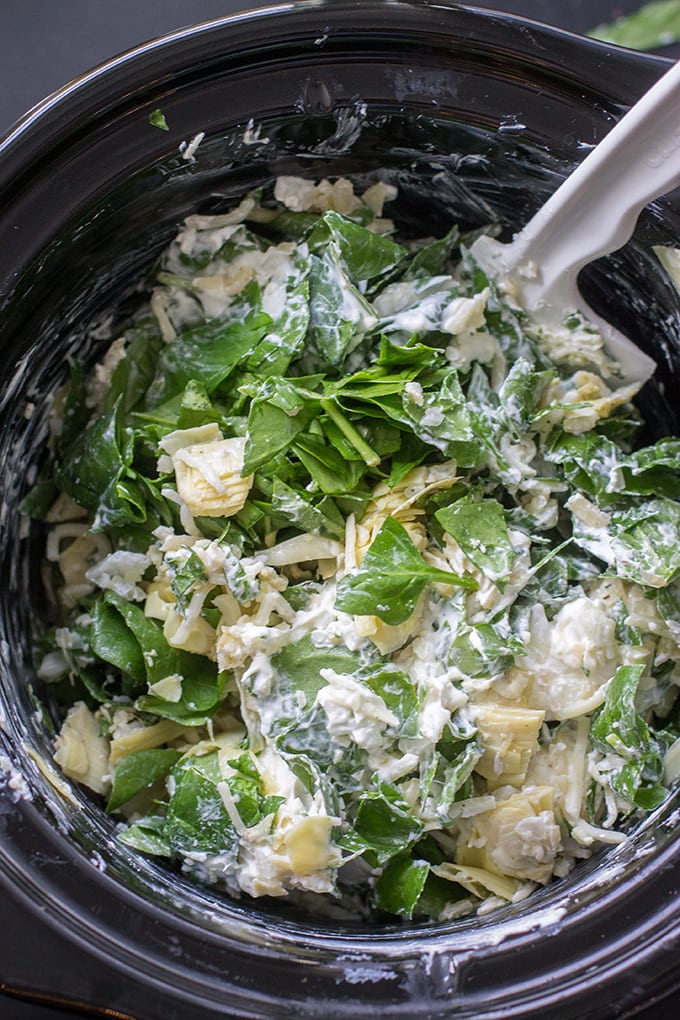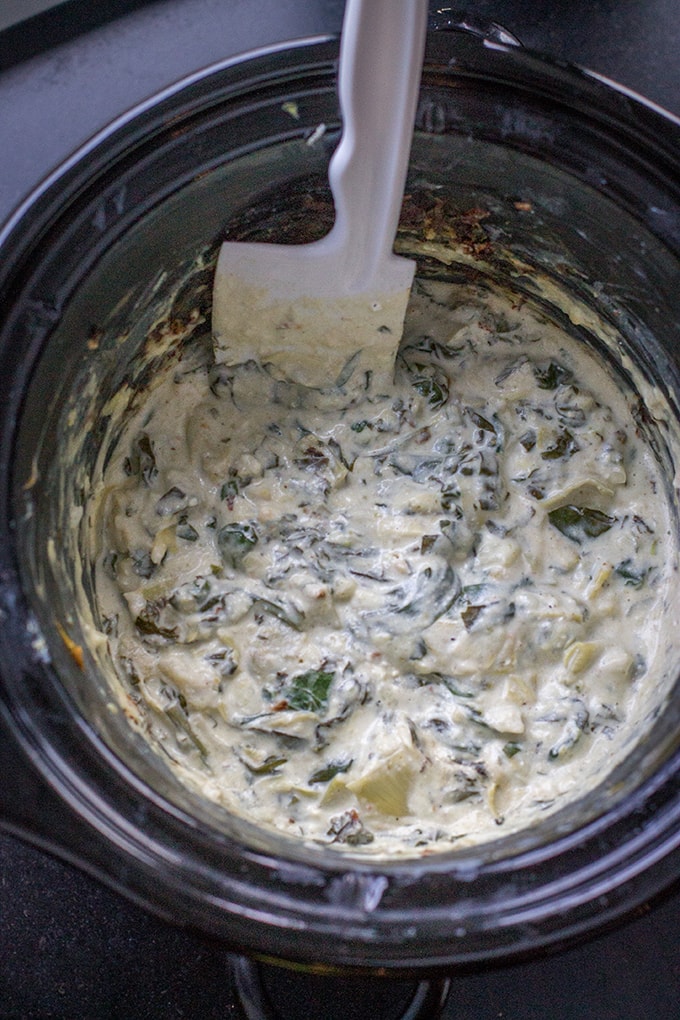 What to serve with spinach artichoke dip
Serve warm with a big bowl of tortilla chips or a thin-sliced baguette. Plus some veggies for dipping if you're still all about making good choices ;-). Your game-watching snacking is complete!
Of course, as I said, this is also great for parties. I've served it for holiday appetizers, snacking prior to neighborhood trick-or-treating, a casual happy hour with friends at our house, you name it.
I mean, there's really never a bad time for spinach-artichoke dip. Especially one that's easy to make and a little easier on the waistline!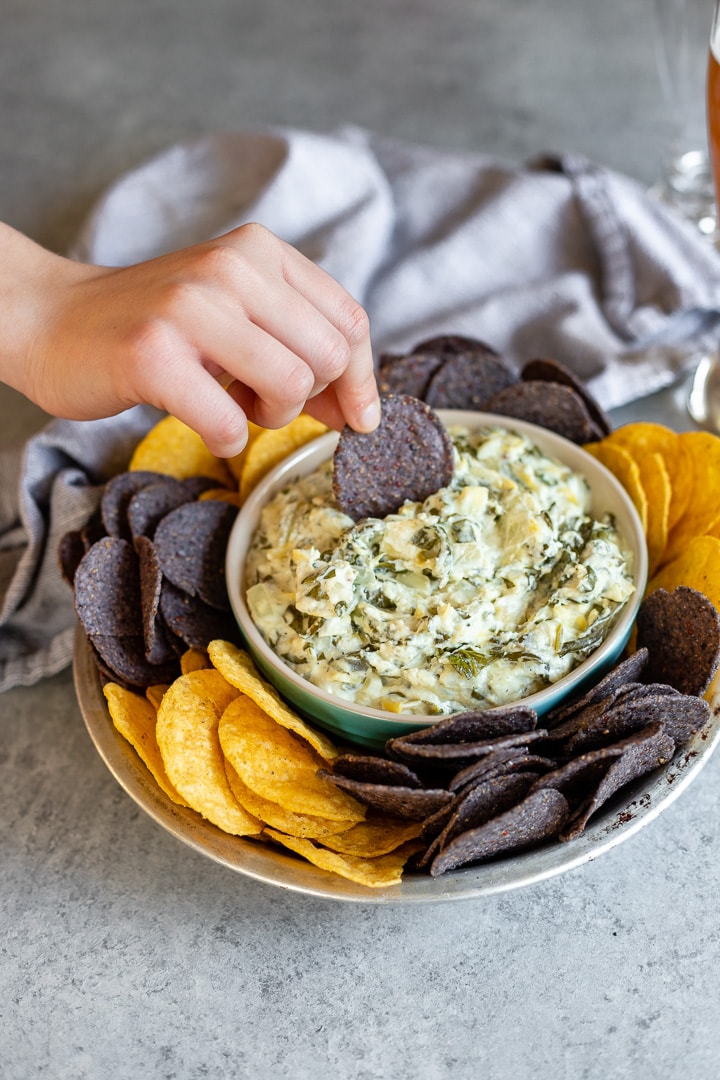 More Game Day Dips and Snacks You'll Love:
Enjoy! If you make this Skinny Crockpot Spinach Artichoke Dip or any other recipe from Nourish and Fete, please rate it and leave a comment below. We love hearing from you, and other readers will benefit from your experience!
Skinny Crockpot Spinach Artichoke Dip
As creamy, cheesy, and delicious as the original, this skinny crockpot spinach artichoke dip is lightened up with Greek yogurt and so easy to make!
Ingredients
10 ounces (about 300 grams) fresh baby spinach , roughly chopped
1 (13.75 ounce or 400 grams) can artichoke hearts , drained and roughly chopped
1 (8 ounce) brick low-fat cream cheese , cut into 1-inch cubes
1 cup plain Greek yogurt
1 cup shredded Mozzarella cheese
1/2 cup grated Parmesan cheese , plus extra for garnish 
1 small white onion , finely chopped
4 cloves garlic , minced
1/2 teaspoon black pepper
1/4 teaspoon salt
1/4 teaspoon roasted red pepper flakes
Instructions
Lightly mist the inside of your crockpot or slow cooker with cooking spray. Combine all ingredients in the bowl of the crockpot and stir to combine.

Cook on high for 2 hours, until the cheese has melted and the dip is completely warmed through. Stir well to combine and season with additional salt and pepper to taste.

Transfer to a serving dish and sprinkle with additional Parmesan cheese. Serve warm with chips, crostini, crackers, veggies, or any dipping vehicle you like.
Notes
This could also be cooked on low for 3-4 hours, if that suits your schedule. 
This can also be made and transferred to the serving dish, then rewarmed for 5 minutes in the oven, if, say, you needed to transport it to a friend's house or potluck but didn't want to cart the crockpot with you. 
Nutrition Estimate
Serving: 1 /8, Calories: 258 kcal
Did you make this recipe?
Leave a review below, then snap a quick picture and tag @nourishandfete on Instagram so I can see it!
This post may contain affiliate (*) links. See my full disclosures page.