Sparkling Limeade with Mint + Simple Syrup
If one flavor captures the essence of spring and summer, it's citrus. This sparkling limeade with simple syrup and a mint garnish is a classic crowd-pleaser you'll be proud to make from scratch.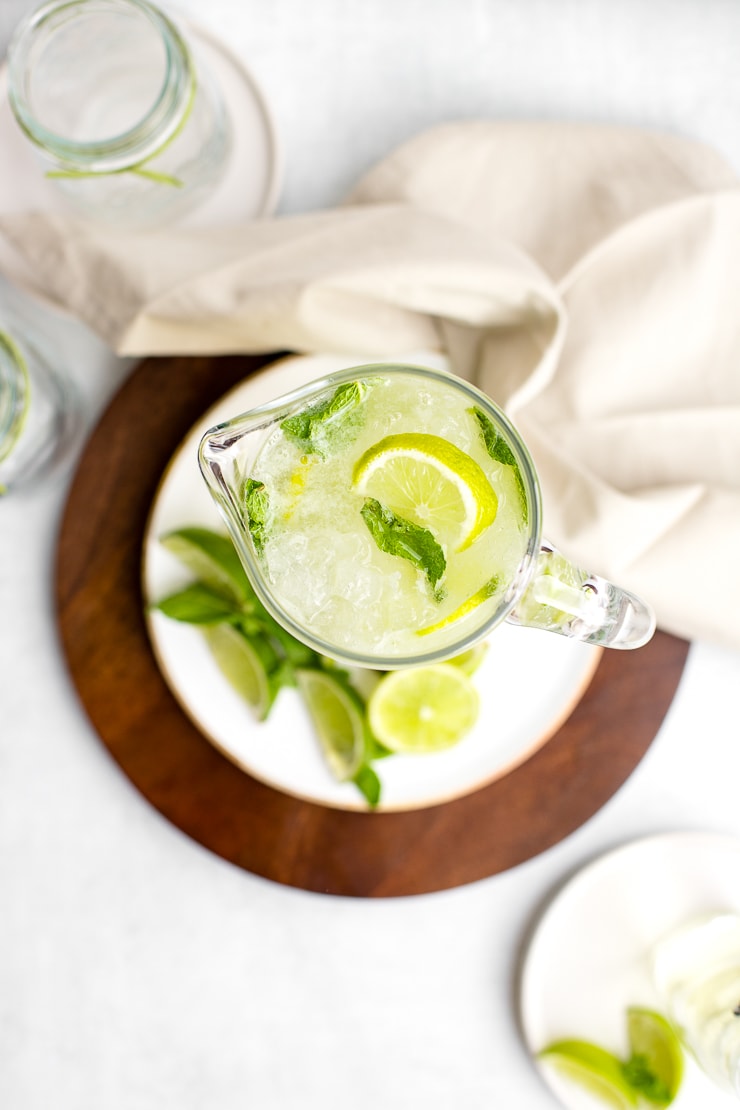 Well, here we are, late June, and while I ought to be in the middle of packing for our upcoming move, instead I'm wandering around our favorite farmers markets for the last few times and taking pictures of sparkling limeade!
This might be poor judgment on my part, but honestly, I'm at a point where I feel like those priorities are right where I want them to be. The packing will get done – eventually, and well enough. But that limeade isn't going to make or drink itself, and I definitely want to soak up as much life here in Brussels as possible before we say goodbye!
All the same, I'll keep this post short and to the point. Few drinks speak SUMMER to me as this one does. It's such a great go-to for small parties, BBQs, or just cooling down on a sweltering afternoon. Sparkling=festive. Lime=bright, fresh, and tangy. Life is good.
And if you've never used simple syrup before to sweeten your drinks, oh my, you are in for a treat. It couldn't be easier to make, and then you can just keep it in the fridge to whip out and sweeten anything (hello cocktails!) at a moment's notice and to taste. You little kitchen boss, you. Bonus points if you store it in a sweet retro-ish glass bottle like this: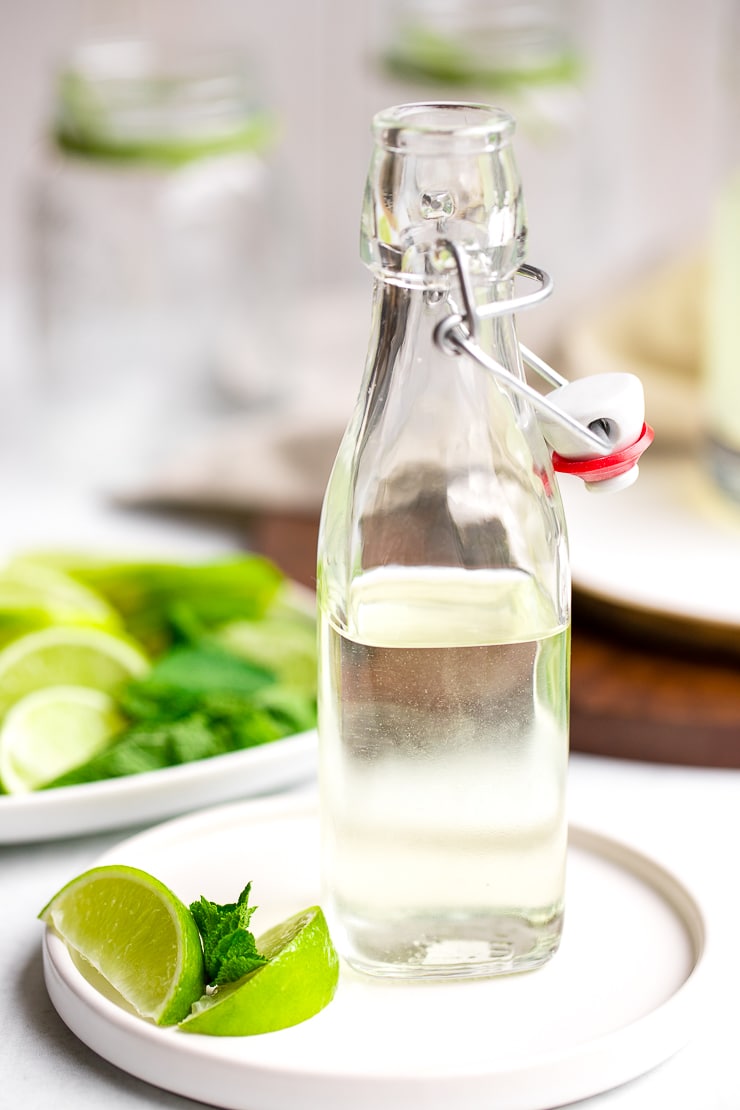 So, sparkling limeade 100% belongs on your summer menu. The hardest part is juicing the limes, but even that won't take more than 10 minutes or so. And if you have kids casting about proclaiming to be bored, maybe this is the perfect job to outsource?
And, speaking of cocktails, if you add a little vodka to your serving, well, I'll never tell. 🙂
Happy drinking!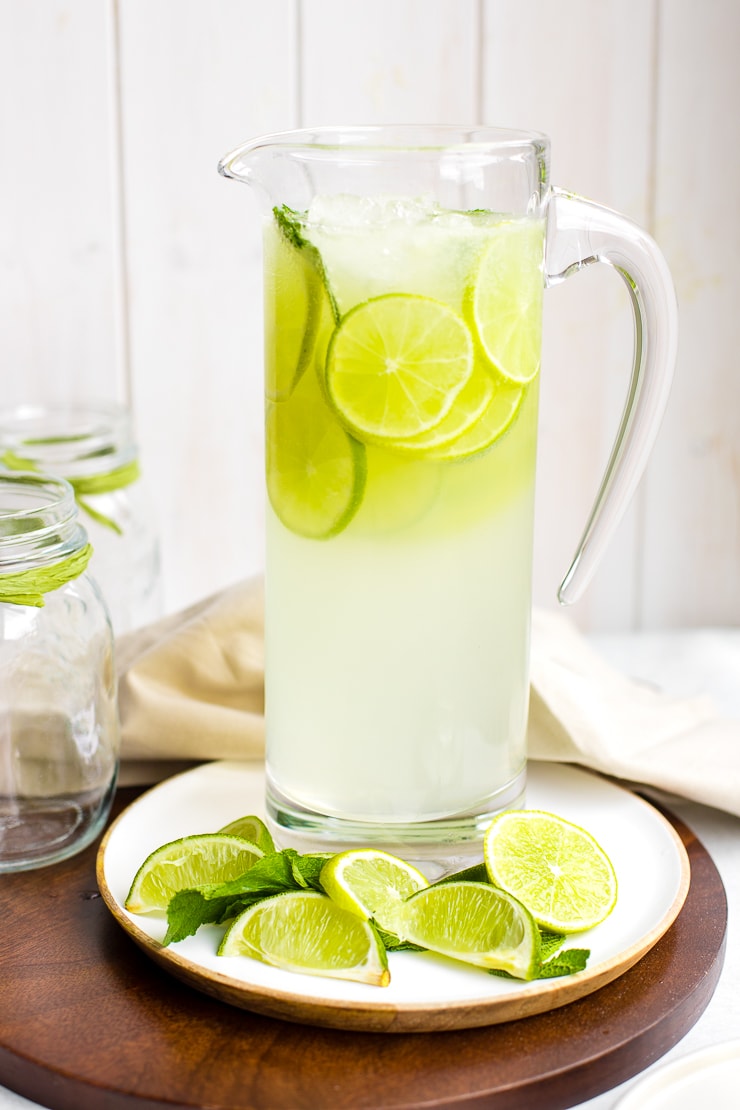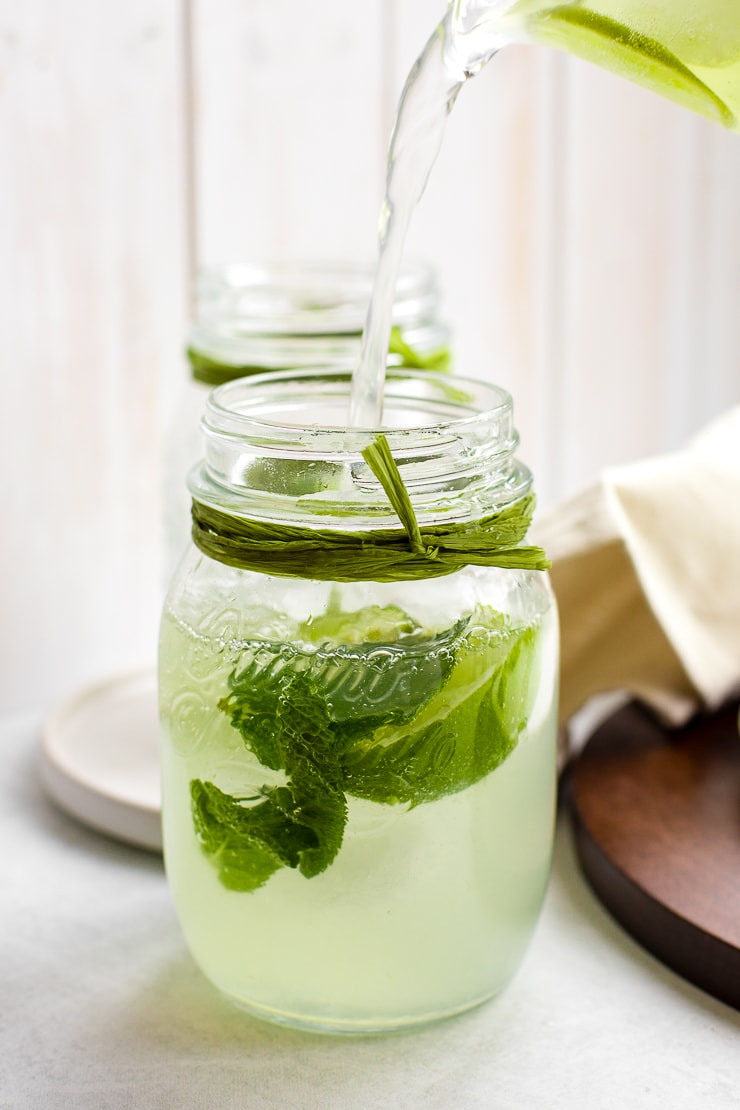 If you try this sparkling limeade or any other recipe on the blog, please remember to rate the recipe and leave a comment below. I love hearing from you, and other readers will benefit from your experience!
Sparkling Limeade with Mint and Simple Syrup
This sparkling limeade with simple syrup and a mint garnish is a classic crowd-pleaser you'll be proud to make from scratch.
Ingredients
Simple Syrup
1 cup water
1 cup granulated sugar​​
Limeade
1 cup lime juice (from 12-15 limes)
2 cups sparkling​ water - chilled
¾ cup  simple syrup
Garnish
ice, lime slices or wedges, and mint, as desired
Instructions
To make simple syrup, combine sugar and water in a small saucepan. Stir​ over medium-heat until ​the ​sugar dissolves and the mixture boils, then lower heat to medium and simmer for 2-3 minutes. Remove pan from the heat and cool to room temperature. Pour syrup into a sealed glass container and store in the fridge until ready to use.

​To make limeade, combine lime juice, sparkling water, and about ¾ cup simple syrup in a large pitcher. Stir to combine. Taste, and add more simple syrup if you desire a sweeter drink.

Add ice, lime slices or wedges, and mint leaves for garnish, as desired. Serve cold! 
Notes
Simple syrup will keep for a month in the fridge, and is very useful for sweetening other beverages as desired, to include cocktails!
Nutrition Estimate
Calories: 79 kcal, Carbohydrates: 21 g, Sodium: 19 mg, Potassium: 18 mg, Sugar: 21 g, Calcium: 4 mg, Iron: 1.1 mg
Did you make this recipe?
Leave a review below, then snap a quick picture and tag @nourishandfete on Instagram so I can see it!