Kale & Brussels Sprout Salad with Creamy Lemon Parmesan Dressing
This vibrant kale Brussels sprout salad is full of color, texture, and flavor. Buy pre-washed, pre-chopped greens to make assembly a flash, and pull everything together with a creamy lemon Parmesan dressing that perfectly dresses every bite.
Serve this alongside creamy garlic chicken, brown butter sage chicken, or Instant Pot wild rice soup for a delicious dinner tonight.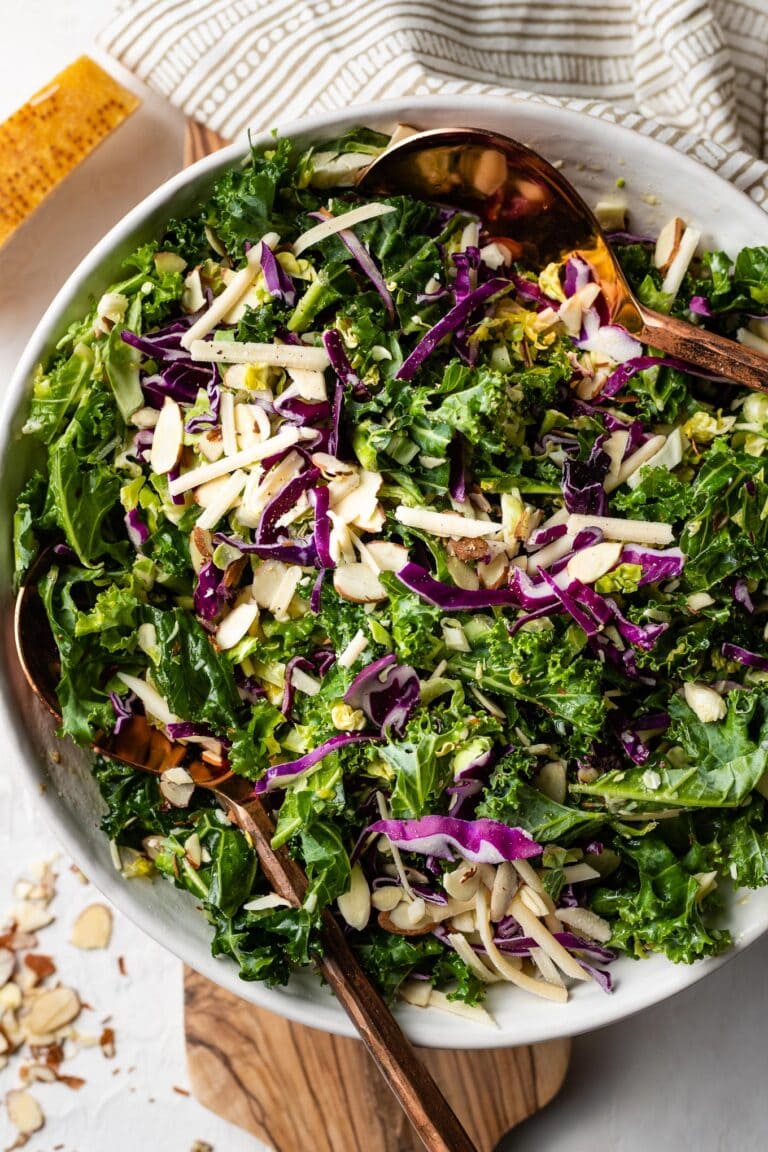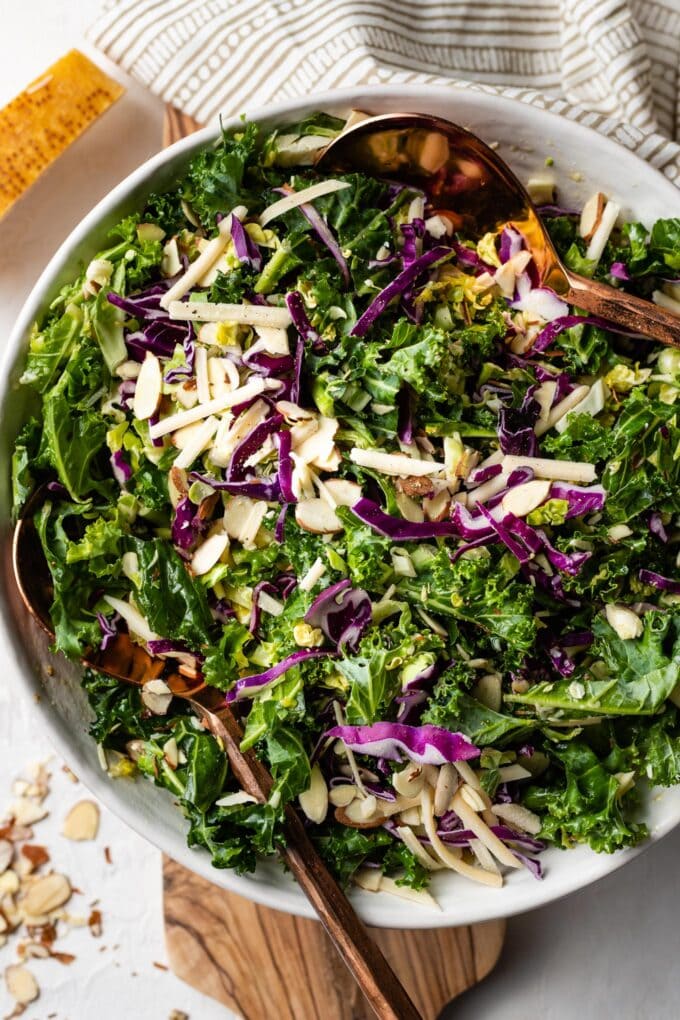 Salads are such a role-player in the kitchen. Rarely the star of the show, and all too often an afterthought, especially on busy nights. And, really, isn't every night a busy night?
But friends, you needn't limit yourself to boring salads. Even easy, throw-it-together-in-a-flash sides can be elevated and worthy of excitement when the right ingredients come together. This is one of those times.
Ingredients and shopping tips
This healthy and easy kale Brussels sprout salad delivers crunch, flavor, and vibrant color. Here are the ingredients; as always, see the full recipe below for detailed amounts and instructions.
For the salad
Kale – you'll want several cups of either Tuscan or curly kale. If you buy it in bunches, you'll have just a small extra step of removing the thick inner rib and tearing the leaves apart into bite-sized pieces. If you buy pre-washed and pre-shredded kale, your assembly process will just be that much easier.
Brussels sprouts – these add so much crunch and texture and another healthy veggie! You can also buy these pre-shredded; otherwise, the food processor makes quick work of them, or you can just thinly slice them by hand.
Red cabbage – more crunch, more nutrition, and more vibrant color. Once again, pre-shredded saves time. Sense a theme?
Sliced almonds – toasted sliced almonds if you really want to go extra. Or you can toast them yourself in a tablespoon of oil in a hot skillet – just watch that they don't burn.
Parmesan – in both the salad and the dressing. That salty, tangy flavor adds so much.
For the lemon Parmesan dressing
The yin and yang of this recipe is the crunchy salad paired with the creamy dressing. If you're intimidated by making your own dressing, don't be! It couldn't be easier, and the results blow store-bought dressings out of the water.
Olive oil
Parmesan
Lemon juice
White wine vinegar
Garlic powder
Dijon mustard
Kosher salt and freshly-ground black pepper
To massage or not to massage
Making this salad is a simple assembly process – but one quick process tip does give the best finished result.
You'll want to first toss together the kale, Brussels sprouts, and red cabbage. Then, prep the dressing. I just combine everything in a small mason jar or leftover jam jar and give it a vigorous shake. You can also use a blender or food processor for an even smoother dressing.
Now, pour about half the dressing over the greens and work it in. Using kitchen tongs makes this super easy, as you want to just gently massage the dressing into the salad. This quick step softens the kale and integrates the flavors, but you want to do this before adding the the almonds and cheese so they don't become crumbled or overly drenched in the dressing.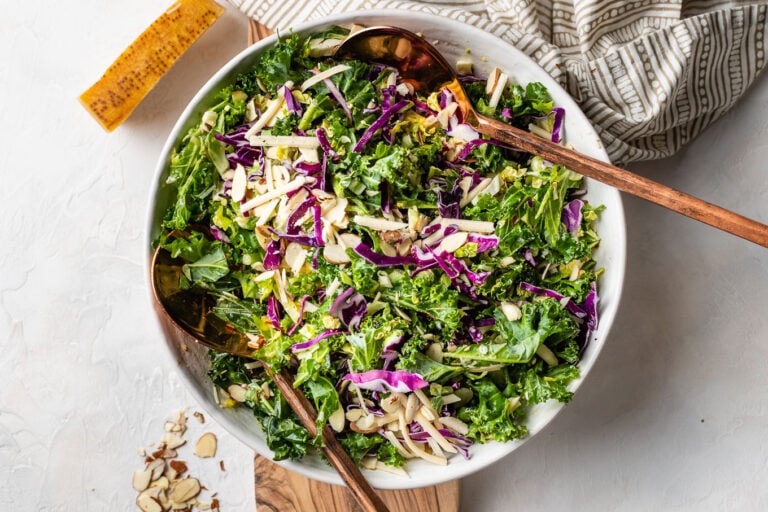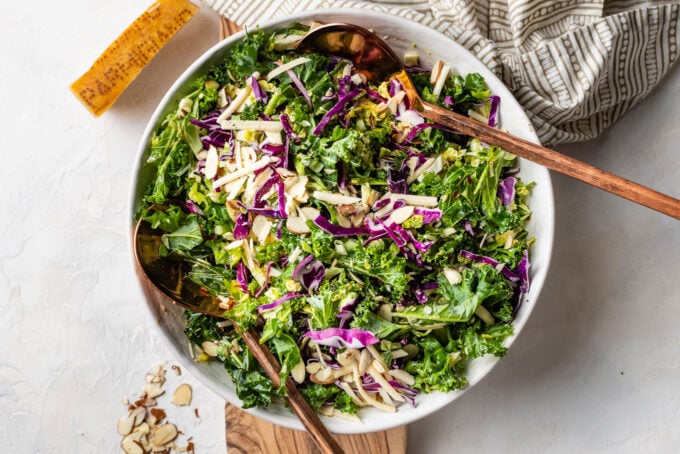 Finally, add the almonds and Parmesan, add more dressing to taste, give everything one last toss, and you're done.
More easy salad recipes
And if you're new to making your own salad dressings, don't miss this ultimate easy Italian dressing from scratch – other readers are raving about it!
You can also FOLLOW me on PINTEREST, INSTAGRAM, FACEBOOK, and TWITTER for more great recipes and ideas!
Kale & Brussels Sprout Salad with Creamy Lemon Parmesan Dressing
This vibrant kale Brussels sprout salad is full of color, texture, and delicious flavors. Don't skip the creamy lemon Parmesan dressing – it's easy to make and pulls everything together perfectly!
Ingredients
Salad
4-6 cups Tuscan or curly kale about 2 bunches or 12 ounces total
2 cups shredded Brussels sprouts
1/2 cup shredded red cabbage
1/4 cup sliced almonds see note
1/4 cup grated or shaved Parmesan cheese
Dressing
1/2 cup olive oil
1/4 cup finely grated Parmesan
2 tablespoons lemon juice
1 teaspoon white wine vinegar
1/2 teaspoon garlic powder
1/2 teaspoon Dijon mustard
1/4 teaspoon kosher salt
8-10 cranks freshly-ground black pepper
Instructions
If necessary, remove center stems from the kale and coarsely chop or tear the leaves into bite-sized pieces. Combine kale, Brussels sprouts, and red cabbage in a large bowl, and set aside.

To make the dressing, combine all ingredients in a jar with a tight-fitting lid and shake well for 45-60 seconds, until well-combined. Alternatively, for an even smoother dressing, blitz all the ingredients together in a blender or food processor until pureed.

Pour half the dressing over the salad. Using kitchen tongs, work the dressing into the greens, tossing and almost massaging them as you go. Taste and add more dressing as desired. Add cheese and almonds, and toss once more to incorporate. Serve and enjoy!
Notes
For an extra dimension of flavor, toast the almonds. Warm 1 tablespoon of cooking oil in a skillet over medium heat, then add the almonds and cook for 4-6 minutes, turning frequently and watching carefully to be sure they don't burn. Transfer to a paper towel to let cool, and sprinkle with a pinch of sea salt, then add to the salad as directed. 
Salad recipe adapted from Bon Appétit; dressing from Simply Recipes.
Nutrition Estimate
Calories: 242 kcal, Carbohydrates: 9 g, Protein: 6 g, Fat: 22 g, Saturated Fat: 3 g, Cholesterol: 4 mg, Sodium: 192 mg, Potassium: 383 mg, Fiber: 2 g, Sugar: 1 g, Vitamin A: 4802 IU, Vitamin C: 85 mg, Calcium: 141 mg, Iron: 1 mg
Did you make this recipe?
Leave a review below, then snap a quick picture and tag @nourishandfete on Instagram so I can see it!