BBQ Chicken Stuffed Sweet Potatoes
Satisfying and healthy, these BBQ Chicken Stuffed Sweet Potatoes are a dream lunch or dinner. Juicy pulled BBQ chicken is loaded into tender baked sweet potatoes, then topped with our favorite sunset slaw for a crunchy finish. This is a fantastic way to use crockpot BBQ chicken!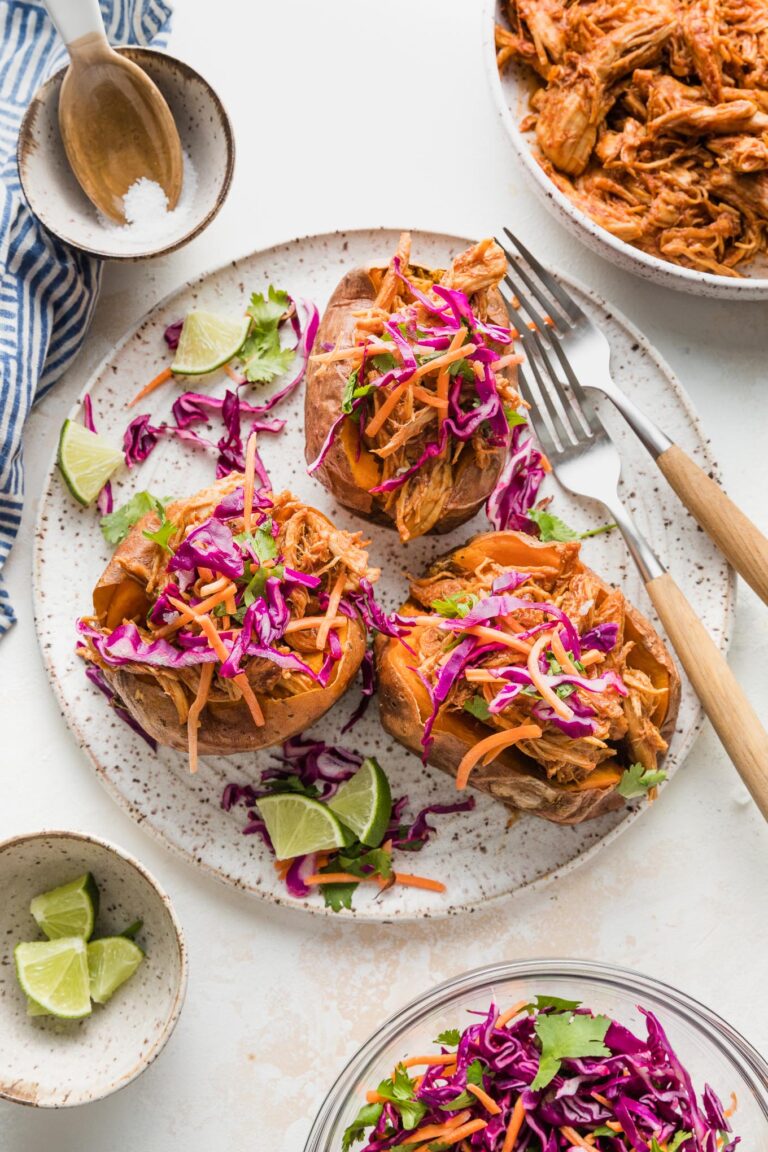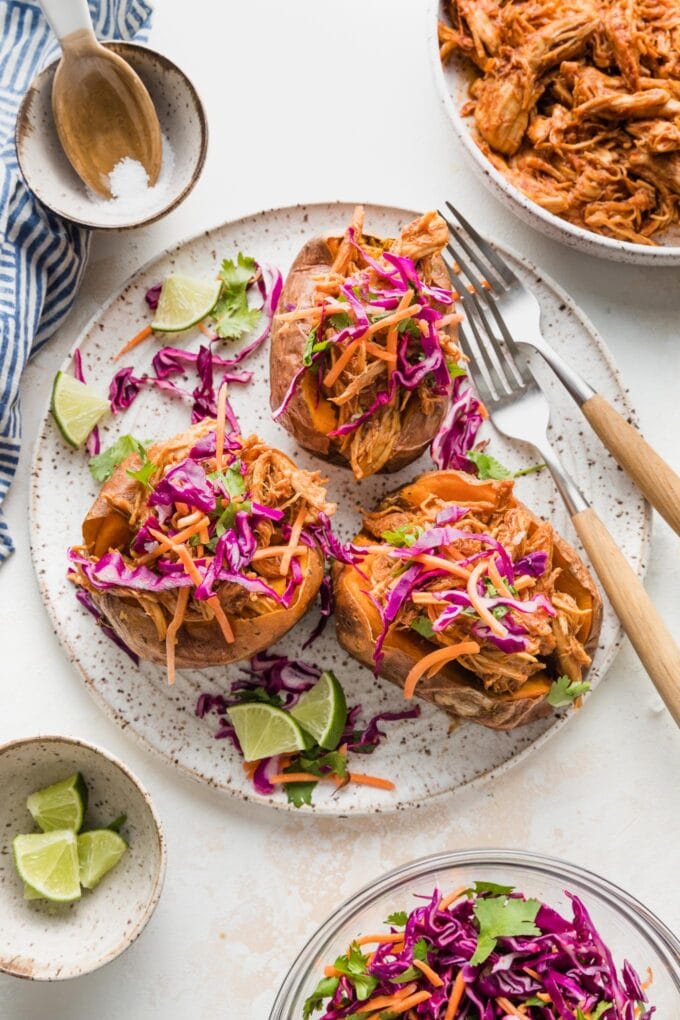 Delicious Stuffed Sweet Potatoes
There is a special place in my heart for dinners that are very healthy and utterly delicious, and this is one of the prime examples in my current repertoire. Tender baked sweet potatoes are split open, stuffed with juicy BBQ chicken, and topped with the most vibrant, crunchy, and flavorful carrot-cabbage slaw. There's a lot to love here.
BBQ chicken stuffed sweet potatoes check so many boxes for us:
Amazing flavor. There's a lot of natural sweetness that pairs perfectly with the tangy chicken and slaw.
Easy to make. Especially if you already have some extra BBQ chicken on hand, but even if not.
Full of protein and vegetables. This meal satisfies body and soul!
You can also keep all the component parts — pre-baked sweet potatoes, cooked BBQ chicken, and the slaw mix — in the fridge separately, then heat and combine for an ultra-fast, satisfying lunch or busy night dinner. So let's get down to it.
Ingredients & Substitutions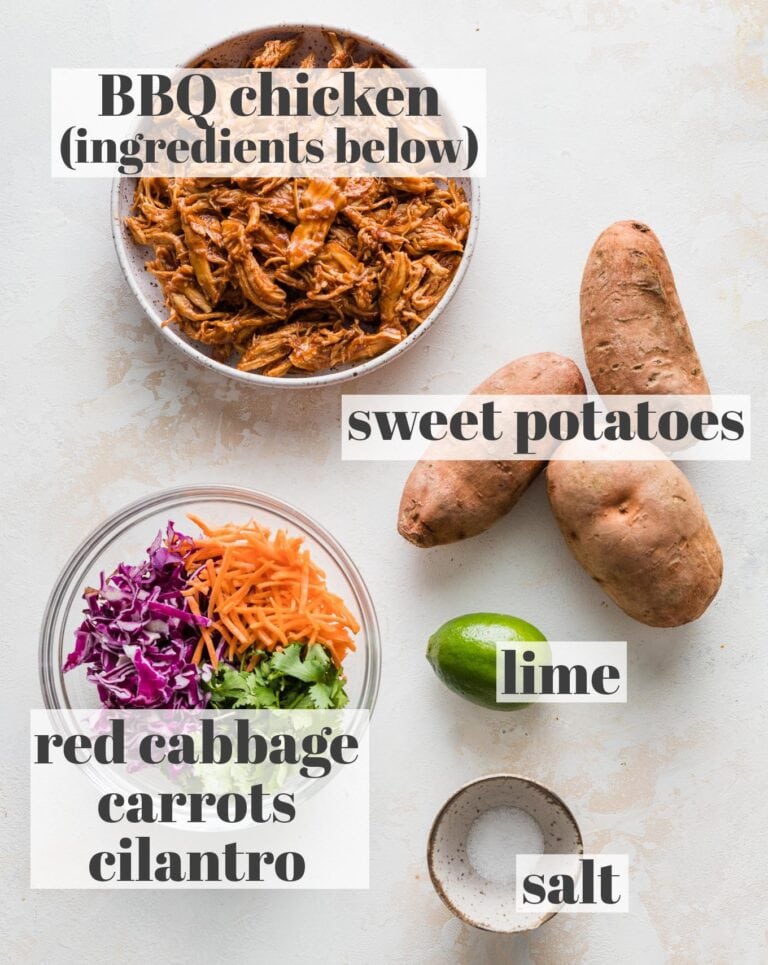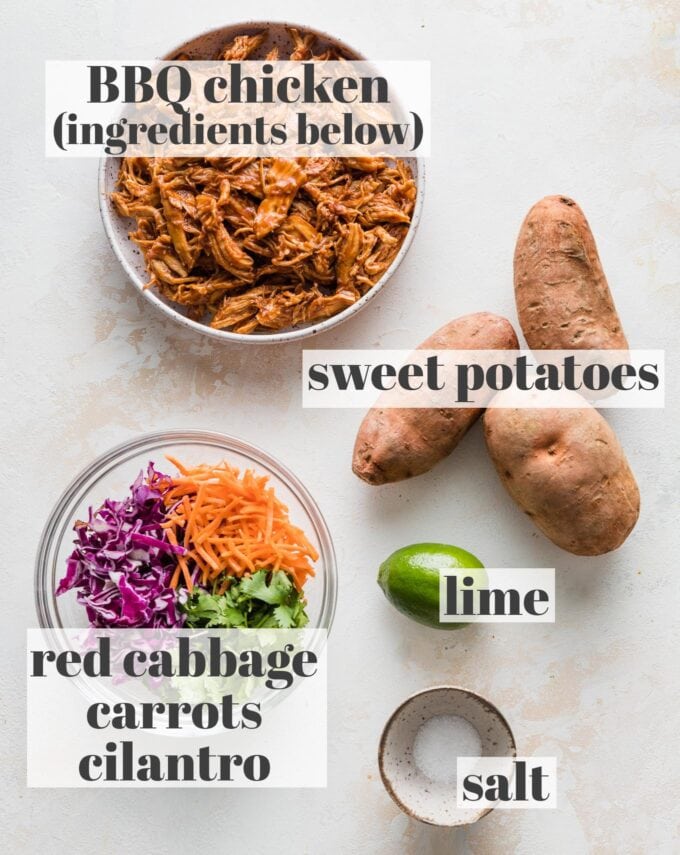 Here are a few notes and shopping tips about the ingredients you'll need to make this, as well as possible substitutions. Full amounts are noted in the print-friendly recipe card below.
Sweet Potatoes: You can certainly make these in the Instant Pot, start them in the microwave, or use any other hack that you like (such as this trick of cutting them in half before baking!) to save time. As long as you end up with a tender sweet potato, that's what matters.
Chicken: To make the chicken, you'll need chicken breasts, your favorite barbecue sauce, apple cider vinegar, brown sugar, sea salt, and garlic powder. You can use chicken thighs, too. Just plan on a longer cooking time. Our current favorite BBQ sauce options? Trader Joe's Kansas City-style or anything from Stubb's.
Shredded red cabbage and shredded carrots.
Fresh cilantro: Feel free to substitute parsley or green onions if you don't like the taste of cilantro but still want a pop of green.
Lime juice and salt: Use fresh lime juice and kosher salt or a flaky sea salt for the best flavor.
If you need these are in a real hurry, you can grab pre-shredded or shred your own from a rotisserie chicken and then simply mix it together with a BBQ sauce that you love.
What size sweet potatoes are best to bake?
Small-to-medium sized sweet potatoes bake most quickly, and those that are sort of a fat oval in shape usually work best for slicing open and stuffing with other ingredients. Keep in mind that one sweet potato will be one serving when stuffed, and plan accordingly.
If you plan to bake several sweet potatoes at the same time, it's also a good idea to purchase ones that are roughly the same size. This helps them cook at the same rate and avoid the problem of some being overcooked, undercooked, or done much later than the others.
How To Make BBQ Chicken Stuffed Sweet Potatoes
This is pretty straightforward, but I know many of you appreciate an outline and a quick visual to summarize! Here are the steps and a quick visual overview. You will find full instructions with exact ingredients in the print-friendly recipe card below.
Make the pulled chicken. I love to do a big batch of this in the crockpot.
Bake the sweet potatoes. This takes some time but minimal active effort.
Toss together the slaw. Do this just prior to serving, if possible.
Assemble. And dig in!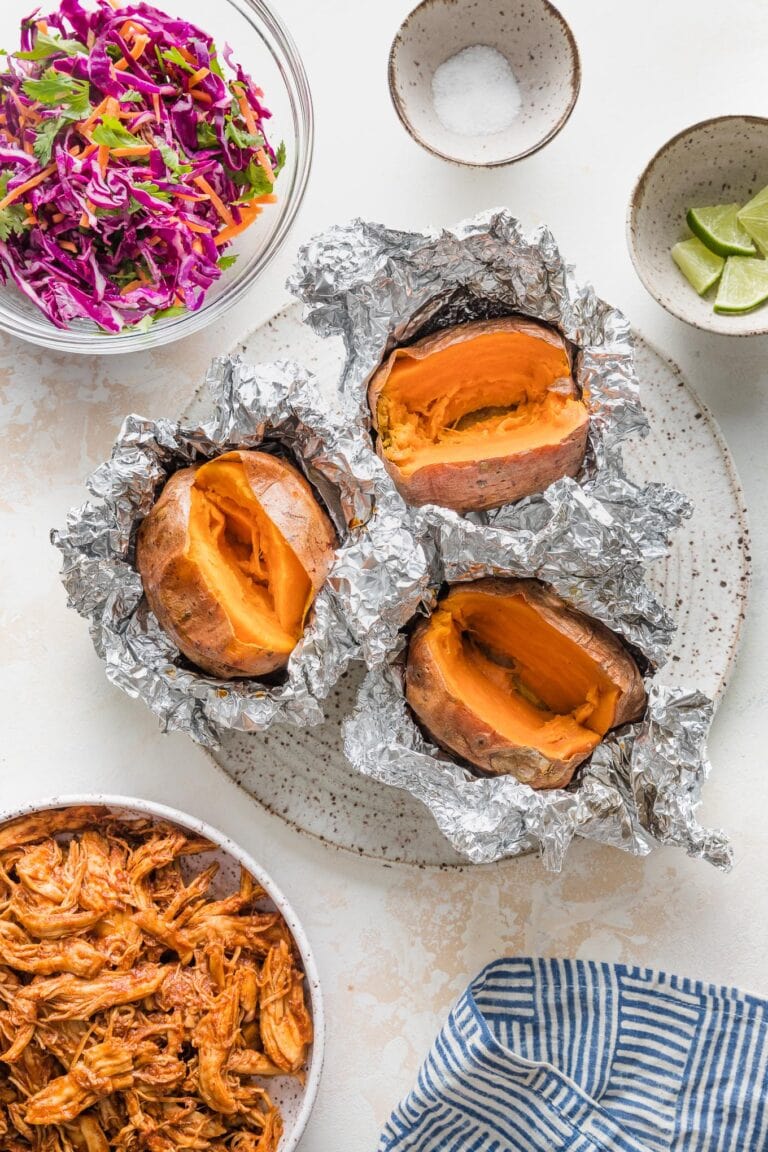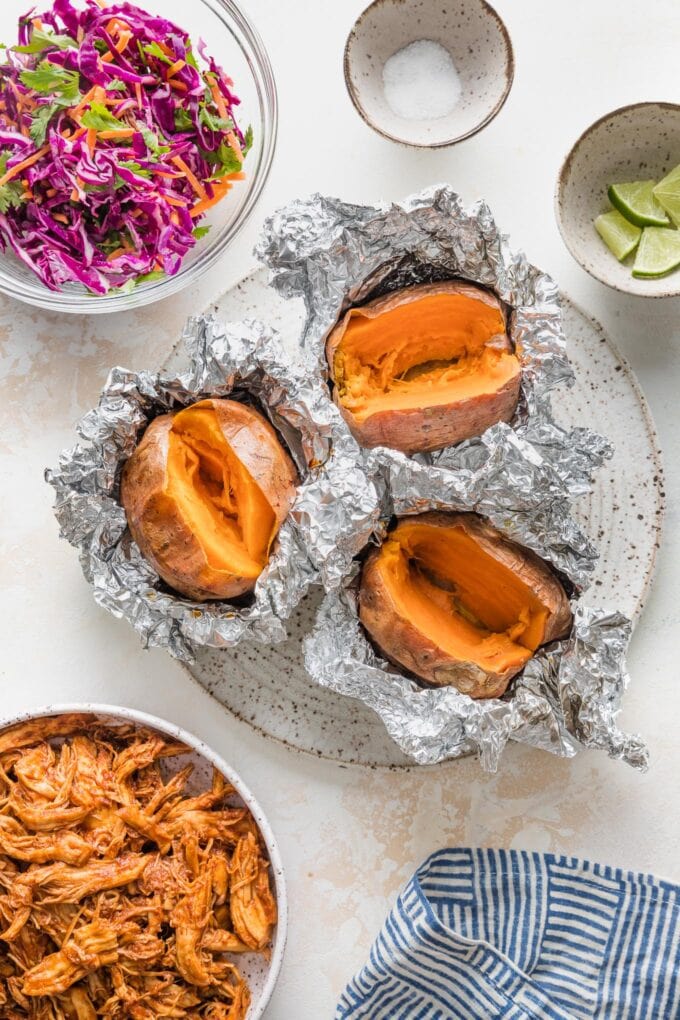 Everything can be done in big batches if you like, and pretty far ahead of time, so this is an easy meal to toss together when needed if you've planned a little bit in advance. Perfect for meal prep.
For best results when slicing the sweet potato, cut a slit right down the long side of the baked potato, leaving about 1/2″ uncut on each side. Then press gently in from both sides to open up the potato for stuffing. The skin on all four sides will prevent the tender interior from smooshing together too much, squeezing out, or falling apart.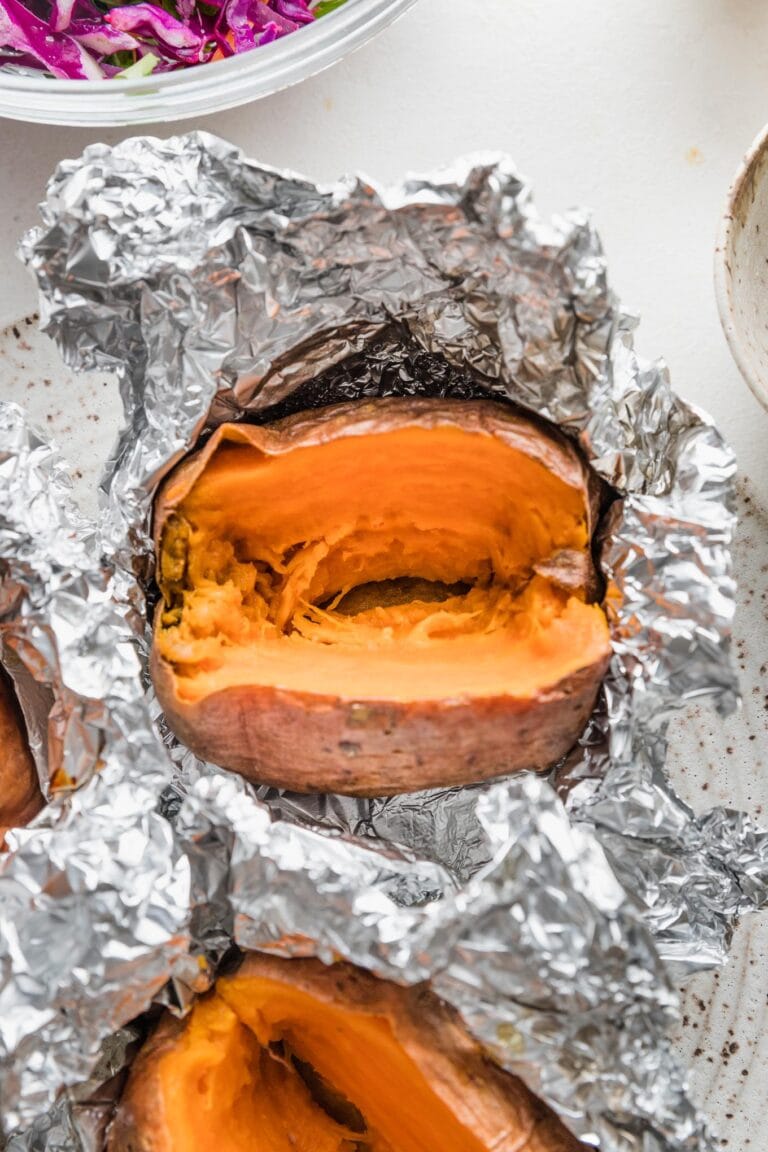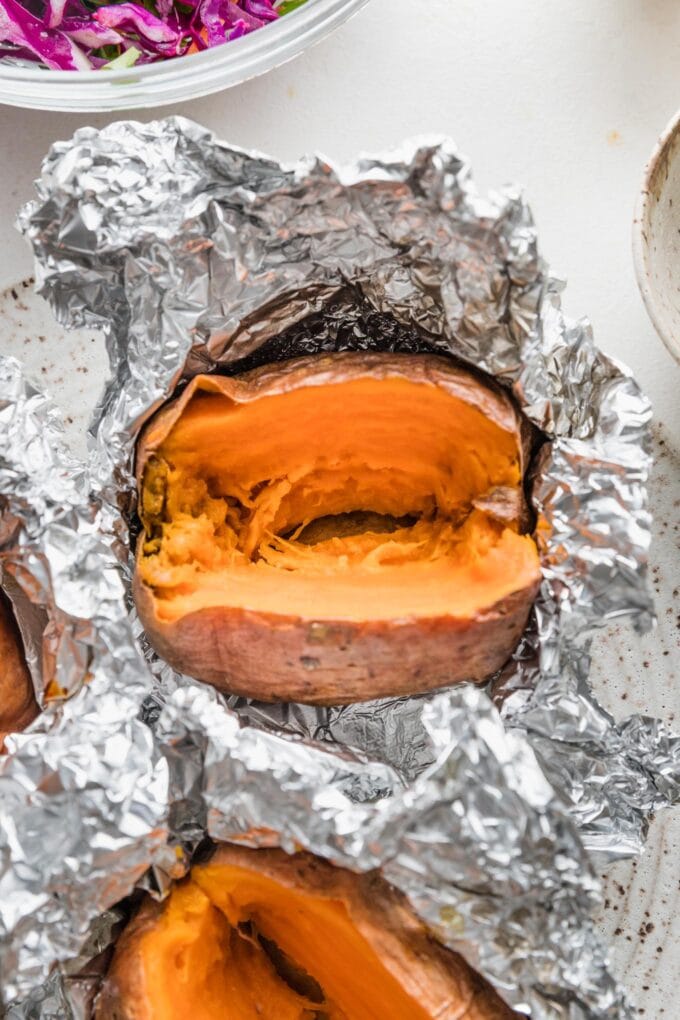 Should you wrap sweet potatoes in foil when baking?
This is not technically necessary — you can roast a sweet potato simply by poking it several times with a fork and placing it on a baking sheet in the hot oven — but the added steps of rubbing in a bit of olive oil and wrapping the potato in foil helps the skin crisp up nicely.
How to tell when baked sweet potatoes are done?
Give the potatoes a quick squeeze with tongs or with an oven mitt-wrapped hand. If they give nicely, they're done. If they're still hard, set a timer for another 5-10 minutes, then check again.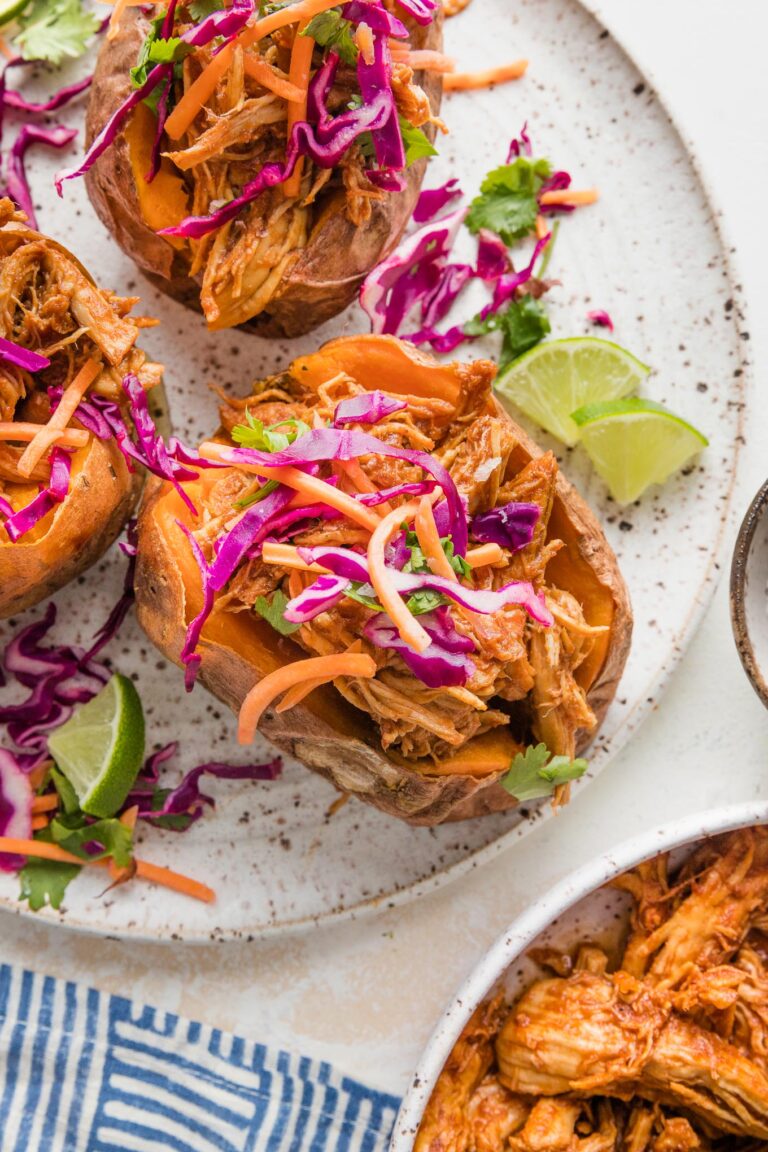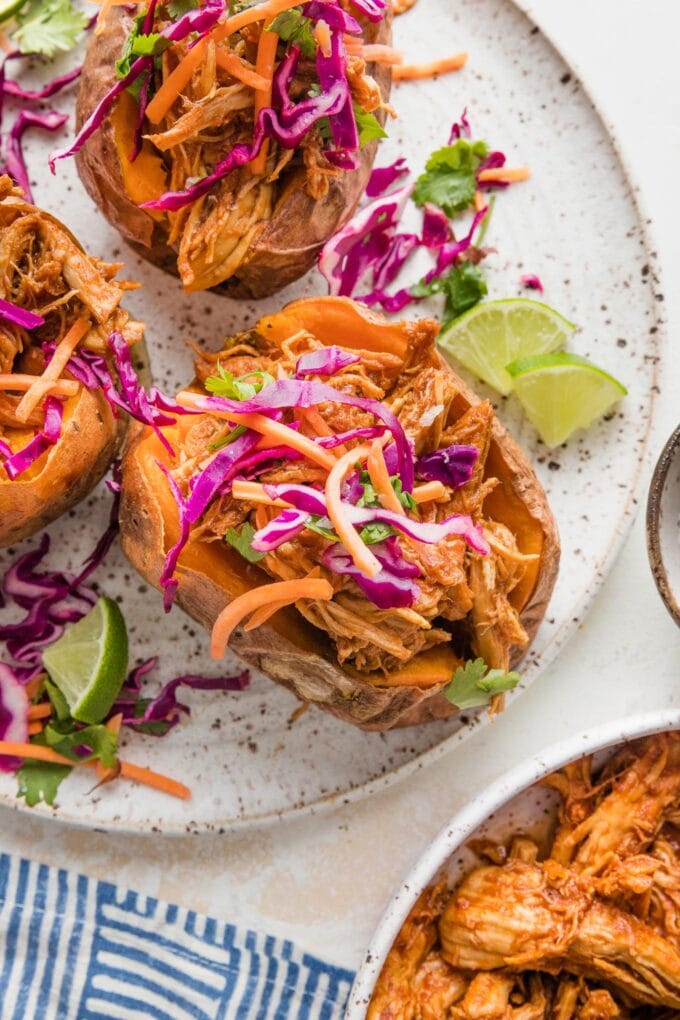 Variations
Add Sriracha or your favorite hot sauce on top for extra kick.
Top with coleslaw in place of the sunset slaw for a creamier finish.
Stuff the potatoes with buffalo chicken instead.
I think using seasoned chickpeas or a faux taco meat would be a delicious meatless option.
Add red onions, sliced peppers, or avocado to the list of toppings, as well.
These are naturally gluten-free as long as you use a gluten-free BBQ sauce.
These are naturally dairy-free, but if that's not important to you, sprinkle some cheese on top at the end. Cotija or cheddar cheese would be fun choices.
Serving Suggestions
I love this for an easy dinner on days when I know we'll walk in the door late and tired, because I can prep all of the parts in advance so they're easy to toss together.
They are also pretty kid-friendly, in my opinion, because you can separate the components on plates and encourage them to try the chicken, the potato, or the slaw, and supplement with a little fruit or whatever else you like.
I'm also delighted to eat these stuffed sweet potatoes for lunch. They're just about as healthy as my usual salads, and that's not something I can say about many meals!
Storage & Reheating
It's best to store the components — baked sweet potatoes, cooked BBQ chicken, and the slaw mix — separately, all in the refrigerator. Then it's easy to stuff the potato with chicken, warm those in the microwave on 50% power, then top with the slaw. This keeps all of the textures as they should be.
Pro Tip: Always microwave leftover chicken at 50% power. Even though this naturally takes a bit longer, it dramatically reduces the odds of the chicken accidentally cooking more and drying out.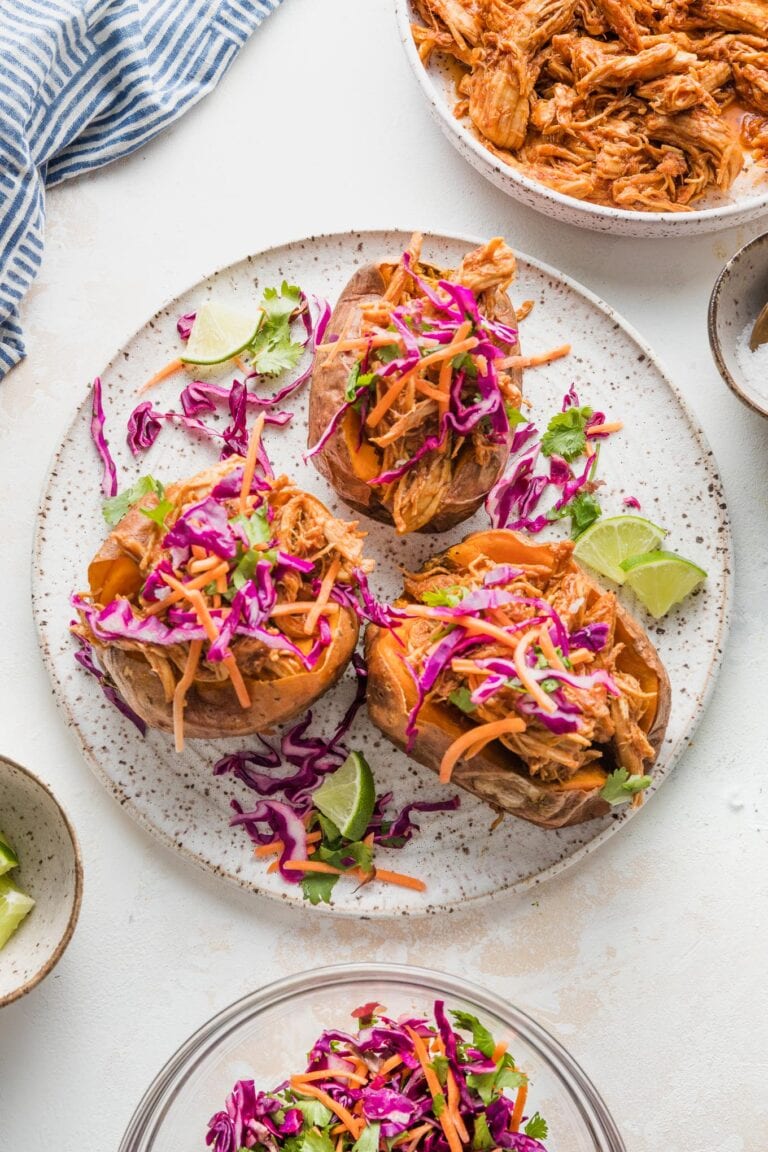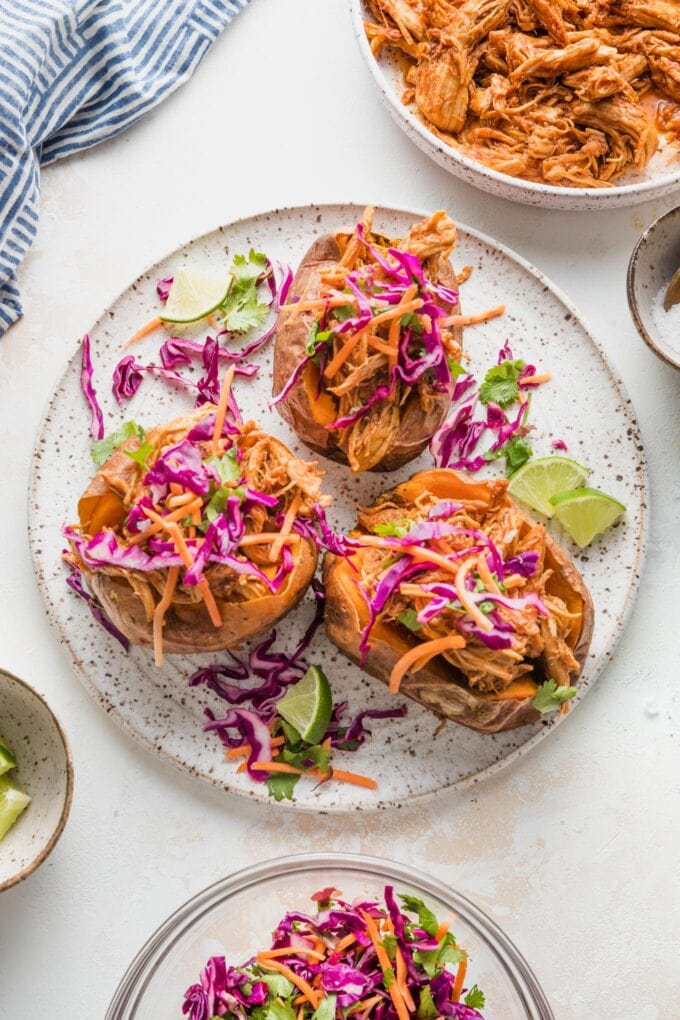 Related Recipes
Craving more healthy, easy meals? More current favorites in this genre include Korean beef lettuce wraps, jerk chicken lettuce wraps, Tuscan chickpea stew, and sheet pan shrimp and veggies.
Of course BBQ chicken sandwiches are always a fun menu addition, and to really get your sweet potato fix, whip up a batch of homemade sweet potato fries, sweet potato black bean tacos, or cinnamon honey baked sweet potatoes for an irresistible side.
If you try these BBQ Chicken Stuffed Sweet Potatoes, don't forget to rate the recipe and leave a comment below. I love hearing how recipes turn out in your kitchen, and it helps other readers, too.
You can also FOLLOW me on PINTEREST, INSTAGRAM, FACEBOOK, and TWITTER for more great recipes and ideas!
BBQ Chicken Stuffed Sweet Potatoes
Satisfying and healthy, these BBQ chicken stuffed sweet potatoes are a dream, packed with juicy pulled chicken, tender sweet potatoes, crunchy sunset slaw, and a squeeze of lime.
Ingredients
For the Chicken
1 cup barbecue sauce
1/4 cup apple cider vinegar
2 Tablespoons brown sugar
1 teaspoon sea salt see note
1/2 teaspoon garlic powder
1 and 1/2 pounds boneless, skinless chicken breasts
For Potatoes and Slaw
4 large sweet potatoes washed
1-2 teaspoons olive oil
1 and 1/4 cups shredded red cabbage
1 cup shredded carrot
2-3 Tablespoons chopped fresh cilantro
juice of 1/2 lime
1/2 teaspoon kosher salt
Instructions
To Make the Chicken: In the bottom of a slow cooker, combine barbecue sauce, apple cider vinegar, brown sugar, sea salt, and garlic powder. Stir well to combine. Nestle the chicken breasts into the sauce, turning to be sure they are fully coated. Cook on high for 2-3 hours or low for 4-6 hours, until the chicken is very tender and easy to pull apart with two forks.

Shred chicken. You can do this either inside the crockpot, or by removing the chicken to a cutting board. (I usually find it easier to remove it.) Return shredded chicken to the crockpot and stir well. Serve right away, or leave on the slow cooker's keep warm setting for up to 2-3 hours.

To Bake the Sweet Potatoes: Preheat oven to 425 degrees F. Prick clean sweet potatoes 8-10 times all over with a fork, then rub the skin lightly with a drizzle of olive oil. Wrap each potato tightly in a piece of aluminum foil, place in the over, and bake for 45-60 minutes, until very tender. Remove potatoes from the oven, cut a slit lengthwise down the middle of each, then squeeze gently from both ends to open the potato and create a nice pocket in the middle.

To Make the Slaw: Toss cabbage, carrots, cilantro, lime juice, and salt together in a medium bowl.

Assemble: Fill each potato with generous spoonfuls of the shredded chicken, then top with slaw. Finish with a squeeze of extra lime juice, if desired. Enjoy!
Notes
Extra chicken: If you follow this recipe in full, you will most likely have more chicken than is needed for 4 or even 8 servings of the stuffed sweet potatoes, because they are very filling. This is ok! The chicken keeps really well, can be frozen for 3-4 months, and is also great in sandwiches, bowls, or wraps.
Salt: If using regular table salt in the chicken mixture, reduce the amount to 1/2 teaspoon.
Craving heat? Drizzle your favorite hot sauce on top of the slaw, or top with a chipotle crema like the one used in these tasty chickpea tacos.
Nutrition Estimate
Calories: 667 kcal, Carbohydrates: 109 g, Protein: 43 g, Fat: 6 g, Saturated Fat: 1 g, Polyunsaturated Fat: 1 g, Monounsaturated Fat: 2 g, Trans Fat: 0.02 g, Cholesterol: 109 mg, Sodium: 2025 mg, Potassium: 2136 mg, Fiber: 12 g, Sugar: 46 g, Vitamin A: 54117 IU, Vitamin C: 28 mg, Calcium: 164 mg, Iron: 4 mg
Did you make this recipe?
Leave a review below, then snap a quick picture and tag @nourishandfete on Instagram so I can see it!