Crispy Baked Sweet Potato Fries
Learn all the secrets to making truly crispy baked sweet potato fries yourself at home! These are easy, healthy, and absolutely irresistible — being able to enjoy them on-demand just might change your life!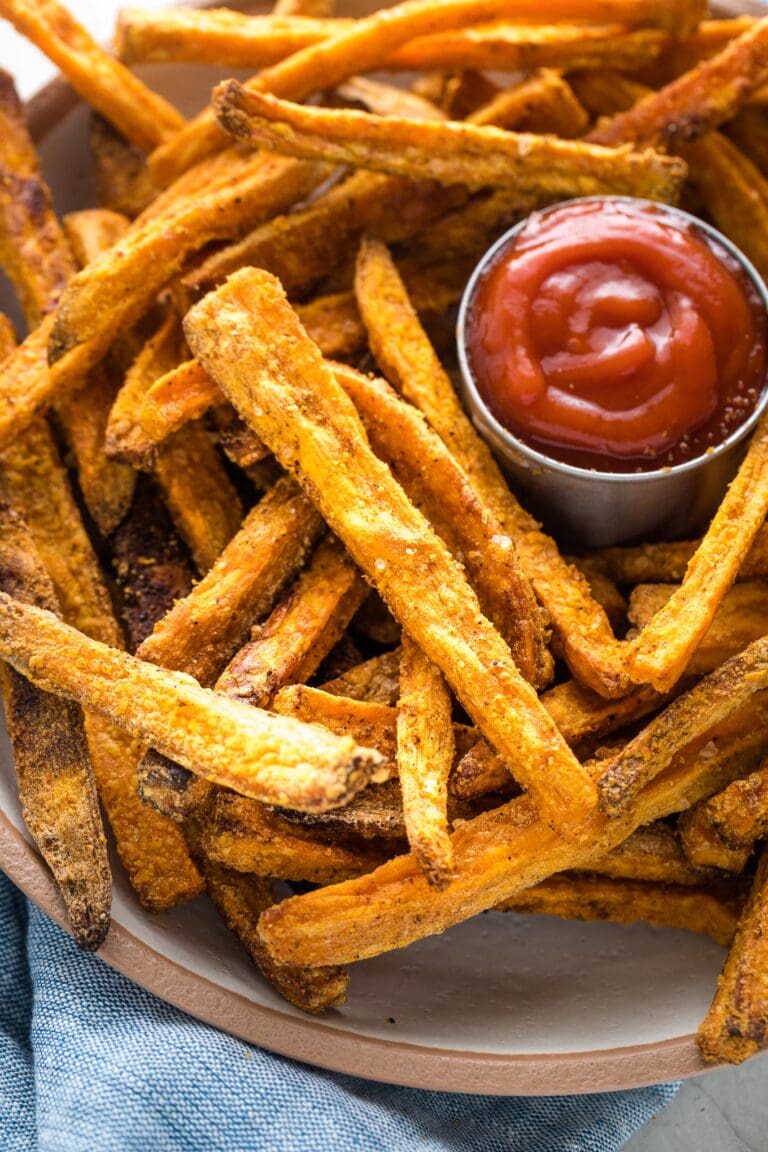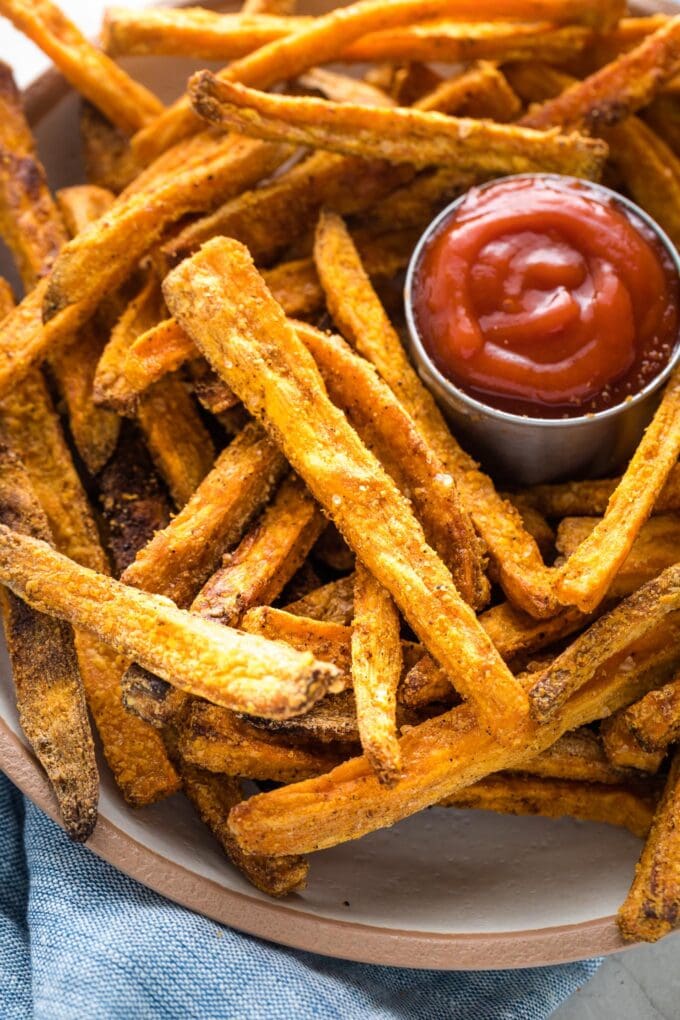 Where do you stand on sweet potato fries? If you're reading this, I'm going to guess you're in favor, or at the very least curious. And I'm so glad!
We recently had a family discussion on this very important topic, and it emerged that my view on sweet potato fries is a bit more nuanced than some. I love ordering them at restaurants, but don't always love the seasoning. And if they get really crispy, it's often thanks to a deep-fryer, which does undercut their status as a relatively healthy choice.
But give me a basket of perfectly seasoned, truly crispy, baked sweet potato fries, and I'm completely obsessed.
That said, it's taken some experimentation to perfect this recipe for reliable results at home. And now I'm sharing all my secrets to get absolutely perfect, truly crispy, baked sweet potato fries from your very own oven — each and every time.
Let's go!
Essential tips for crispy baked fries
Let's talk technique! A few tips and tricks make all the difference between soggy (sad) and blissfully crisp oven-baked fries.
The good news? Every step is straight-forward and easy. Anyone can make these at home! The other side of the coin? These are easy, but not instant. It's a lot of hands-off time, though, and trust me: so worth it.
Tip one: Cut fries to an even size. You want your fries to be consistently about 1/4-inch thick. This prevents over- or under-cooking and is the ideal size for crisping.
Tip two: Coat with cornstarch, but not too much. Cornstarch is a magic ingredient; it can thicken a sauce or soup, and help crisp anything from beef to, well, fries! But too much can form globs and negatively affect flavor. The key is to lightly toss the cut sweet potatoes in cornstarch, then shake off any excess by putting the fries in a colander and tapping it several times over the sink. This leaves a thin, even coating of cornstarch, which is just the ticket.
Tip three: Add salt after baking. Just like in this roasted broccolini recipe, salt can actually draw water out of the fries while they roast, making it more difficult to get that perfect texture. All your other seasonings go on before the oven, but save the salt until serving.
Tip four: Bake on parchment paper. This prevents sticking and helps crisping! If you don't have parchment, grease your baking sheet, but lightly.
Tip five: No crowding, please! These are the original socially distant snack; it's important that the fries be spread out on the baking sheet. No overlapping! If they're layered on top of one another or crammed in close together, you'll get a steaming rather than a roasting effect, and sad soggy fries. Use two pans if needed — since they're lined in parchment, the extra clean-up is negligible.
Tip six: turn up the heat. High heat always gives the crispiest veggies, and that's fundamentally what we're going for. If you want to get technical, these are roasted, not baked.
Tip seven: Flipping helps. I confess this is the one step I skip from time to time, but taking a few minutes to flip the fries halfway through their 30-minute roasting time improves crisping and helps avoid blackened spots.
Tip eight: Leave them in the turned-off oven. After the fries roast for 30 minutes, turn off the oven but leave the fries inside for another 20-30 minutes. They will continue to crisp up and stay perfectly warm for serving.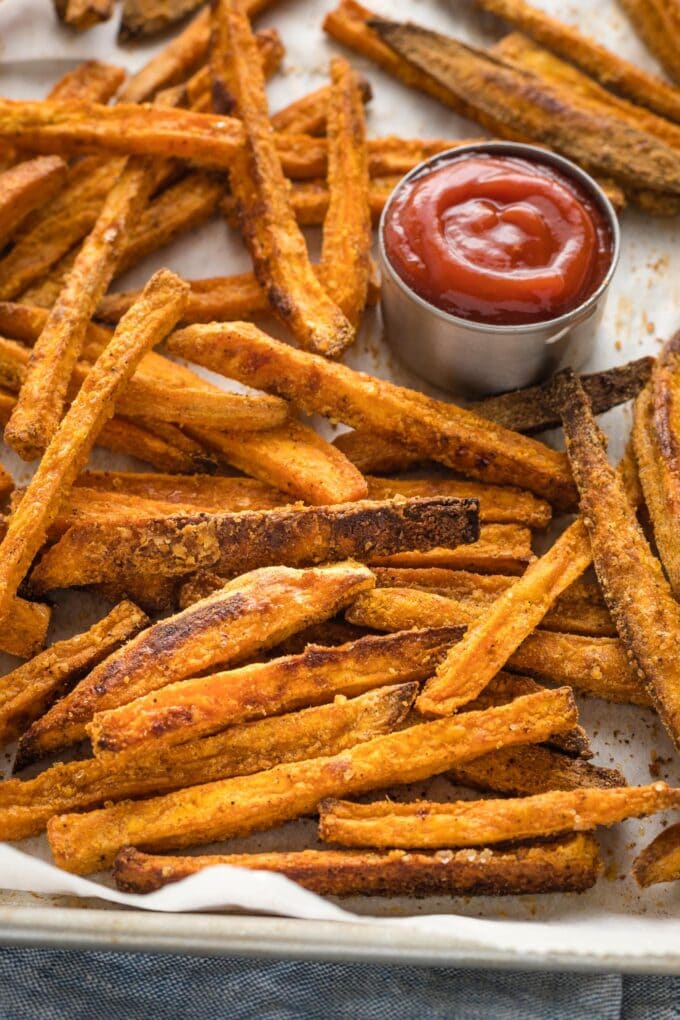 Can these be made ahead?
To Reheat: Sweet potato fries are definitely best served straight from the oven, but if you have leftovers (who are you!?), they can be stored in the fridge and reheated for about 10 minutes at 250 degrees F for a darn good next-day snack.
To Front Load Prep Work: If you want to serve the fries right after baking but get a head start on the prep, chop the sweet potatoes into sticks, submerge in a bowl of cold water, and store in the fridge for a few hours, or as long as overnight. Some say the soaking actually helps the fries crisp, though I haven't personally found it makes a big difference. If they have soaked, be very sure to rinse, drain, and pat them completely dry before proceeding with the cornstarch step.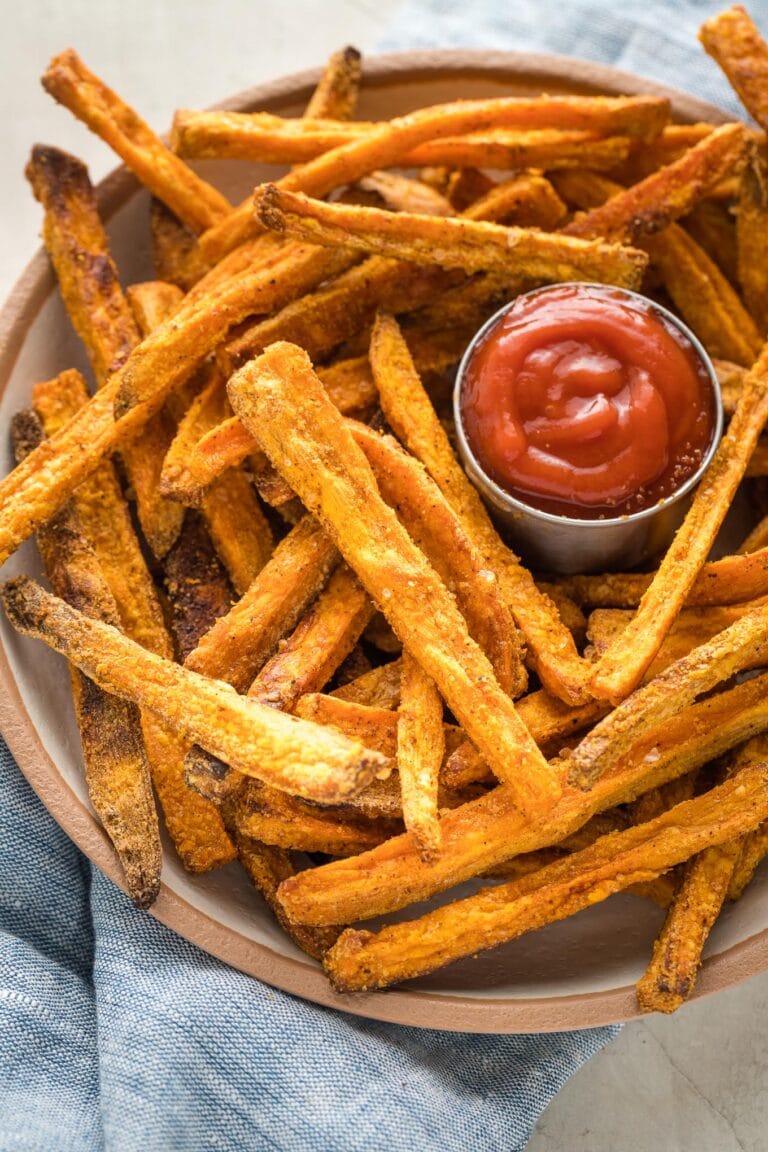 Sweet potatoes are nutritious!
You really can feel good about eating these, which is good because you're going to want to eat a lot! Baked sweet potato fries have a lot of redeeming nutrition, especially as compared to their deep-fried standard potato cousins.
According to this nutritional overview, orange sweet potatoes are a great source of fiber, vitamins, and minerals, and incredibly rich in beta-carotene, the antioxidant which gives them their vibrant color. Your body converts beta-carotene into vitamin A, and puts it to work supporting healthy vision.
So dig in! And share with the kids!
Variations
These fries are tasty with all kinds of seasoning combinations, so adapt to your own preferences. Here are a few ideas:
Make 'em cheesy. Sprinkle on a little Parmesan or any other shredded cheese that you like – right after they come out of the oven, or a few minutes before the end of the baking time if you want it melted.
Play up the "sweet." Add 1-2 tablespoons brown sugar and 1/2 teaspoon cinnamon to the seasoning mix.
Use different seasonings. Swap Italian seasoning, Cajun seasoning, Za'atar, taco seasoning, or a Caribbean jerk blend in place of the garlic-chili-paprika mixture.
And if you love potato side dishes, be sure to also try my cinnamon honey butter sweet potatoes, or these easy roasted Parmesan herb red potatoes.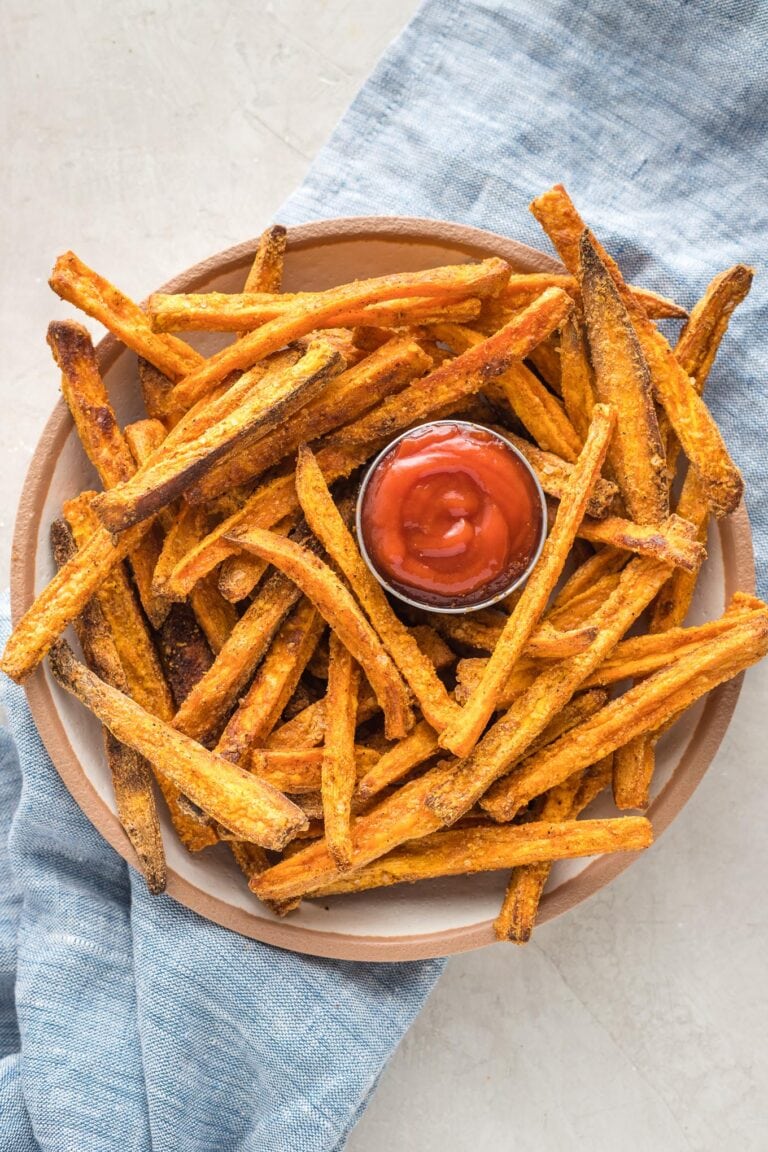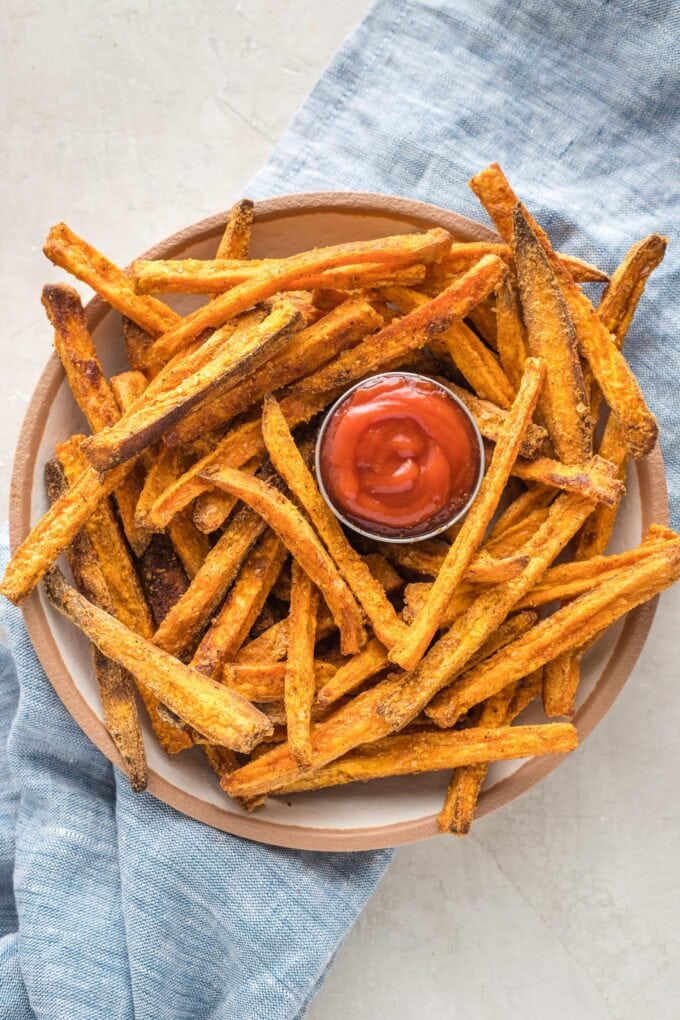 What to serve with them
Sweet potato fries are terrific alongside steaks, pork chops, burgers, hot dogs, or pretty much anything else you can grill. We especially love them with this dry rub chicken, which is super easy to grill or bake!
Will you try these fries? Let me know how you like them, or share any questions, in the comments below! I love your feedback.
You can also FOLLOW me on PINTEREST, INSTAGRAM, FACEBOOK, and TWITTER for more great recipes and ideas!
Crispy Baked Sweet Potato Fries
Learn all the secrets for making truly crispy baked sweet potato fries at home! These fries are easy to make and guaranteed to disappear in no time!
Ingredients
3-4 large sweet potatoes
2 tablespoons cornstarch
1/4 cup olive or avocado oil
1 teaspoon garlic powder
1/2 teaspoon chili powder
1/2 teaspoon paprika regular or smoked
1 teaspoon sea salt
Instructions
Preheat oven to 400 degrees and line one or two large baking sheets with parchment paper. Peel and cut sweet potatoes into sticks about 1/4-inch wide.

In a large mixing bowl, combine cut sweet potatoes and cornstarch. Toss to give the potatoes a thin coating, then pour them out into a colander and shake it over the sink to remove extra starch. Wipe out the bowl with a paper towel, return the potatoes to it, and add the oil, garlic powder, chili powder, and paprika. Toss well.

Spread potatoes out on the baking sheets, leaving as much space between them as possible. Roast for 30 minutes, using a spatula to flip them over halfway through.

If you have time, turn off the oven and leave the fries inside for an additional 20-30 minutes while the temperature drops. Remove, sprinkle with sea salt, and enjoy!
Notes
This recipe yields 6 moderate side portions, but I often find they disappear so quickly that I round up the fries per person. 
Nutrition Estimate
Calories: 153 kcal, Carbohydrates: 24 g, Protein: 2 g, Fat: 6 g, Saturated Fat: 1 g, Sodium: 453 mg, Potassium: 387 mg, Fiber: 4 g, Sugar: 5 g, Vitamin A: 16163 IU, Vitamin C: 3 mg, Calcium: 34 mg, Iron: 1 mg
Did you make this recipe?
Leave a review below, then snap a quick picture and tag @nourishandfete on Instagram so I can see it!