The Best Chicken and Hummus Bistro Box
A simple and delicious Greek yogurt marinade sets this chicken hummus bistro box a cut above the rest. Lunch this week is looking good!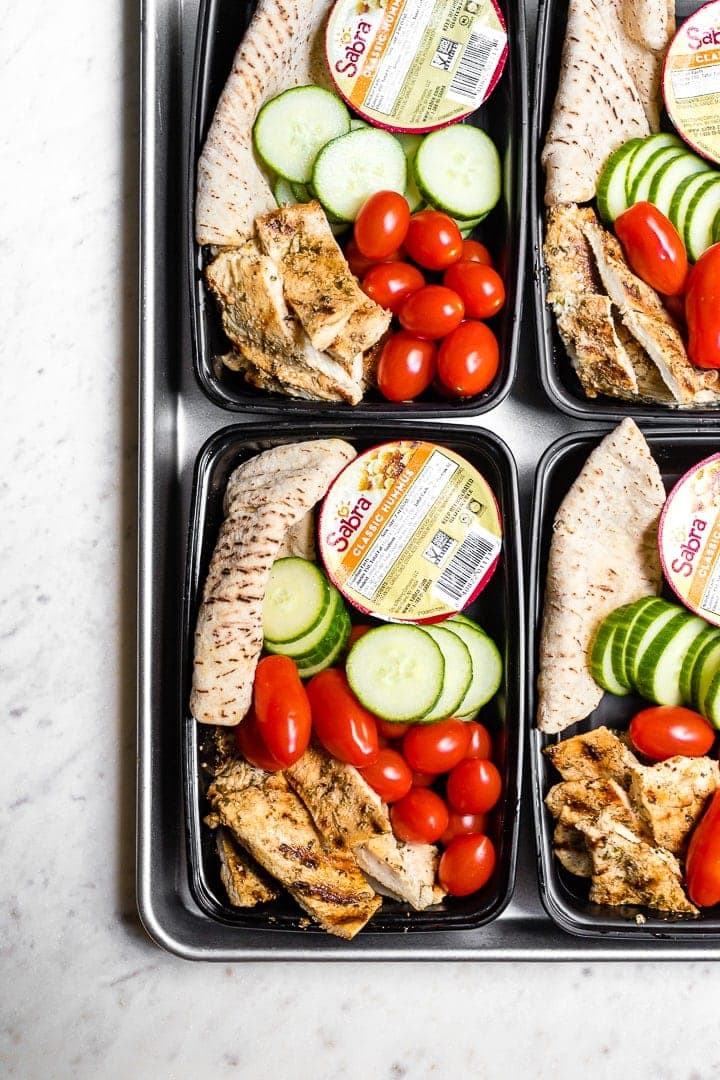 Bringing food from home is one of the most effective ways to avoid spending a lot of money and eating unhealthful lunches and snacks while at work. Yet it can still be difficult to carve out time to prep lunches in advance – and more difficult to keep them exciting!
I know I often leave lunch prep to simply vowing to take whatever dinner leftovers are on hand with me to work. Except that either I literally forget to grab them on the way out the door, or, even more often, they are just.. not that appealing. Which makes it far too tempting to just spend the $7-10 on a cafeteria lunch at work.
Fortunately, this copycat Starbucks chicken and hummus bistro box solves all the problems for me. I've made a few batches of these and love them so much. They are delicious, filling, healthy, and since I make them specifically for my hubby and I to take for work lunches, they feel exciting and fresh.
What's in a bistro box lunch?
Well, there are all kinds of bistro box possibilities, but this one is pretty simple:
A miniature whole grain pita pocket. I recently found some from Joseph's brand at Harris Teeter, and they are incredible. The only pitas that rival my favorite homemade ones. And obviously a lot more convenient for every day!
Hummus. Again, you could definitely go homemade, or the little packs from Sabra are pretty delicious and make life easy! (Note: this post is not sponsored, these are just brands that I use and love.)
Sliced cucumber.
Cherry or grape tomatoes.
And, the BEST chicken. This is the special little something!
Before cooking, you'll marinate the chicken for about 1 hour in a simple mixture of Greek yogurt, red wine vinegar, olive oil, lemon juice, and a generous amount of oregano.
The marinade takes just a couple minutes to stir together, then you can easily do something else while it rests in the fridge. Then simply grill or sauté the chicken to cook, slice it up, and assemble with the other ingredients.
Lunch is ready!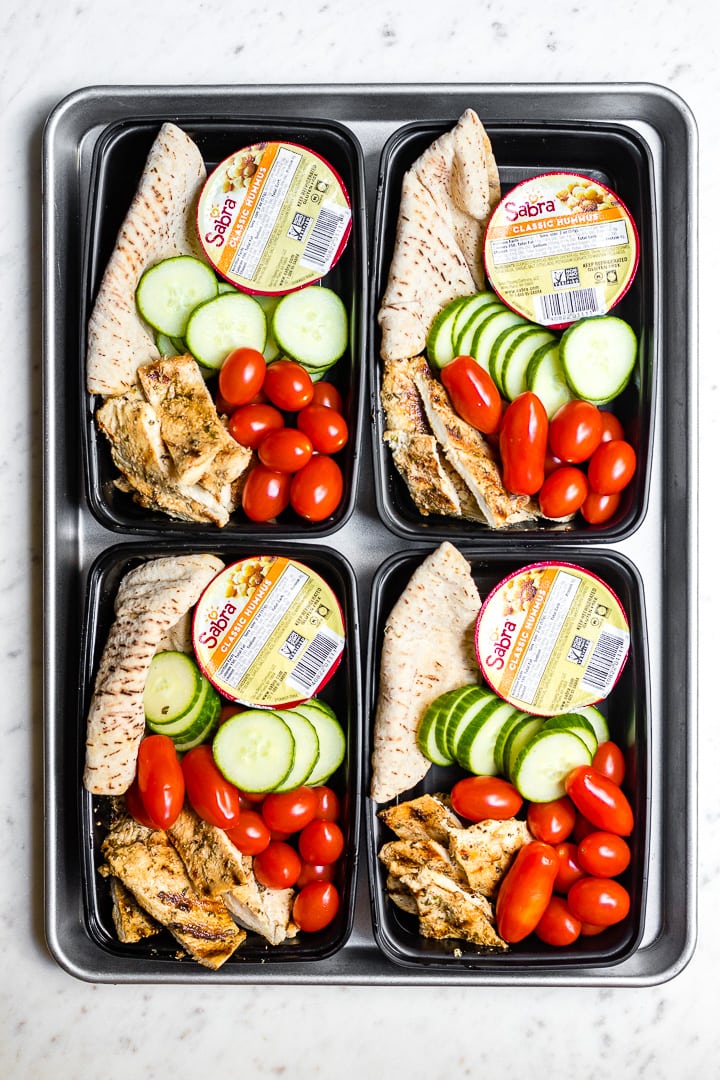 If you try this chicken hummus bistro box or any other recipe on the blog, please remember to rate the recipe and leave a comment below. I love hearing from you, and other readers will benefit from your experience!
Chicken Hummus Bistro Box
A delicious and simple Greek yogurt marinade makes this chicken hummus bistro box the best you'll ever have!
Ingredients
For the chicken:
4 cloves garlic smashed
Juice of 1 lemon
3 heaping tablespoons plain yogurt
2 tablespoons extra virgin olive oil
1 tablespoon dried oregano
2 teaspoons red wine vinegar
pinch of kosher salt
freshly-ground black pepper
1 1/2 lbs. boneless skinless chicken breasts
To assemble boxes:
1 large cucumber thinly sliced
2 cups cherry or grape tomatoes
1/2 cup hummus homemade or store-bought
4 mini whole wheat pitas
Instructions
To marinate the chicken, combine the garlic, lemon juice, yogurt, olive oil, oregano, red wine vinegar, salt, and pepper in a medium bowl. Whisk until combined. Add chicken to the bowl and turn each piece to coat both sides. Cover and refrigerate for about 1 hour.

Cook chicken as desired, either on the grill or using a grill pan or skillet with a thin coat of olive oil. Once the chicken is cooked through, transfer to a plate and let rest for 5 minutes. Cut into strips, if desired.

To assemble lunch boxes, arrange chicken, cucumber slices, tomatoes, hummus, and pita bread in meal prep containers. Store in the fridge and enjoy throughout the week!
Notes
Try not to let the chicken rest in its yogurt marinade for much longer than 75-90 minutes if possible. If left for a long time, the presence of the lemon juice in the marinade could negatively affect the texture of the chicken.
These are my favorite light-weight meal prep containers - convenient size, microwave and dishwasher-safe!
Nutrition Estimate
Calories: 411 kcal, Carbohydrates: 26 g, Protein: 42 g, Fat: 15 g, Saturated Fat: 2 g, Cholesterol: 108 mg, Sodium: 449 mg, Potassium: 1039 mg, Fiber: 5 g, Sugar: 3 g, Vitamin A: 490 IU, Vitamin C: 22.4 mg, Calcium: 68 mg, Iron: 3.4 mg
Did you make this recipe?
Leave a review below, then snap a quick picture and tag @nourishandfete on Instagram so I can see it!