Creamy Crockpot Chicken Gnocchi Soup
This chicken gnocchi soup recipe is dreamy comfort food made slow cooker simple. It's packed with tender veggies and flavorful chicken, dotted with pillowy gnocchi, and all wrapped up in a velvety soup that will have everyone scraping the bowl.
If you love comforting soups, Instant Pot creamy wild rice, carrot red pepper, or healthy tortellini chicken noodle varieties are all guaranteed to please!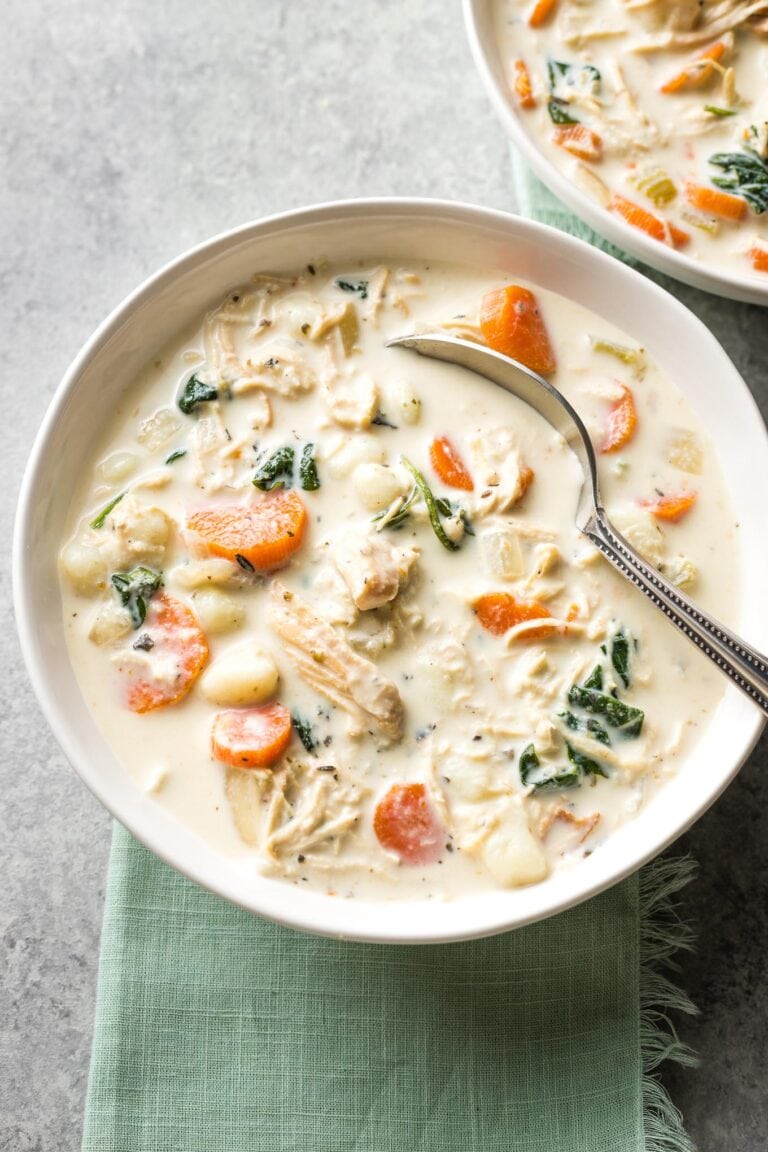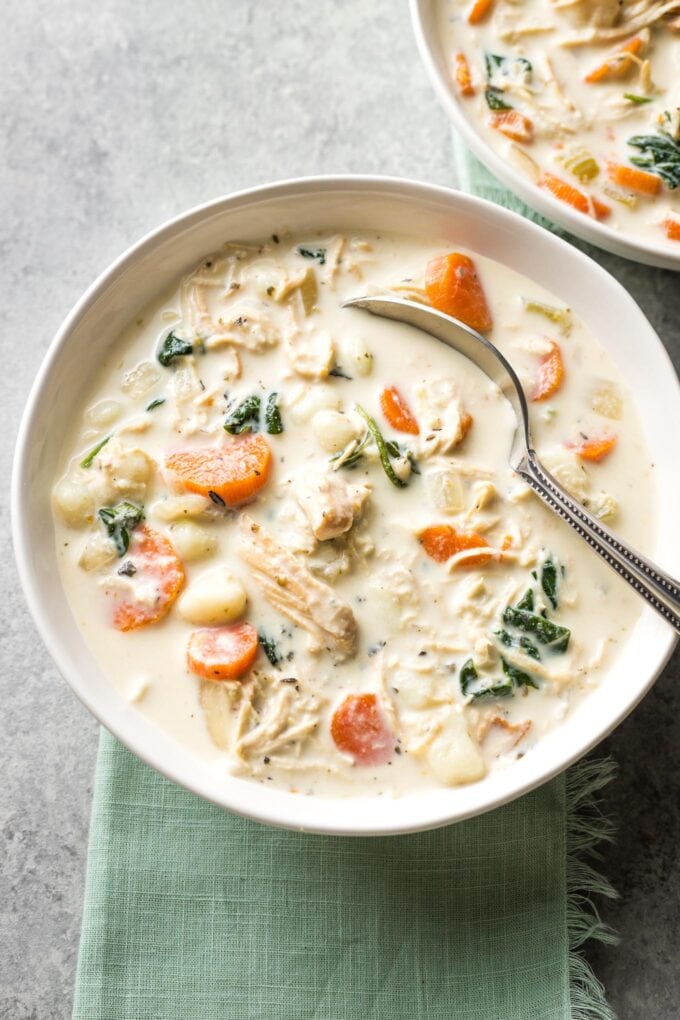 The best part of this soup is the smooth, creamy base. Or maybe it's the bites when a soft, pillowy gnocchi lands on your spoon. No, wait, I think it's actually the tender, perfectly-seasoned, slow-cooked pieces of chicken.
Thank goodness we don't really have to decide. The true best part is that all this comes together in one tasty package.
Whether or not you're a fan of Olive Garden, which offers chicken gnocchi soup as a very popular menu item, you will love this soup and be excited to add it to your dinner rotation. And, for the busy home cooks among us, it's one of those glorious meals beautifully suited to the crockpot or slow cooker. You literally get simmered-all-day flavor with minimal effort.
Ingredients and shopping tips
Here's what you'll need to make this creamy crockpot chicken gnocchi soup. And trust me, you want to make this happen tonight! As always, you can see the full recipe below for detailed amounts and instructions.
About 1 lb. boneless, skinless chicken breasts
1 small onion – white or yellow
3-4 medium carrots
1-2 stalks celery
3 cups or so baby spinach
Garlic cloves
Chicken broth or stock – preferably low-sodium so you can control the salt content to taste
Cornstarch – I consider this a pantry staple; if you don't have it on hand, look for it in a small box or jar in the baking aisle
Two (12 ounce) cans evaporated milk – also in the baking aisle
One 1 lb. package dried potato gnocchi – typically sold with the boxed pasta. If your store carries mini gnocchi, as shown below, they are especially nice for small bites of soup, but I've made this with full-size gnocchi, as well, with great results
Seasonings: dried basil, Italian seasoning, salt & pepper
Why evaporated milk?
Since reading Kitchn's take on creamy slow cooker soups, I've been dying to experiment with evaporated milk in the crockpot. And it's kismet for making a low-and-slow version of chicken gnocchi soup, delivering a smooth and rich texture that's hard to resist.
In short, evaporated milk does a beautiful job of thickening soup just enough, and adding creaminess without requiring you to pour in glug after glug of delicious but artery-clogging heavy cream.
What kind of gnocchi are best?
When it comes to store-bought gnocchi, quality matters, and all are not created equal. Dense, dry gnocchi give their lighter, airy cousins a bad name. If you can find DeLallo brand, go for it – they've never let this Pittsburgh girl down!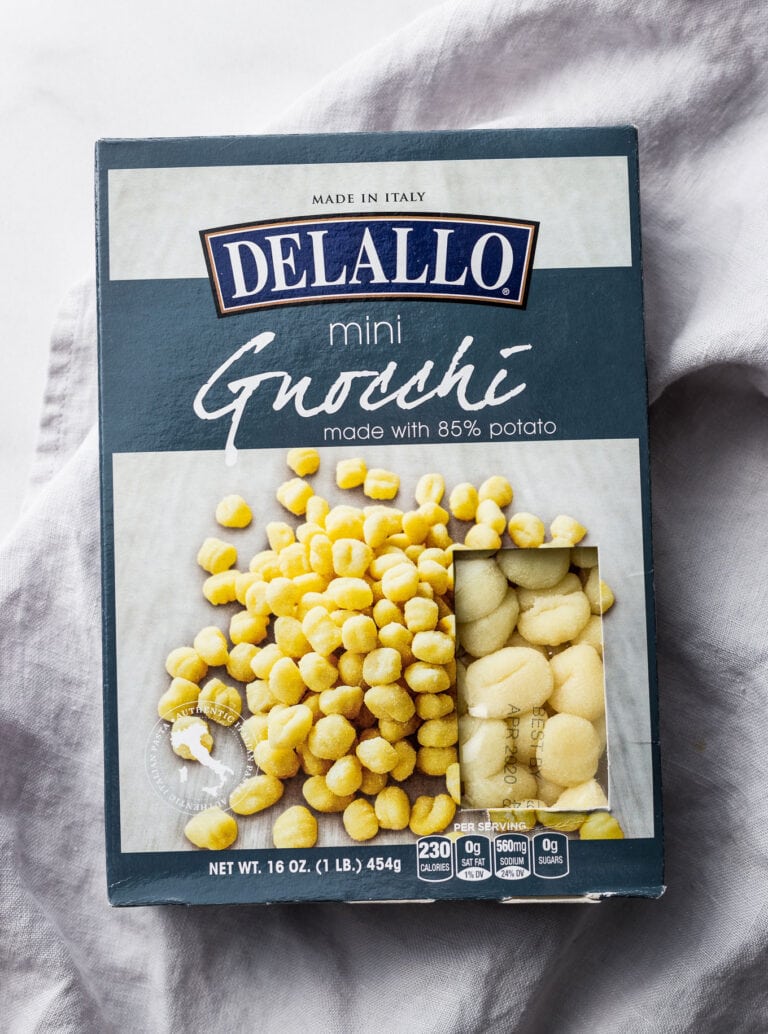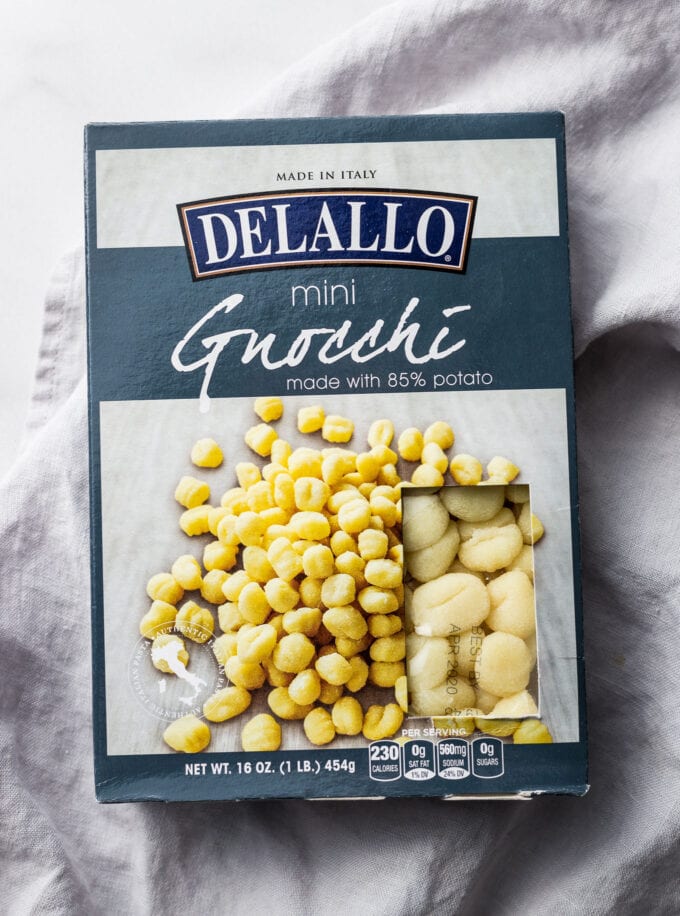 Whatever the brand, you're looking for the dried, shelf-stable gnocchi typically sold near other boxed pastas. They cook perfectly right in the crockpot with the soup. No need to boil water and cook separately.
How to make chicken gnocchi soup in the crockpot
You won't believe something so delicious can be so simple to make.
First, add the chicken, veggies, seasoning, and broth to a large crockpot. We love this 6-quart version; it doesn't have many bells and whistles but is a reliable and affordable workhorse.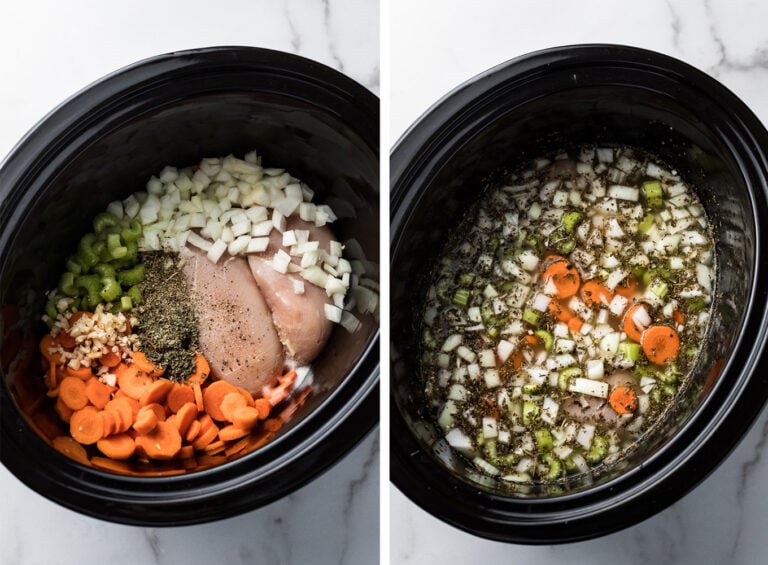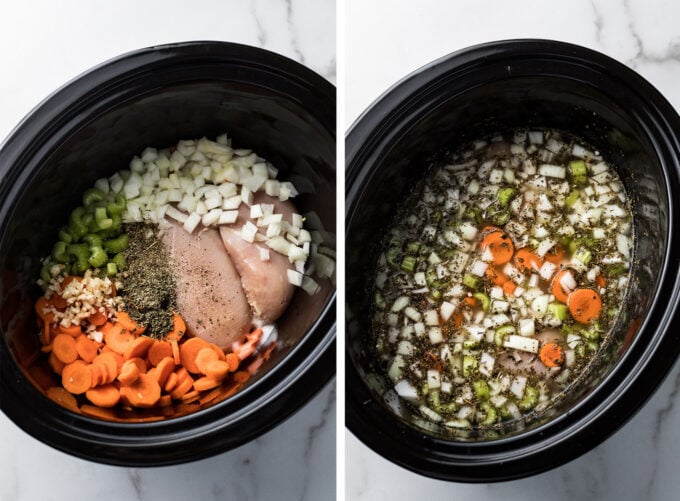 Cook for 6-8 hours on low or 4-5 hours on high, then shred the chicken. It will be very tender and easy to pull apart with two forks. You may even be able to shred it inside the crockpot; if not, scrape the pieces back in.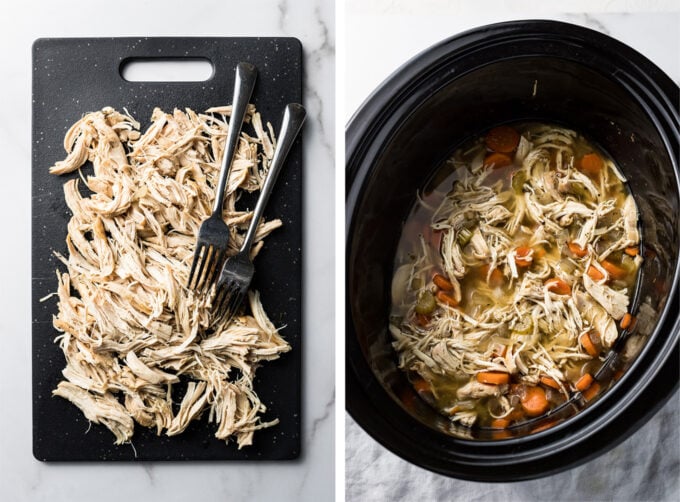 Now add a cornstarch slurry, the evaporated milk, and the uncooked gnocchi.
Mix cornstarch with cold water
Helpful hint: when making the slurry, be very sure to mix the cornstarch with cold water. Using hot or even warm water can lead to clumps or just a gritty texture. Cold water works like a charm every time.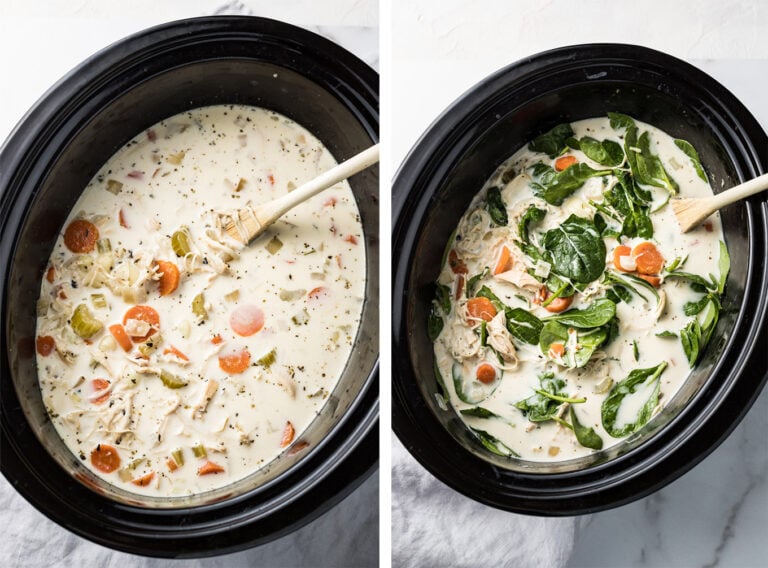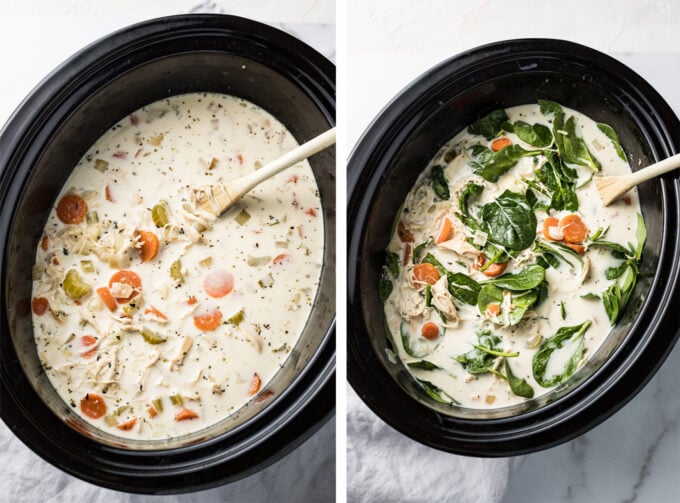 Re-cover the crockpot and cook for another 20-30 minutes, then add the spinach, let it wilt, and serve.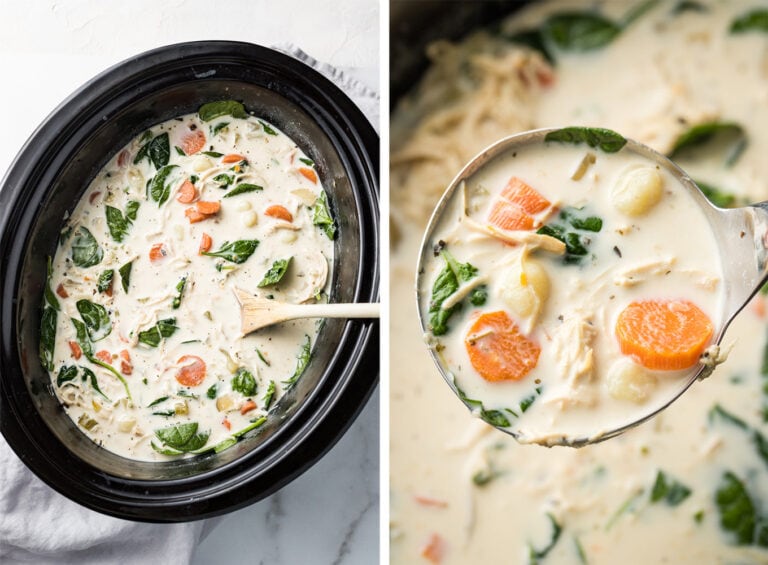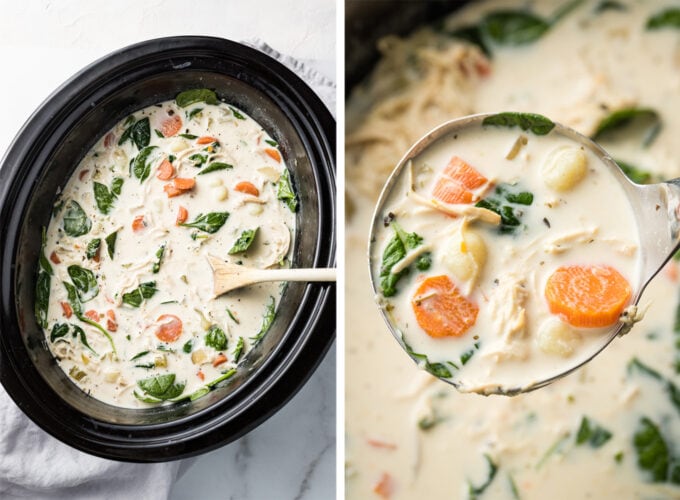 Get ready for some major smiles around your table, and maybe even a high-five or two! It's that good!
If you're really feeling it, fry up a few slices of bacon to crumble into or on top of the bowls. So much flavor.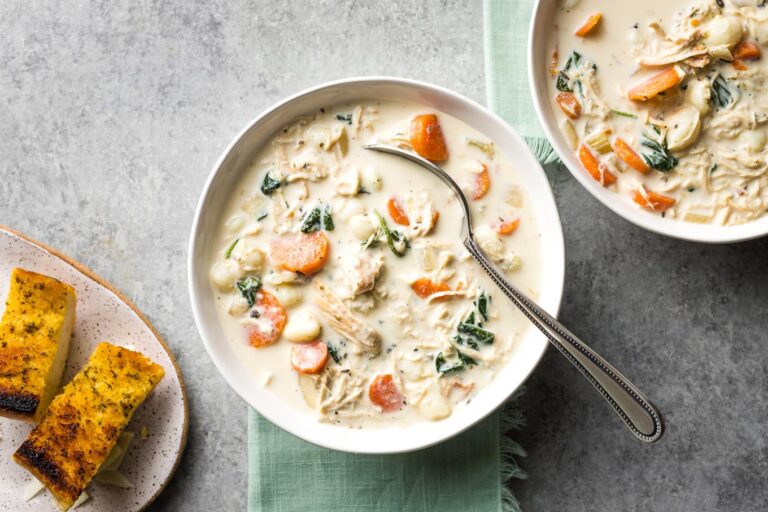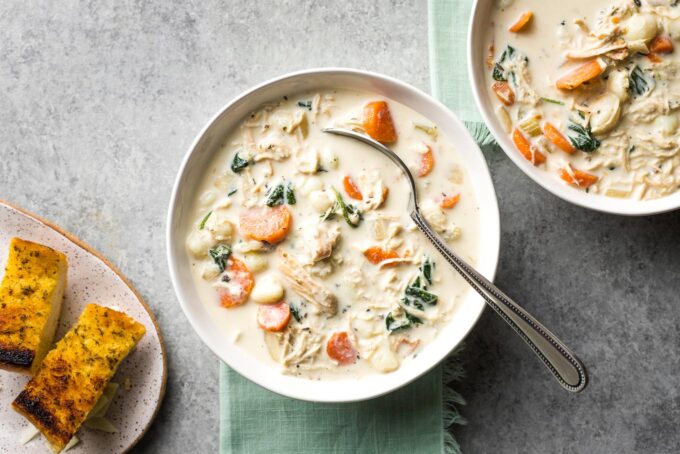 Complete the meal
Crockpot chicken gnocchi soup is hearty feel-good fare. It goes great with: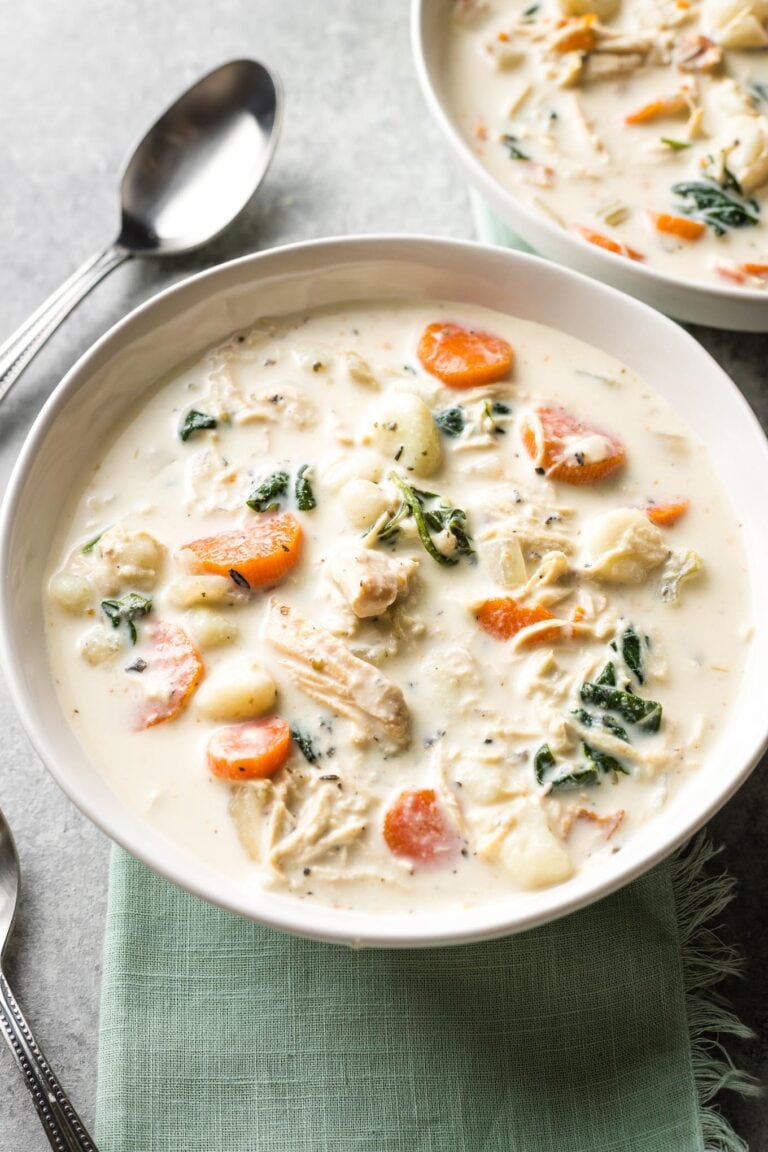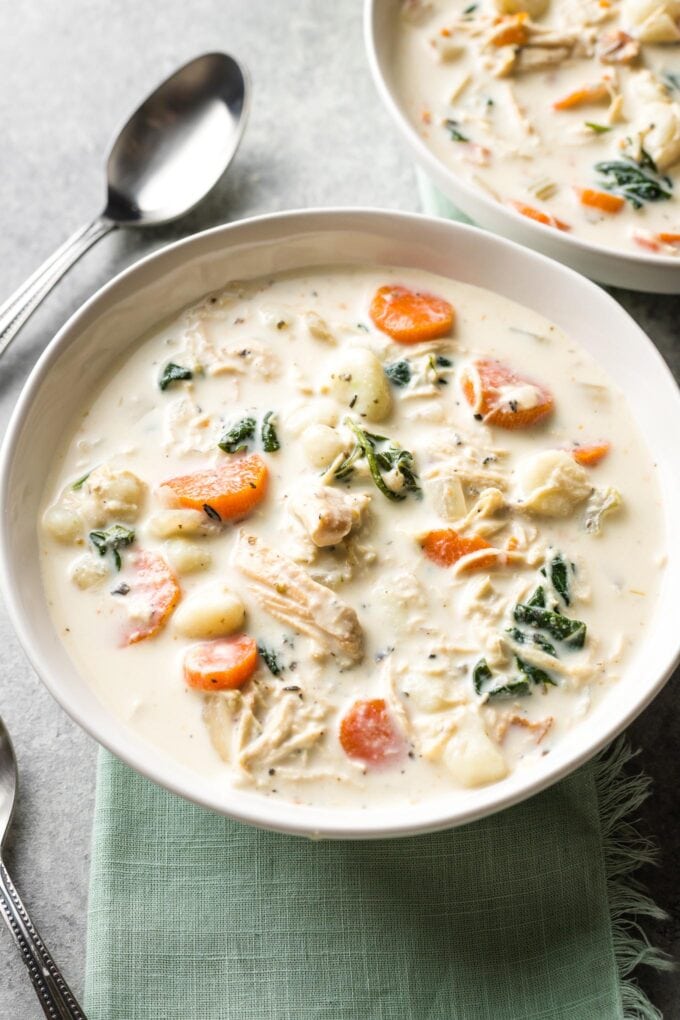 You can also FOLLOW me on PINTEREST, INSTAGRAM, FACEBOOK, and TWITTER for more great recipes and ideas!
Creamy Crockpot Chicken Gnocchi Soup
Craving comfort? This is the perfect recipe! Tender veggies, pillowy gnocchi, and a velvety broth that everyone loves, all made together in your slow cooker or crockpot.
Ingredients
1 lb. boneless skinless chicken breasts
1 small onion chopped
3-4 medium carrots peeled and chopped
1-2 stalks celery chopped
4 cloves garlic minced
2 teaspoons dried basil
2 teaspoons Italian seasoning
1 teaspoon salt
10-12 cranks freshly-ground black pepper
4 cups chicken broth
2 tablespoons cornstarch
2 tablespoons cold water
2 12 ounce cans evaporated milk
1 pound potato gnocchi the shelf-stable kind, mini if you can find them
3 cups fresh baby spinach
4 slices cooked bacon optional, to serve
Instructions
Place the raw chicken, chopped onion, carrots, celery, minced garlic, basil, Italian seasoning, salt, and pepper in a large crockpot or slow cooker. Pour chicken stock or broth on top. Cover and cook on low for 6-8 hours or on high for 4-5 hours.

While keeping the crockpot on, shred the chicken, either directly in the pot or by removing to a cutting board. It will be ready to fall apart easily. If you took the chicken out to shred, return the pieces to the crockpot.

In a small bowl or liquid measuring cup, whisk together the cornstarch and cold water to make a thick slurry. Scrape that into the crockpot, along with both cans of evaporated milk and the gnocchi. Stir well to combine, then re-cover the crockpot and cook for another 20-30 minutes. The soup should be slightly thickened; the gnocchi, tender.

Just before serving, stir in the spinach and let it wilt for 2-3 minutes. Taste and season with additional salt and pepper, as desired. Serve with crumbled cooked bacon or fresh herbs for garnish. Enjoy!
Notes
Be very sure to use cold water when making the cornstarch slurry. Adding cornstarch directly to a hot or warm liquid can lead to clumps or a gritty texture.
If you prefer a thicker soup, try increasing the amount of cornstarch and water to 3 tablespoons each. You can also simply let the soup cook longer after adding the milk and gnocchi, with or without the crockpot lid.
If the soup becomes too thick for your taste, simply add water or additional broth, 1/4 cup at a time, stirring well.
Nutrition Estimate
Serving: 1 cup, Calories: 273 kcal, Carbohydrates: 30 g, Protein: 20 g, Fat: 9 g, Saturated Fat: 4 g, Cholesterol: 52 mg, Sodium: 616 mg, Potassium: 625 mg, Fiber: 2 g, Sugar: 8 g, Vitamin A: 4090 IU, Vitamin C: 7 mg, Calcium: 228 mg, Iron: 3 mg
Did you make this recipe?
Leave a review below, then snap a quick picture and tag @nourishandfete on Instagram so I can see it!