Fresh Mango Avocado Salsa
A cheerful, bright, and fresh mango avocado salsa makes the perfect side, snack, or finishing touch to your next taco night.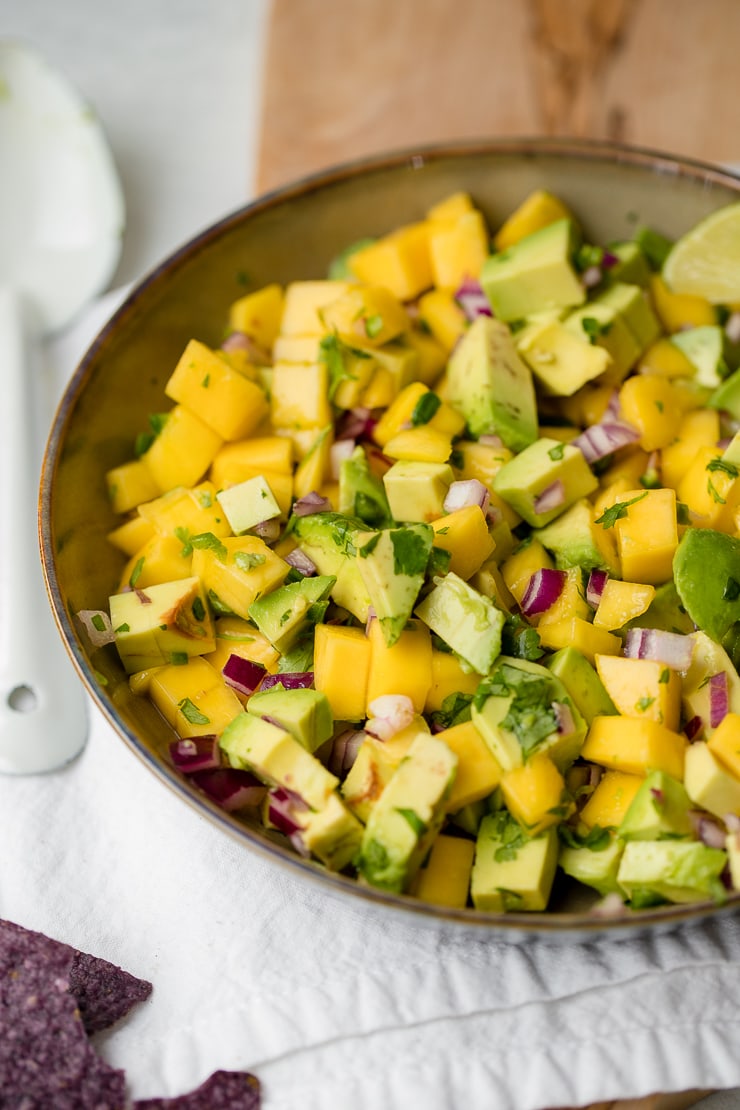 On the short list of things that our newly-minted threenager loves more than life itself is mango. The kid can easily plow through an entire fresh mango in one sitting, no problem. I've never offered him more than that, and am slightly afraid that the limit may not exist.
As a result, about a month ago, I finally took the three minutes to watch a video and figure out how to cut a mango myself. And, spoiler alert, once you know what you're doing, it's not hard! Previously I might have purchased a fresh, whole mango myself once a year or so, and attempted to attack it on my own. This would universally lead to a pile of grossly misshapen orange chunks and a really pathetic yield of edible fruit, especially compared to the huge amounts I either failed to get off the skin or just smashed beyond all recognition. Not pretty.
Ahem. No longer! Now I buy mangos whole and can actually make presentable cubes of the fruit, which basically makes me feel like a rock star. This is the good side of YouTube, people – watch and learn for yourself.
Now we eat all the mango, all the time, and I'm constantly obsessing over new ways to use it. The first resulting recipe I want to share here is this super fresh mango avocado salsa. I've inhaled batches by itself with chips, spooned over shrimp tacos, and piled high atop beef barbacoa, and am happy to report that it goes SO WELL with, well, everything! This will definitely be on repeat all summer long. And probably long after that, because let's be honest, who doesn't need a salsa that looks and tastes like summer when the weather turns cold and gray!?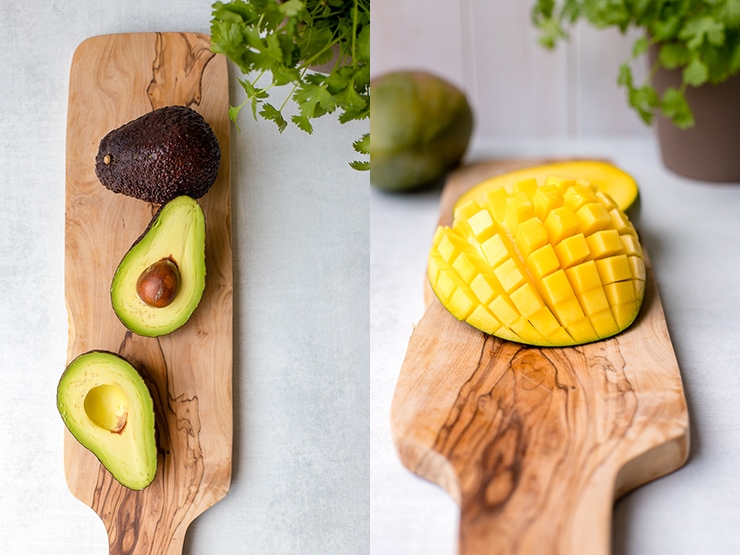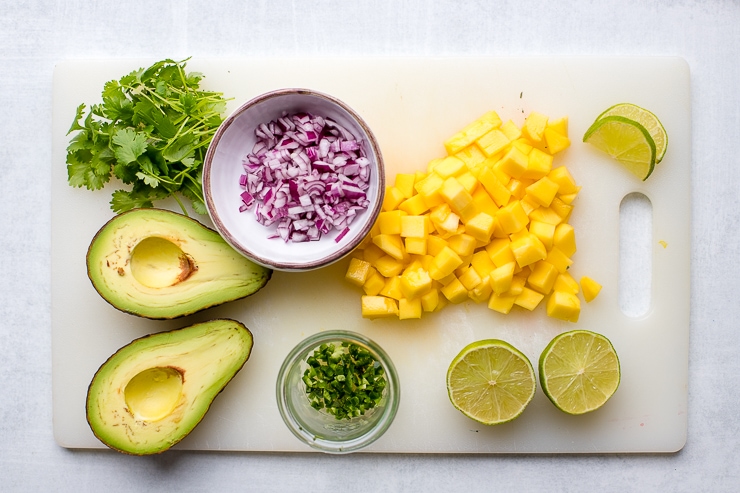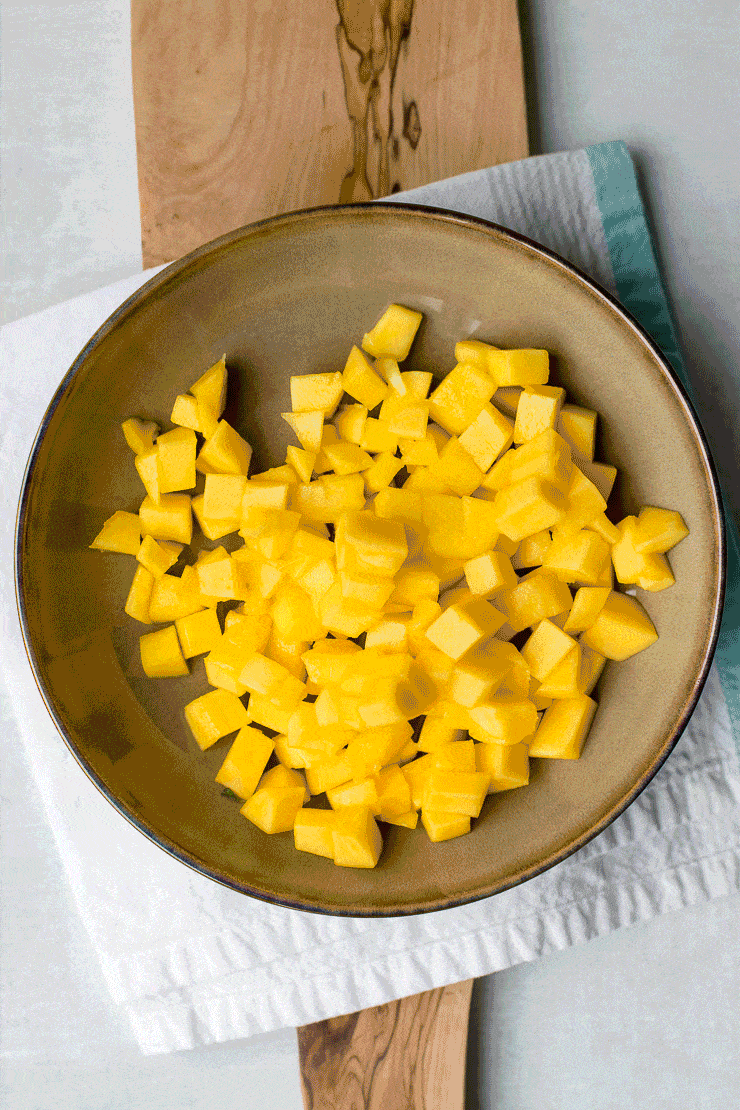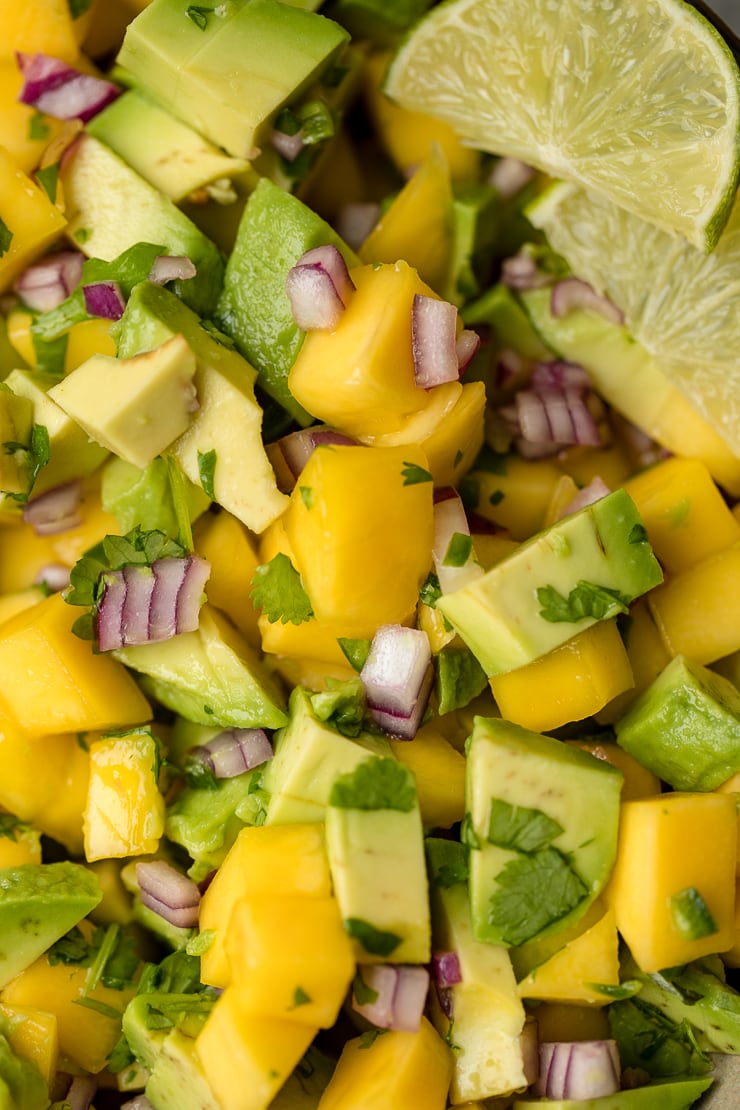 A Few Tips For Making Mango Avocado Salsa
Fresh ingredients carry the day here – mango, avocado, red onion, cilantro, lime juice, and a bit of jalapeño. If you don't dig the onion, just leave it out, or consider subbing some red bell pepper!
I personally just cut the mango the first way shown in the referenced video, cutting my "grid" into smaller, salsa-sized chunks, then using a paring knife to separate the chunks from the skin. I find I'm pretty sloppy still with the "peel and boards" method – maybe I need a better peeler??
For a pretty mild salsa, I usually use just half a jalapeño with all of the seeds and membrane removed – obviously adjust to your own taste!
A good cutting board (affiliate link) prevents slipping and cross-contamination with anything else you've got going in the kitchen at the same time!
This tastes best made fresh, but if you want to get ahead, prep everything except the avocado, and mix that in last!
Now before you think for even a second that we've conquered the picky eating phase, rest assured that just because my son loves mango does NOT mean he will eat it mixed in with all these interlopers. So, when you're a food blogger and a mama, too, you get scenes like this: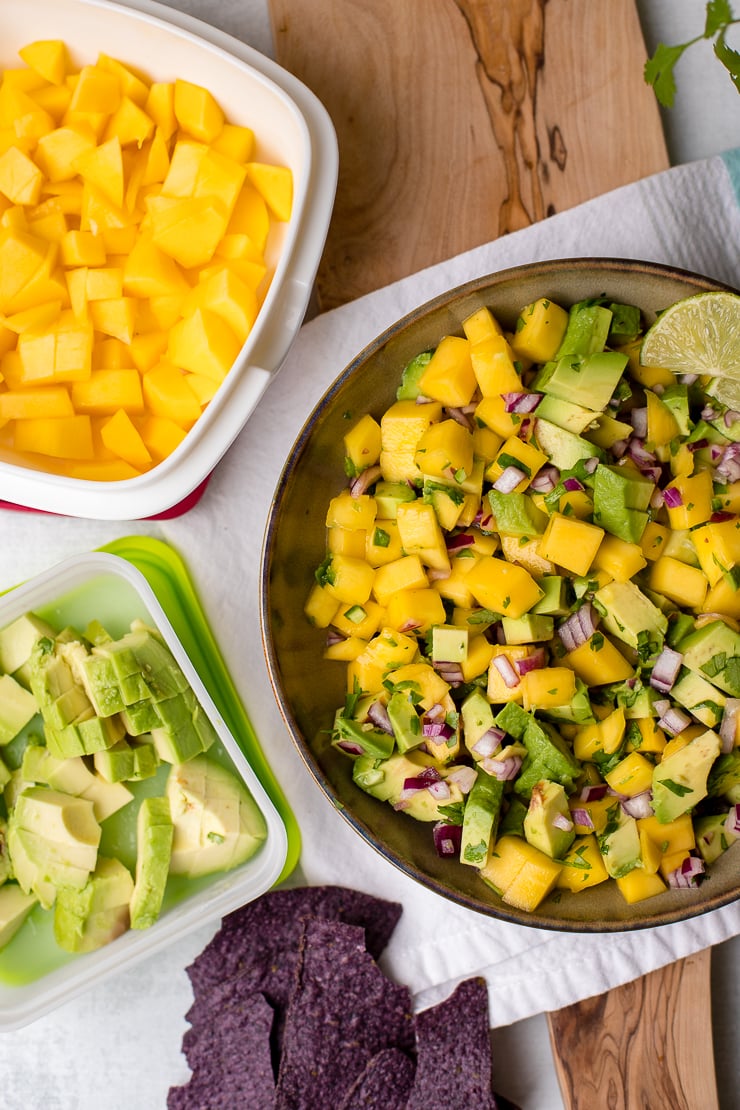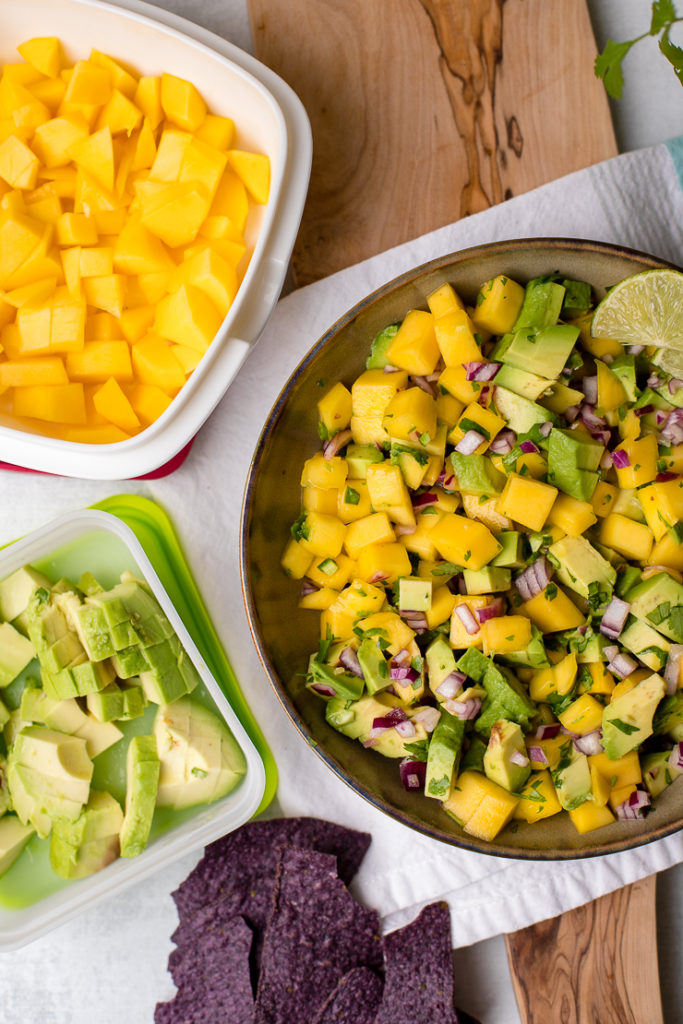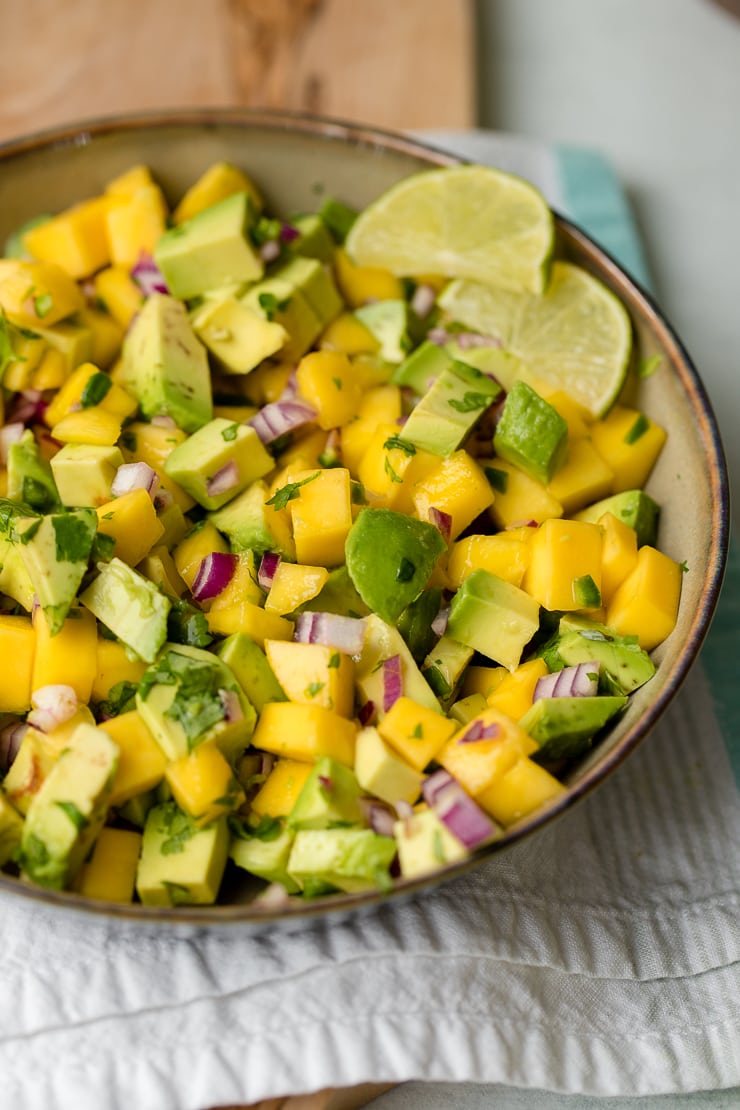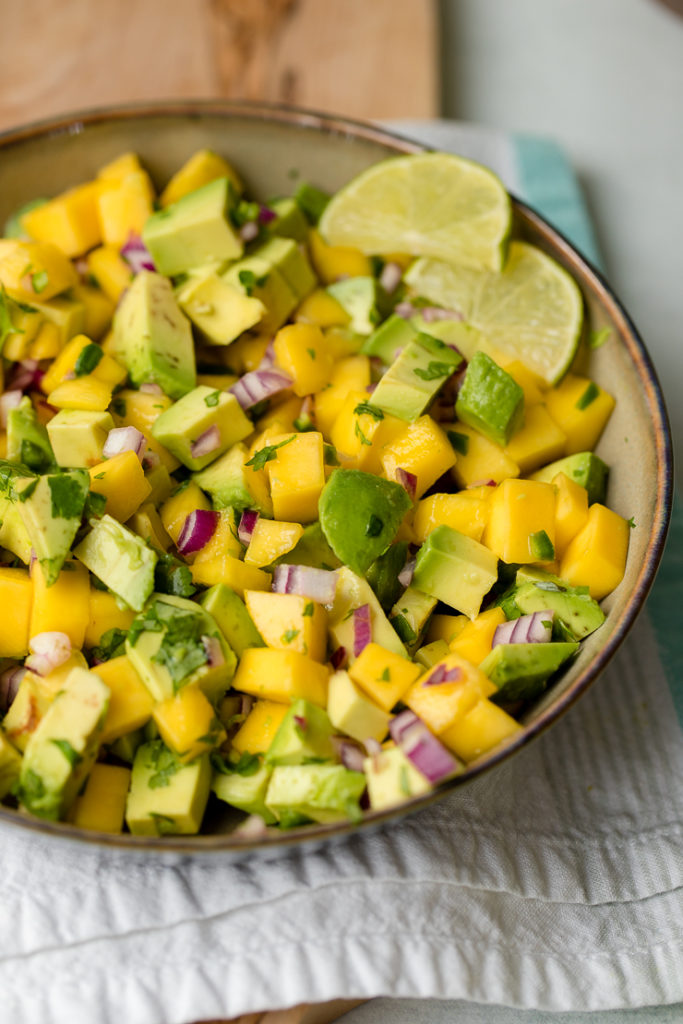 For more great salsas and sides, try making your own homemade pico de gallo (so much better than anything from a store!) and, of course, guacamole! And pile it all high on top of these sheet pan chipotle lime shrimp fajitas or skinny Baja chicken tacos – your family will go crazy!
And don't forget a margarita for the chef. 🙂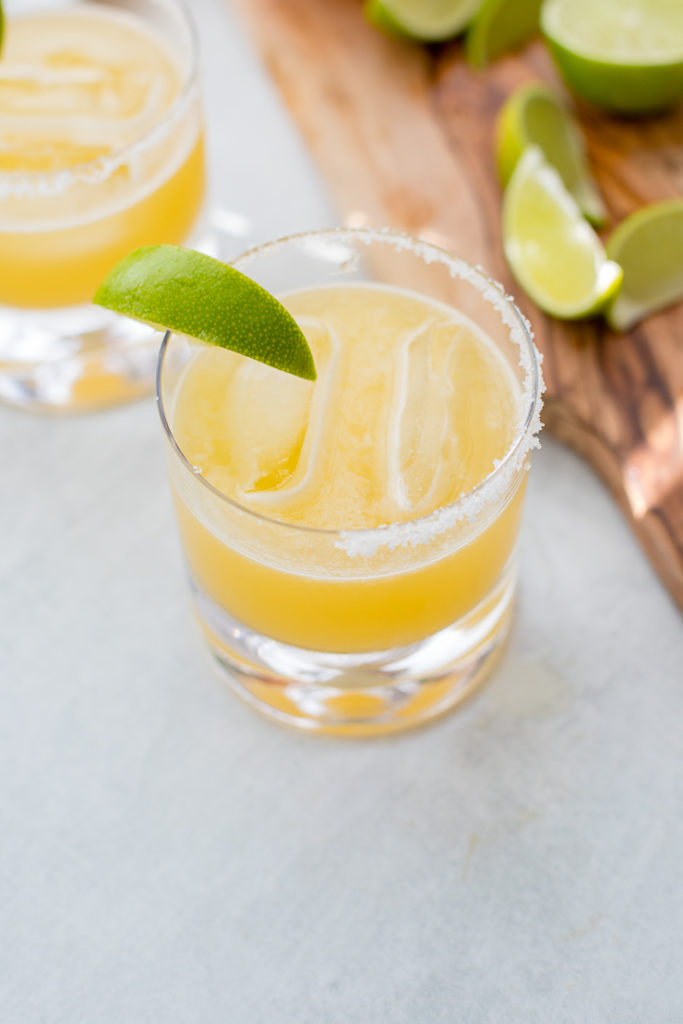 If you try this salsa or any other recipe on the blog, please remember to rate the recipe and leave a comment below. I love hearing from you, and other readers will benefit from your experience!
Fresh Mango Avocado Salsa
A cheerful, bright mango avocado salsa makes the perfect side, snack, or finishing touch to your next taco night.
Ingredients
1 mango cut into small cubes
1 avocado cut into small cubes
1/2-1 jalapeno pepper seeded and diced
1/2 small red onion finely chopped
small handful fresh cilantro leaves chopped
juice of 1/2 lime
pinch kosher salt
Instructions
In a large bowl, combine all ingredients and stir gently to combine. Serve immediately, or chill in the fridge for 1-2 hours. Enjoy!
Notes
This does taste best when freshly made, but if you really need to prep ahead, combine everything except the avocado, then cut and mix in the avocado cubes immediately before serving to minimize browning. Be sure the avocado is well-coated in lime juice - that will help, as well.
Nutrition Estimate
Calories: 222kcal, Carbohydrates: 23g, Protein: 3g, Fat: 15g, Saturated Fat: 2g, Sodium: 9mg, Potassium: 666mg, Fiber: 8g, Sugar: 13g, Vitamin A: 1075IU, Vitamin C: 46.3mg, Calcium: 27mg, Iron: 0.7mg
Did you make this recipe?
Leave a review below, then snap a quick picture and tag @nourishandfete on Instagram so I can see it!