Roasted Red Pepper Chicken
This Roasted Red Pepper Chicken skillet is a delicious and easy 30-minute meal of tender, pan-fried chicken breasts nestled in a creamy, lightly sweet red pepper sauce.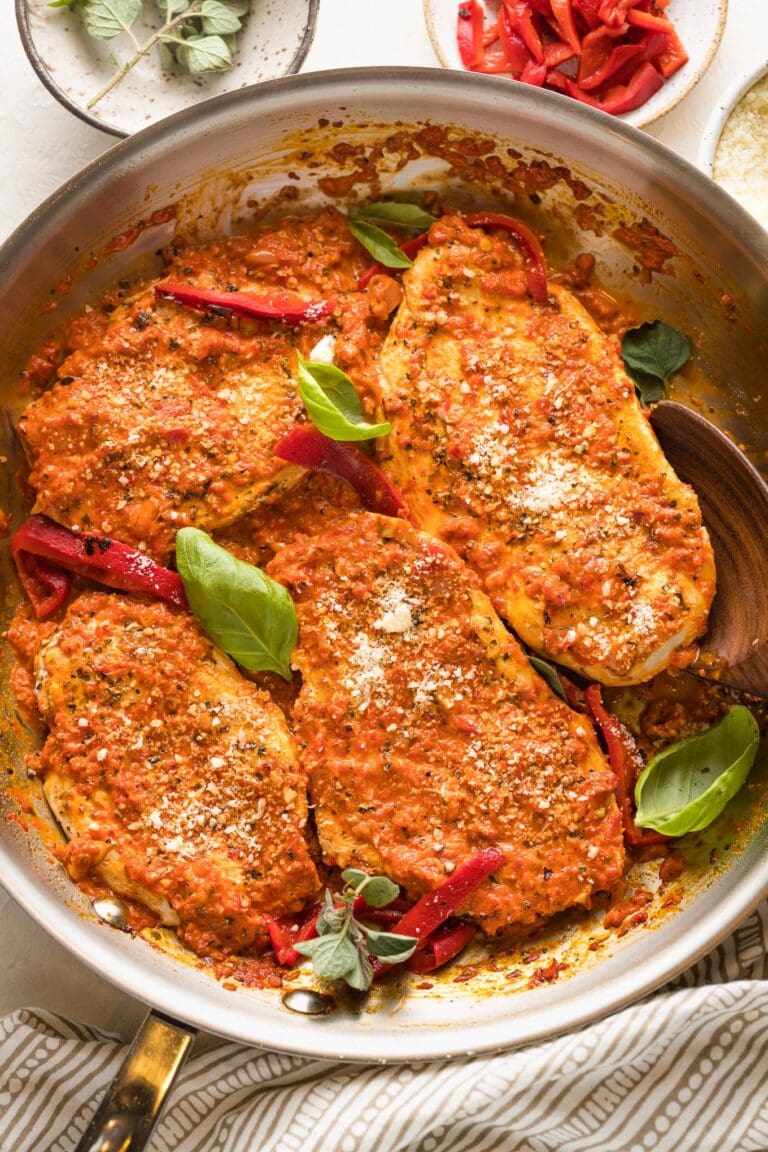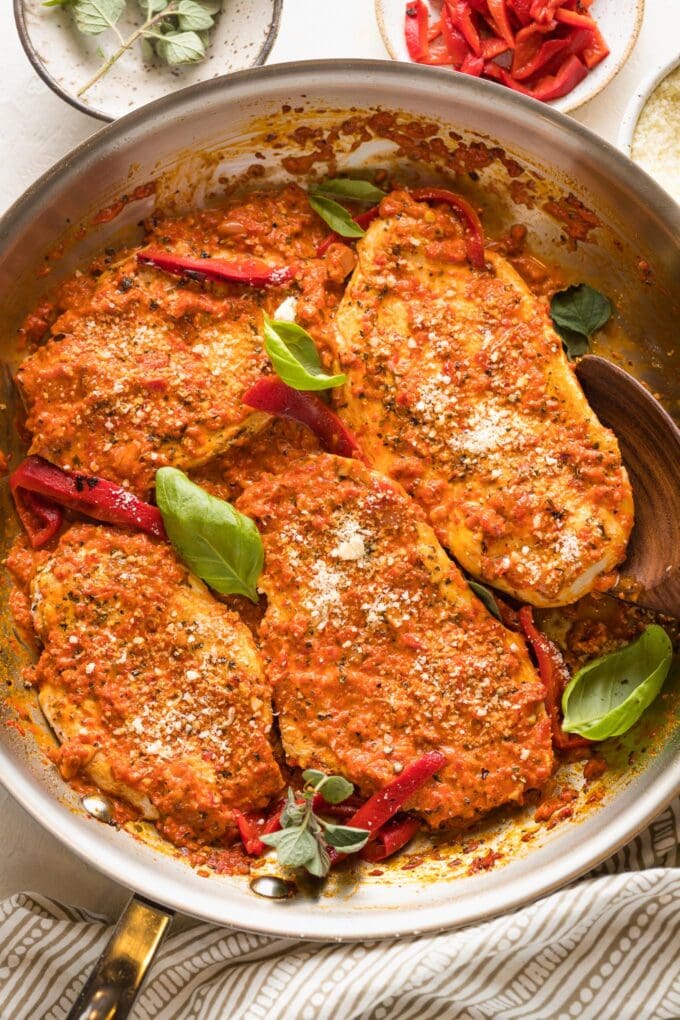 A home cook can never have too many quick and easy ways to dress up chicken breasts for dinner! This particular creamy red pepper chicken skillet is appealing because it feels a tiny bit elegant, yet can still be on the table in 30 minutes or less.
We love this roasted red pepper pasta for a creamy, lightly sweet change from traditional tomato-based sauces, so it was only a matter of time before we adapted the sauce just a bit to make it work with chicken breasts. Both of these recipes are great reasons to keep a jar of roasted red peppers tucked in your pantry: they're one of those ingredients that can punch well above their weight to add flavor and interest to everyday meals.
Ingredients & Common Substitutions
Here is a visual overview of the ingredients you'll need for this recipe. Scroll down to the printable recipe card at the bottom of this post for quantities!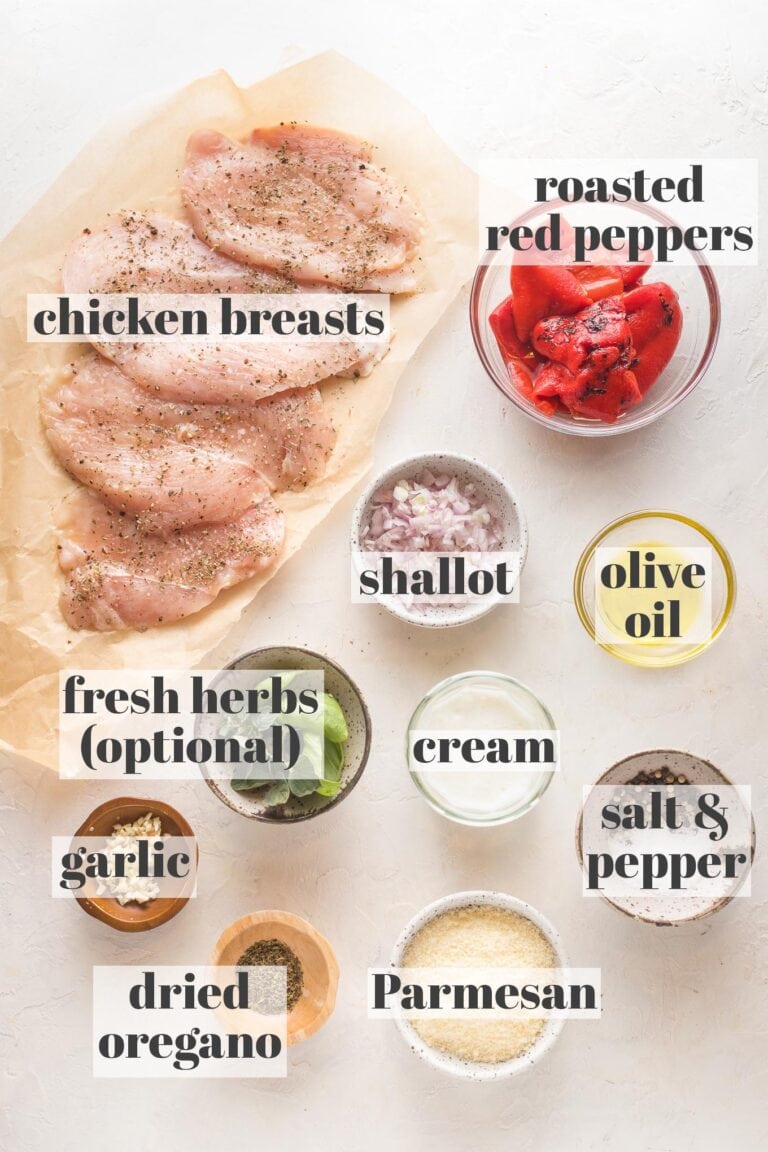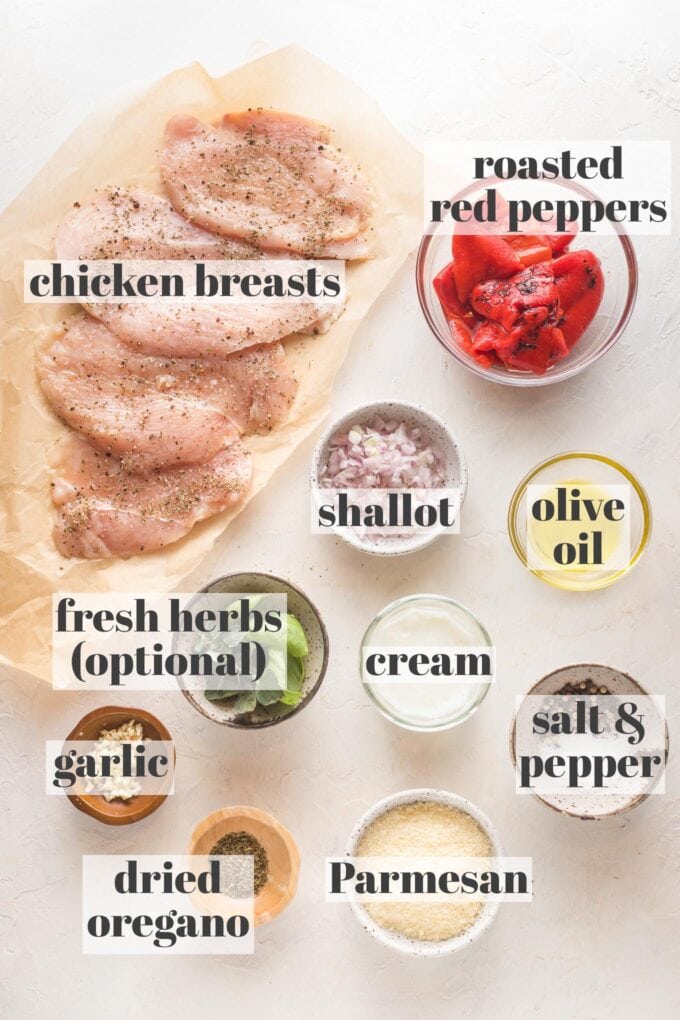 Chicken breasts: I highly recommend using thinly-sliced boneless, skinless chicken breasts. They cook more quickly and evenly and are the best way to ensure chicken doesn't become dry or tasteless when cooked in a skillet. I buy them that way to save time, but you can slice your own by carefully cutting each breast in half to make two thinner portions.
Roasted red peppers: The star of the show! You'll need about one cup of peppers, which is roughly equivalent to an 8 ounce jar. Buy a larger jar? Save extras in the refrigerator and use them to make pasta sauce, enhance pasta salad, or add to sandwiches.
Shallot: Adds a sweet punch to the sauce. You can substitute red, sweet, or yellow onion, in order of preference.
Cream: I usually use heavy cream for recipes like this, because it works so well to thicken a sauce and add flavor, and a very small amount goes a long way. Light cream or half and half do work, as well, so feel free to use those if you prefer.
Garlic, olive oil, dried oregano, salt, and black pepper.
Parmesan and fresh basil or oregano: Optional but highly-encouraged finishing touches.
Prefer to roast your own peppers?
Easy! Here's a quick guide to roasting red peppers yourself in the oven.
Are roasted red peppers healthy?
Yes! Red peppers have many health benefits, including generous amounts of vitamins A and C; antioxidants, especially carotenoids; and minerals such as folate, iron, and potassium. Peppers are also a good source of fiber, which is good for your digestive system and can help you feel fuller, longer.
It is true that the heat of roasting can cause peppers to lose some of their vitamin C, but on the flip side, the heat can break down cell walls, making their carotenoids easier for the body to absorb. Bottom line: peppers are a nutritious, and very tasty, addition to your family's diet.
How To Make Roasted Red Pepper Chicken
You'll begin by seasoning both sides of the chicken with salt, pepper, and dried oregano, then browning them in a skillet slicked with olive oil. Remove from the pan when browned and set aside on a plate.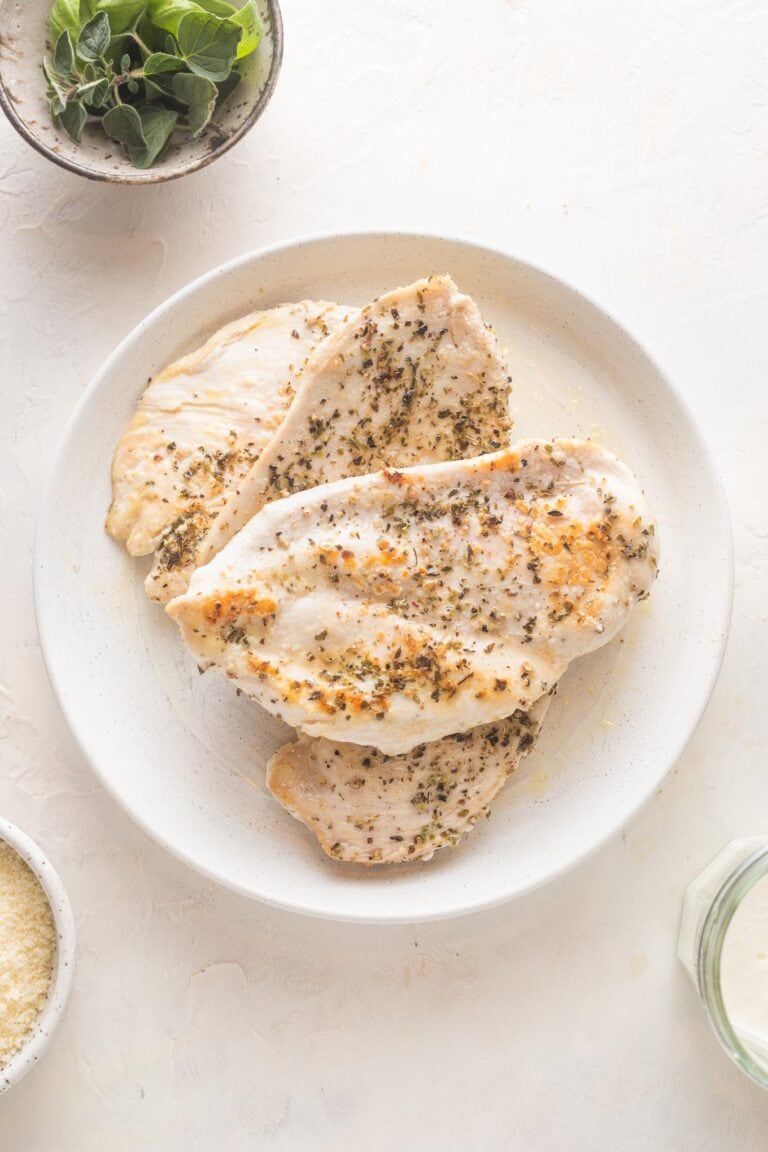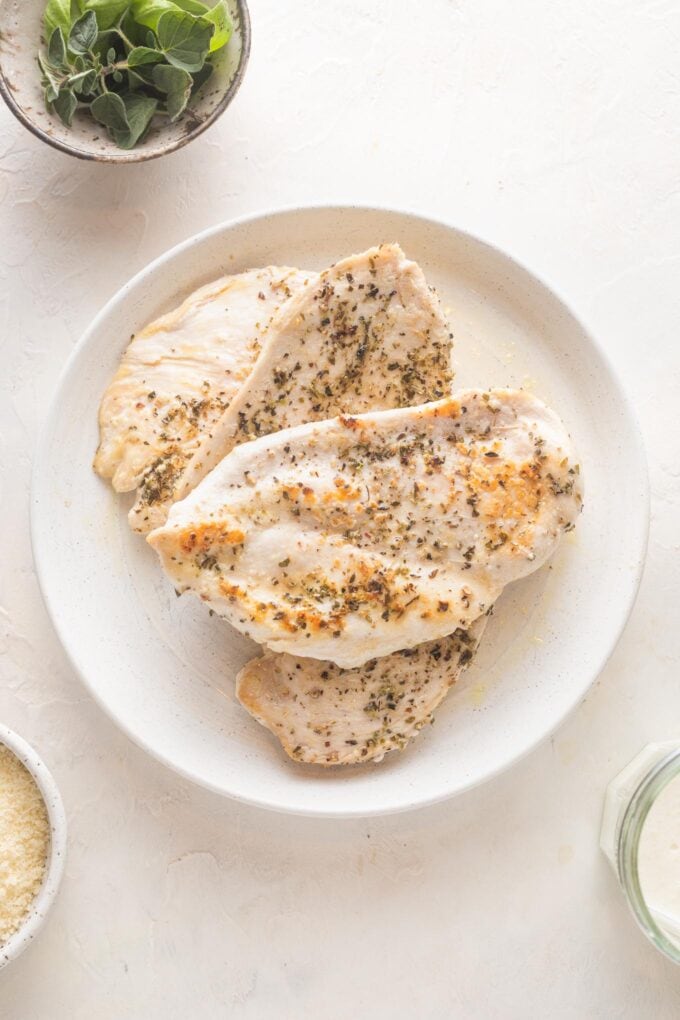 Meanwhile, toss your peppers, garlic, more dried oregano, salt, pepper, and a smidge of olive oil into a blender or food processor and blitz into a mostly smooth consistency. It will have the most gorgeous red color.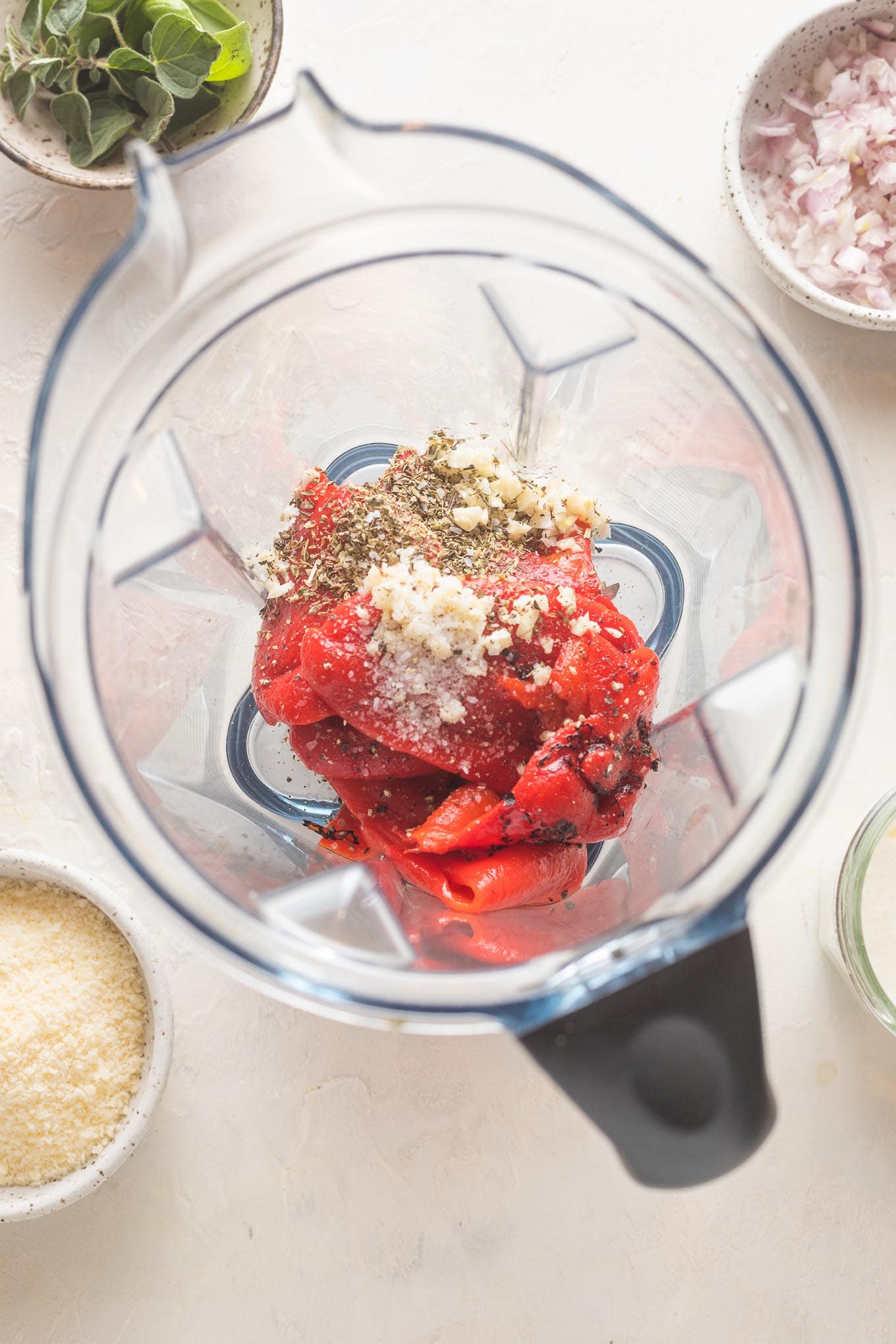 Now it's a simple matter of making the sauce in the same pan that you used for the chicken. This not only ensures minimal clean-up, it also ensures maximum flavor, because any browned bits and seasonings left behind from the chicken make their way straight into your sauce.
You'll first cook the shallots until tender, then pour in the blended red pepper mixture, and finally stir in a bit of cream.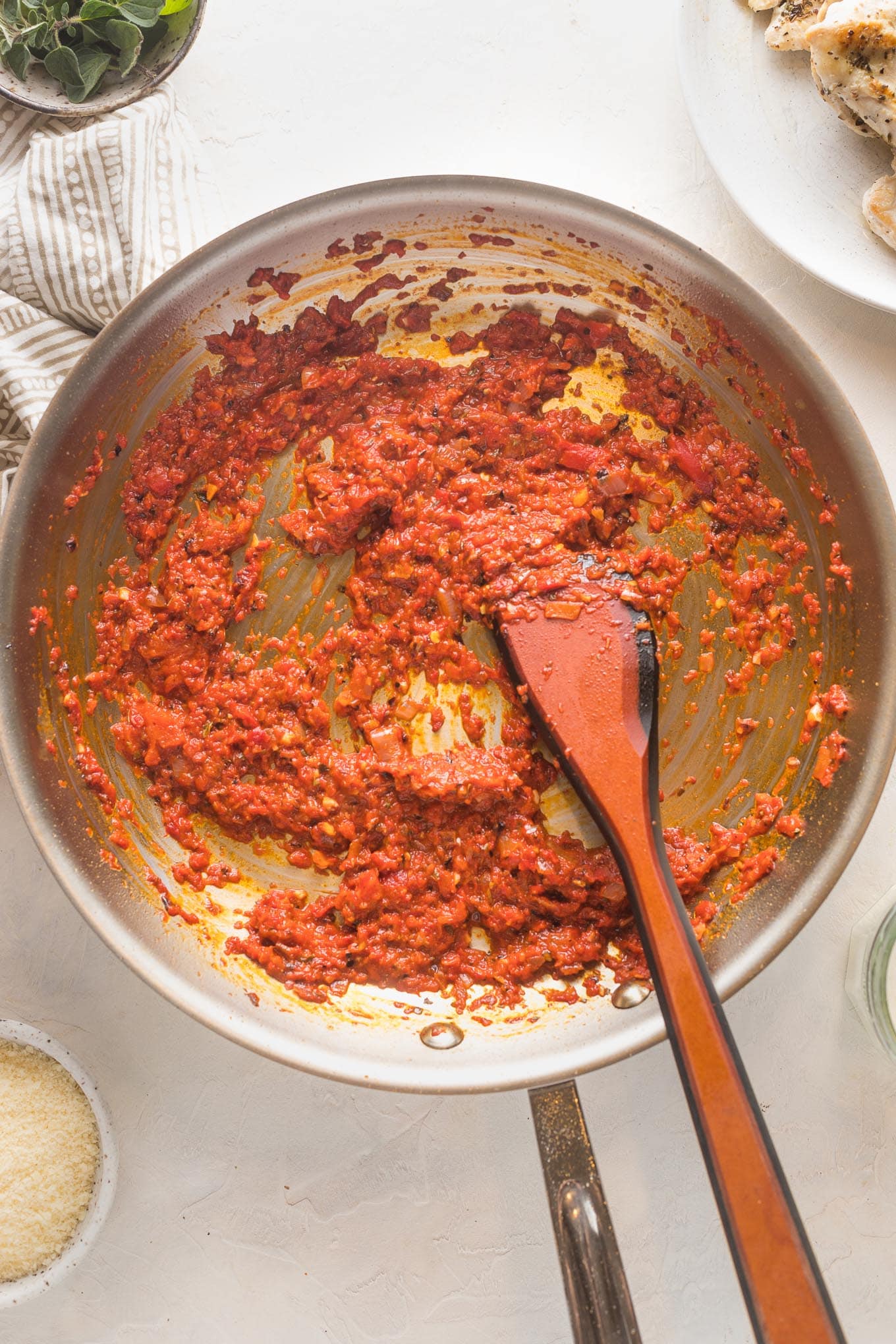 Return chicken to the pan, nestle it down into the sauce, garnish as desired, and serve.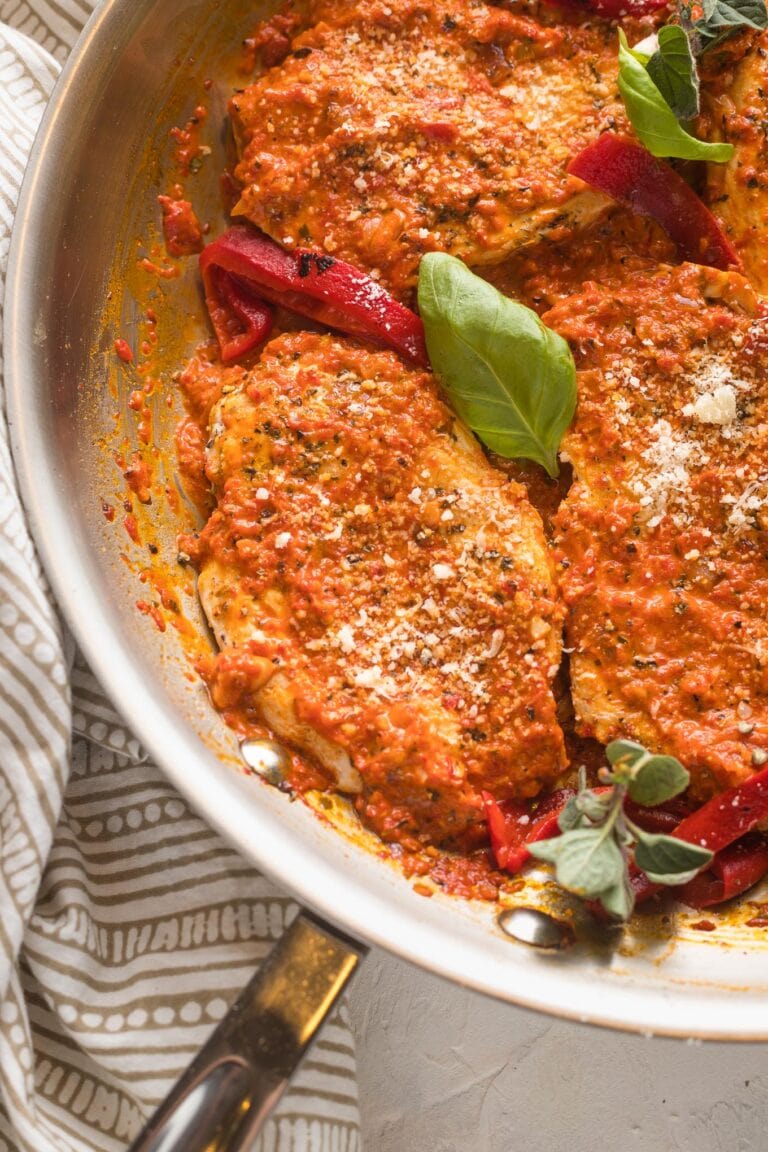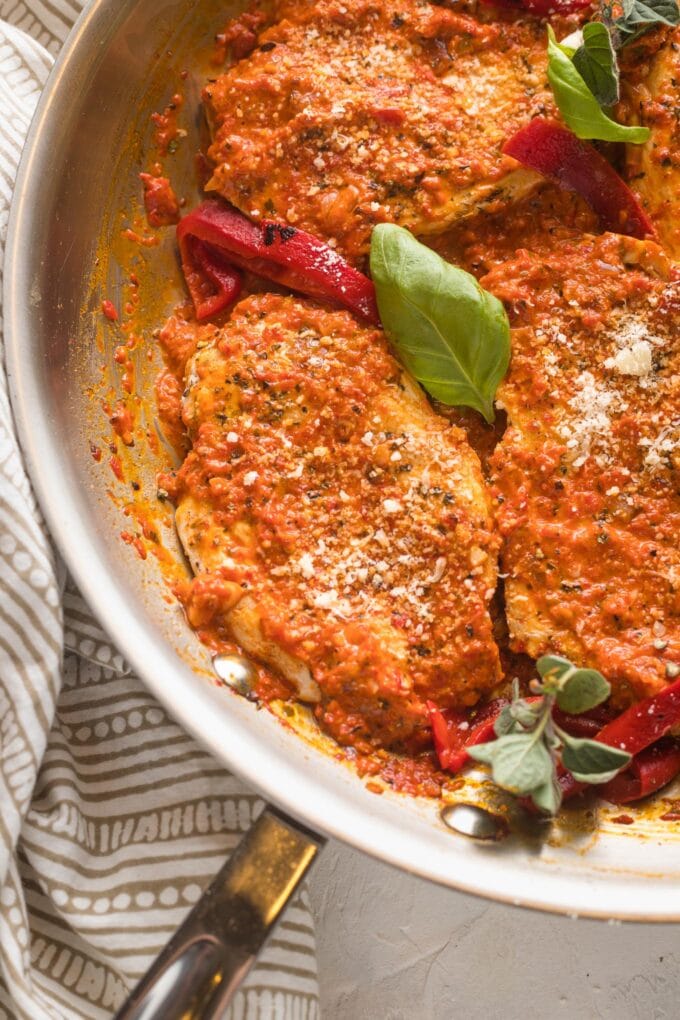 Serving Tip: Pass some extra Parmesan cheese at the table, as well as a small jar of red pepper flakes for anyone who would like a bit of heat.
Serving Suggestions
Pair this chicken with breadsticks, garlic bread, or rolls–the better to soak up any little bits of the irresistible sauce from the corners of plates! For an attractive presentation, you can also place individual chicken breasts on top of couscous or rice. Round out the meal with steamed broccoli or asparagus, or an easy Italian salad.
Does this keep well?
Yes! Store any leftovers in the refrigerator for up to 4 days and reheat on 50% power in the microwave. Your next day's lunch is all sorted!
More Easy Chicken Recipes
Try my lemon chicken pasta, creamy Tuscan chicken with sun-dried tomatoes, or chicken Florentine next. Each dish is quick, easy, and earns rave reviews!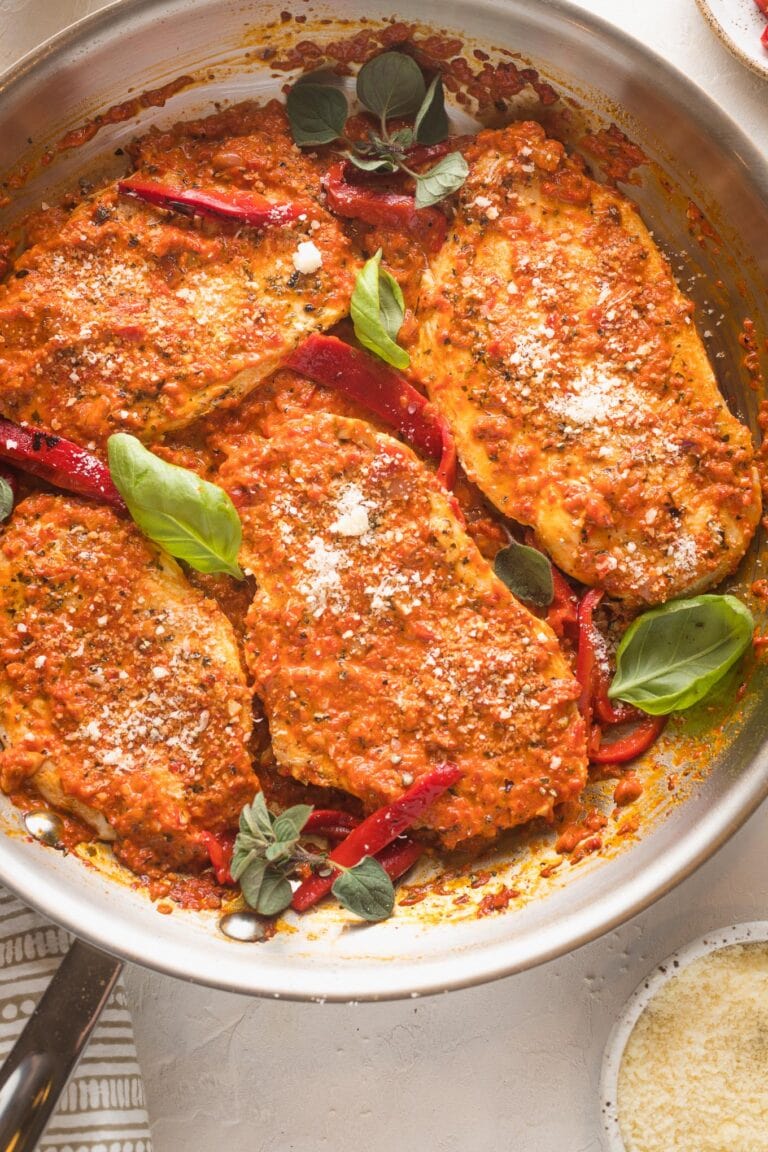 If you try this Roasted Red Pepper Chicken, don't forget to rate the recipe and leave a comment below. I love hearing how recipes turn out in your kitchen, and it helps other readers, too.
You can also FOLLOW me on PINTEREST, INSTAGRAM, FACEBOOK, and TWITTER for more great recipes and ideas!
Roasted Red Pepper Chicken
Tender pan-fried chicken breasts nestled in a creamy, lightly sweet roasted red pepper sauce: this is a delicious and easy 30-minute meal!
Ingredients
4 thin-sliced, boneless, skinless chicken breasts
2 teaspoons dried oregano divided
kosher salt and black pepper
2 tablespoons olive oil divided
1 cup roasted red peppers about 8 ounces jarred
2-3 cloves garlic minced
1 shallot finely chopped
1/3 cup heavy cream
small handful fresh basil or oregano for serving
1-2 tablespoons grated Parmesan for serving
Instructions
Season both sides of the chicken breasts with a light sprinkle of salt, pepper, and about 1 teaspoon of dried oregano.

Warm 1 tablespoon of the olive oil in a large skillet over medium-high heat. When hot, place chicken in the skillet and cook for 2-3 minutes on each side, until it is cooked through and golden-brown on the outside. Remove chicken to a plate and set aside.

While the chicken cooks, add the roasted peppers, remaining 1 teaspoon oregano and 1 tablespoon olive oil, garlic, 1/2 teaspoon salt, and 8-10 cranks of black pepper to a blender or food processor. Blitz until very smooth.

After removing the chicken, add an extra drizzle of oil if the pan looks very dry. Add shallots and cook for 2-3 minutes, until beginning to soften. Pour in the red pepper mixture and scrape the bottom of the pan to loosen any browned bits. Simmer for 2-3 minutes to thicken slightly, then stir in the cream and cook 1 minute more, just to warm through.

Return chicken to the pan and spoon sauce on top. Garnish with Parmesan and basil, plus extra chopped red peppers if desired. Enjoy!
Notes
This makes a good amount of sauce for the chicken and soaking a little into some bread or mixing with veggies served on the side. If you plan to serve with pasta and want to use the sauce to coat the pasta, as well, consider upping the amounts to 1.5 cups red peppers and 1/2 cup heavy cream, and measure the other ingredients as heaping spoons.
Nutrition Estimate
Calories: 279 kcal, Carbohydrates: 4 g, Protein: 26 g, Fat: 18 g, Saturated Fat: 6 g, Polyunsaturated Fat: 2 g, Monounsaturated Fat: 8 g, Trans Fat: 1 g, Cholesterol: 96 mg, Sodium: 637 mg, Potassium: 529 mg, Fiber: 1 g, Sugar: 1 g, Vitamin A: 535 IU, Vitamin C: 19 mg, Calcium: 69 mg, Iron: 1 mg
Did you make this recipe?
Leave a review below, then snap a quick picture and tag @nourishandfete on Instagram so I can see it!