Pasta with Zucchini and Garlicky Breadcrumbs
This irresistible pasta with zucchini, corn, and garlicky toasted breadcrumbs is ready in about 25 minutes and uses everyday ingredients. Crisp-tender veggies, a light sauce, and plenty of Parmesan complete the meal.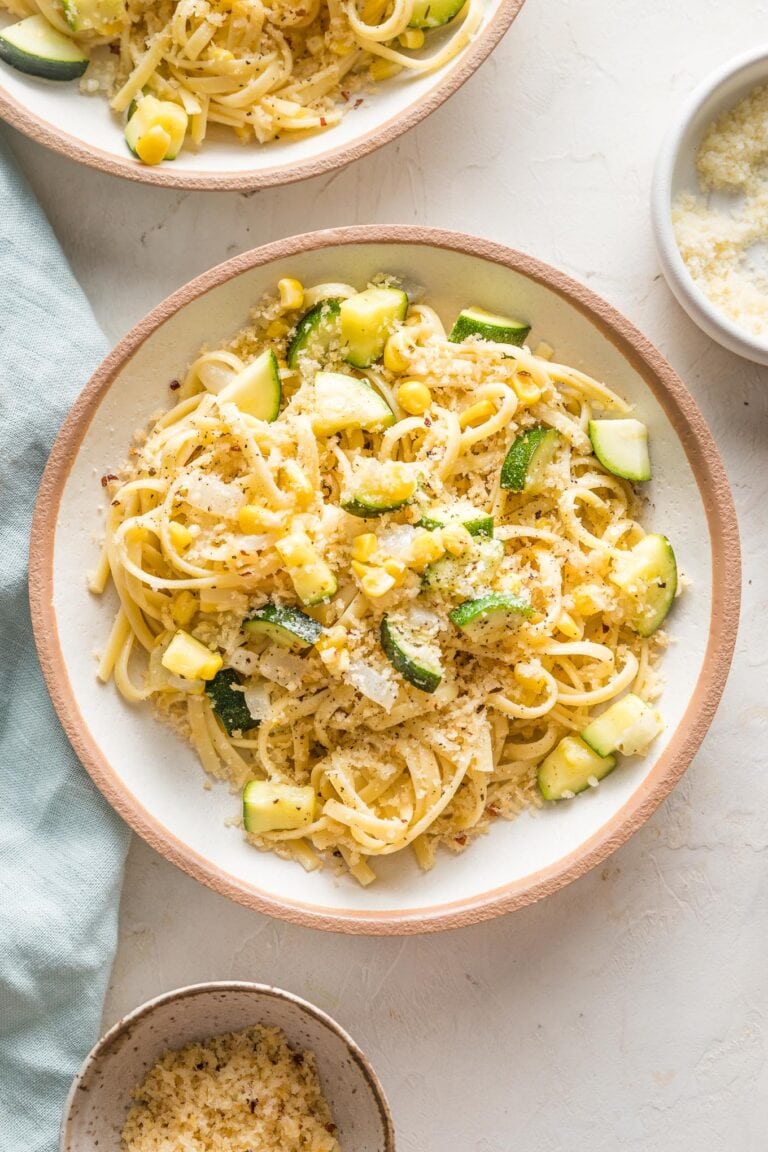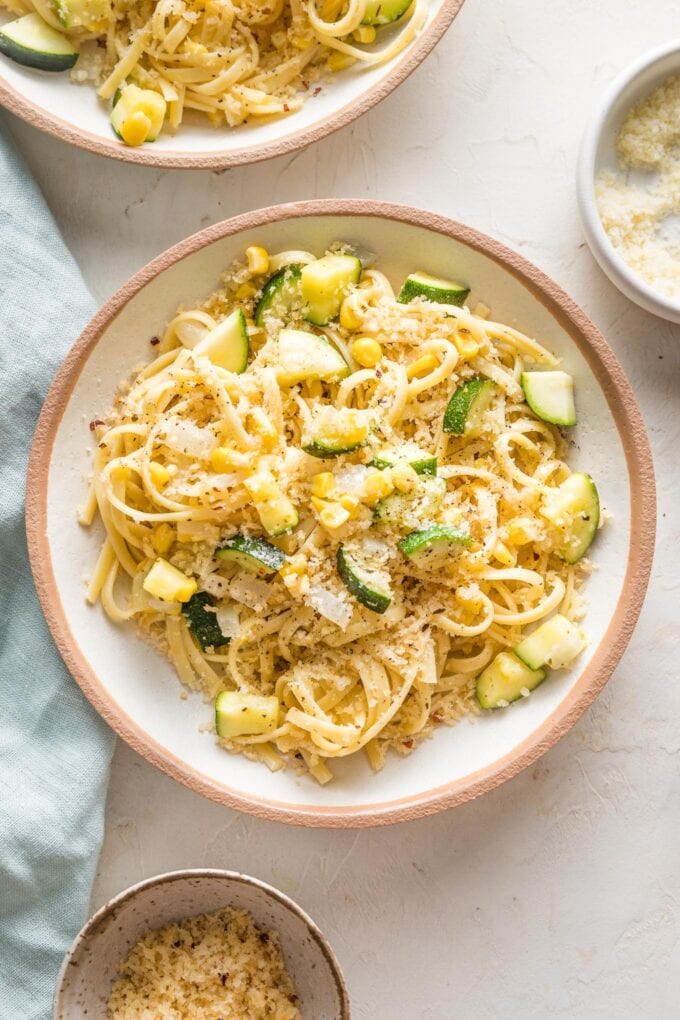 Perfect Pasta with Zucchini and Corn
My husband will tell you that I am the biggest skeptic of my own cooking, especially when trying something new. So imagine his surprise when I took one bite of this and said, "Wow, this is good. Like really, really good. I can't wait to post this on the blog." He may have blinked to be sure it was actually me standing there in the kitchen. 🙂
A dream of textural contrast
You've got al dente twirls of pasta, tender-crisp summer vegetables, a light yet buttery sauce, and plenty of Parmesan. But what really sets this apart is the dusting of toasted garlic-infused breadcrumbs that I highly encourage you to make and serve on top of each bowl.
They are the same breadcrumbs I use on this spaghetti with mushrooms and oregano, and are just as perfect here. The textural contrast of the tender pasta, silky sauce, and crisp breadcrumbs is to die for.
Even beyond the delicious taste, I adore that this recipe is:
Quick and easy. You can have dinner on the table in about 25 minutes.
Simple. You'll need a pot for the pasta, and everything else, including the breadcrumbs, is made in one skillet.
Veggie-inclusive. With plenty of zucchini and corn, you can feel good about including some nutrients right there in your main dish. And if you want to incorporate more vegetables, that's easy to do (ideas below).
Serve this with some garlic bread or a vibrant peach caprese for a truly dreamy summer meal.
Ingredients & Substitutions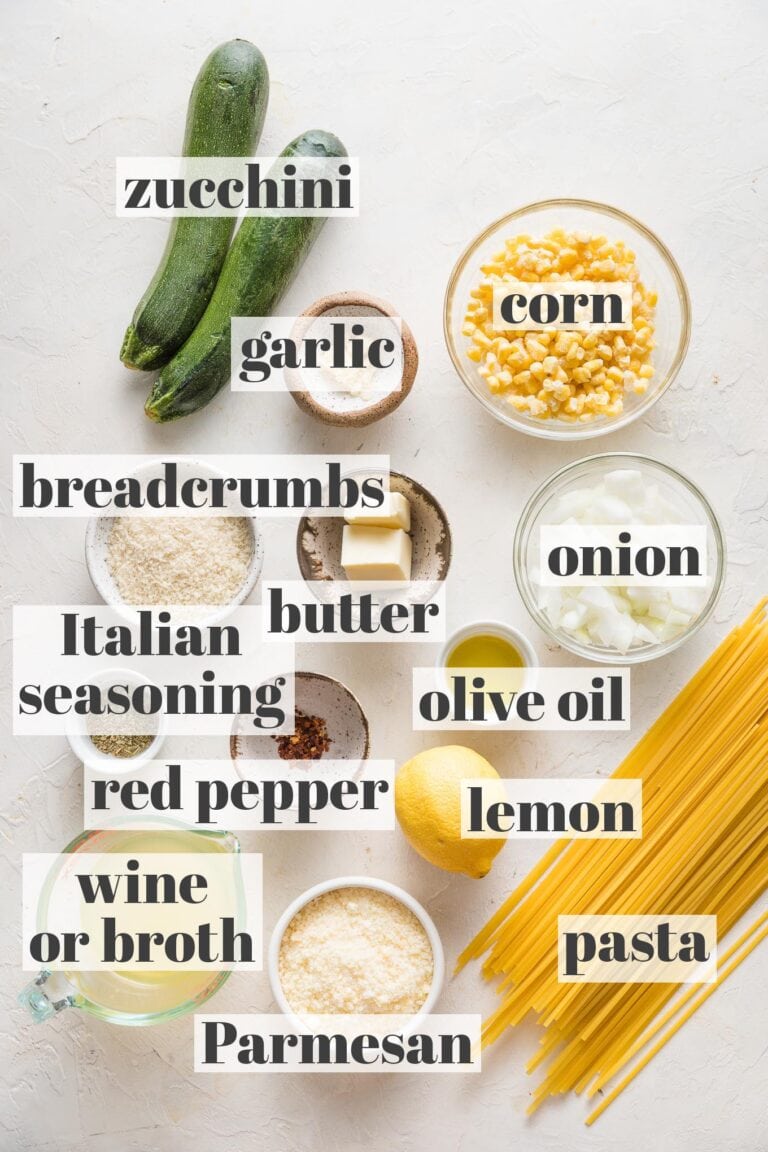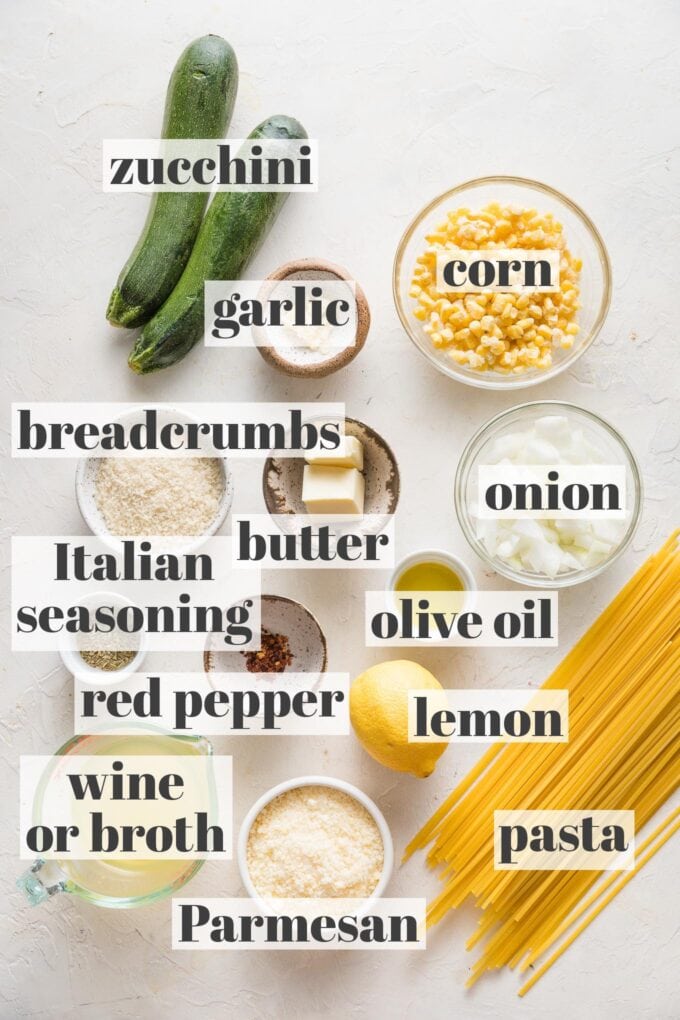 Here are a few notes and shopping tips about the ingredients you'll need to make this, as well as possible substitutions. Full amounts are noted in the print-friendly recipe card below.
Pasta: I used linguine and like something long and twirl-able, but really anything will work here.
Zucchini: The exact amount of zucchini is flexible; if you use two small or medium zucchini per 8 ounces of pasta, you should have plenty.
Corn: I used frozen corn to keep things ultra simple, but a drained can of corn or about 1 cup of kernels cut from a cooked cob would also work perfectly.
Onion: A yellow or white onion is perfect.
Breadcrumbs: My favorite are Panko breadcrumbs–they are extra crispy!–but "regular" breadcrumbs will do.
Dry white wine, chicken broth or stock, or vegetable stock or broth: You can use a blend of these or just one, whatever you prefer.
Fresh garlic, fresh lemon juice, dried Italian seasoning, red pepper flakes, kosher salt and black pepper.
How To Make Zucchini Pasta
This is a joy to make, in my opinion. It comes together in simple steps and with minimal fuss.
Here are the steps and a quick visual overview. You will find full instructions with exact ingredients in the print-friendly recipe card below.
You'll begin, of course, by boiling water for the pasta. Be sure to salt it well so that the pasta itself has a bit of flavor.
Pro tip: If you think you may want to thin the sauce a bit at the end, scoop out and reserve 1/3-1/2 cup of the water just before draining the pasta. This starchy water is perfect for gently loosening sauce.
Just after starting the water to boil, begin toasting the breadcrumbs. This is a simple matter of melting some butter, then cooking the breadcrumbs in it together with a smidge of garlic and red pepper flakes. When they're lightly browned, remove from the skillet to a small bowl.
Lightly wipe out the skillet, then use it again to sauté first the onion, then add the zucchini, corn, and remaining seasonings. Pour in the broth, white wine, or both, and let the mixture bubble for a minute or two into a delicious, light sauce.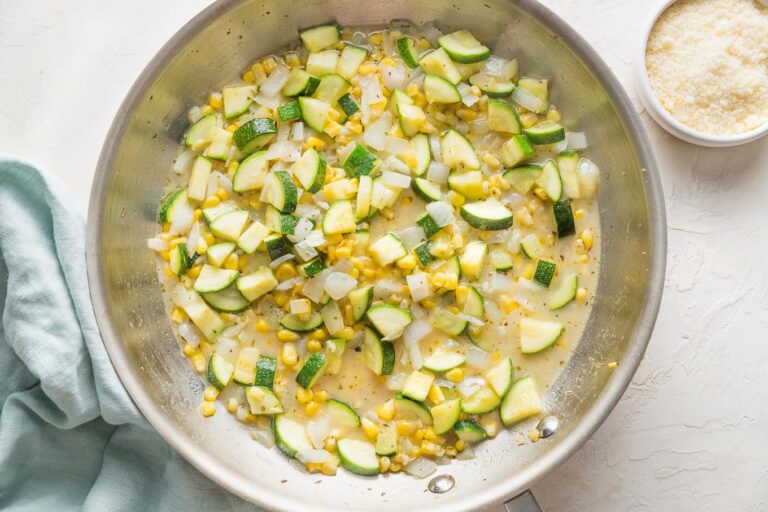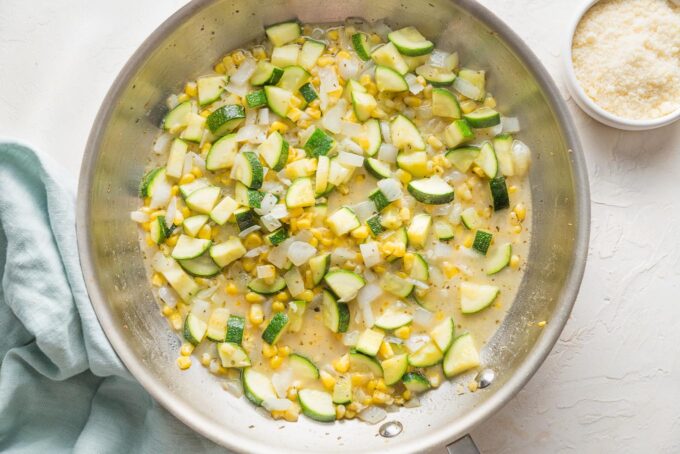 By this time your pasta will be finished and ready to toss in the skillet, along with a generous scoop of Parmesan. The Parmesan will melt into the sauce and make it a bit more creamy and stretchy.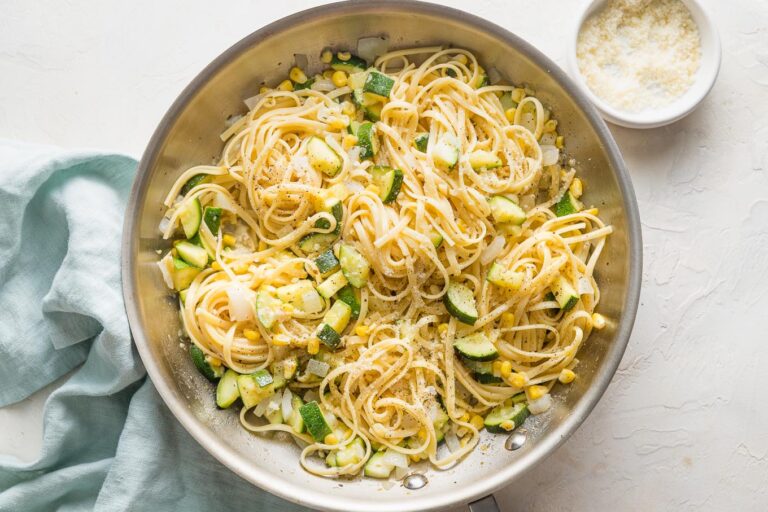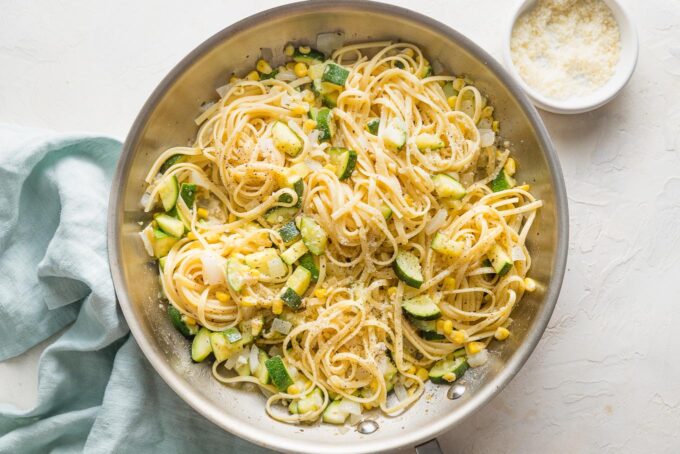 Be sure to sample a bite and add salt and pepper to taste!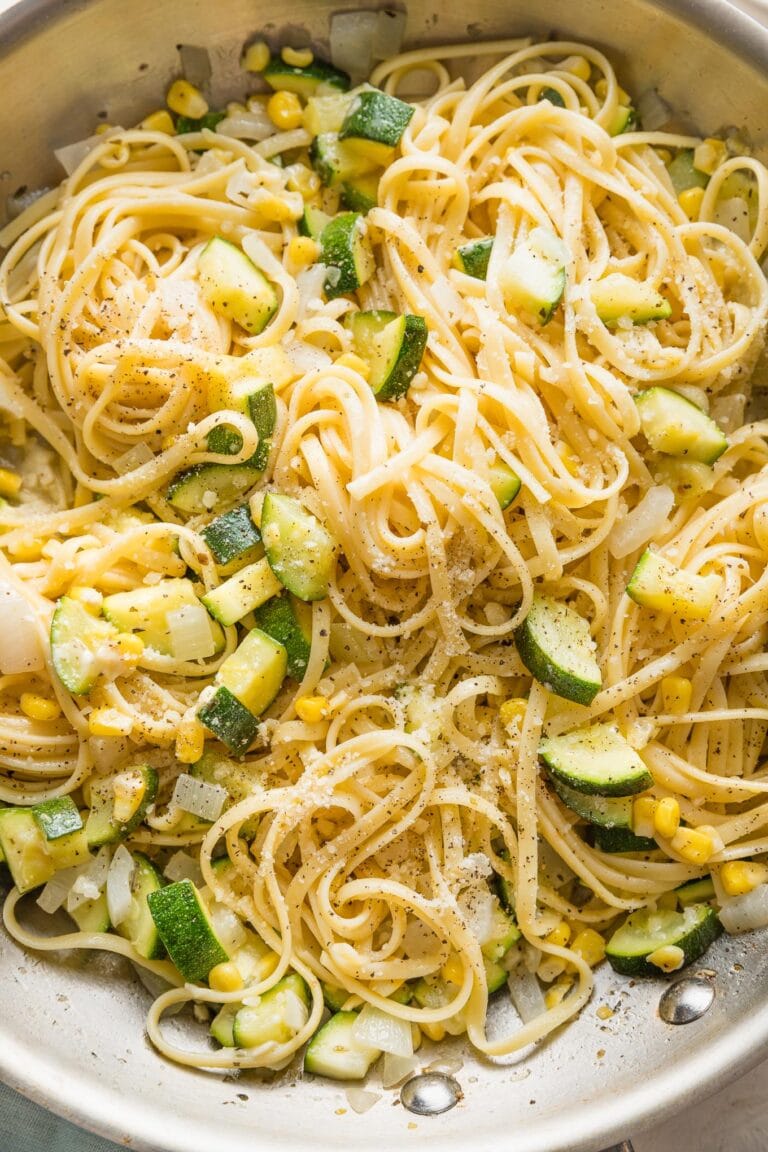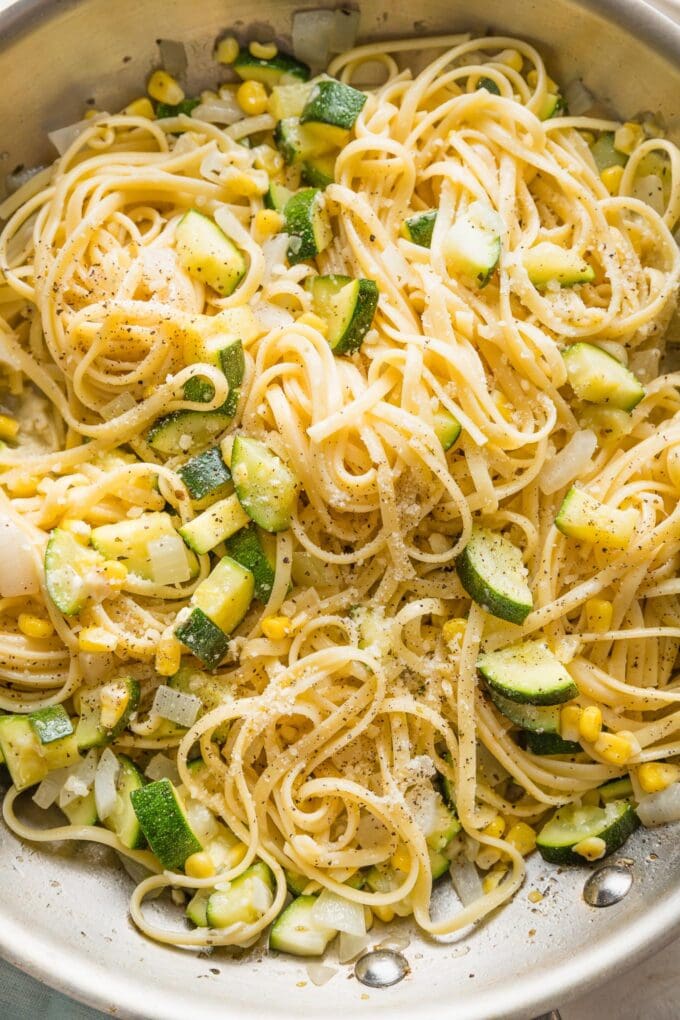 Finally, divide the pasta into portions, and top each with a generous sprinkling of the toasted breadcrumbs. A little extra Parmesan, more black pepper, or a lemon wedge all make a nice garnish, as well.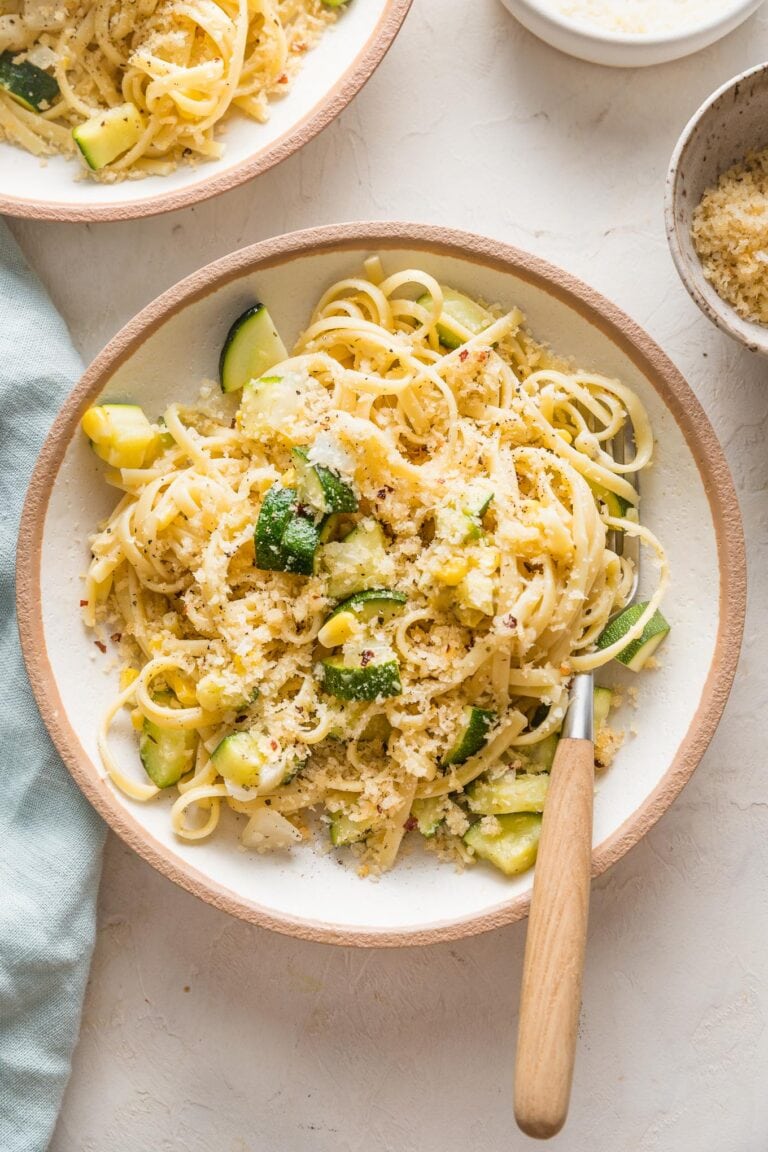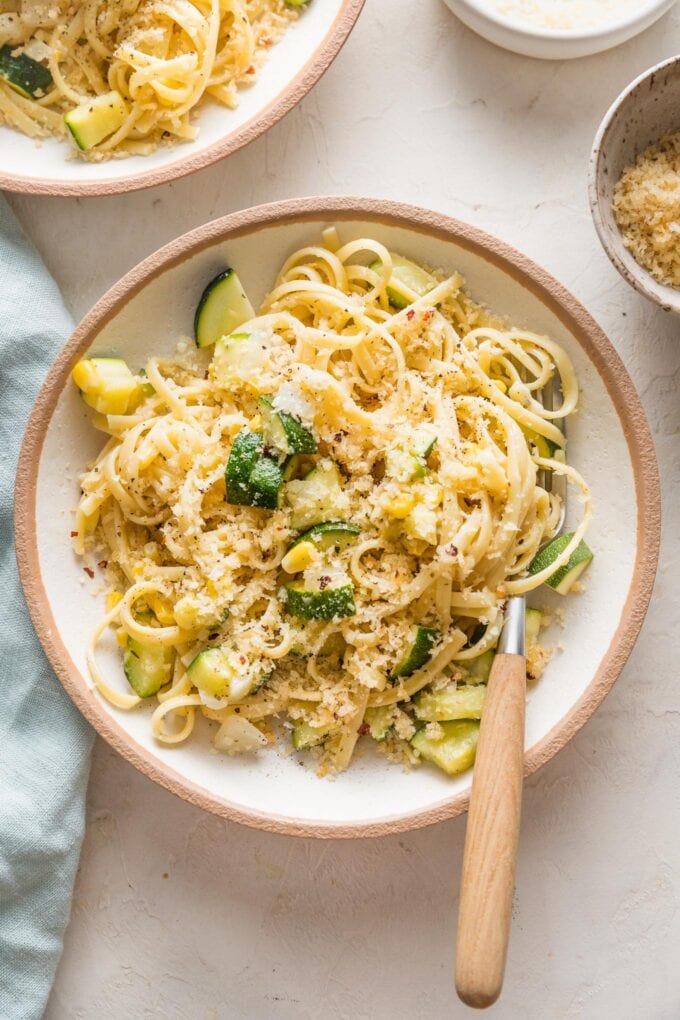 Serving Suggestions
This is a delicious one-bowl meal as it is, but you can also serve with some garlic bread to please the carb and garlic-lovers, or alongside a festive summer salad like this peach arugula or peach caprese combination to really showcase the best of seasonal produce.
Want to add protein? Toss in a can of drained and rinsed chickpeas, or add some shredded rotisserie chicken or garlic butter shrimp.
Recipes FAQs and Expert Tips
How can I pick a good zucchini in the store?
Baffled by which zucchini are the best to choose in your grocery store or at the farmers' market? Look for ones that are small or medium-sized, roughly 7 to 8 inches in length. Very large zucchini tend to have large seeds and less flavor.
The zucchini that you purchase should be firm to the touch and ideally free of cuts, dents, or nicks in the skin. The freshest zucchini will have tiny hairs poking out that you can see and feel with a brush of your hand.
How to store zucchini?
Store zucchini in your refrigerator, ideally in a produce bin or box, until ready to use. Rinse the skin and pat dry just prior to use in a recipe.
Do you need to peel zucchini?
No: the skin of zucchini is very tender and easy to eat, and it also happens to pack most of the vegetable's nutritional punch. There's no need to peel it for this or most recipes.
Can I add other vegetables?
Baby peas, steamed asparagus, bell peppers, or cherry tomatoes all work very well in this recipe. You could also substitute all or part of the zucchini with yellow summer squash.
Can I make this gluten-free?
Yes; use your favorite gluten-free pasta variety and this dish will be naturally gluten-free.
Storage & Reheating
Pasta with zucchini keeps and reheats well. If you anticipate leftovers, I highly recommend reserving some of the breadcrumbs and storing them separately so they remain crisp and can be used to top extra portions after they are re-warmed.
Storage: Store in any airtight container in the refrigerator for 3-4 days. (These are our favorite meal prep boxes!)
Reheating: Warm in the microwave or over medium-low heat in a small saucepan. Add a splash of broth or water to help loosen the sauce and minimize sticking, only if needed. Add extra reserved breadcrumbs and a final dusting of Parmesan, if desired, to get that textural contrast again.
I don't recommend freezing this; zucchini fares poorly when cooked, frozen, and defrosted again.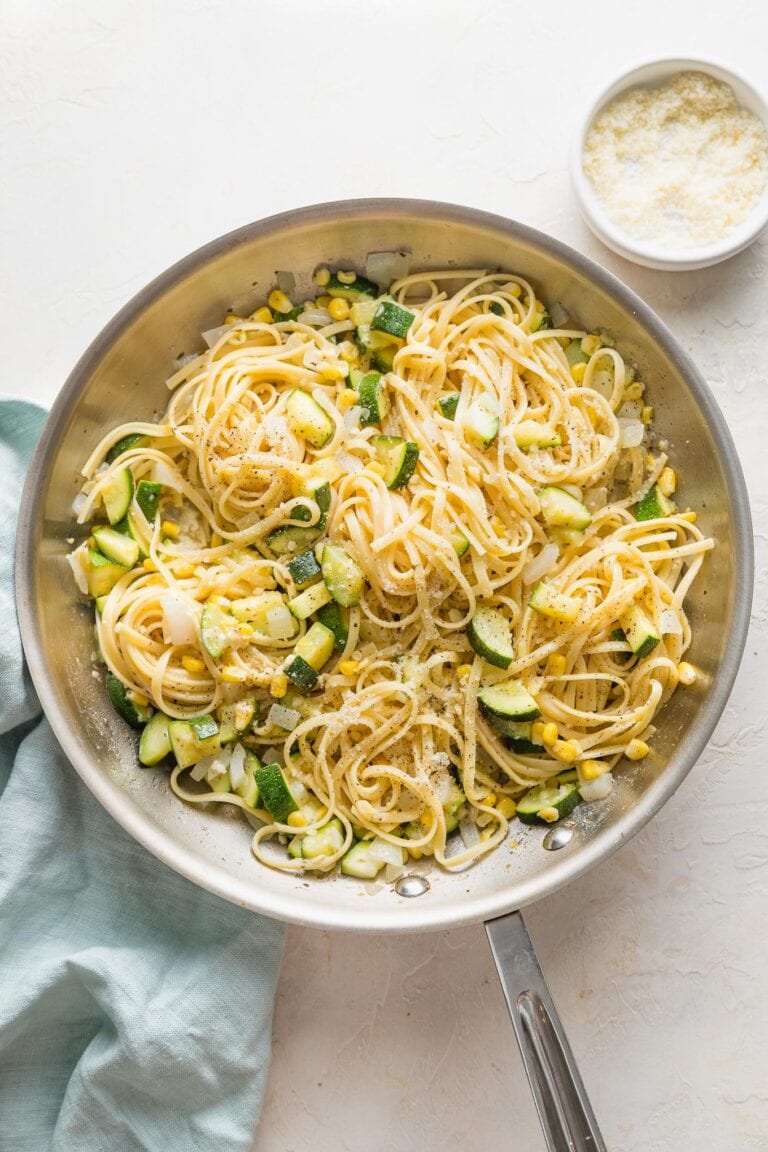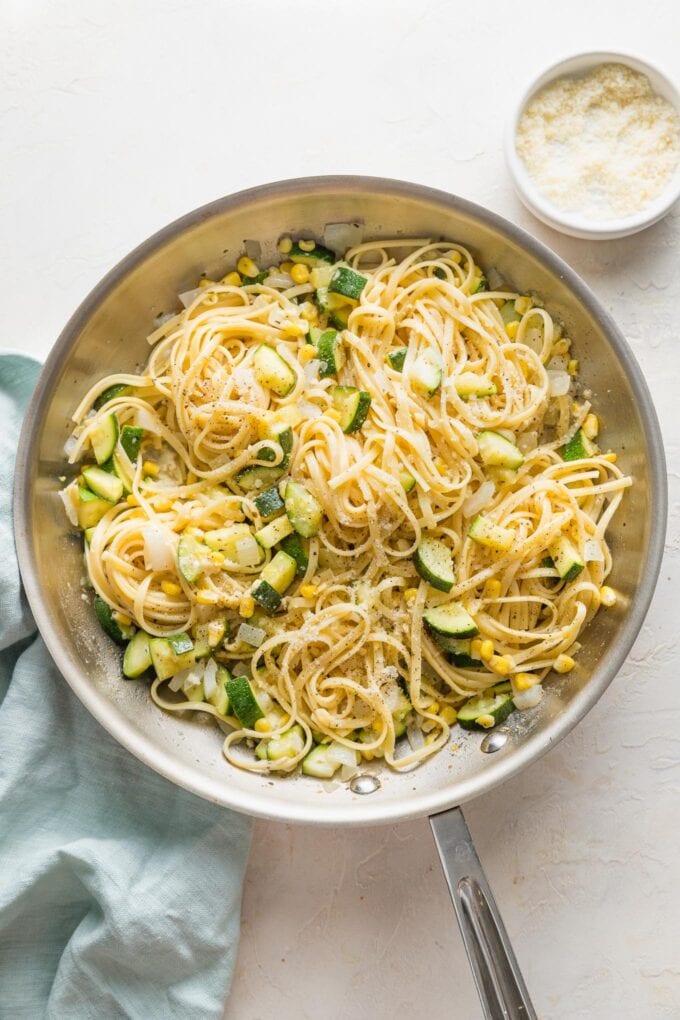 Related Recipes
Love simple meatless pasta dishes? Creamy tomato pasta, pasta marinara, garlic butter pasta, and roasted tomato spaghetti always hit the spot.
Need more ways to use an abundance of summer zucchini? We love tossing it into a zucchini casserole, zucchini pesto, lemon olive oil muffins, or banana zucchini muffins with walnuts.
If you try this Pasta with Zucchini recipe, don't forget to rate it and leave a comment below. I love hearing how recipes turn out in your kitchen, and it helps other readers, too.
You can also FOLLOW me on PINTEREST, INSTAGRAM, FACEBOOK, and TWITTER for more great recipes and ideas!
Pasta with Zucchini and Garlicky Breadcrumbs
This irresistible pasta with zucchini, corn, and garlicky toasted breadcrumbs is ready fast and uses everyday ingredients. Crisp-tender veggies, a light sauce, and plenty of Parmesan complete the meal.
Ingredients
8 ounces pasta
3 Tablespoons butter divided
1/4 teaspoon red pepper flakes
2 cloves garlic peeled and minced, divided
1/4 cup breadcrumbs
1 Tablespoon olive oil
1/2 medium yellow onion chopped
2 medium zucchini chopped (about 1.25 pounds)
1 cup corn canned, frozen, or off a cooked cob
1/2 teaspoon Italian seasoning
1/2 cup white wine or chicken or vegetable stock
1 teaspoon lemon juice
1/3 cup Parmesan cheese
kosher salt & black pepper to taste
Instructions
Boil a large pot of water, salt generously, and cook pasta to al dente, according to package directions. Drain and set aside.

Meanwhile, melt 1 Tablespoon of the butter in a large skillet over medium heat. Add red pepper flakes and 1 clove of the minced garlic. Cook for 30-60 seconds, just until fragrant. Stir in the breadcrumbs and cook until golden, 1-2 minutes. Transfer breadcrumbs to a bowl or plate, wipe out the skillet, and return it to medium heat.

Add olive oil and remaining 2 Tablespoons butter to the skillet, followed by the chopped onion. Sauté for 3-4 minutes, until the onion begins to become tender, then add the chopped zucchini, corn, remaining clove of minced garlic, and Italian seasoning. Sauté for another 3-4 minutes, stirring occasionally, until tender and fragrant.

Add wine or broth and lemon juice to the pan. Bring to a simmer, and let everything bubble for 1-2 minutes.

Add drained pasta to the skillet followed by the Parmesan. Toss well.

Sample and season with salt and pepper to taste. Divide into portions and sprinkle with the toasted breadcrumbs and more Parmesan, as desired. Enjoy right away!
Nutrition Estimate
Calories: 439 kcal, Carbohydrates: 61 g, Protein: 14 g, Fat: 16 g, Saturated Fat: 8 g, Polyunsaturated Fat: 2 g, Monounsaturated Fat: 6 g, Trans Fat: 0.3 g, Cholesterol: 28 mg, Sodium: 265 mg, Potassium: 523 mg, Fiber: 4 g, Sugar: 7 g, Vitamin A: 667 IU, Vitamin C: 22 mg, Calcium: 153 mg, Iron: 2 mg
Did you make this recipe?
Leave a review below, then snap a quick picture and tag @nourishandfete on Instagram so I can see it!