Pierogies and Sausage Skillet
Conquer busy nights with this super easy skillet full of pierogies and sausage in a simple butter sauce. This can be done in about 20 minutes but is full of flavor and a quintessential crowd-pleaser. Serve with steamed veggies for an ultra-fast family dinner.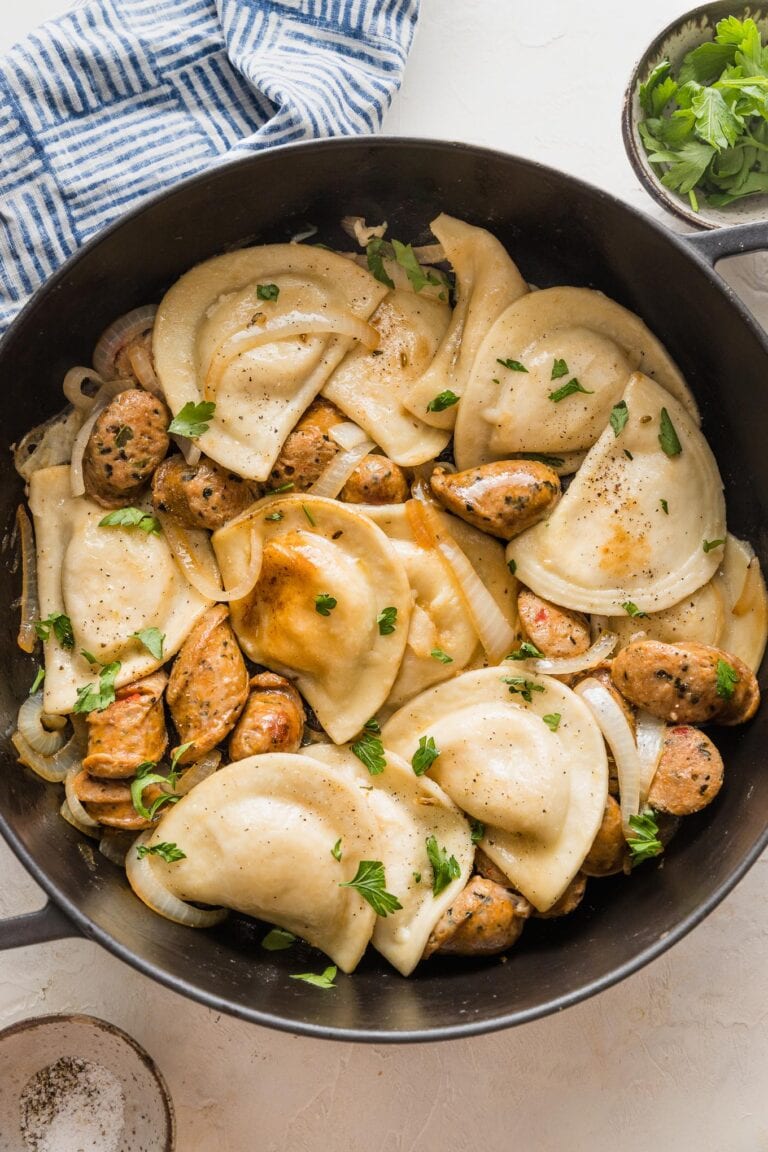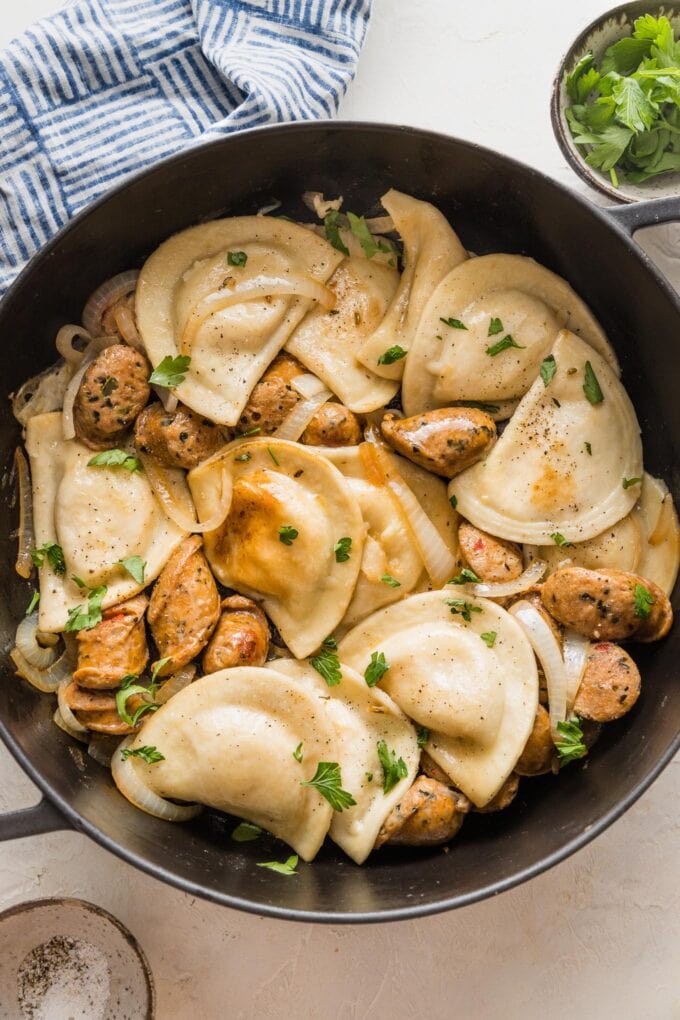 Tender pierogies, crisp chicken sausage, and a simple butter sauce add up to just about the simplest yet most crowd-pleasing dinner in my house. I often find my husband and my son in a semi-serious stand-off for the last little dumpling!
Is it semi-homemade? Yes. Is it also delicious and effective for gathering your family around the table? Yes!
Busy family cook? Let this easy dish solve all your problems. It's:
Ultra-fast. Boil water, cook pierogies, sizzle onions and sausage. Done.
Easy to pull out of the freezer. Stock pierogies and pre-cooked sausage in the freezer so you can always whip this up in case of dinner emergency.
Flavorful and comforting. Use a quality sausage for maximum flavor.
If I'm making this, it's probably been a really busy day, so I usually serve it alongside either steamed peas or roasted baby carrots. Easy and satisfying!
Raised on Pierogies
Given my Slovak heritage, I grew up knowing and loving pierogies as a staple food. My Grandma ("Baba") and Mom served them up with equal love and aplomb for lunch, dinner, and special occasions. At the holidays, we might purchase specialty pierogies from a local maker, but for everyday average meals, good old Mrs. T's from the freezer aisle was just the ticket.
I have such fond memories of this, and even though I was a pretty choosy eater as a kid, of course I never turned down a delicious pierogie, which is essentially a tender filled dumpling.
The filling usually includes mashed potatoes mixed with cheddar cheese, a medley of cheeses, or, for the more adventurous, onion, sauerkraut, or really anything else. My Dad was the pickiest of all picky eaters, but his favorite were lekvar pierogies — aka prune-filled! I always passed on those. 🙂
And yes, everyone has their own way of spelling this food! Perogi, perogies, pierogy, pierogies — it's all the same if you ask me. They are commonly thought of as a Polish food, while others think of them as Russian or Ukrainian. My paternal grandparents immigrated to the US from Slovakia and, as noted, considered pierogies a pillar of the family meal. As far as I can tell, they are beloved across Eastern Europe and among those with any related ties.
Ingredients & Substitutions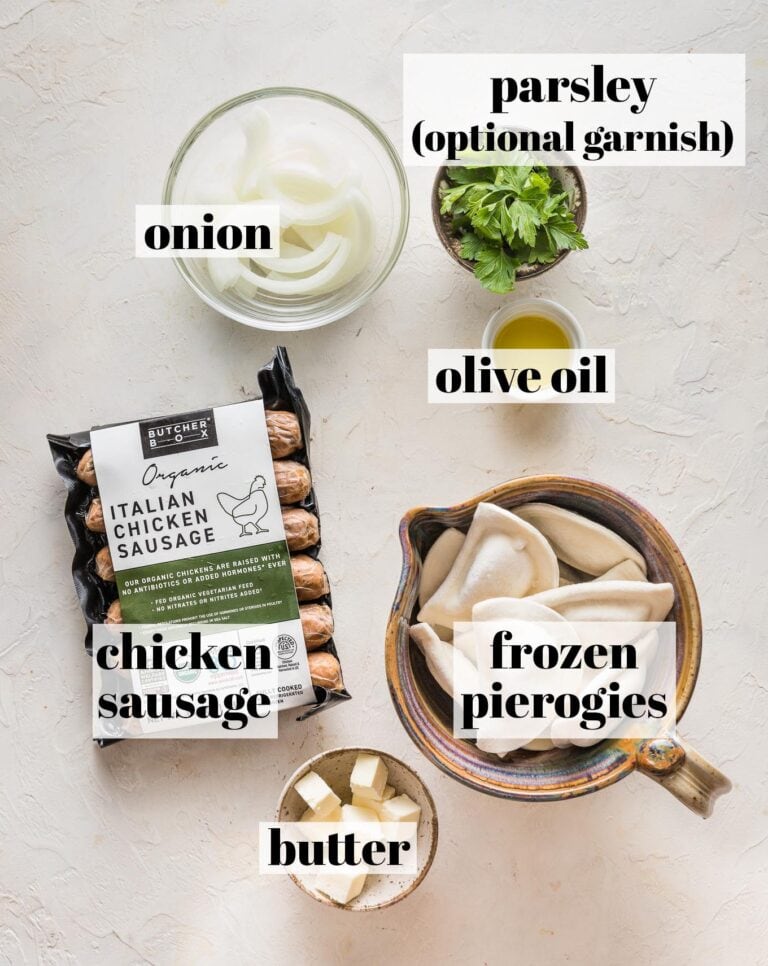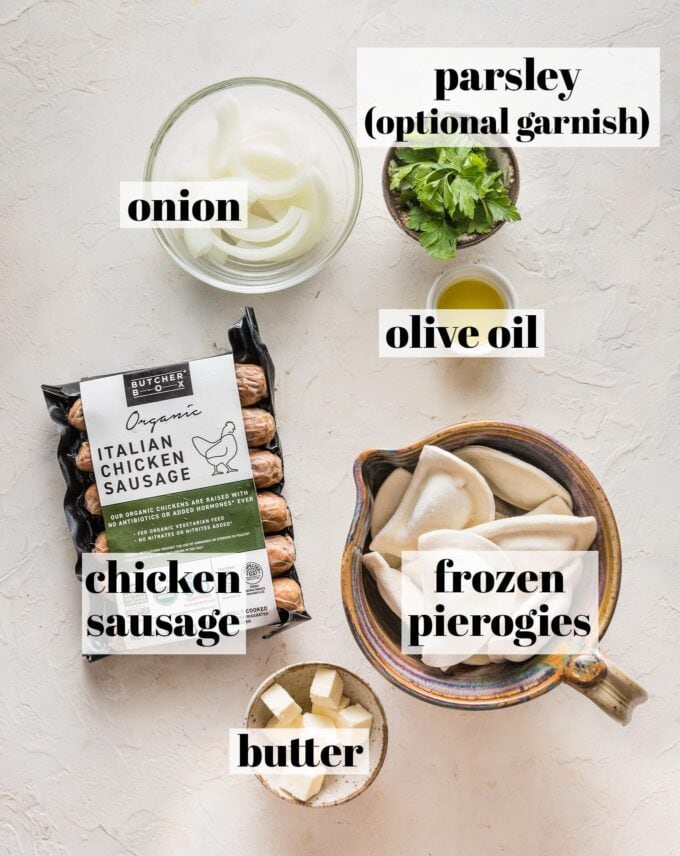 Here are a few notes and shopping tips about the ingredients you'll need to make this, as well as possible substitutions. Find full amounts in the print-friendly recipe card below.
Frozen pierogies. Mrs. T's is a classic brand that's stocked in the freezer of aisle of all major grocery stores. I usually just grab some in a pick-up order at Target! Mini pierogies are a fun variation and don't require any changes to the recipe. (Update: I have heard that Wegman's pierogies are even more amazing!)
Chicken sausage. Use your favorite variety, just be sure it has plenty of flavor! My favorite is chicken sausage from ButcherBox, and my kids like any sweet or mild Italian-style variety. Kielbasa or another smoked sausage makes a great substitute.
Yellow onion. Sweet onion would work well, also.
Olive oil for crisping up the sausage.
Butter.
Parsley. This is optional. I like the pop of color and freshness; my kids will religiously pick off every speck, so your mileage may vary.
Want some extra topping options? Crumbled bacon, sliced green onions, or dollops of sour cream are all possibilities. Cabbage and sauerkraut are also traditional accompaniments to pierogies and can either be served on the side or sautéed alongside or in place of the onions.
How To Make Pierogies and Sausage
There's almost literally nothing to it, and that's the beauty.
This is a general overview. As always, you will find full instructions with exact ingredients and times in the print-friendly recipe card below.
Boil a large pot of water. Add frozen pierogies and cook just until they float.
While pierogies are cooking, warm olive oil in a large skillet. Crisp up the sliced sausages.
Toss the sliced onion in with the sausages and sauté for a couple of minutes, just until they're a bit tender.
Drain and transfer the cooked pierogies directly to the skillet. Nestle them down in there; you want some dark golden spots where the pierogies are touching the bottom of the skillet during this last step.
Cut the butter into a few pieces, add to the skillet, and stir few times while it melts. Sprinkle with fresh parsley, if desired, and dig in!
Pro Tip
Remove pierogies from the water promptly when they float to the top! If they cook too long, the dough will soften excessively and the dumplings are more likely to stick or fall apart when added to the skillet.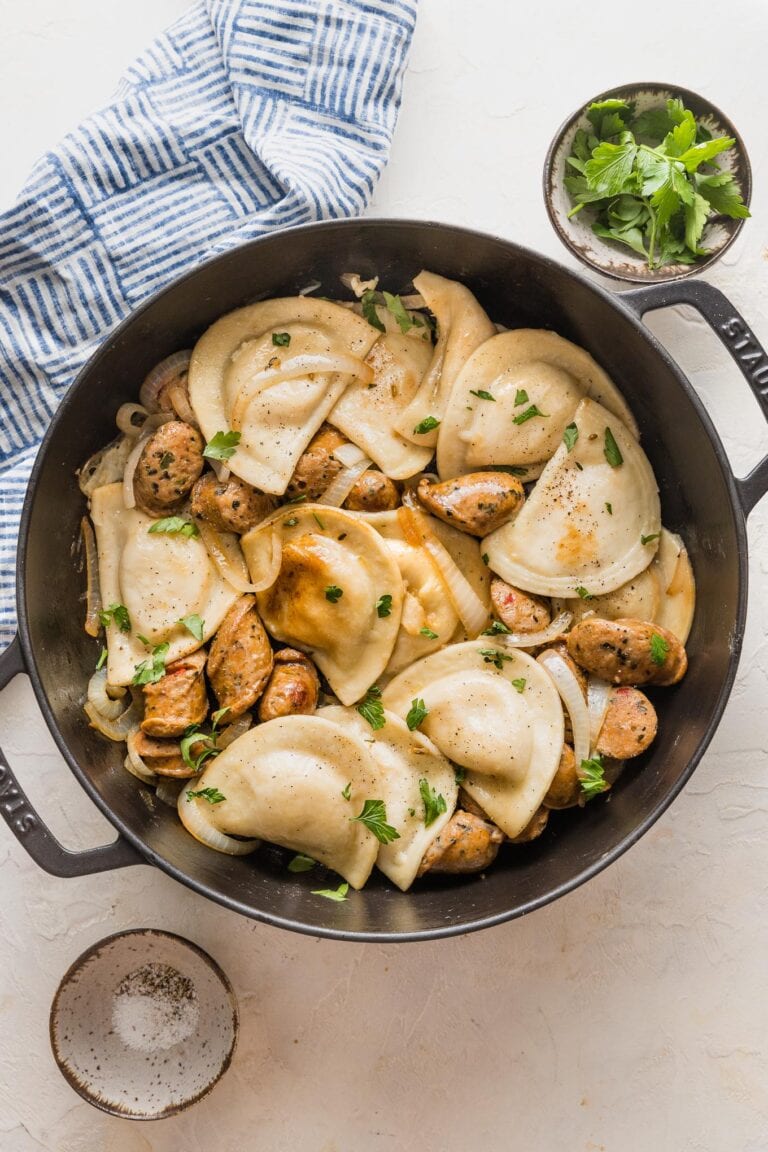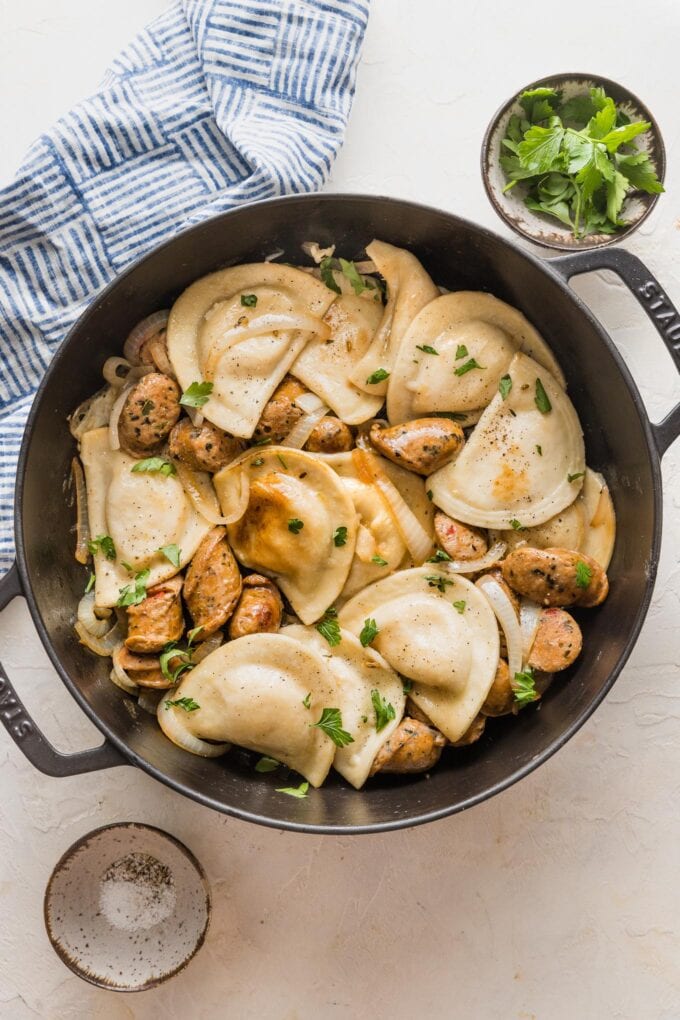 I don't personally find it necessary to add salt to the skillet as a whole, because most pre-cooked sausages have quite a bit of salt already, as do frozen pierogies themselves, actually. This said, of course you can adjust this to taste.
Recipe FAQs & Expert Tips
Do I really have to boil pierogies before pan-frying?
For best results, I definitely recommend it. I've tried to sauté pierogies directly from the freezer, and the outside tends to get overly crisp or even burnt in spots before the middle is done. The boil first, then lightly crisp method really does yield the most pleasing texture.
Do you have to sauté pierogies?
No! For a quick lunch, I often just boil pierogies then serve them with melted butter. This gives them a soft, tender texture which is actually the most traditional presentation. Giving them a quick sauté or pan fry just dresses them up a tiny bit.
My pierogies are not browning!
It could be that your skillet is a bit too small to accommodate everything with enough room for the pierogies to brown on the bottom. Consider transferring the sausages and onions to a plate, then using the skillet just to brown the pierogies in butter before re-combining everything.
Storage & Reheating
Storage: Chill leftovers in any airtight container for up to 5 days. (These are our favorite meal prep boxes for the refrigerator.)
Reheating: Warm in the microwave or in a small saucepan over medium heat. If using a saucepan, judiciously add a splash of broth or an extra pat of butter to prevent sticking.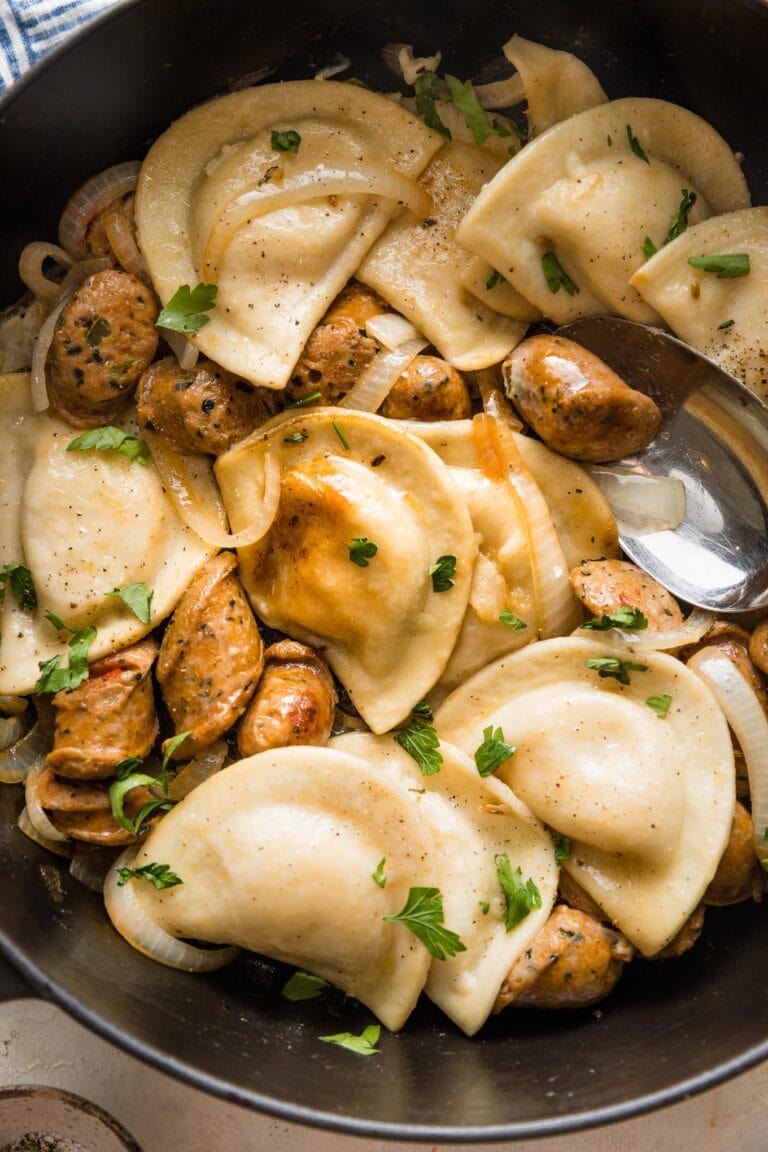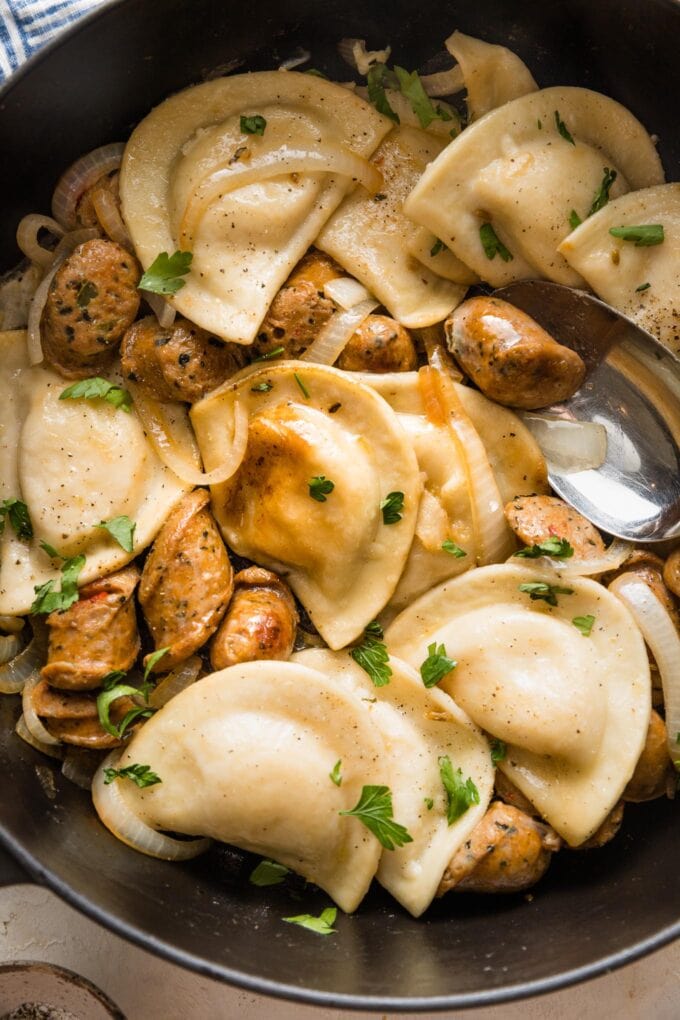 Related Recipes
In the market for more easy meals using chicken sausage or similar? We love this Italian chicken sausage pasta; sheet pan chicken sausage with broccoli, peppers, and potatoes; and sheet pan sausage and peppers.
Need other ultra-fast wonders? Pesto pasta and peas and Korean ground beef bowls are two of my trusted recipes when we need dinner to be ready 5 minutes ago.
If you try this Pierogies and Sausage skillet recipe, don't forget to rate it and leave a comment below. I love hearing how recipes turn out in your kitchen, and it helps other readers, too.
You can also FOLLOW me on PINTEREST, INSTAGRAM, FACEBOOK, and TWITTER for more great recipes and ideas!
Pierogies and Sausage Skillet
Conquer busy nights with this super easy skillet full of pierogies and sausage in a simple butter sauce. Serve with steamed veggies for an ultra-fast family dinner.
Ingredients
1 pound frozen pierogies any flavor
2 teaspoons olive oil
4 chicken sausages any flavor, sliced into 1" coins
1 small yellow onion sliced into strips
3 Tablespoons butter
fresh parsley optional, to serve
Instructions
Boil a large pot of water. Add frozen pierogies and cook for 4-5 minutes, until they float to the top of the surface.

While pierogies are cooking, warm olive oil in a large pan over medium-high heat. Add the sliced sausages and cook for 2-3 minutes, until brown and slightly crisp on the edges.

Add the onion to the skillet with the sausages and sauté for 2-3 minutes more, until slightly tender.

When the pierogies are done, use a slotted spoon to transfer them directly to the skillet along with the sausage and onions. Spread them out as best you can, so that one side of each pierogie is touching the bottom of the skillet.

Cut the butter into a few pieces and add to the skillet. Cook 4-5 minutes more, tossing occasionally, so that the pierogies brown very slightly in spots. Sprinkle with chopped fresh parsley, if desired, and serve.
Notes
Yield: My kids really love this meal, and as written the recipe is almost not enough for the 4 of us. If you have big appetites, consider making 1.5 boxes of pierogies; you can probably keep the rest of the ingredients as-is unless you fully double the recipe.
More Heat: Pass red pepper flakes at the table for anyone who prefers an extra dash of flavor or heat.
Nutrition Estimate
Calories: 446 kcal, Carbohydrates: 38 g, Protein: 19 g, Fat: 25 g, Saturated Fat: 9 g, Polyunsaturated Fat: 1 g, Monounsaturated Fat: 4 g, Trans Fat: 0.3 g, Cholesterol: 90 mg, Sodium: 1381 mg, Potassium: 230 mg, Fiber: 2 g, Sugar: 3 g, Vitamin A: 563 IU, Vitamin C: 3 mg, Calcium: 31 mg, Iron: 3 mg
Did you make this recipe?
Leave a review below, then snap a quick picture and tag @nourishandfete on Instagram so I can see it!