Roasted Butternut Squash Pasta
This cozy Roasted Butternut Squash Pasta with bacon, rosemary, and Parmesan hits all the most delicious fall notes. You'll love that it feels fancy but is simple to get on the table.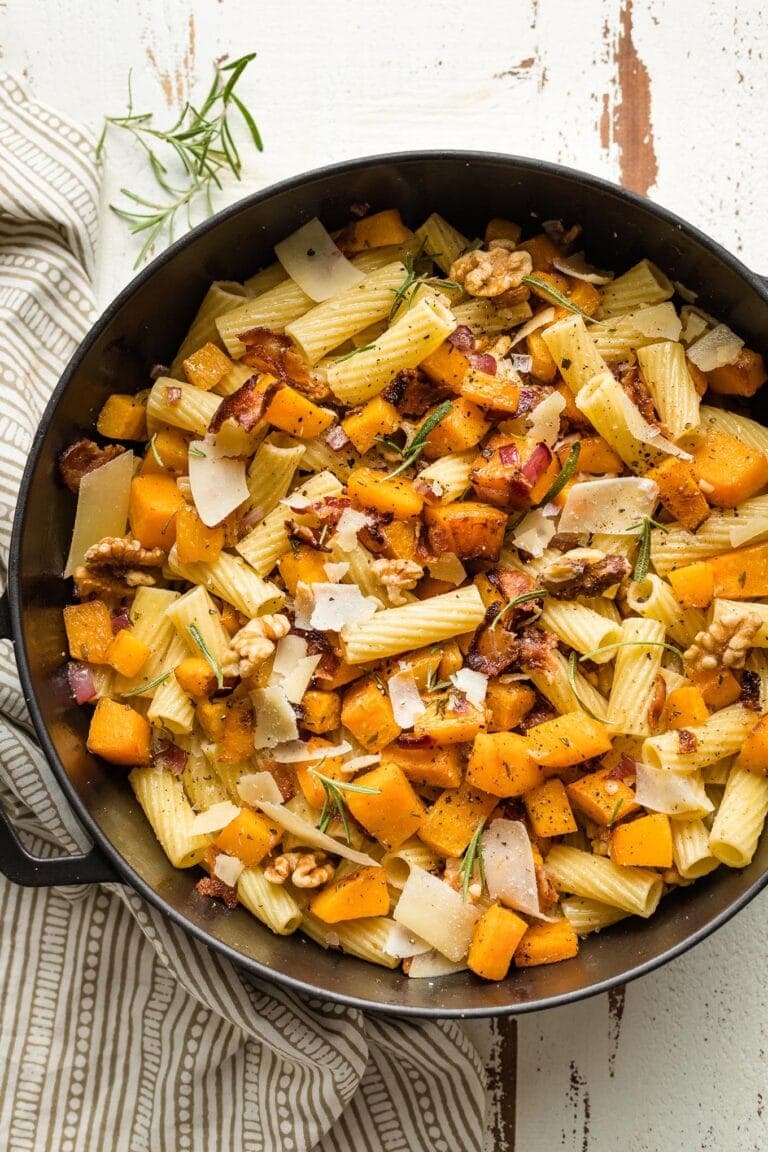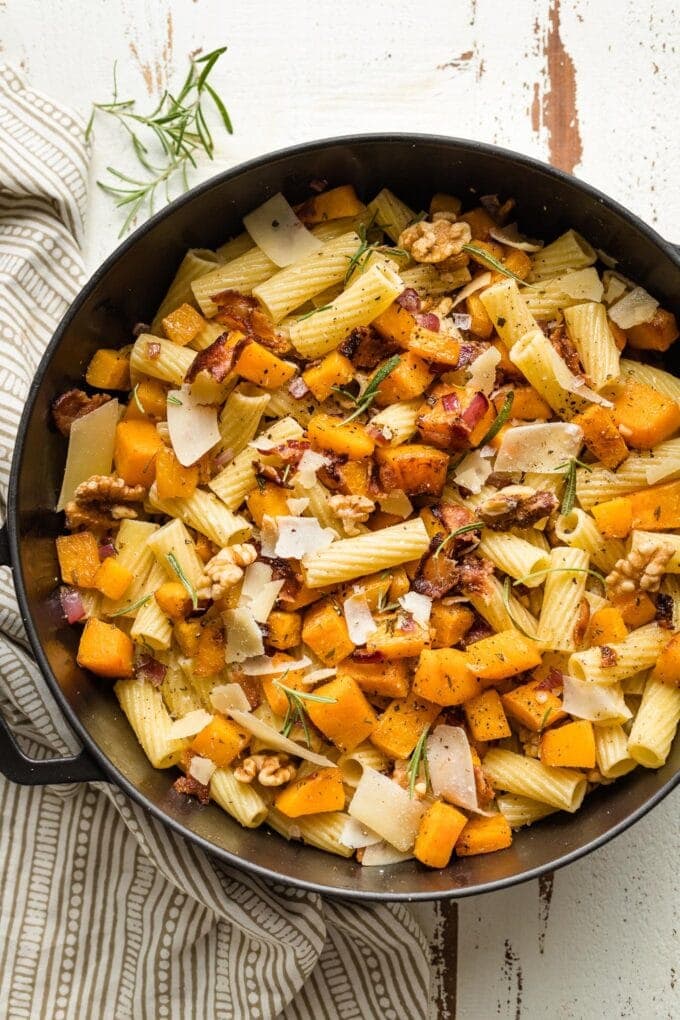 Few ingredients are so closely linked to a season as butternut squash is to the fall. Cozy, hearty, and versatile, this widely-available winter squash is the culinary equivalent of sweaters and boots.
You can use it in countless ways, but this roasted butternut squash pasta is especially easy to love. High heat brings out the butternut's natural sweetness, which pairs oh so perfectly with a sprinkling of salty bacon, woodsy rosemary, crunchy toasted walnuts, and tangy Parmesan.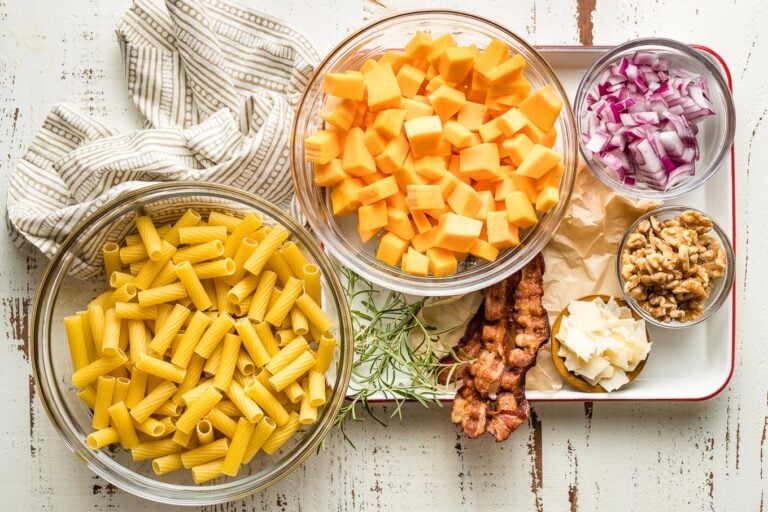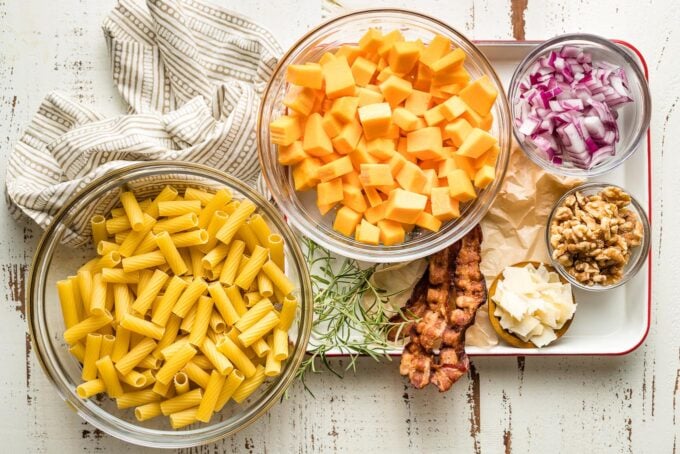 Best of all, this feels fancy yet is easy to make. It will take just over 30 minutes, because the squash needs time to roast, which fortunately is a completely hands-off process.
How to make it: roast, then toss
Roasting at high heat is a classic — and easy — technique to bring out the natural sugars in vegetables like butternut squash. You'll begin by adding butternut, chopped onion, and a few simple seasonings to a large rimmed baking sheet and roasting for about 20 minutes.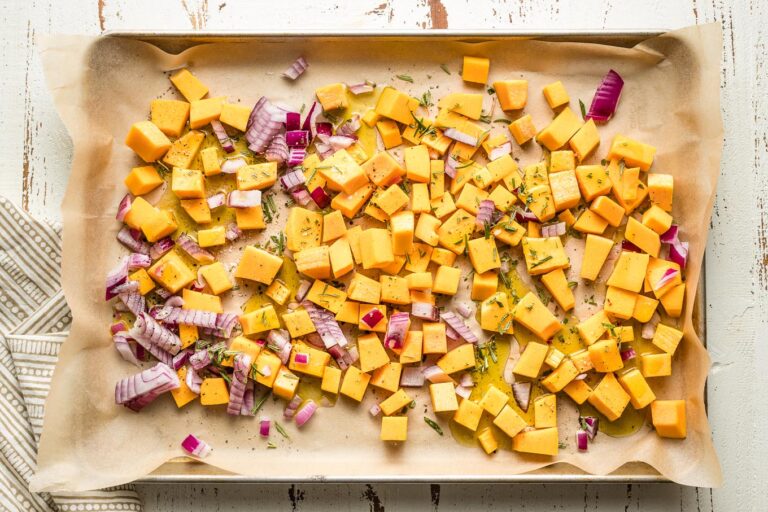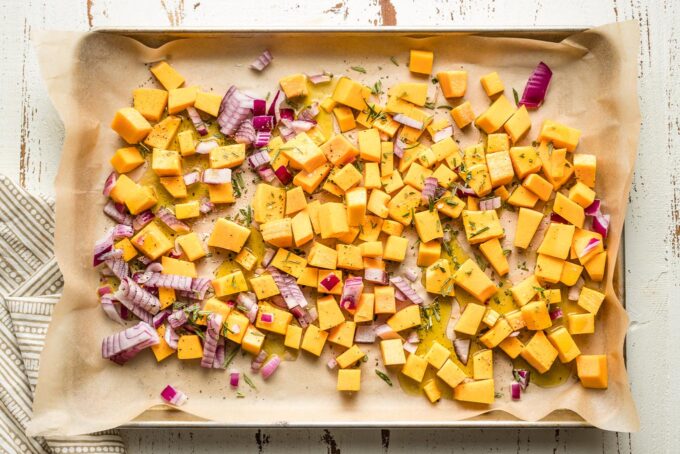 How to prep butternut squash
Watch how to peel and chop butternut squash, or buy pre-peeled, pre-chopped squash to save time. I sometimes do this, too, because my hands break out in a red, itchy rash from handling it directly — random, I know! Of course, gloves solve this problem, too. 😉
When the squash is done roasting, it will be tender enough to pierce easily with a fork with slightly browned edges.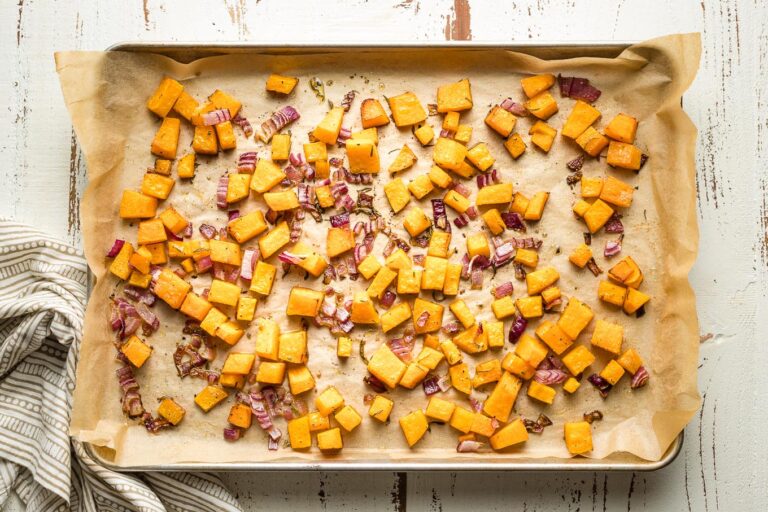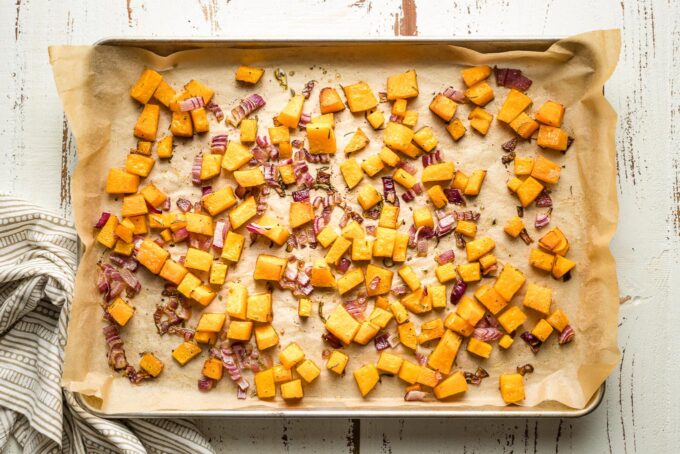 Meanwhile, cook your pasta in well-salted water and begin to prepare the rest of your ingredients. This is very simple! Toast a handful of walnuts in a large, dry skillet, then swirl in a bit of butter and olive oil.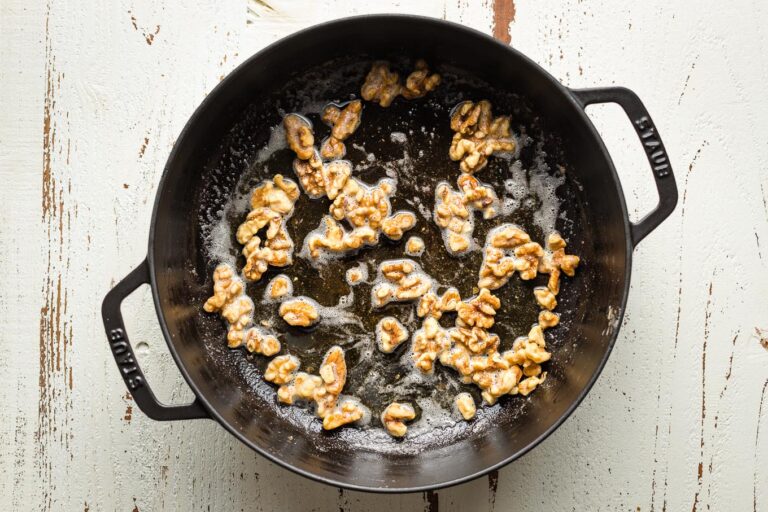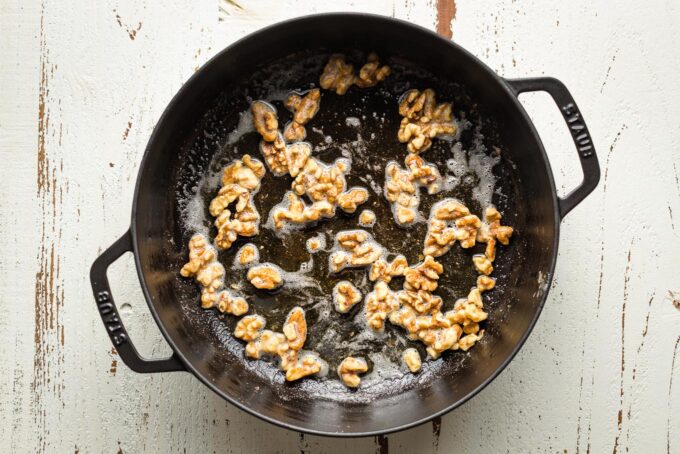 Now it's a simple matter of adding everything to the skillet — pasta, everything from the roasting pan, crumbled bacon, Parmesan, and a bit more rosemary for color and flavor.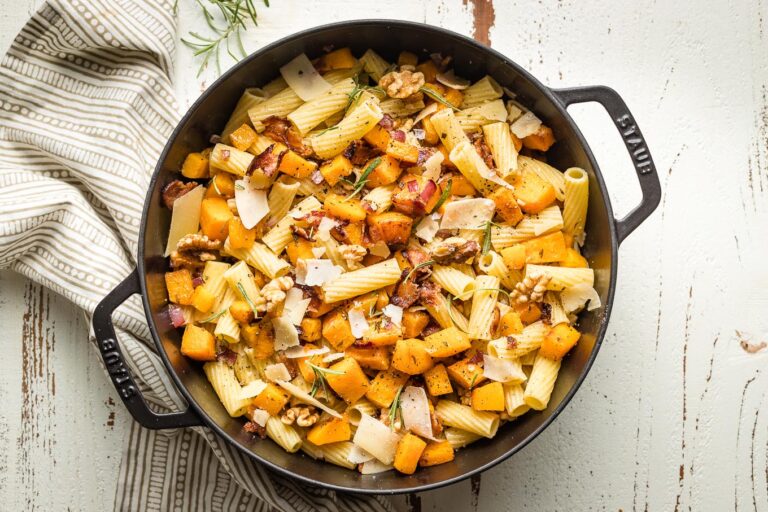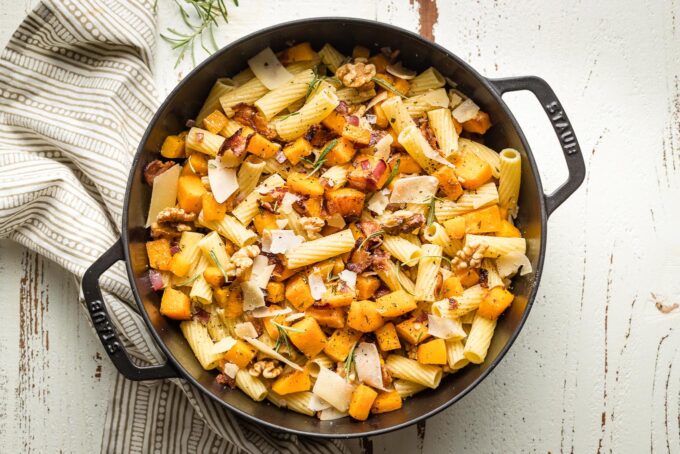 This is not a very "saucy" dish. Many recipes for butternut squash pasta call for pureeing the cooked squash into a sauce that then coats the pasta, which I'm sure is delicious, but also sounds like a lot of work. 😉 So I prefer this simple method that lets you grab all the same cozy flavors in each delicious forkful.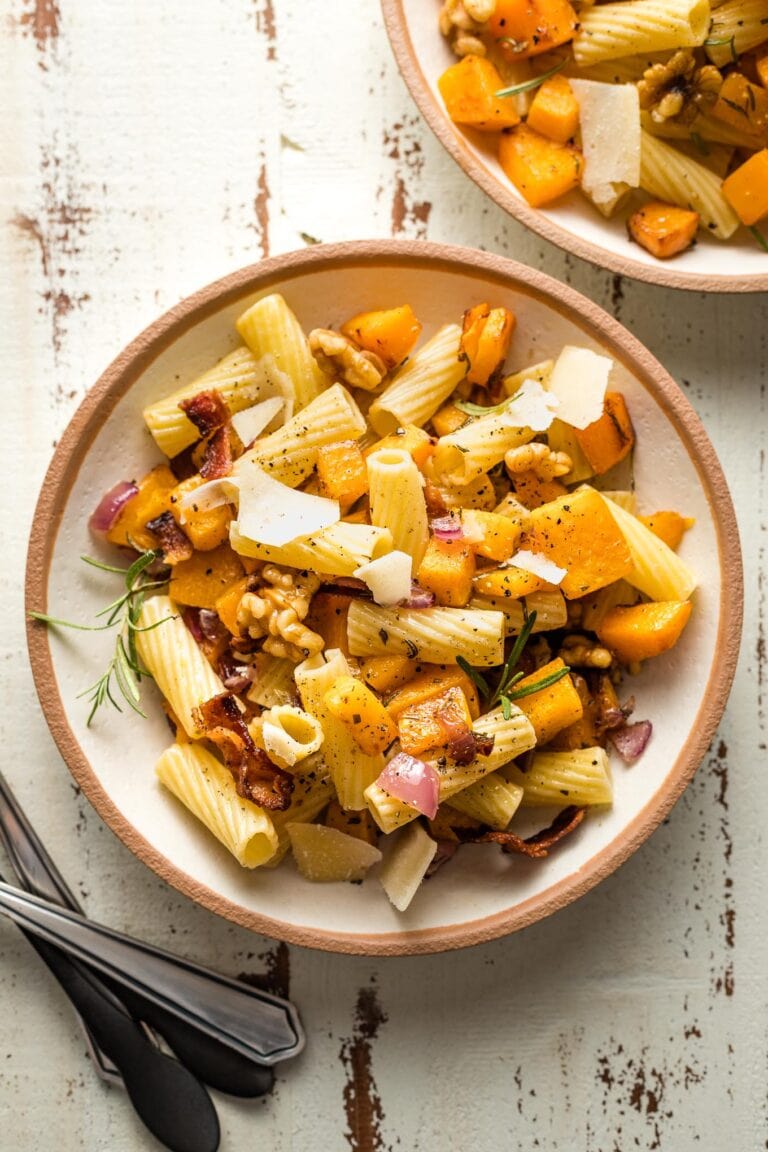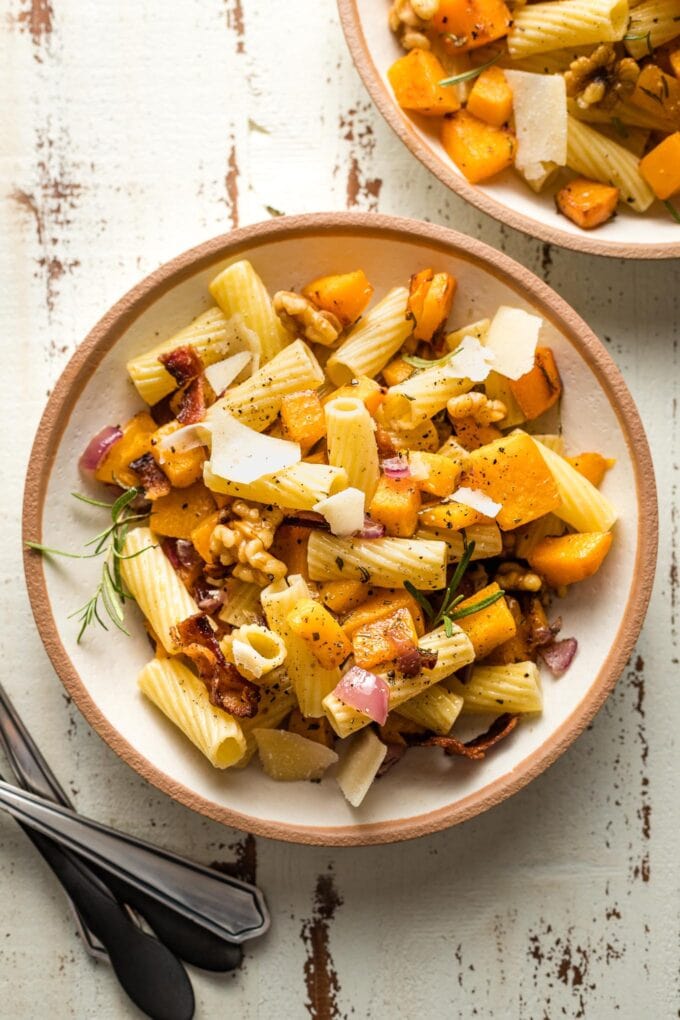 Variations
Squash Swap. Not into butternut? Use any other type of winter squash that you like, or sweet potato for a different flavor.
Shallot. I've written this recipe for a red onion, because that's what I nearly always have on hand, but it would be really lovely with a shallot instead.
Vegetarian/Vegan. You can easily transform this into a vegetarian dish simply by omitting the bacon, or make it fully vegan by omitting the bacon and Parmesan (consider sprinkling nutritional yeast on top instead) and using all olive oil instead of olive oil and butter.
Gluten-Free. Use your favorite gluten-free pasta and you're there!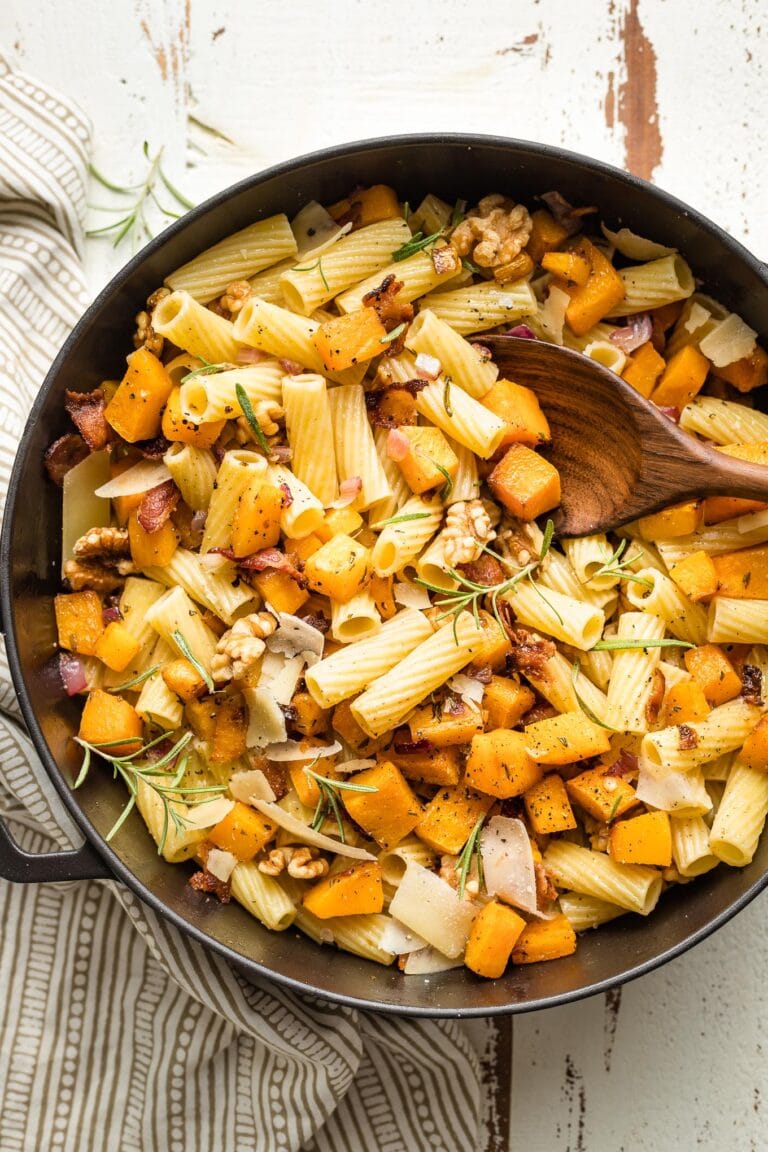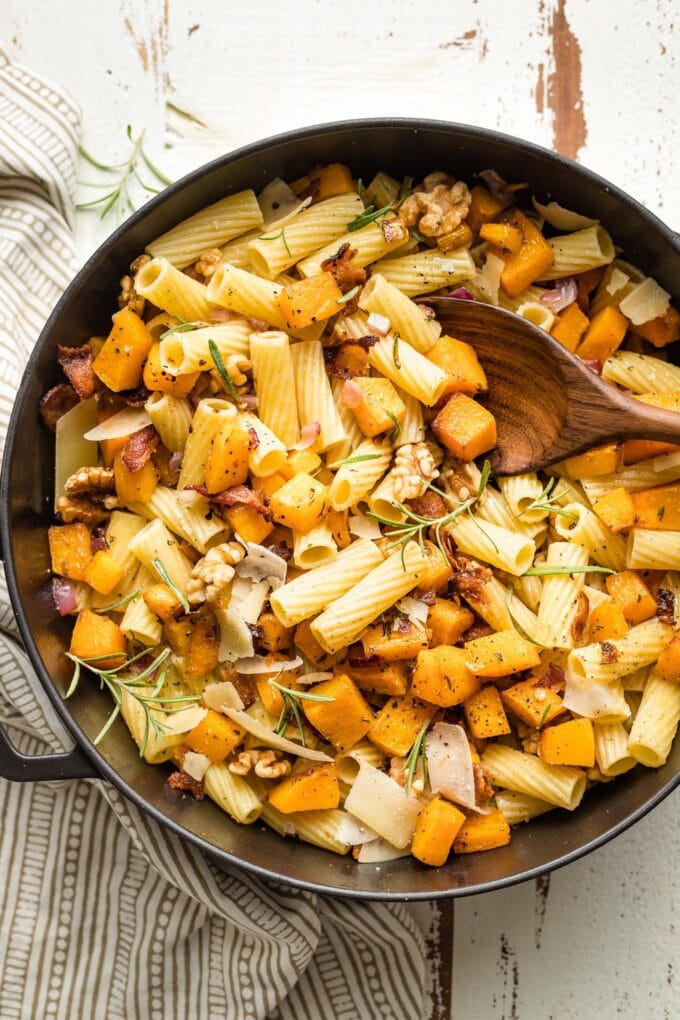 More cozy fall recipes
If you enjoy this dish, you'll also love my pumpkin ravioli with sage, brown butter, and toasted walnuts, and this rich, cozy roasted butternut squash soup. Have an Instant Pot? It makes this risotto with butternut squash quick and easy. Don't skip the crisped prosciutto. So good!
If you try this Butternut Squash Pasta, don't forget to rate the recipe and leave a comment below. I love hearing how recipes turn out in your kitchen, and it helps other readers, too.
You can also FOLLOW me on PINTEREST, INSTAGRAM, FACEBOOK, and TWITTER for more great recipes and ideas!
Roasted Butternut Squash Pasta
Cozy pasta with roasted butternut squash, bacon, rosemary, and Parmesan is sure to be a new fall favorite. It's easy to make and completely delicious.
Ingredients
3-4 cups cubed butternut squash from 1 medium-large squash
1/2 red onion chopped
2 tablespoons olive oil divided
1 tablespoon chopped fresh rosemary or 1 and 1/2 teaspoons dried
kosher salt and black pepper
8 ounces pasta
1/4 cup chopped walnuts
3 tablespoons butter
2 pieces cooked bacon crumbled
1/2 cup shredded or shaved Parmesan
Instructions
Preheat oven to 425 degrees F, and line a large rimmed baking sheet with parchment or a silicone baking mat for easy clean-up.

Combine squash and onion on the baking sheet. Sprinkle with 1 tablespoon olive oil, rosemary, 1/2 teaspoon salt, and 6-8 cranks of fresh-ground black pepper. Toss to combine. Roast for 20-25 minutes, tossing halfway through cooking, until the squash is tender and starting to brown on the edges.

When the squash is about halfway done, boil a large pot of well-salted water and cook pasta to al dente, according to package directions. Drain and set aside.

While pasta cooks, place a large skillet or pot over medium heat. Add walnuts and toast in the dry skillet for 2-3 minutes, stirring frequently and taking care that they don't start to blacken or burn. Once the walnuts are lightly toasted and fragrant, add butter and remaining 1 tablespoon olive oil to the pan.

When butter is melted, stir in the drained pasta, roasted squash, crumbled bacon, and Parmesan. Toss to combine. Garnish with additional sprigs of rosemary, if desired, and season with more salt and pepper to taste.
Notes
Squash: For best results, use squash cut into cubes of approximately 1/2″. This allows them to roast quickly and evenly.
Onion: Sub 1 chopped medium shallot for a slightly different flavor.
Nutrition Estimate
Calories: 477 kcal, Carbohydrates: 57 g, Protein: 12 g, Fat: 23 g, Saturated Fat: 8 g, Cholesterol: 27 mg, Sodium: 192 mg, Potassium: 548 mg, Fiber: 5 g, Sugar: 5 g, Vitamin A: 11488 IU, Vitamin C: 23 mg, Calcium: 156 mg, Iron: 2 mg
Did you make this recipe?
Leave a review below, then snap a quick picture and tag @nourishandfete on Instagram so I can see it!