Turkey Gouda Party Rolls With Honey Mustard Glaze
Turkey gouda party rolls with honey mustard glaze will be a massive hit at your next gathering! Quick and easy with a simple make-ahead option. Perfect for parties, game day, lunch, and using up leftover turkey, too.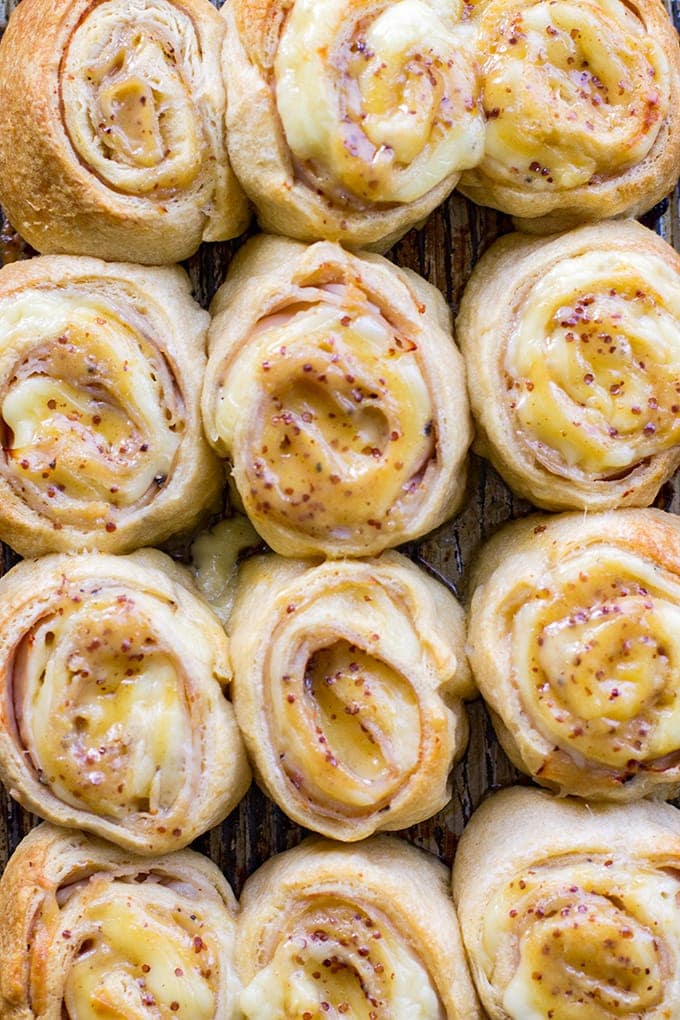 What kind of party planner are you? Personally, I am definitely evolving over time. I used to be a semi-obsessive, make absolutely everything from scratch type, even if I drove myself insane. Fortunately for, well, everyone, I've mellowed on this with the passage of time.
Make no mistake, if you come to my house for any type of gathering, I will do my absolute best to ensure you find plentiful food and libations suited to the occasion. I've just learned that it's OK to take a shortcut here and there!
The three party planning "rules" I do my best to follow these days:
Not EVERYTHING needs to be the MOST AMAZING thing, or totally from scratch. Choose a couple of items you really want to make entirely from scratch or otherwise spend a lot of time and energy on. There are ways to make the rest of the menu special and delicious without going out of your mind!
Make and prep-ahead options are your BFF. Sounds obvious, but seriously. If you can make or prep something, even part of a recipe, ahead of time, DO IT. As much as possible! Not only will you *actually* have more the day before and day of the party, you'll *feel* like an organized rock star, and who doesn't want that vibe!?
Be realistic about how long things will take and how much time you have. I used to be the queen of underestimating how long tasks would take and simultaneously overestimating how much time I'd have. "OK, if I make and decorate 48 mini cupcakes in 1 hour, then wash and cut 5 pounds of veggies in 15 minutes, there'll be ample time to clean the whole house, too." You can see how this didn't work out. Instead, now I usually take 15 minutes sometime a week or two in advance of any party, and think very deliberately about every task that needs to be done. This helps me identify those things that can be done in advance, prioritize the rest, and spot early on if something I'd hoped to make or do is just not feasible and I need to find an alternative.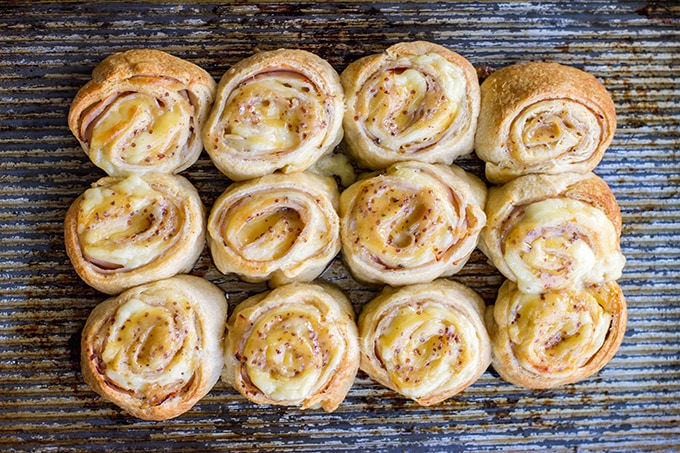 But I'm here for the food…
OK, but, you didn't come here for party planning tips, you came here for a recipe! These killer turkey gouda party rolls, to be exact. So, without further ado, let me tell you why you will love these.
Uh, turkey and gouda. Duh. An amazing combination.
Honey mustard glaze. Again, hello! You'll only brush a little of the sauce on the rolls; I authorize you in advance to eat the rest with a spoon.
Crescent roll dough. Who doesn't love the stuff!? Yes, I normally love making it all from scratch, but this is an example of the first "rule" above.
SO easy, AND so easy to prep ahead of time. Shape the rolls, arrange on a baking tray, wrap tightly in foil, and refrigerate until ready to glaze and bake. (You can prep the glaze in advance, too.) You could even take them over to a friend's house this way and bake on the spot!
A great use for leftover turkey! Thanksgiving over, holiday parties coming up? Two birds, one stone!
[clickToTweet tweet="Party planning? These turkey gouda rolls with a to-die-for honey mustard glaze are a menu MUST!" quote="Party planning? These turkey gouda rolls with a to-die-for honey mustard glaze are a menu MUST!"]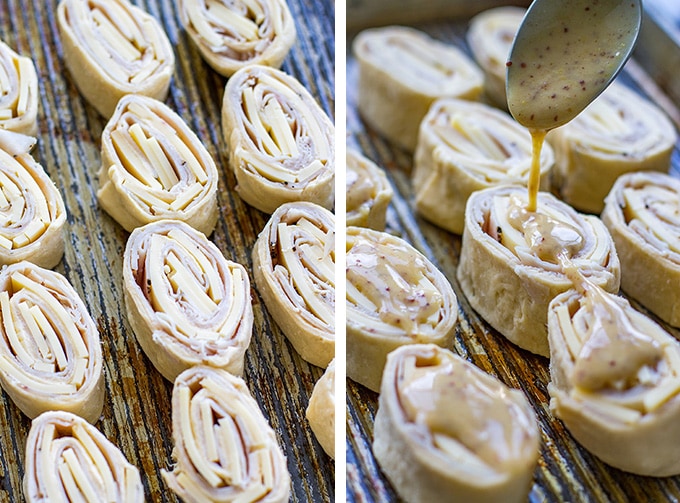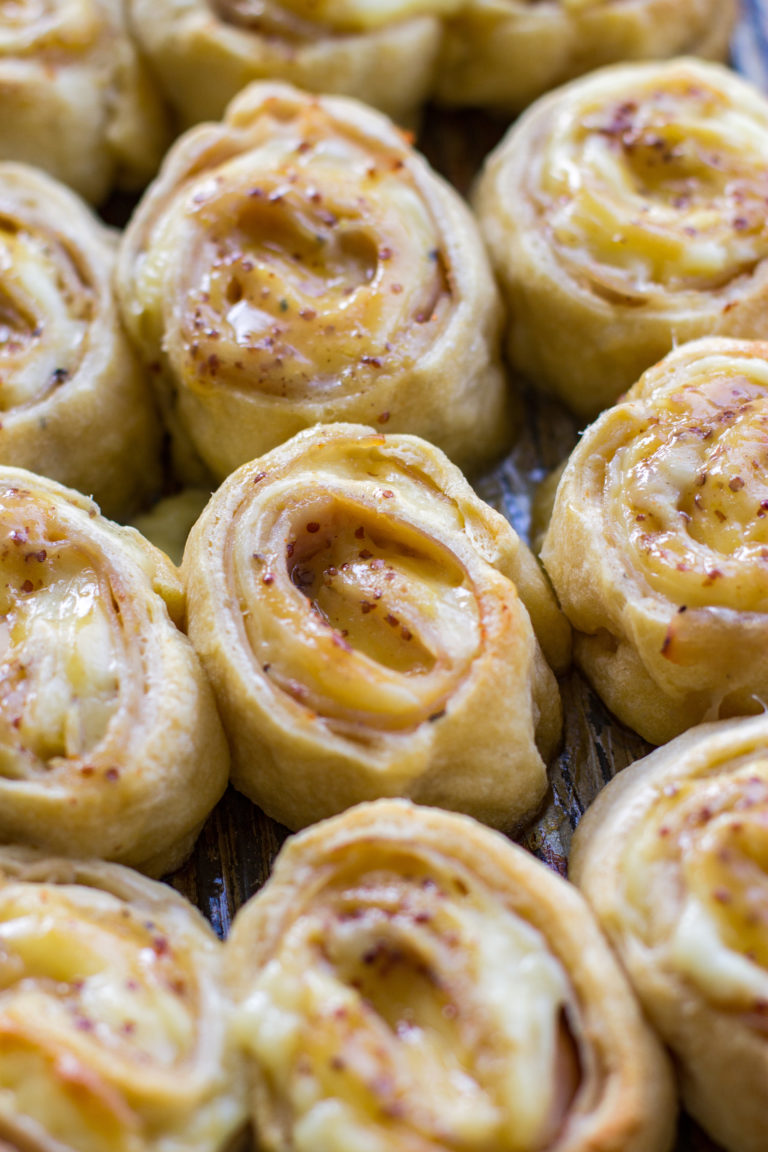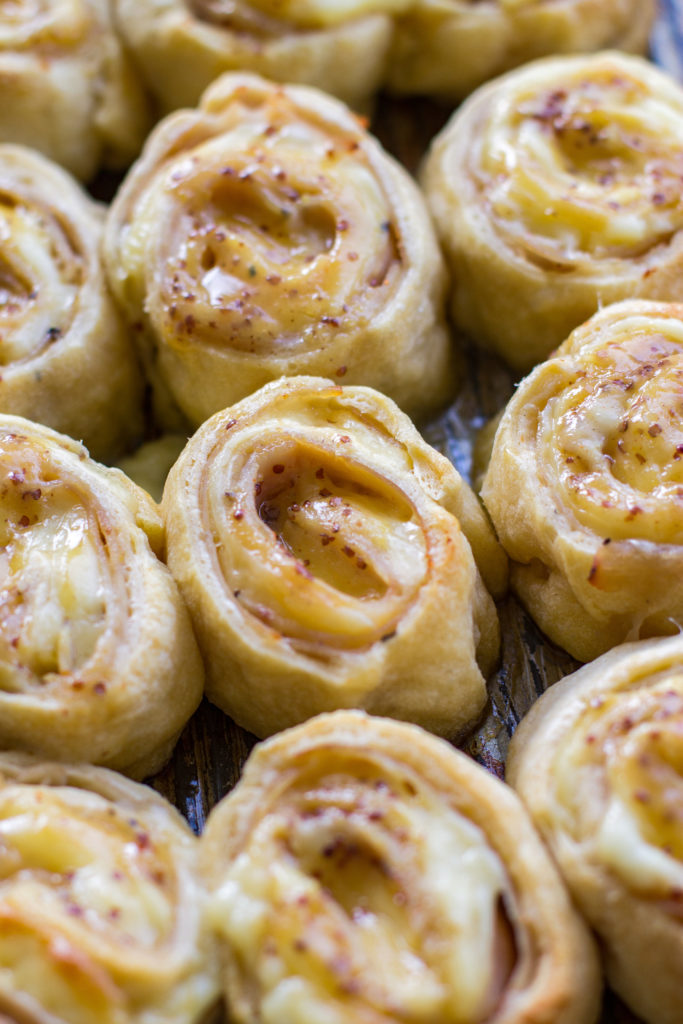 I honestly have a hard time deciding which is my favorite occasion for these. Game day snacks? Yes! Weekend lunch? Yes! Day after Thanksgiving feast? Absolutely! Kids' birthday party? Gotta love anything this delicious and not messy and single-serving! (The glaze pretty much bakes on/into the rolls.) Holiday party? Don't mind me while I hover obsessively near the platter and eat, uh, more than one. At a time. Ha!
Enjoy! ♥
Turkey Gouda Party Rolls with Honey Mustard Glaze
Turkey gouda party rolls with honey mustard glaze will be a massive hit at your next gathering! Quick and easy with a simple make-ahead option. Perfect for a quick lunch and using up leftover Turkey, too.
Ingredients
For the Rolls
1 tube crescent roll dough
1/2 pound thin-sliced turkey breast
8 slices Gouda cheese
For the Glaze
1/4 cup honey
1/4 cup Greek yogurt
1/4 cup whole grain or Dijon mustard
1 Tablespoon distilled white vinegar
1/4 teaspoon cayenne pepper
Instructions
Preheat oven to 350 degrees F. Lightly grease a rimmed baking sheet or pan with cooking spray and set aside.

To make the honey mustard glaze, combine all ingredients in a medium bowl or liquid measuring cup, and whisk to blend. Set aside.

Unroll crescent dough and and stretch into an approximately 12x18 inch rectangle, lightly pressing the seams together to form a sheet.

Top the crescent roll sheet with an even layer of turkey, followed by the cheese.

Starting on the long side, roll the dough up into a tight log. Pinch the seam together and, using a very sharp knife, cut into 12 pieces.

Arrange rolls on the baking tray with approximately 1/2-inch space between them.

Drizzle 1-2 tablespoons of the honey-mustard glaze over each roll. Bake, uncovered, for 25 minutes, or until the tops are lightly browned.
Notes
I've used thinly-sliced deli turkey for this, which is delicious, but it would work just as well with leftover turkey you cooked yourself - just be sure to slice it pretty thin!  
To make these rolls ahead of time, prepare the recipe through step 6, then tightly wrap the rolls in aluminum foil and refrigerate until ready to bake. Remove from the fridge, brush with the glaze, and bake as directed.
The glaze can also be made ahead and stored in the fridge for up to a week. And, of course, if you don't want to sacrifice your baking tray while these are patiently waiting for go time, you can arrange them and refrigerate on a plate, then transfer to the greased baking sheet, glaze, and go.
Word to the wise, the leftover glaze also makes a fantastic dipping sauce (chicken fingers, you're calling my name!), marinade, and salad dressing!
Rolls are an original; glaze is adapted from Pinch of Yum's 5-minute honey mustard sauce.
Nutrition Estimate
Serving: 1 roll, Calories: 125 kcal, Carbohydrates: 8 g, Protein: 8 g, Fat: 6 g, Saturated Fat: 3 g, Cholesterol: 32 mg, Sodium: 418 mg, Potassium: 134 mg, Sugar: 6 g, Vitamin A: 130 IU, Vitamin C: 0.1 mg, Calcium: 149 mg, Iron: 0.3 mg
Did you make this recipe?
Leave a review below, then snap a quick picture and tag @nourishandfete on Instagram so I can see it!
More Appetizers and Party Food:
Classic Stuffed Mushrooms
Crunchy Honey Mustard Pretzels
White Bean Sun-Dried Tomato Dip
Roasted Garlic Sage Pumpkin Hummus
Boursin Cucumber Bites