Pasta with White Beans and Broccoli
Pasta with White Beans and Broccoli is an easy dinner that packs veggies and a light plant protein all in one bowl. A quick braise of the beans in Mediterranean-inspired spices, together with a healthy sprinkle of Parmesan and lemon, makes for a flavorful one-pot meal.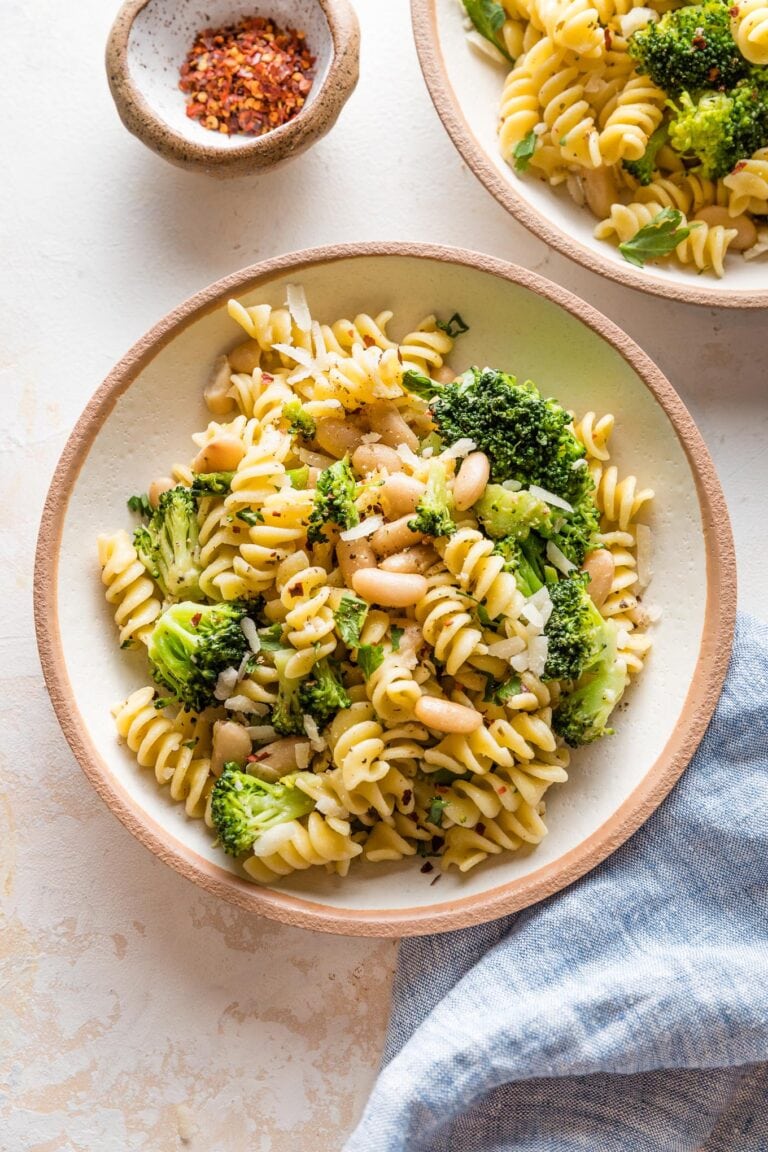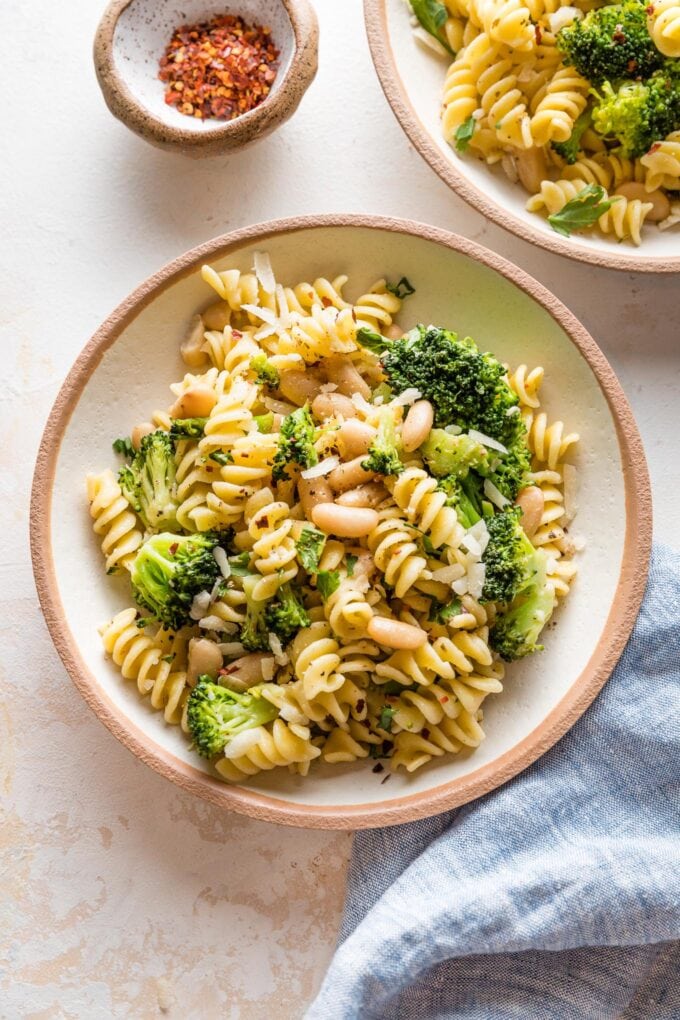 True one pot meals are a life-saver, whether it's because you have a busy family or are cooking for one or two and just don't want a big mess. Don't we all want fewer dishes to wash?
This particular recipe is adapted from one of my go-to simple meals, lemon broccoli pasta. I have been trying to make sure we get enough protein, and cannellini beans are one of my favorite pantry staples for an economical, healthy, plant-based source. Adding them here with a quick simmer for flavor and tenderness was a no-brainer. And the leftovers disappeared with my husband for lunch, no coaxing required, which is a sure sign of a winner!
Why You'll Love It
Fresh and flavorful. Lemon, garlic, and dried Mediterranean-inspired herbs are a simple, foolproof combination. You can't go wrong with these in your dish.
Packing veggies and protein. All in one dish for a truly straightforward meal you can feel good about serving or reheating for lunches. It's the full package.
One pot=fewer dishes. You'll use one pot to cook the pasta and broccoli together, then throw together the sauce and lightly braise the beans in the same pot. No separate skillet, no extra pans.
Ingredients & Common Substitutions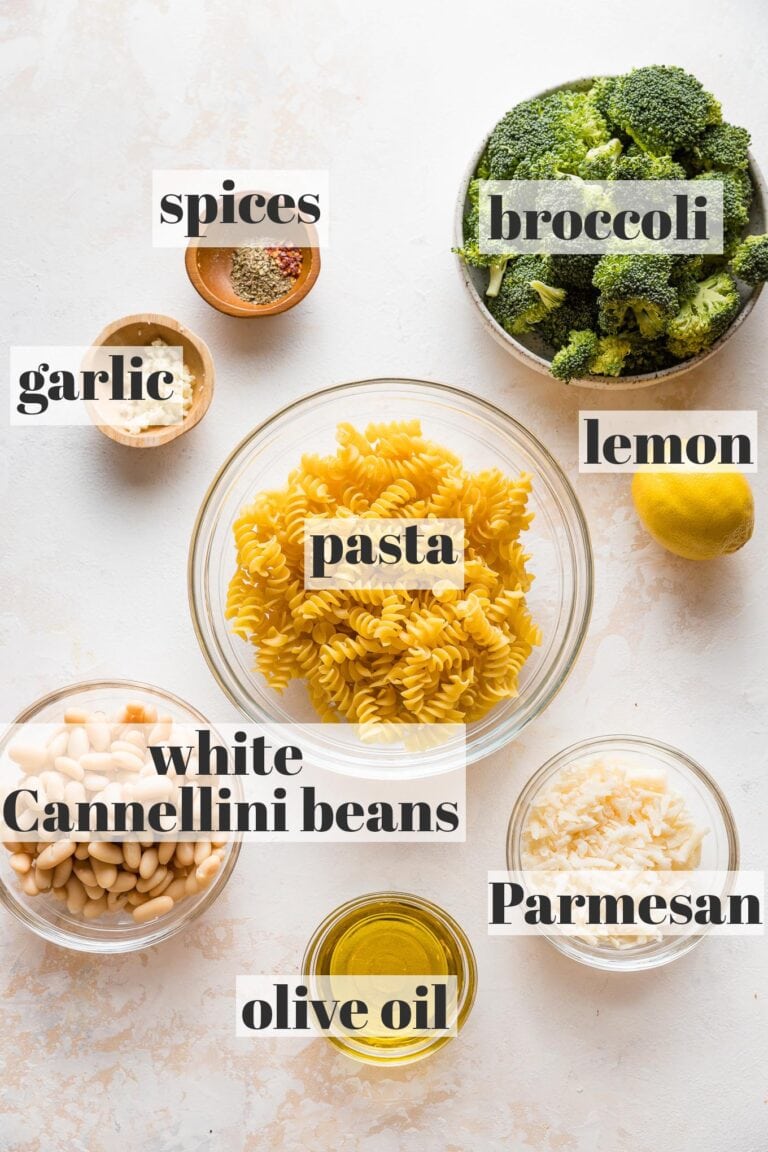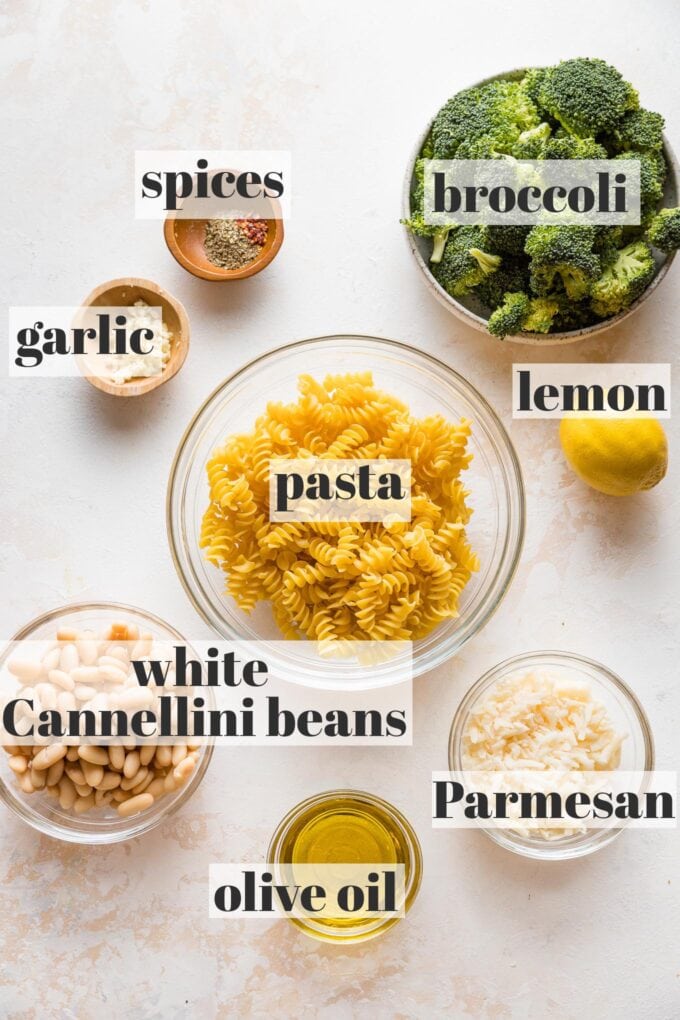 Here are a few notes and shopping tips about the ingredients you'll need to make this, as well as possible substitutions.
Pasta: I used large rotini here; any small pasta shape will work well. Think penne, rigatoni, fusilli, farfalle (bowties), and similar.
Broccoli: You'll need roughly 8 ounces of broccoli florets, which you should easily get from one small head of broccoli, or purchase pre-packaged florets to save time.
Cannellini beans. Cannellini beans are a large Italian bean that work beautifully in any recipe that calls simply for "white kidney beans." They maintain a hearty, creamy texture when cooked. Great northern or white navy beans work well as substitutes.
Garlic: Fresh or jarred minced garlic is key here for the best flavor.
Parmesan: Pecorino Romano makes a high-quality substitute. Either will add a delightful and slightly tangy finish.
Lemon juice and zest.
Olive oil.
Spices: Italian seasoning, dried oregano, kosher salt, and red and black pepper.
Fresh parsley: An optional but very nice garnish. Don't sweat it if you don't have it.
Are cannellini beans a complete protein?
White beans are very high in protein, boasting about 19 grams of the good stuff per cup, and also have a ton of fiber. They are not, however, a complete protein, meaning they do not contain all of the nine essential amino acids your body needs. Simply pairing them with wheat, however — or another grain such as rice, barley, or corn — over the course of several days gives you the full package in the form of complementary proteins and keeps you running strong.
Can I add extra veggies?
Absolutely! Try tossing in some fresh spinach, kale, or Swiss chard; cooked mushrooms or bell peppers; or cherry or sun-dried tomatoes for extra flavor and nutrition.
How To Make It
This pasta is a true one-pot wonder. To begin, bring a large pot of water to a boil, then add a generous pinch of salt. Ensuring your cooking water is salty like the sea gives your pasta its first subtle layer of flavor.
While the water comes to a boil, chop your broccoli into bite-sized pieces and discard any thick stems.
Cook pasta to al dente according to package directions, and add the broccoli to the water when just 2-3 minutes of the pasta's cooking time remains. This will make the broccoli very tender but not falling apart.
This is important: before draining the pasta, grab a liquid measuring cup and scoop out roughly 1 full cup of the cooking water! You'll need this to braise the beans and make the sauce.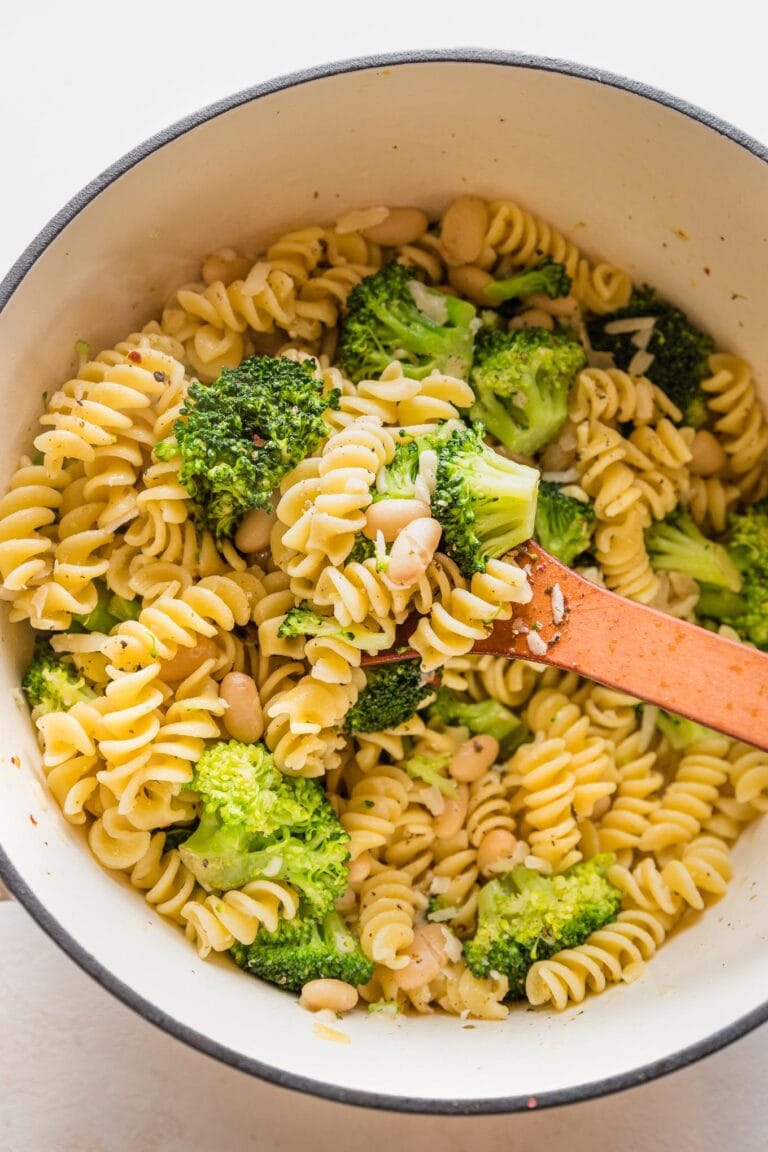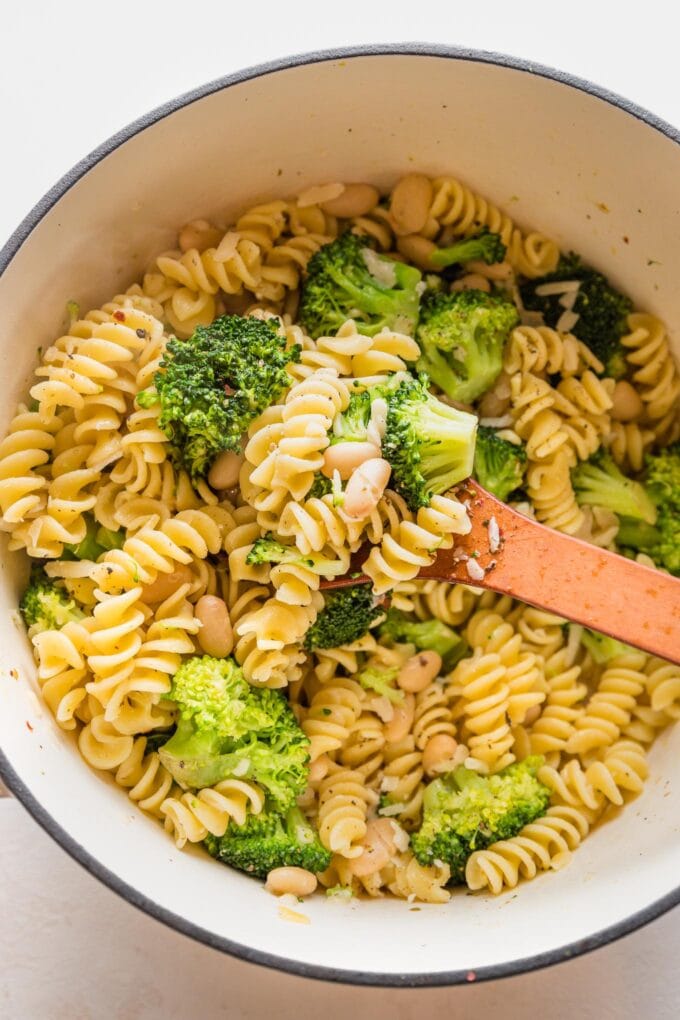 Drain pasta and broccoli together. Set aside, and return the pot to medium heat.
Really short on time? If you have even less than 30 minutes to get a meal on the table, you can begin cooking the garlic and beans in a separate large skillet while the pasta and broccoli cook. Now it's a two-pot meal. 🙂
In the same pot, cook the garlic in olive oil until fragrant, then add the beans and remaining seasonings. Stir in most of the reserved pasta water and kick up your burner to medium-high heat. The mixture comes to a rapid boil. Now return heat to medium and simmer for roughly 5 minutes. This is a very quick braise, a fancy word for a simple cooking technique, which will tenderize and impart flavor into the humble beans.
Return pasta and broccoli to the pot, toss well, then add Parmesan cheese and stir once again.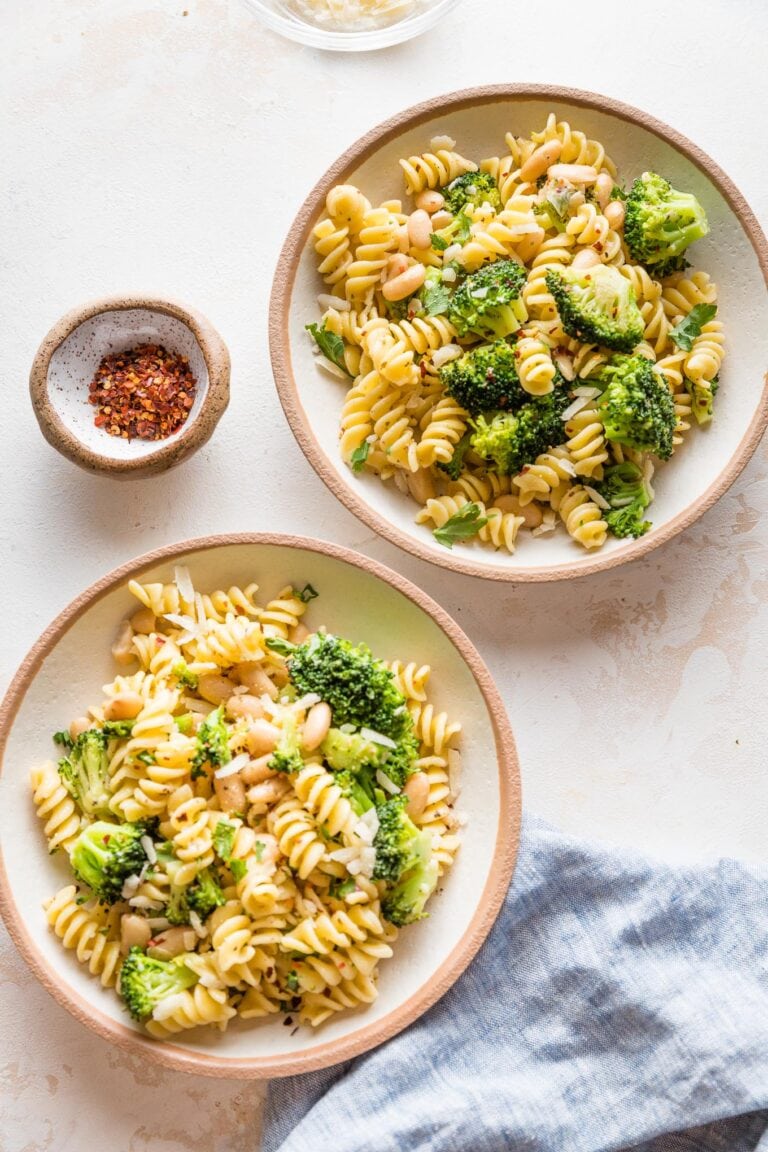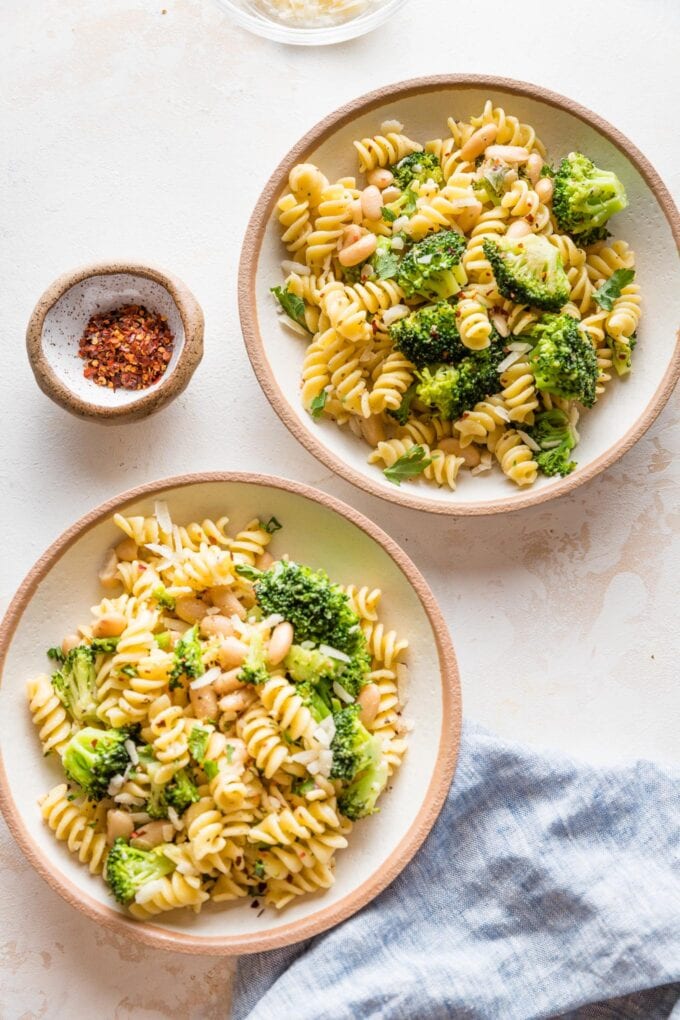 Serving Suggestions
Scoop heaping cups of this pasta into plates or shallow bowls and top with a spritz of fresh lemon juice and more cheese. Pass red pepper flakes at the table for anyone who wants a smidge of extra heat.
Want to dress up the portions a bit? Cracked black pepper, lemon wedges, and lemon zest look pretty and taste great. A few leaves of fresh oregano or Italian parsley, either flat-leaf or curly, are lovely as well.
This goes wonderfully with a light salad or garlic bread. Craving some extra protein? Italian dressing chicken, Greek chicken, or lemon herb salmon all complement these flavors well.
Can I make this gluten-free?
Yes! Use any gluten-free pasta you like, it will work perfectly in this dish with no additional changes. Whole wheat pasta works very well, too.
Storage & Reheating
Storage: This pasta is best served right away, but leftovers do keep well for 3-4 days. Store in airtight containers in the refrigerator.
Reheating: Warm in the microwave or over medium-low heat on the stovetop. Add a splash of water or broth if the pasta seems to have dried out, and finish with a sprinkle of extra Parmesan and a drizzle of olive oil for a faux fresh effect.
More Easy Vegetarian Pasta Recipes
Interested in more quick and easy pasta dishes? Those are a favorite around here, too! Try my Tuscan white bean pasta, creamy Tuscan gnocchi, pasta with artichoke and lemon, roasted red pepper pasta, or pesto rigatoni with toasted walnuts next.
Can't get enough white beans? Try braised white beans with tomatoes or this delicious chicken white bean soup next.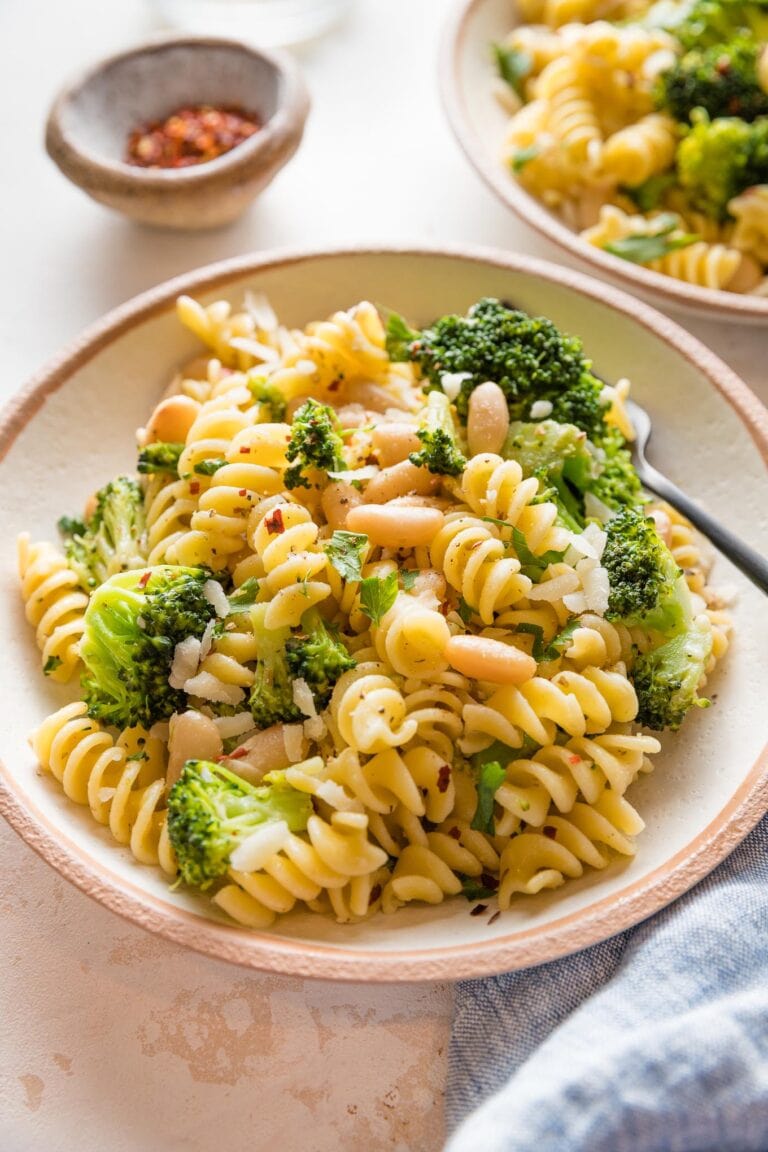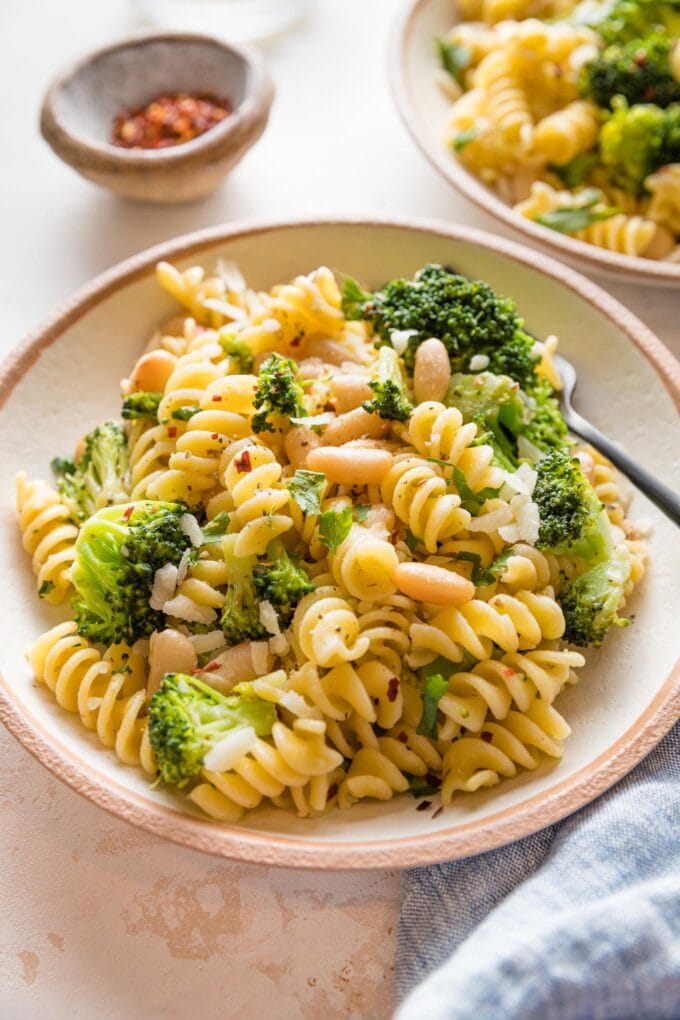 We love the simplicity of one pot meals here, and I hope you enjoy this one as much as we do!
If you try this Pasta with White Beans and Broccoli, don't forget to rate the recipe and leave a comment below. I love hearing how recipes turn out in your kitchen, and it helps other readers, too.
You can also FOLLOW me on PINTEREST, INSTAGRAM, FACEBOOK, and TWITTER for more great recipes and ideas!
Pasta with White Beans and Broccoli
One pot veggie pasta packed with Mediterranean-seasoned white beans, broccoli, and lemon flavor. An easy and complete meal in 30 minutes!
Ingredients
8 ounces dried pasta penne, rotini, or another small shape
8-10 ounces broccoli florets
3 Tablespoons olive oil
2 cloves garlic minced
1 (15 ounce) can cannellini beans drained and rinsed
2 Tablespoons lemon juice
1 Tablespoon lemon zest
1 teaspoon Italian seasoning
1/2 teaspoon dried oregano
1/4 teaspoon red pepper flakes
kosher salt and black pepper
1/2 cup shredded Parmesan or Pecorino
lemon wedges and fresh parsley optional garnish
Instructions
Bring a large pot of water to a boil, add a generous pinch of salt, and cook pasta just to al dente, according to package directions.

While the pasta cooks, roughly chop the broccoli florets into small pieces, discarding any thick stems. Add broccoli to the boiling water 2-3 minutes before the pasta's cooking time is up.

When both the pasta and broccoli are finished, use a liquid measuring cup to scoop out about 1 cup of the cooking water, then drain pasta and broccoli together. Set aside.

Return the empty pot to medium heat. Add olive oil and garlic. Cook for 30-60 seconds, just until fragrant, then stir in the beans, lemon juice, lemon zest, Italian seasoning, oregano, red pepper flakes, 1/2 teaspoon salt, and 10-12 cranks of fresh-ground black pepper.

Pour in about 3/4 cup of the reserved pasta water. Increase heat until the liquid boils, then reduce heat to medium and simmer for about 5 minutes.

Return the pasta and broccoli to the pot. Add the Parmesan cheese. Stir well, then taste. Add a bit more pasta water to further thin out the sauce, if desired, or more lemon, salt, or pepper to taste.

Serve right away with a few sprigs of fresh parsley, lemon wedges, and extra pepper and Parmesan.
Notes
Really short on time? If you have even less than 30 minutes to get a meal on the table, you can begin cooking the garlic and beans in a separate skillet while the pasta and broccoli cook. Now it's a two-pot meal. 🙂
Nutrition Estimate
Calories: 500 kcal, Carbohydrates: 71 g, Protein: 21 g, Fat: 15 g, Saturated Fat: 4 g, Polyunsaturated Fat: 2 g, Monounsaturated Fat: 9 g, Cholesterol: 9 mg, Sodium: 231 mg, Potassium: 828 mg, Fiber: 9 g, Sugar: 3 g, Vitamin A: 502 IU, Vitamin C: 56 mg, Calcium: 282 mg, Iron: 5 mg
Did you make this recipe?
Leave a review below, then snap a quick picture and tag @nourishandfete on Instagram so I can see it!