Tuscan Pasta with Cannellini Beans
This simple Tuscan-inspired Pasta with Cannellini Beans is shockingly fast and easy to make, but delivers big flavors in a satisfying one-pan meal. It'll be a favorite of the family as well as the cook!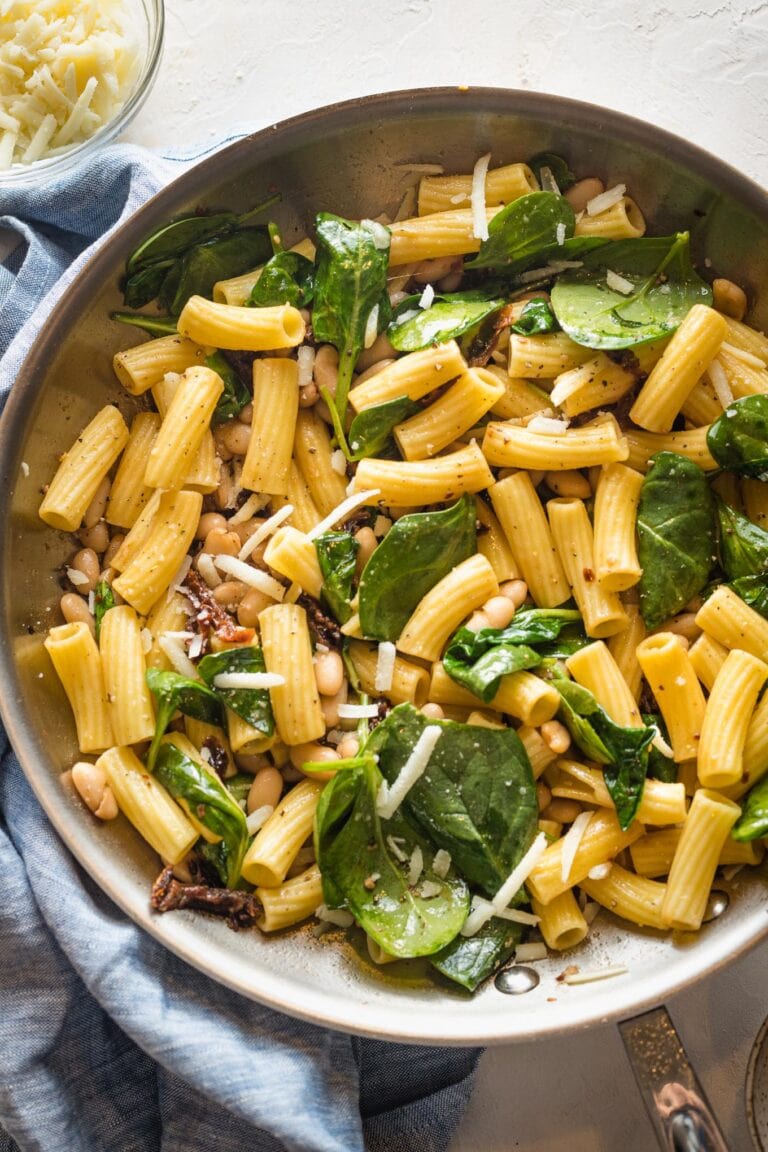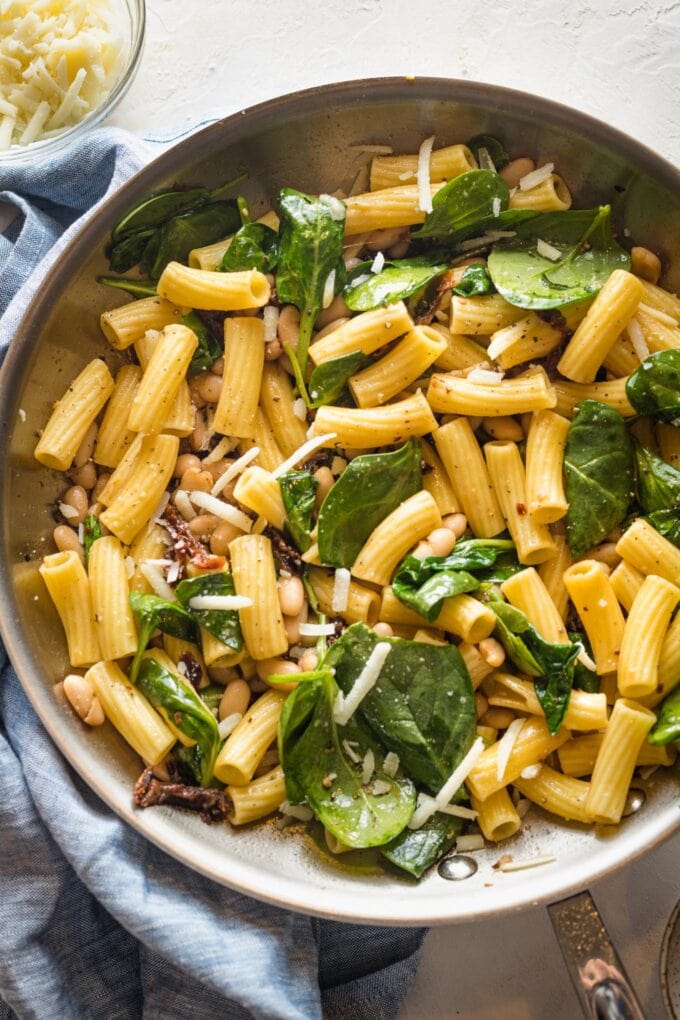 Tuscan flavors are always popular, and building them around a homey dish of tender pasta and creamy white beans is an easy to meld them into your everyday dinner routine, even if a trip to the rolling hills of San Gimignano is not on the horizon.
This is a classic combination that is so simple to toss together in one skillet, yet tastes restaurant-worthy and will have your family eager to gather around the table any day of the week. Bonus: with no meat to cook, it comes together in an absolute snap, and is a natural way to pack in more plant-based protein.
Ingredient Notes
Here is a visual overview of the ingredients you'll need for this recipe. Scroll down to the printable recipe card at the bottom of this post for quantities!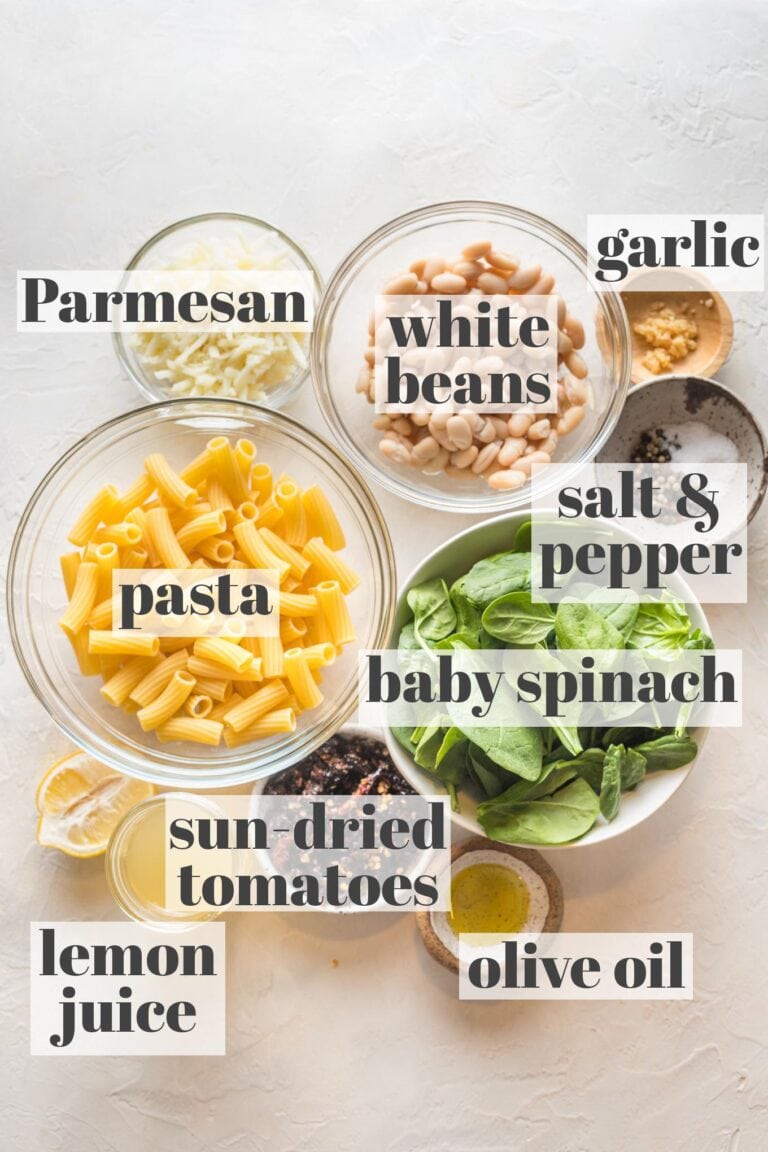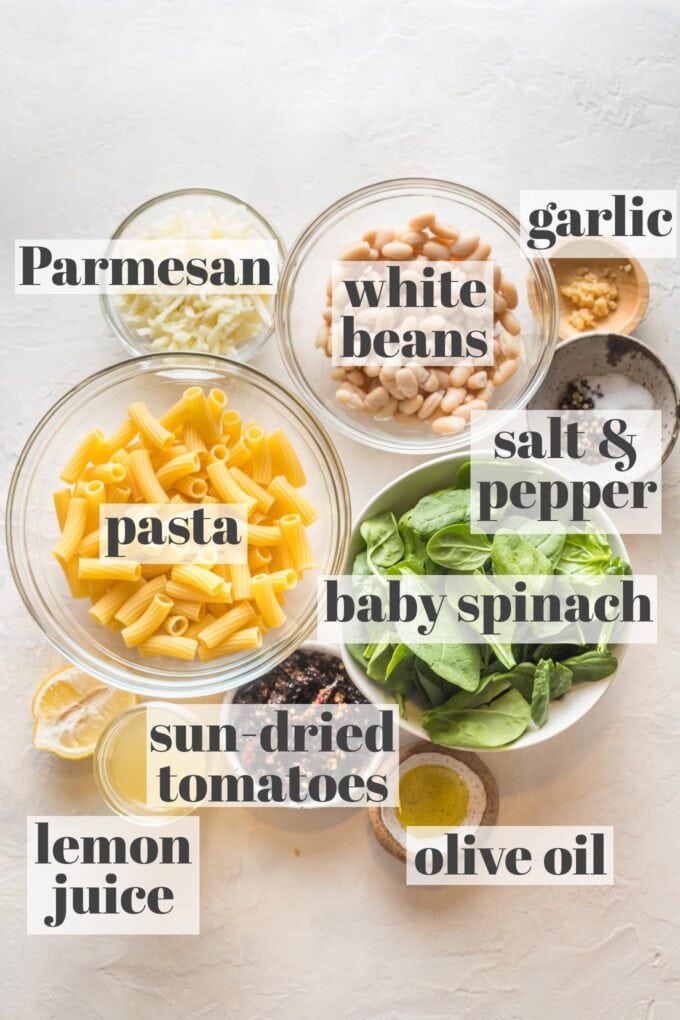 Pasta. Rigatoni, penne, farfalle, or any other substantial pasta shape works beautifully in this pasta dish.
Cannellini beans. Cannellini beans are a large Italian bean that work beautifully in any recipe that calls simply for "white kidney beans." They maintain a hearty, creamy texture when cooked. Great northern or white navy beans work well as substitutes.
Sun-dried tomatoes. Oil-packed sun-dried tomatoes are such a great pantry staple for adding major flavor to food with minimal effort!
Garlic. Fresh minced garlic will contribute the most fresh aroma and flavor, but garlic powder can be used in a pinch–start with 1/2 teaspoon and add more to taste.
Baby spinach. Fresh spinach is a nice touch of green here; baby kale, Swiss chard, or even collard greens can make a good substitute.
Parmesan. Or a slightly softer, still tangy Pecorino is a nice touch. Pre-grated or pre-shredded is fine, as you'll just sprinkle this on at the end for taste and garnish.
Low on olive oil or want to economize?
You can use the excess olive oil from the sun-dried tomatoes to begin cooking the garlic in step one. Just hold it back in the jar when draining the tomatoes, then pour directly to the skillet. This is an easy and economical way to add extra flavor.
Are dry-packaged sun-dried tomatoes an OK substitute for the ones packed in oil?
Yes! You may keep dry-packaged sun-dried tomatoes in your pantry — I love them for tossing into salads! — and they work well for this recipe. Just add an extra drizzle of oil at the same time as the tomatoes go into the pan, and allow them to simmer in the broth for an extra 1-2 minutes, or until they are tender.
Can I make this with cherry tomatoes instead?
Yes! Cherry tomatoes are also lovely in this dish, especially in the summer when you can find amazing heirloom varieties.
How To Make Pasta with Cannellini Beans
Start your pot for the pasta first thing: the sauce and bean mixture comes together very quickly, so you want your pasta to be cooking ASAP. And always remember to make your pasta water salty like the sea to add the best flavor to the pasta itself.
Once your water is going, begin the sauce by sautéing the garlic in a drizzle of olive oil over medium-high heat. When fragrant, add the tomatoes, red pepper flakes, salt, and pepper, followed by a bit of broth. You can use chicken broth if keeping this strictly vegetarian is not imperative, otherwise your favorite veggie broth.
This will be a very light sauce, just enough to coat the pasta and beans.
If you prefer an even thinner sauce, you can reserve about 1/2 cup of the water that was used to cook the pasta and add it to the sauce at the end as desired. The cooking liquid will have absorbed some starch from the pasta, helping it bind to the existing sauce.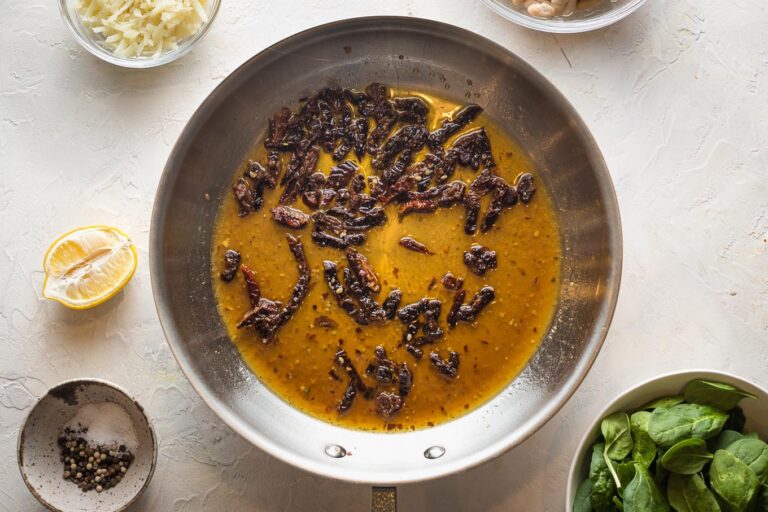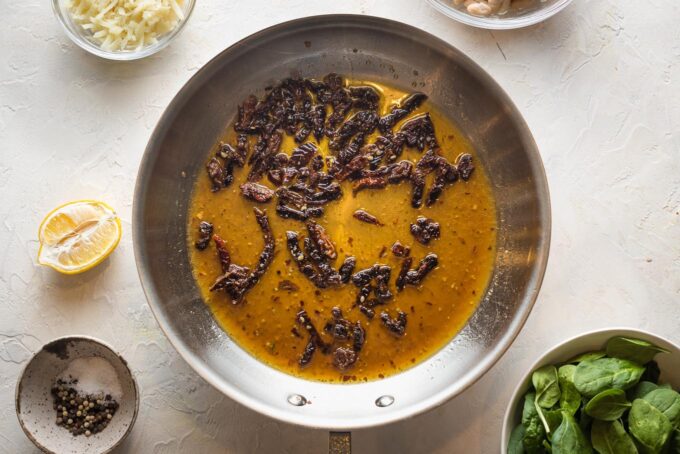 Allow the sauce to simmer lightly for 1-2 minutes, just to reduce slightly, then stir in the beans and lemon juice. Simmer 1-2 minutes more, then remove the skillet from the heat and add the spinach.
Stir together, then toss in the pasta as soon as it is cooked and drained.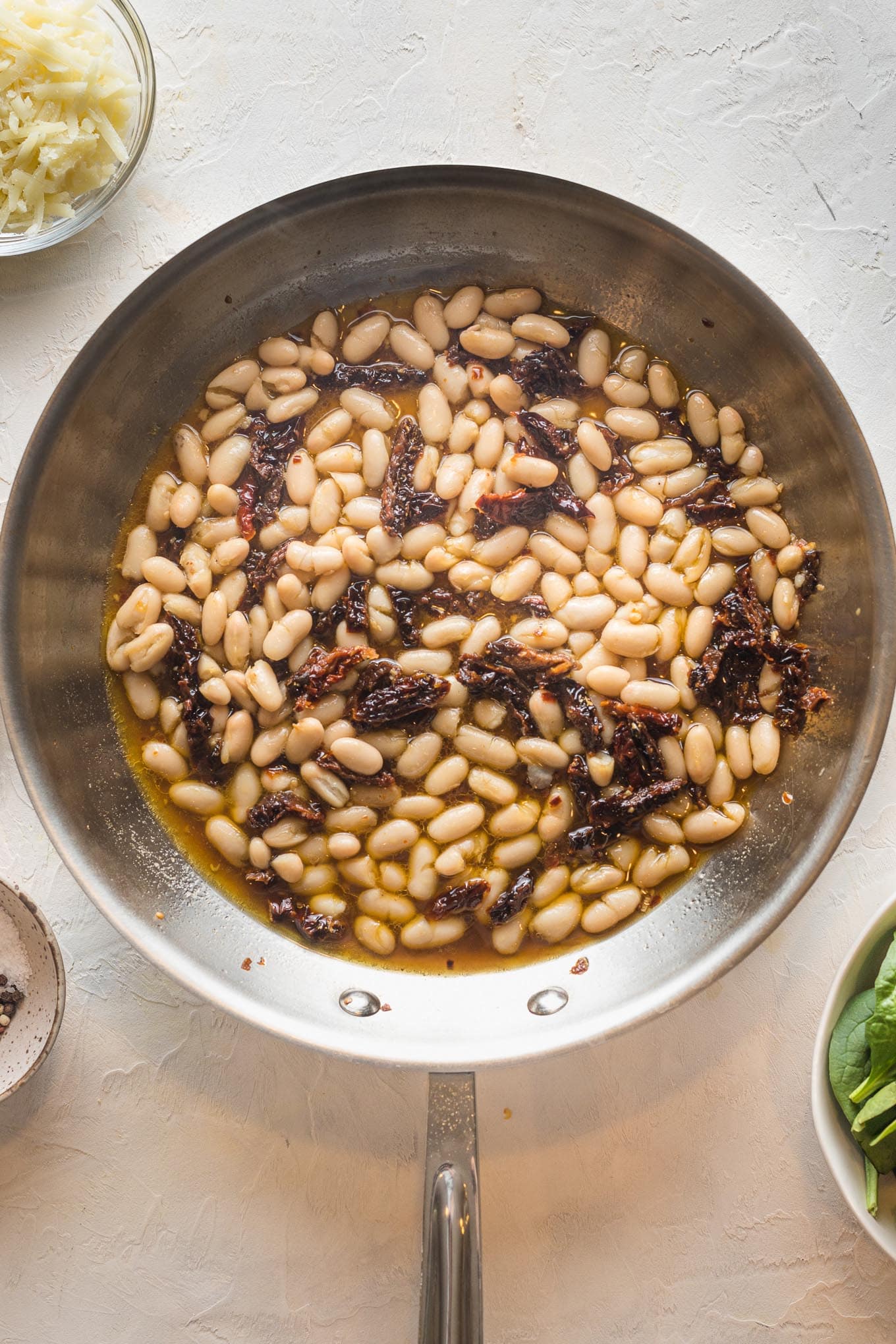 Give it a quick taste — you'll want to add Parmesan cheese, more salt or pepper, or more lemon juice to taste.
Seeking more heat? An extra dash of red pepper flakes spice it up. Craving more lemon? Add a sprinkle of lemon zest to the top of each serving.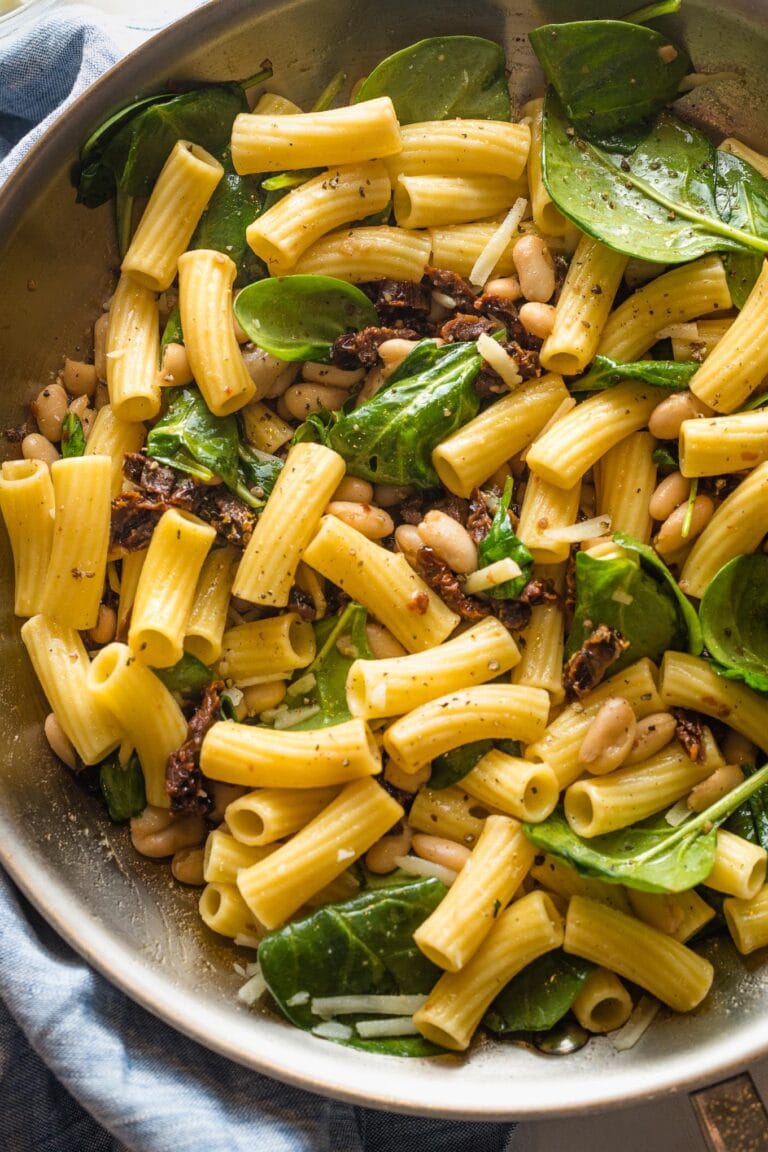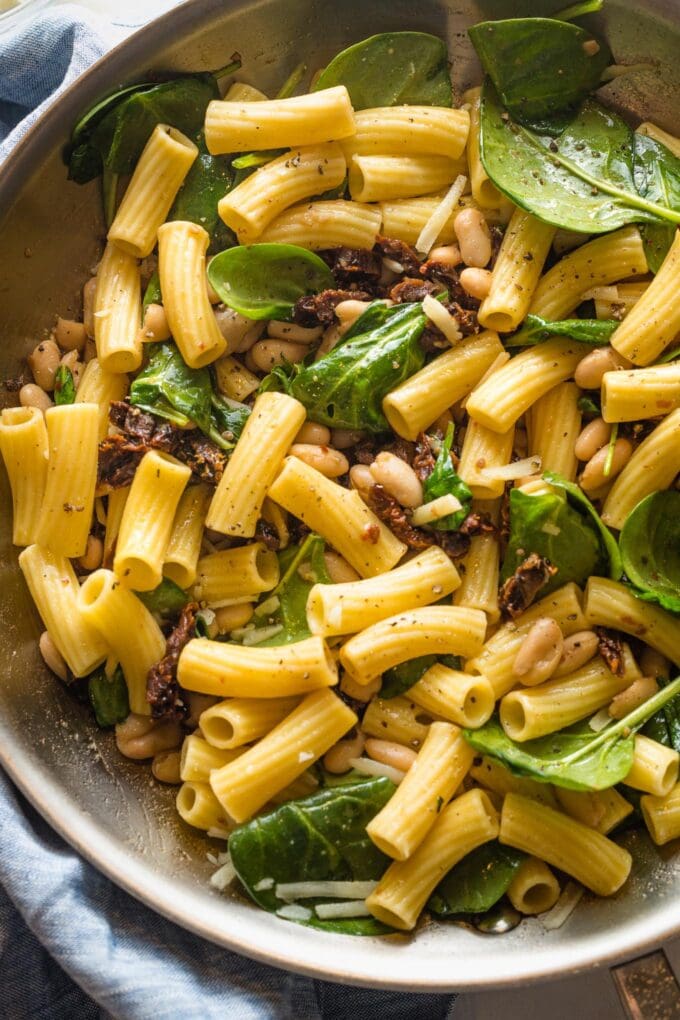 What to Serve with Tuscan White Bean Pasta
Round out this meal with garlic bread or breadsticks and a simple green salad or roasted baby carrots.
Have carnivores who just can't abide a dinner without meat? Italian dressing chicken is an easy addition.
This dish already includes a good balance of carbohydrates, protein, and vegetables, so you can keep the pairings very simple!
Storage and Reheating
This pasta keeps well in the refrigerator for 4-5 days, and can be easily reheated in the microwave at full power or over the stovetop. If using the stovetop, add a splash of water or broth to the pan and warm over medium heat to prevent sticking.
More Quick Pasta Recipes
Need to feed the family in a hurry? Pesto pasta with salmon or peas is always a simple winner, as is this magical one-pot mac and cheese, lemon broccoli pasta, or light all-in-one lemon chicken pasta.
If you try this Pasta with Cannellini Beans, don't forget to rate the recipe and leave a comment below. I love hearing how recipes turn out in your kitchen, and it helps other readers, too.
You can also FOLLOW me on PINTEREST, INSTAGRAM, FACEBOOK, and TWITTER for more great recipes and ideas!
Tuscan Pasta with Cannellini Beans
Shockingly fast and easy to make, but delivers big flavors and a satisfying one-pan meal with veggies, carbohydrates, and protein all in one package. It'll be a favorite of the family as well as the cook!
Ingredients
8 ounces pasta
1 tablespoon olive oil
3 cloves garlic minced
1/2 cup oil-packed sun-dried tomatoes drained, see note
pinch red pepper flakes
1/2 cup chicken or veggie broth
1 (15 ounce) can cannellini beans drained and rinsed
2 teaspoons lemon juice
2 cups baby spinach
1/4 cup shredded Parmesan or Pecorino cheese
kosher salt and black pepper
Instructions
Bring a large pot of water to a boil and add a generous pinch of salt. Add pasta and cook just to al dente, according to package directions. Drain and set aside.

While the pasta cooks, warm olive oil in a large skillet over medium heat. Add garlic and cook for 30-60 seconds, just until fragrant. Stir in the sun-dried tomatoes, red pepper flakes, and a pinch each of salt and pepper.

Pour in broth. Bring the mixture to a simmer and cook for 1-2 minutes, until slightly reduced.

Add beans and lemon juice, then simmer 2-3 minutes more.

Remove pan from the heat and stir in the spinach, followed by the drained pasta and about half of the cheese. Toss well to combine. Sample and season with additional salt, pepper, or lemon juice to taste. Serve with remaining cheese and additional red pepper flakes sprinkled on top, if desired.
Notes
You can use the excess olive oil from the sun-dried tomatoes to begin cooking the garlic in step one. Just save it from the jar and add directly to the skillet. This is an easy and economical way to add extra flavor.
Nutrition Estimate
Calories: 283 kcal, Carbohydrates: 47 g, Protein: 9 g, Fat: 7 g, Saturated Fat: 1 g, Polyunsaturated Fat: 1 g, Monounsaturated Fat: 4 g, Sodium: 62 mg, Potassium: 462 mg, Fiber: 3 g, Sugar: 2 g, Vitamin A: 1584 IU, Vitamin C: 20 mg, Calcium: 39 mg, Iron: 2 mg
Did you make this recipe?
Leave a review below, then snap a quick picture and tag @nourishandfete on Instagram so I can see it!