Tuscan White Bean Skillet
Spice up your dinner routine with this easy Tuscan White Bean Skillet. Ready in under 30 minutes, perfect with a crusty loaf of bread! A delicious, easy dinner recipe that happens to be casually vegan.
If you enjoy this meal, try my simple and tasty Tuscan chickpea stew next!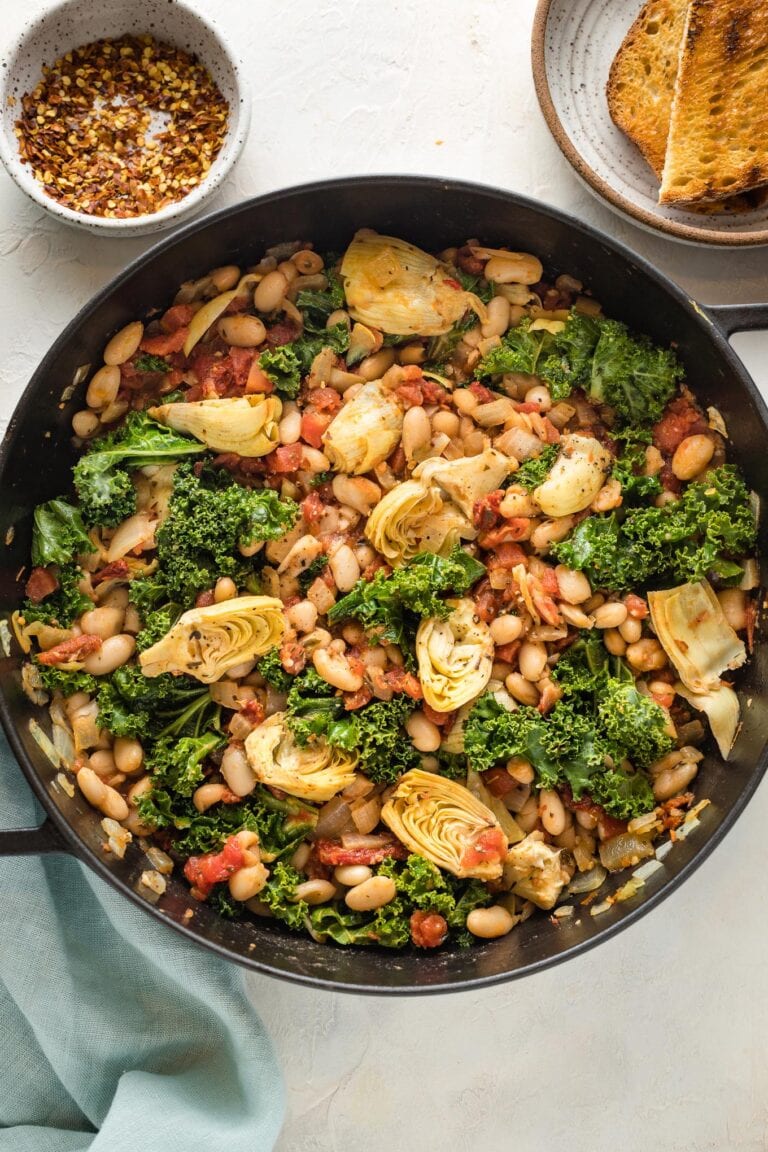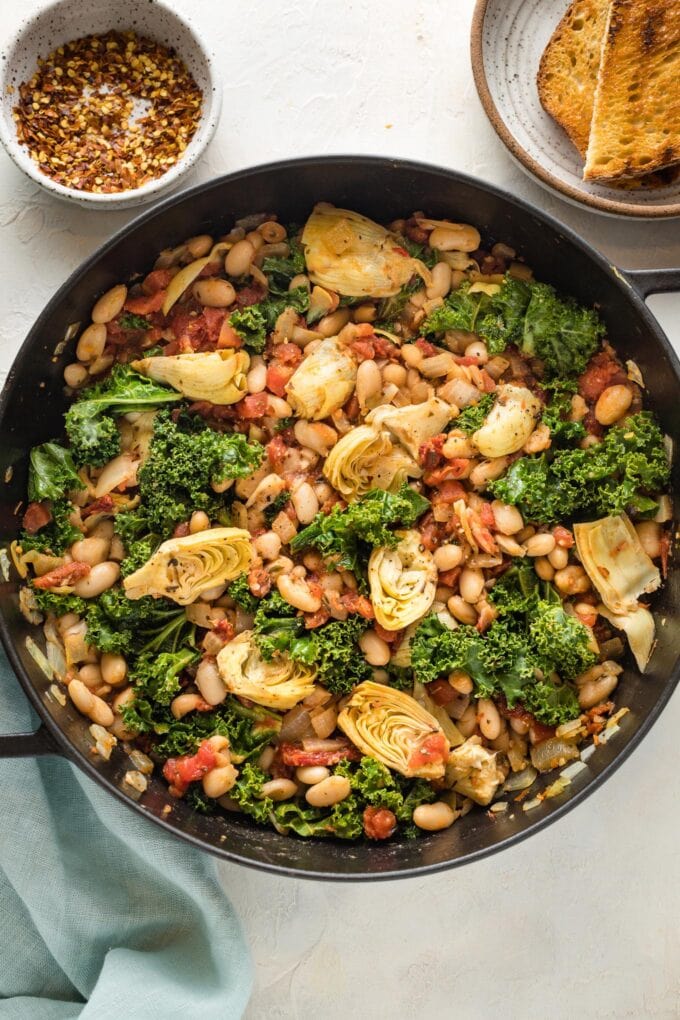 I originally published this post on June 21, 2019. I have updated it with new photos and additional frequently asked questions; the recipe is unchanged.
I definitely have a thing for skillet meals. Something about being able to just throw everything in there and be done! Plus, the very word "skillet" conjures up something tasty to me – a meal that's probably hearty, classic, and easy to make.
Needless to say, this simple white bean skillet chock full of Tuscan flavors checks all those boxes. And a few more for good measure. The dish also happens to be healthy and casually vegan. Like, low-key vegan. It's not trying or going out of its way to be, it just conveniently works out that way. That's how we like to roll here! You can read a little about why in this round-up of favorite meatless meals.
Ingredients & Common Substitutions
So, what makes this skillet so great and flavorful? As with all the best meals, it's just a bunch of fantastic ingredients brought together in a simple, delicious way.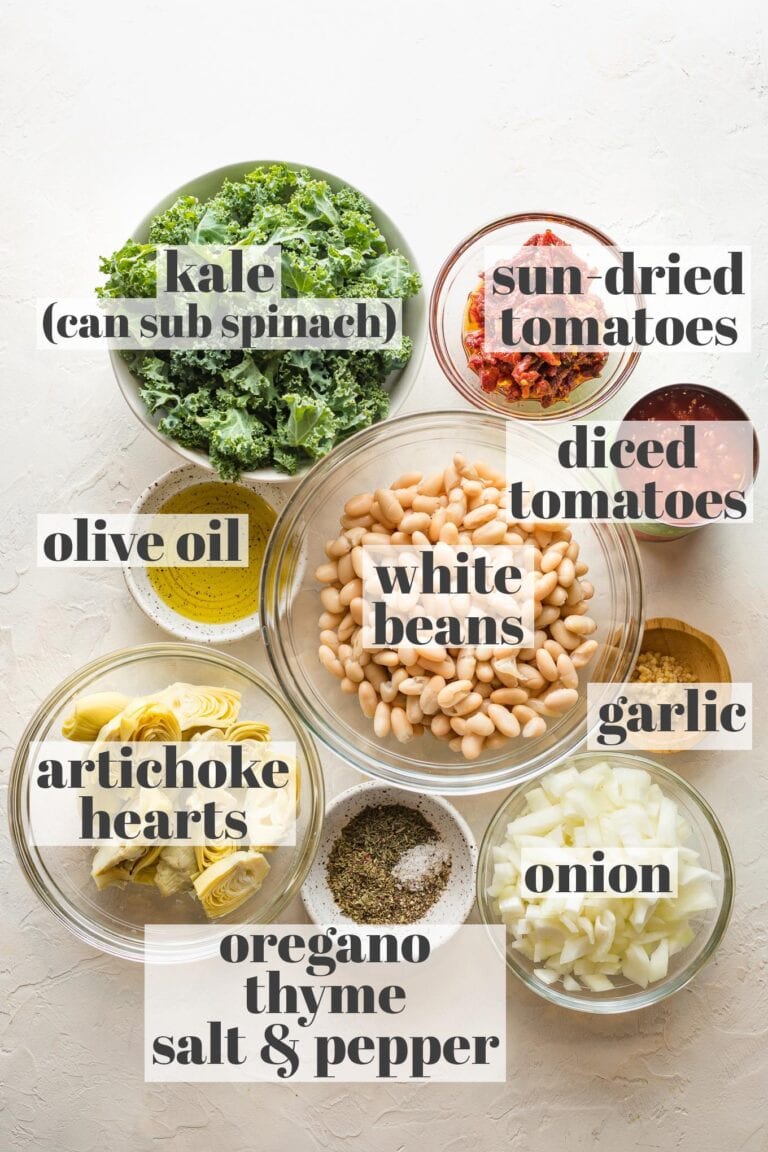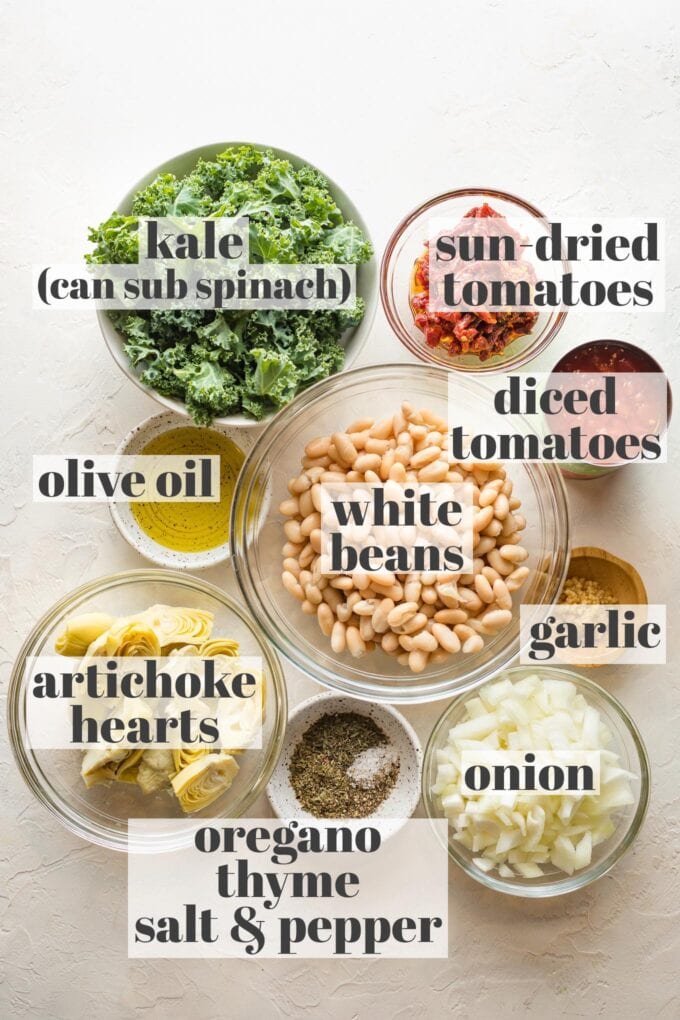 Your shopping list:
2 cans white Cannellini beans. Cannellini beans are a large Italian bean that work beautifully in any recipe that calls simply for "white beans." They maintain a hearty, creamy texture when cooked. Great northern or white navy beans work well as substitutes.
1 can artichoke hearts.
1 can diced tomatoes – fire-roasted for bonus flavor!
sun-dried tomatoes – I usually buy the oil-packed kind that is sold in a jar, but the fully dried ones work, as well; they will rehydrate partially as they cook in the skillet.
kale – or substitute spinach, Swiss chard, or another leafy green.
yellow onion – can substitute a white onion, sweet onion, or shallots.
garlic.
dried oregano, thyme, salt & pepper.
From there, it's so easy to make. Literally one skillet, throw it all in, cook for awhile, and you're done.
How To Make It
Chop a large yellow onion. Warm olive oil in a large skillet, and sauté the onions in it over medium or medium-high heat.
Add chopped garlic and sun-dried tomatoes. See!? It's already looking colorful and pretty!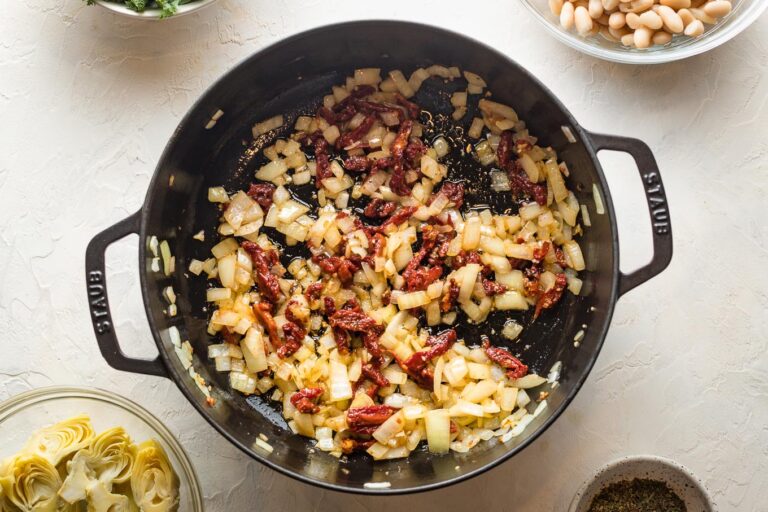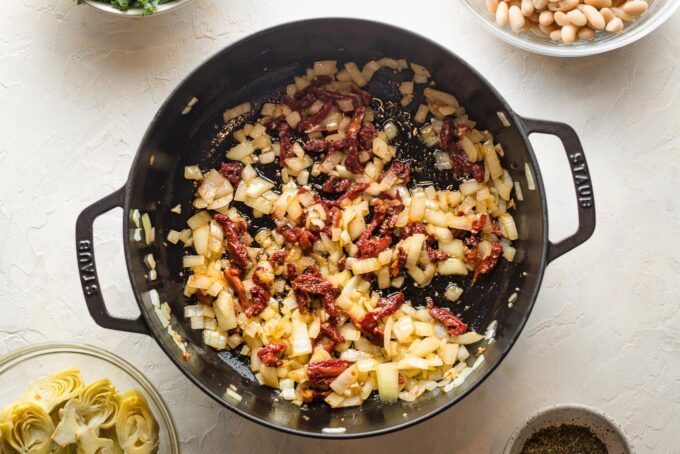 Quickly add in the drained beans, diced tomatoes with their liquid, artichoke hearts, oregano, and thyme.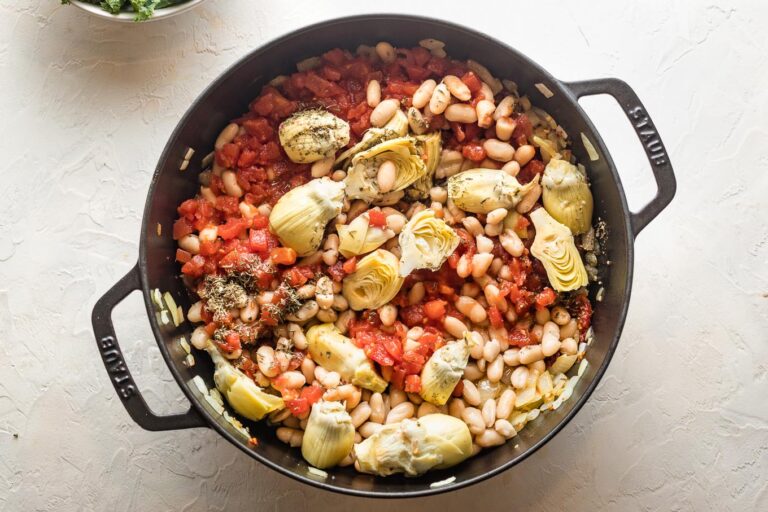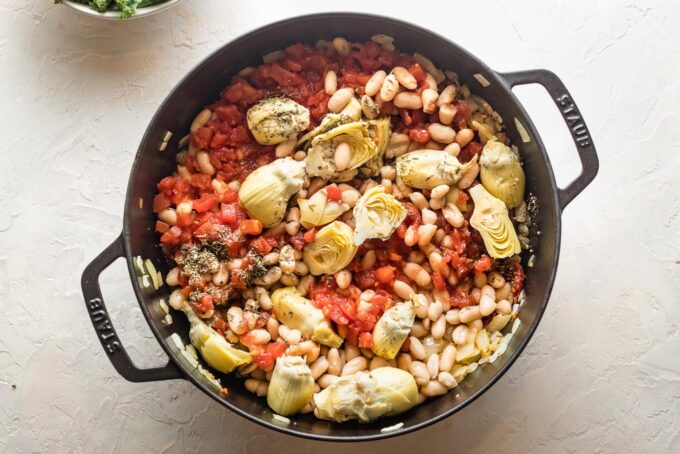 Stir everything in, cover it up, and let it cook for about 8 minutes. This will soften the beans, reduce the liquid from the tomatoes, and bring out all the flavor.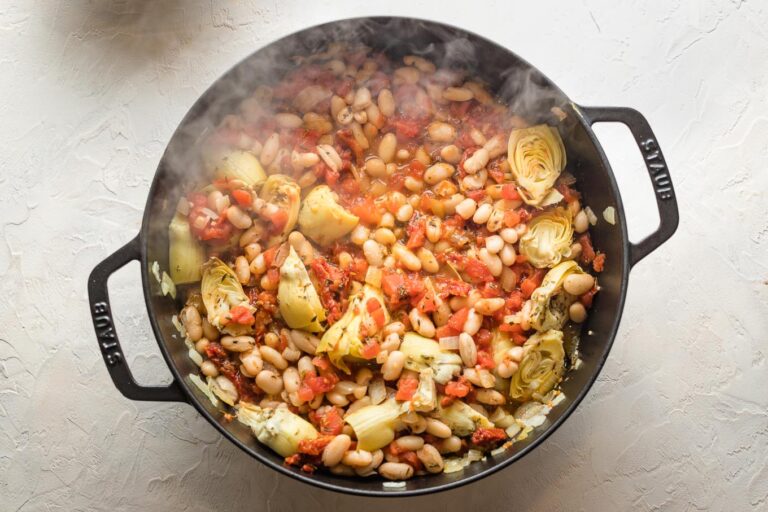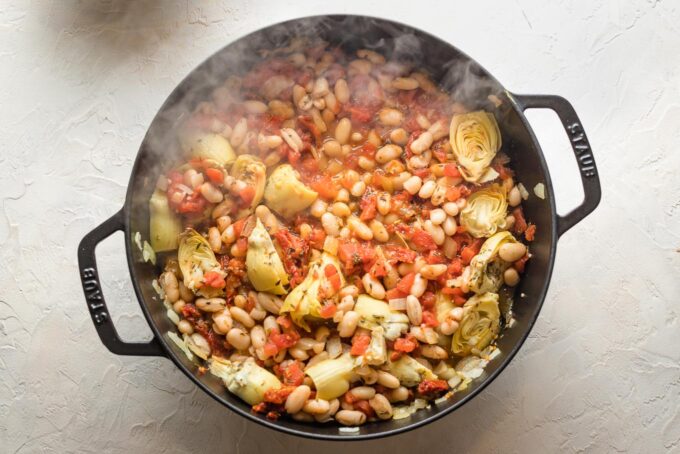 Take off the lid, stir in the kale, let it wilt, and season with salt and pepper. Get excited! Dive in with some bowls and a loaf of crusty bread!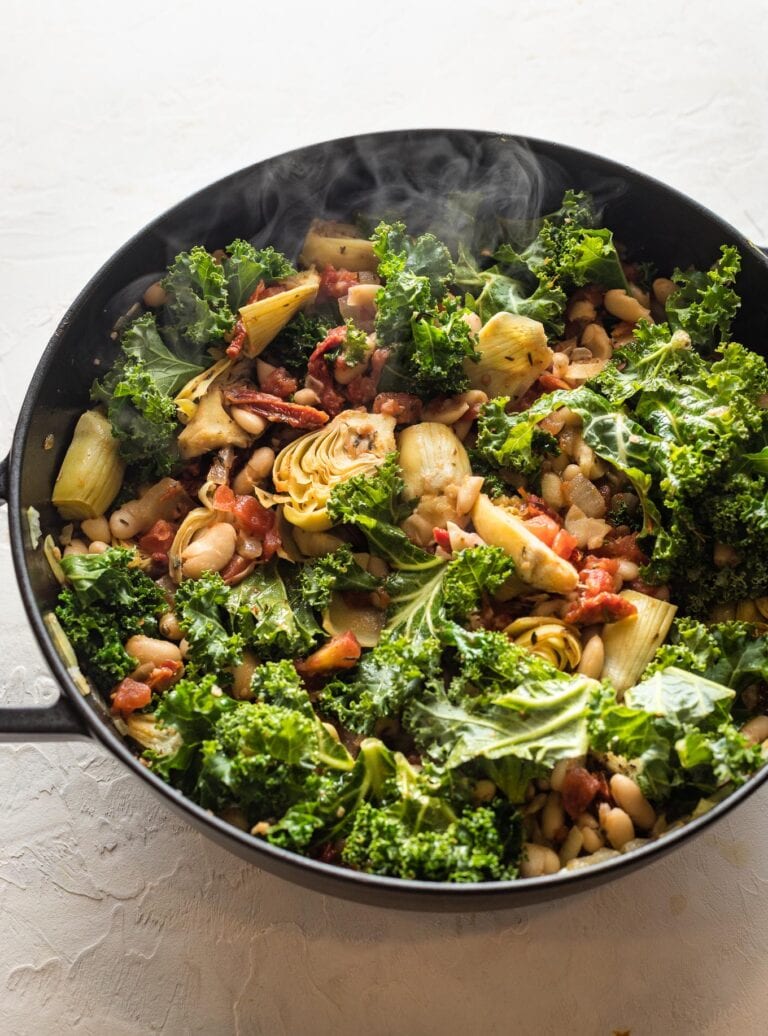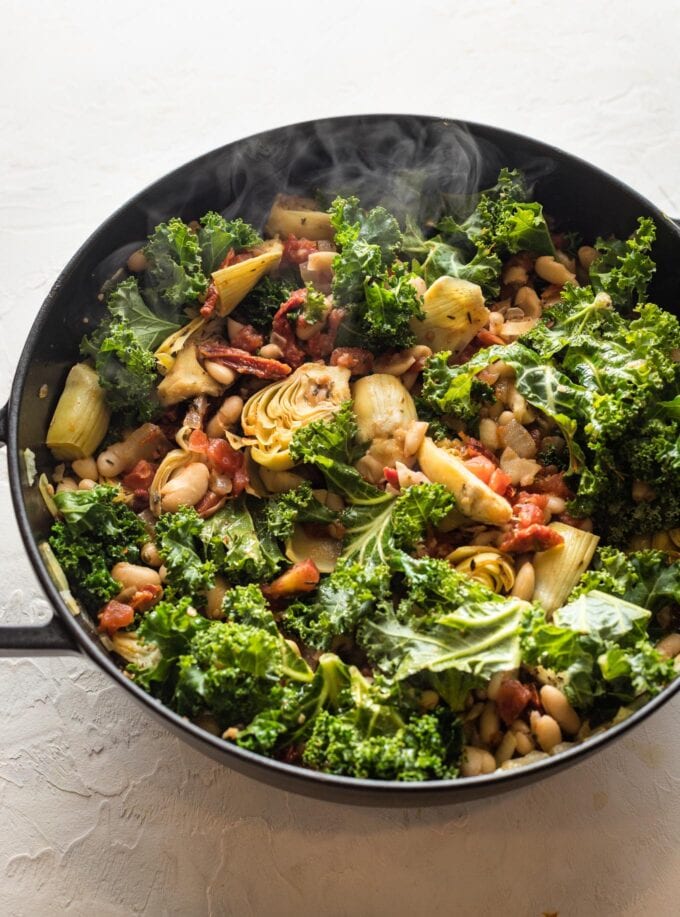 You don't even need to feel bad eating seconds! There's nothing bad in here, and lots of protein and veg.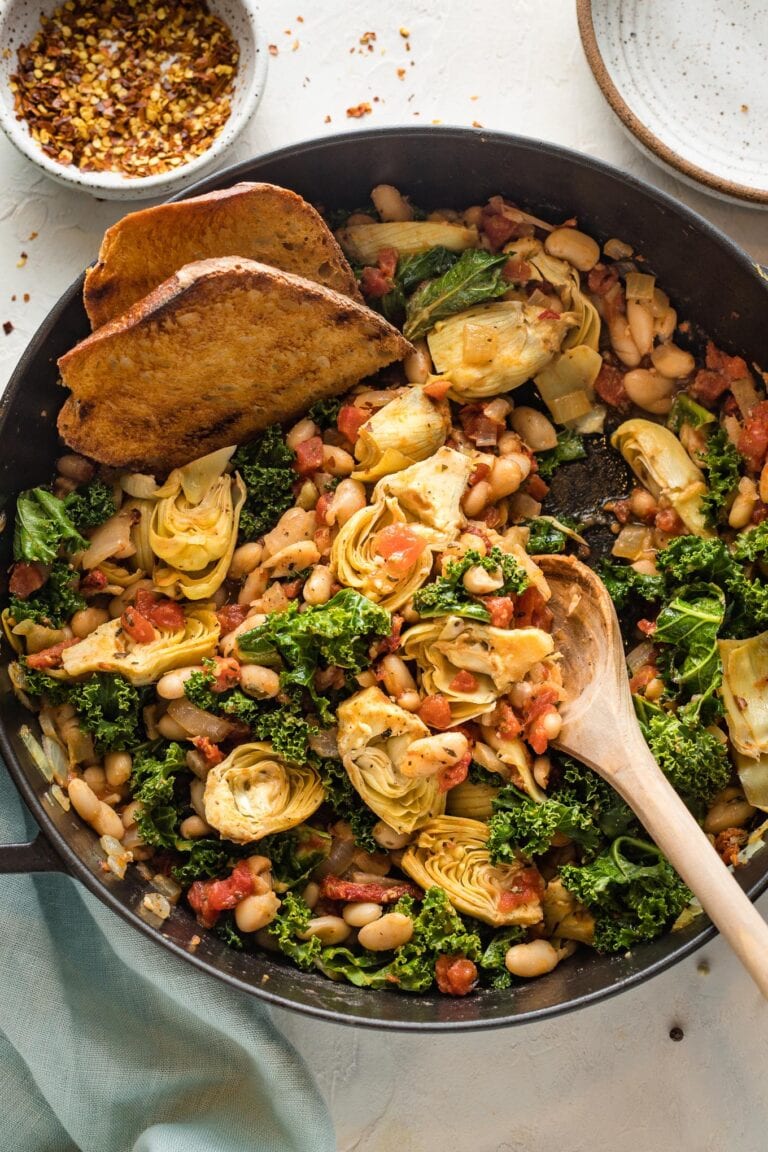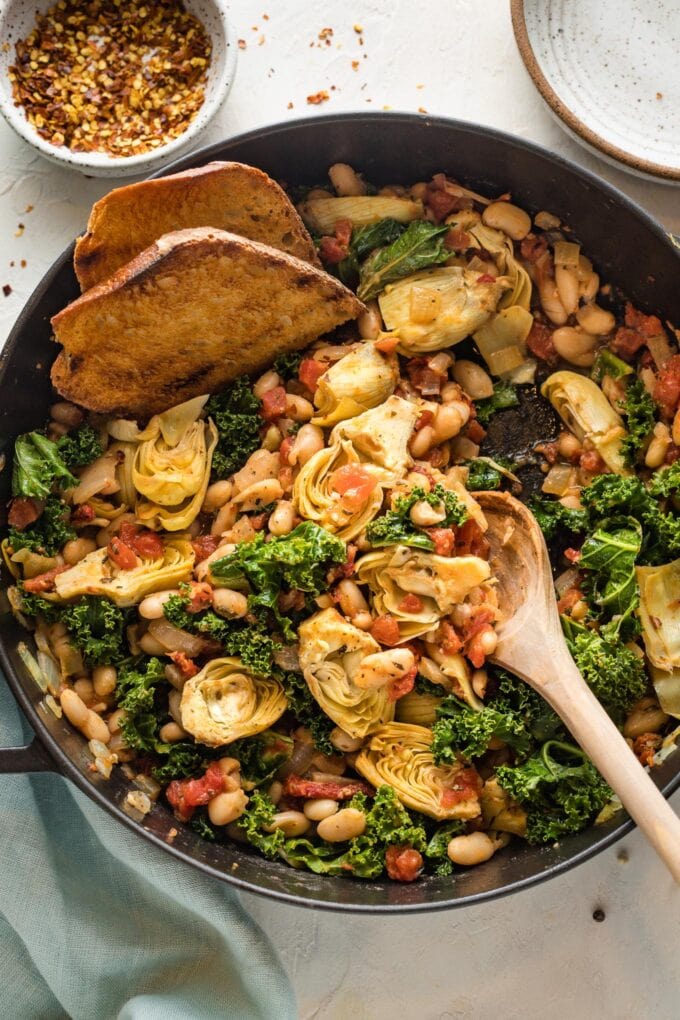 Serving Suggestions
Eat this out of bowls with crusty slices of bread. Try sourdough, a baguette, Italian bread, or make your own Dutch oven loaf. Breadsticks are lovely, as well.
For more of a crunch factor, take slices of bread, brush on both sides with a smidge of olive oil, and toast quickly in the oven, on a grill, or in a grill pan over medium-high heat. Heaven!
Storage and Reheating
Store any leftovers in the fridge, tightly covered, for 3-4 days.
You can also freeze portions for a quick emergency lunch! Freeze in an airtight container or zip-top bag, removing as much excess air as is possible. Defrost in the refrigerator overnight, then reheat as directed below.
Reheat in the microwave on full power, or in a skillet over medium heat. If using a skillet, add a splash of water or broth while it warms up, to avoid sticking or drying out.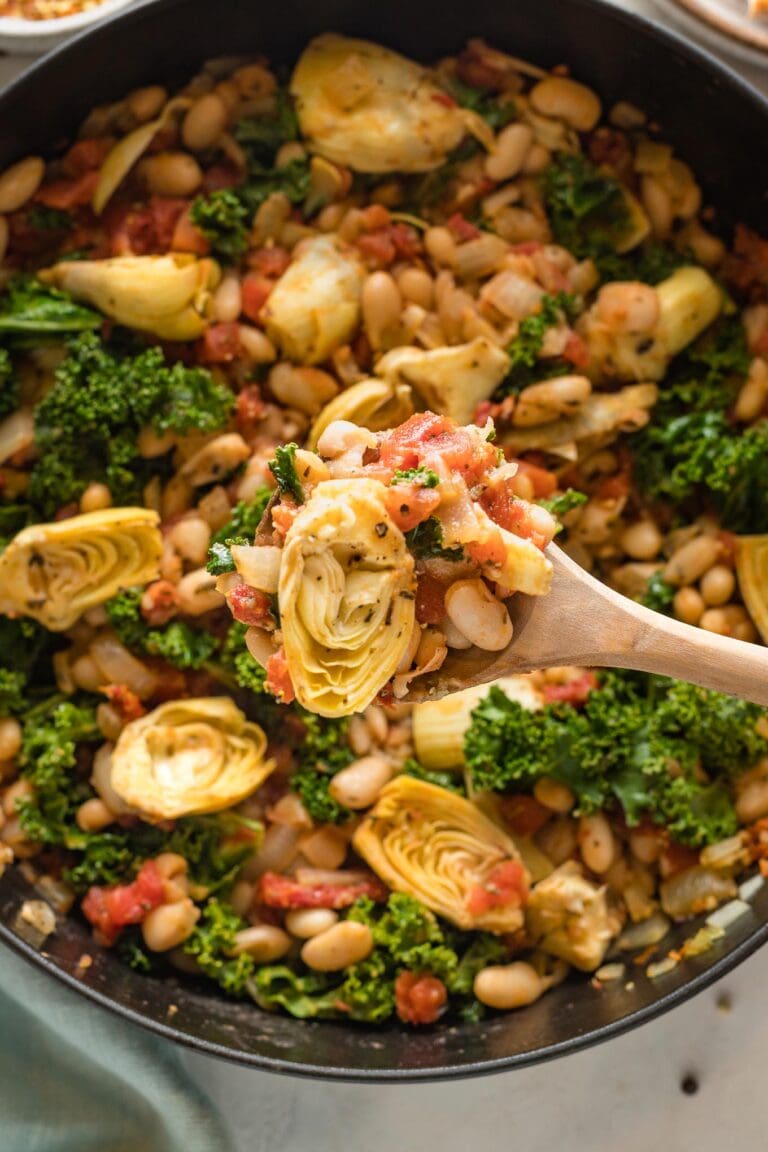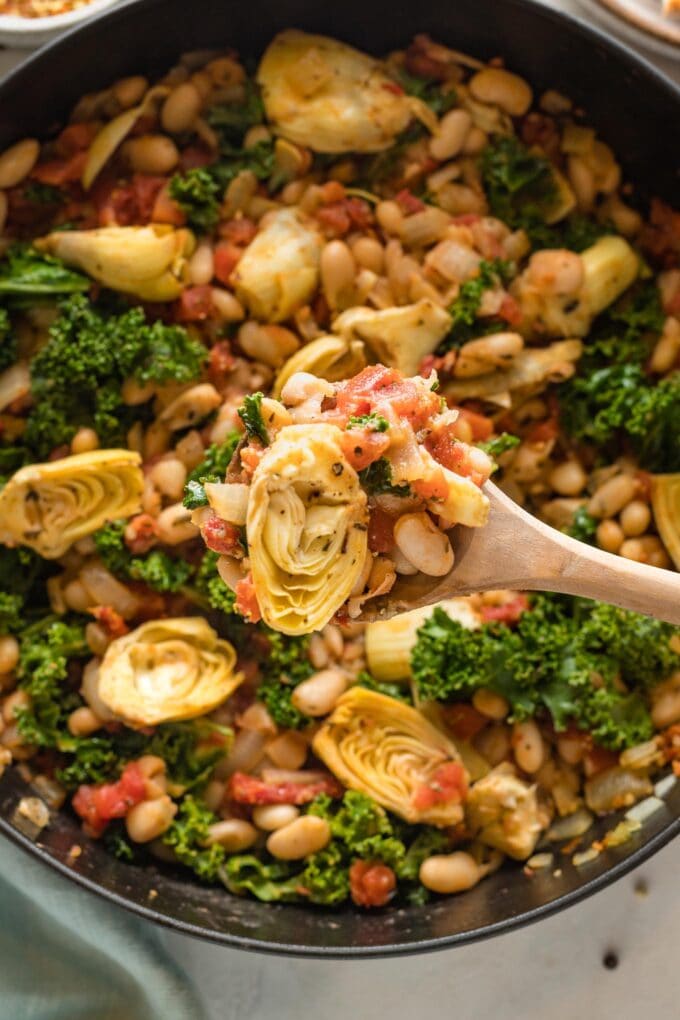 If you try this Tuscan White Bean Skillet, don't forget to rate the recipe and leave a comment below. I love hearing how recipes turn out in your kitchen, and it helps other readers, too.
You can also FOLLOW me on PINTEREST, INSTAGRAM, FACEBOOK, and TWITTER for more great recipes and ideas!
Tuscan White Bean Skillet
Spice up your meatless dinner routine with this easy Tuscan white bean skillet. Ready in under 30 minutes, perfect with a crusty loaf of bread!
Ingredients
1 tbsp extra virgin olive oil
1 large onion diced (about 1 1/2 cups)
1/2 cup oil-packed sun-dried tomatoes drained and roughly chopped
4 cloves garlic minced
2 (14.5 oz) cans white Cannelini beans, drained and rinsed
1 (14.5 oz) can diced tomatoes
1 (14.5 oz) can artichoke hearts, drained and roughly chopped
1 tsp dried oregano
1 tsp dried thyme
2 cups kale chopped
salt and pepper
Instructions
Warm olive oil in a large skillet over medium heat until shimmering. Add onions and cook for 3-4 minutes, until slightly softened. Add sun-dried tomatoes and garlic and cook for an additional 60 seconds, until fragrant.

Add beans, diced tomatoes, artichoke hearts, oregano, and thyme to the skillet. Stir to combine. Keep heat on medium, cover the pan, and cook for 8 minutes.

Uncover the skillet and add the kale, stirring for 2-3 minutes, until it wilts. Season with salt and pepper to taste and serve.
Notes
Use fire-roasted diced tomatoes for an added kick of flavor.
You can substitute spinach or another leafy green for the kale if desired.
Nutrition Estimate
Calories: 383.89 kcal, Carbohydrates: 52.46 g, Protein: 16.38 g, Fat: 15.08 g, Saturated Fat: 1.83 g, Sodium: 1057.16 mg, Potassium: 431.85 mg, Fiber: 14.67 g, Sugar: 4.62 g, Vitamin A: 4962.21 IU, Vitamin C: 80.6 mg, Calcium: 260.13 mg, Iron: 7.35 mg
Did you make this recipe?
Leave a review below, then snap a quick picture and tag @nourishandfete on Instagram so I can see it!